What Is Lean-to Roof?
A lean-to roof is one type of pitched roof. It is the best option for the extension of houses.
The function of the roof serves the most important practical purpose for each building. Lean to building protects the parts of the building against various external factors. These factors include wind, rain, and direct contact with the sun. The role of roof has a special place in any building.
The roof shape is chosen for any roof, considering the different conditions. Primarily the shape of the roof plays an important role in enhancing the look and style of the house. lean-to roof is also commonly known as the sloping roof.
Lean to Roof Ideas is the most used roof for the extension of houses. lean-to roof is a common type of pitched roof. In some cases, the role of the roof is to provide additional living space. Lean-to roofs also makes the building energy-efficient, resilient, and weather-proof by providing a roof.
Therefore the shape of the roof is an important factor for the building as per the requirement. lean-to roof structure is a simple and economically useful roof in many types of roofs if you are considering space for an extension in an older building.
What Is Lean to Roof?
Lean-to roof is a type of pitched roof with a single slope. The design of this type of roof is simple and straightforward. It is mainly added to the front of the building as an extension. The use of this type of roof is most commonly used in ordinary homes.
Lean 2 roof can be constructed free-standing separately from the building. It is more commonly used in industrial sheds. It is usually built by the slope on the walls or support of the wall of buildings.
This type of roof is known in some areas as the pent roof. Some people refer to the lean-to roof as the skillion roof. This type of roof can be considered as a shed roof because this type of roof has a flat roof with sloping. There may be more slopes in the shed roof.
Lean-to roof was used mainly for making shades. But today lean to design plans is being used as a popular option for residential homes. It is a simple roof design that connects to an existing building. In addition, it is chosen to add shade and screening to the porch.
It is commonly used for the construction of carports, lean-to roof Side of House, sheds, verandas, simple extensions, etc. Its simple design makes it easy to build.
Due to the slope of lean on roof, external factors like snow and water can flow easily. This reduces the cost of waterproofing the roof. lean to roof is the best option for areas with high rainfall and snowfall.
Also Read: Types of Asphalt Shingles | How to Install Aluminum Gutters | Vinyl vs Aluminum Gutters | What Is Seamless Gutter | Types of Roofing Shingles | Skillion Roof House | Counter Flashing | Chimney Flashing | Roof Flashing Types | Conservatory Roof
How to Build a Lean to Roof? or How to Lean to Shed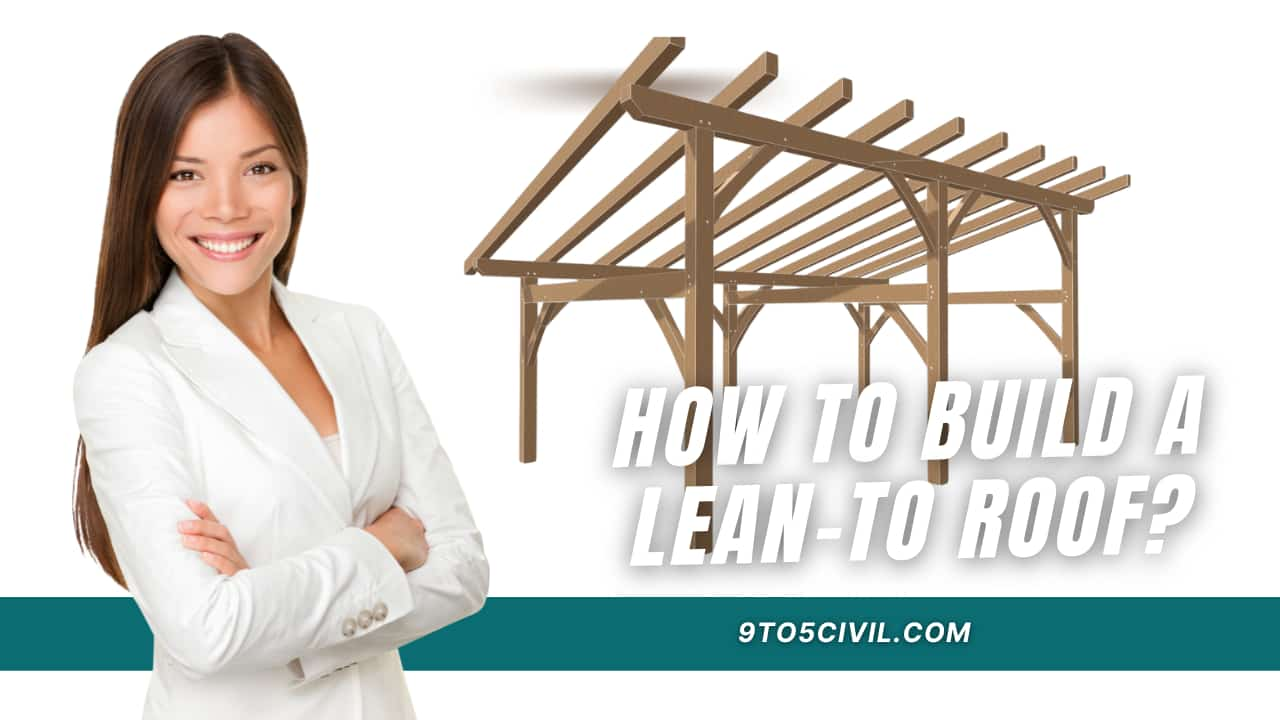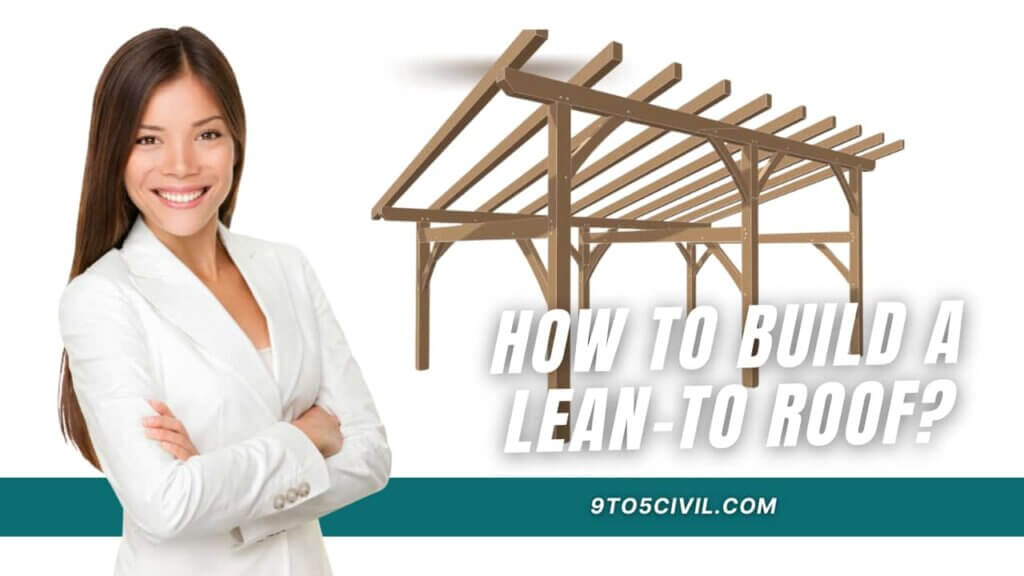 Let us see the step-by-step lean-to roof construction:
First of all, make a lean-to roof plan that suits your needs and preferences.
Now, according to the lean-to-truss design, dig a hole of 9 "to a depth of 2 feet as required at a distance of 4 feet to support the post.
Then, insert the post into that hole. And fill that hole with concrete.
Now, proceed for each post as per your plan for lean to roof as above.
Now, cut a notch at the top of your posts for a supportive post. Which will rest on a vertical post. Then place each support post in Notches.
Now, use a nail screwdriver to drill a quality screw on your existing wall. So that it will attach to the upper end of your rafters.
Driving in Purlins: Once the whole structure is ready, attach metal purlins from the outside. Fix each metal purlins with the help of a nail.
Attach two planks to both ends of the structure to make strong joints at the top of the structure. Then add the third plank in the middle. Now fix the nail using a nail gun.
Now, attach the rafters properly according to your plan. Set the plan rafter according to the appropriate distance.
Determine the slope of the roof from the top of the rafter to the bottom of the rafter.
Once all the rafters are properly fixed, cover the roof using the appropriate roofing material as per your requirement.
Materials like AC sheets or pre-coated sheets and Mangalore tiles etc. can be used in the construction of lean-to roofs.
---
Also Read : 
---
How to Frame a Lean-to Roof?
Framing a Lean to Roof step by step
lean to roof framing is a kind of free-standing structure. The height of one sidewall is built higher than the other sidewall.
For this framing lean-to roof, the upper part of the common rafters is fixed to the wall with a wall plate. The upper end of the lean to rafters are fixed to the wall with a corbel.
These corbels are made of various materials such as stone, brick, or iron. In this type, the lower end of the rafter is attached to the wall with a wooden post-plate. And the rafter is attached to the verandah wall. Iron knee straps and bolts are used to connect the rafters to the post plate.
Normal rafters are fixed by giving a slope so that it stays at 30 degrees along the wall. The maximum length of lean-to roof is suitable for a span of 2.5 m.
Lean-to Roof Design
The first step in any construction process is to hire local building authorities.
All information such as mandatory work permits, code requirements, and property setbacks for each construction should be obtained. Which is much needed for roof construction strategy.
Before starting excavation, it is necessary to contact the local location service to identify the underground hazards for your chosen location. Which will determine if it is safe to dig for lean-to-roof construction for your chosen location. If an electric line or pipe breaks during excavation, the full responsibility will be on the landlord.
Planning: Now, determine the length and width of the roof area. Choosing the right location with the existing building. Determining lean-to roof proper pitch.
If the location is in an area with heavy rainfall, determine its proper pitch. So that rain and snow can be easily disposed of from the roof. The bottom of the structure of the building should have a simple gutter or downspout drainage piping suitable for water disposal.
Choosing a foundation: The foundation is very important for its free-standing structure. Therefore, the proper proportion of its concrete and depth of excavation should be determined.
Calculation of required materials: Now what materials are needed in lean to roof. It is calculated. Lean to roof design plan calculation can be determined by calculating all the building materials. Which is the estimated cost.
Lean-to Roof Plan
A lean to designs is a great option for adding extra space to any existing building. When lean to truss designing a porch, patio, or pergola, it is a popular choice to add shade.
Lean-To Roof Plan for Construction: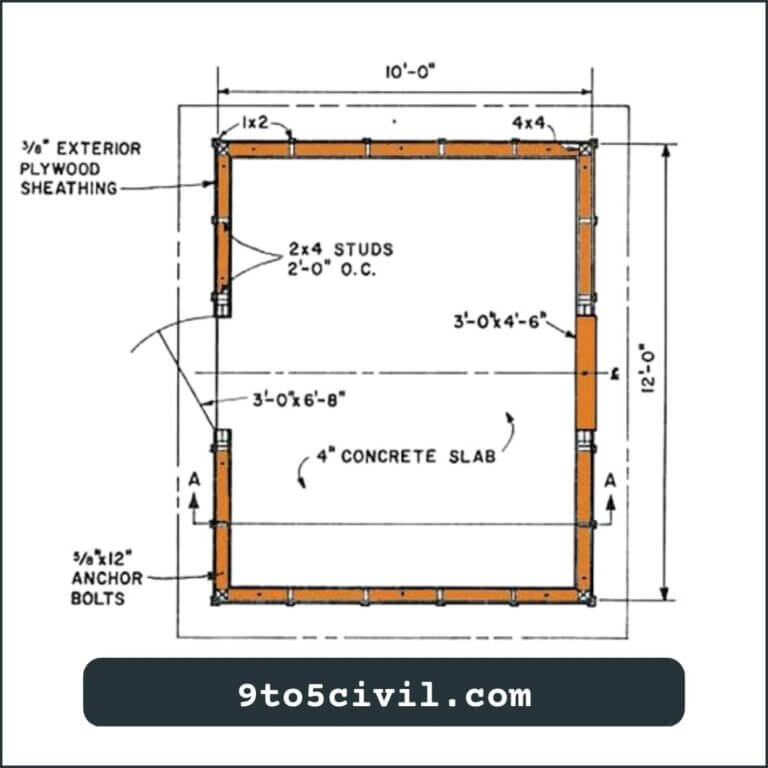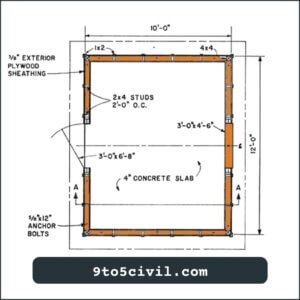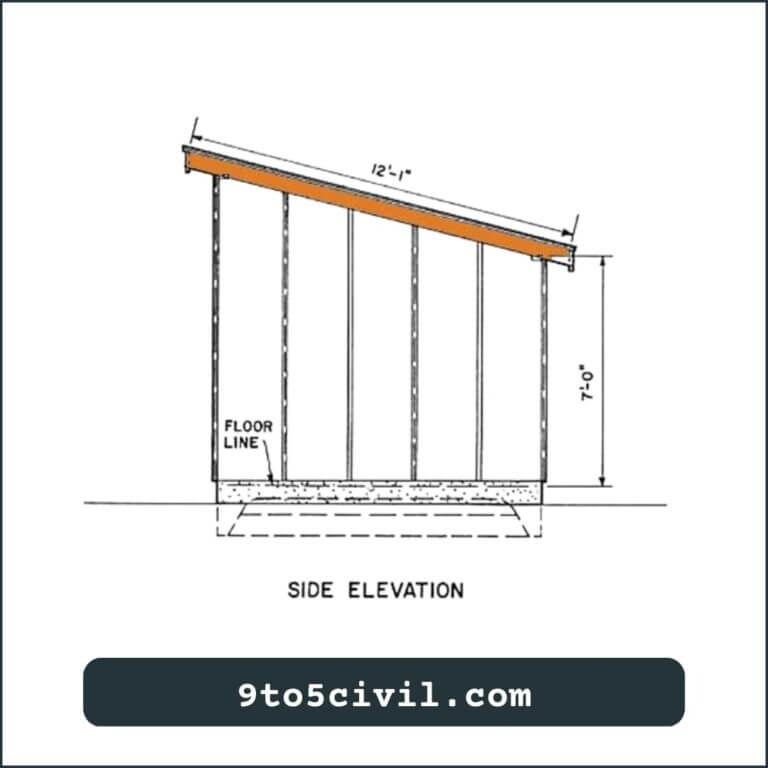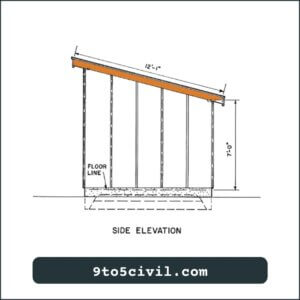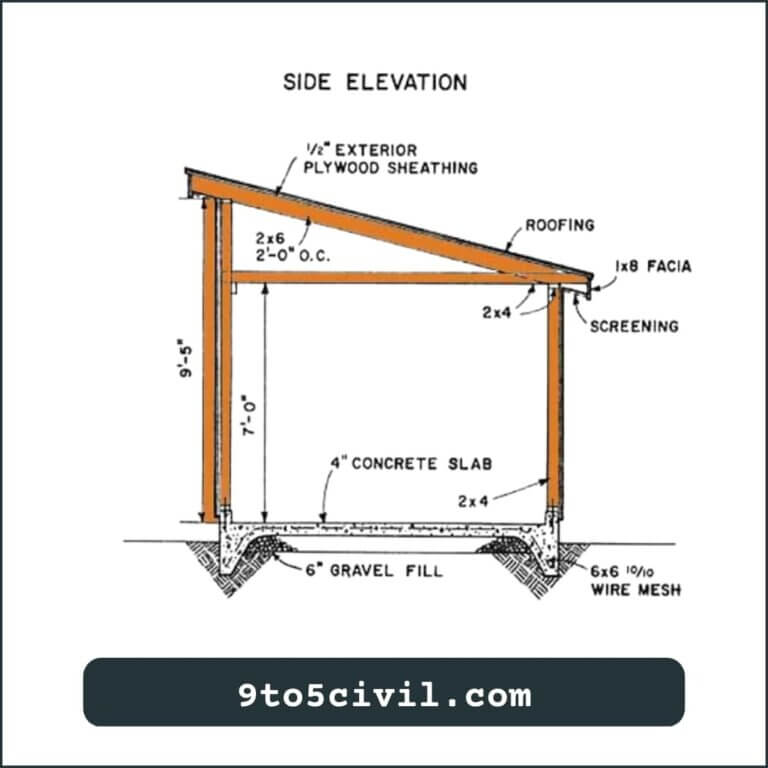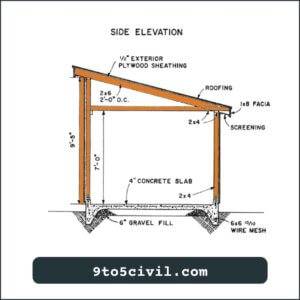 Lean-To Pergola Plans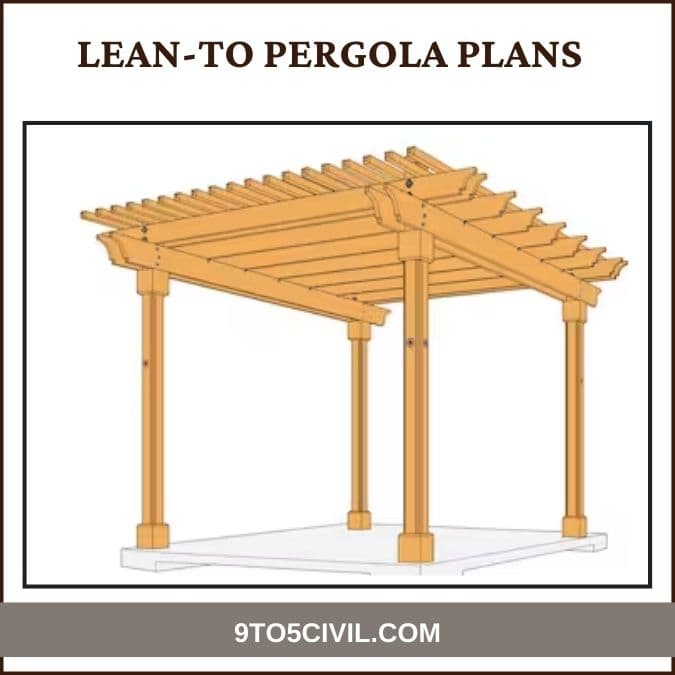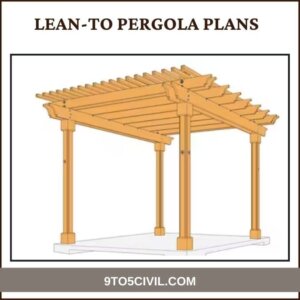 The pergola can be made from the Lean-to-Pergola plan, creating the most wonderful outdoor living space. Lean-to-Pergola is part of the 'Additional Pergola Plan Series'. It is used as an extension of the house.
Lean-to roof pergola plans come with detailed instructions, diagrams, and pictures according to your needs and style choice. In Lean-to-Pergola you can spend a wonderful, relaxing time with your family and friends.
Sometimes an attached pergola or patio pergola design can be created to fit any length, depth, and height. It really adds to the unique garden specialty.
4 x 8 lean to shed: A wooden 4 x 8 lean to shed will generally weigh between 1200-2600 pounds.
Advantages of Lean to Roof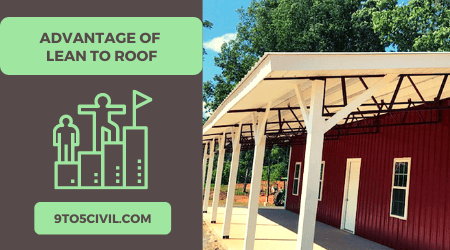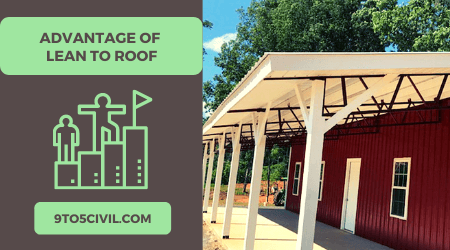 some of lean to roof advantages are:
Cost Effective: It is cost-effective as it is easy to construct. It basically has a single slope type design. Which takes less time in its construction for contractors. As a result, the whole construction results in lower costs.
Prevents Water/Snow Pooling: The construction of lean to roof can give maximum slope to water and ice drainage. Which slips due to the slope of the lean to the roof. Which is a suitable option for the resulting roof style.
Suitable for Shed Roof: Lean to roof designs is suitable for a home extension. lean to roof is suitable for a shade design scheme. Because its design gives a very clean, fast, normal look. lean to roof on roof over an existing deck is a suitable option. Which extends from the roof fascia to the deck railing.
Installation for Skylights / Solar Panels: Since lean to roof is kind of sloping it can be used for solar panels or skylight installation.
---
Also Read : 
---
Disadvantages of Lean-to Roof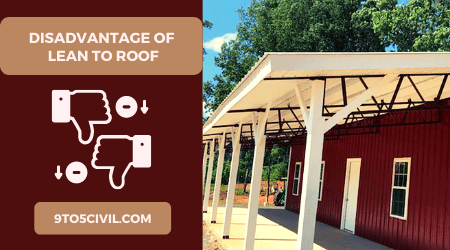 some of lean to roof disadvantages are:
Not Suitable for Long Span: It would not be ideal to use lean to roof for a long span. Simple lean to roof can be used for a span of 2 to 2.5 meters.
Less Versatile: The use of lean to roof is generally known to provide a contemporary style in houses, so it cannot be used for every home. For example, if you are going to use a lean to roof for a traditional house, the shed roof will appear as a projection outside the house.
Drainage Problems: Since the lean to the roof has a single slope, the pressure on the gutter increases when it rains. Basically, it handles large amounts of water efficiently.
Little/No Attic Space: Most homes with a roof slope do not have attic space.
Not Suitable for High Winds Areas: This type of roof is not done in areas with high winds or hurricanes. This type of roof cannot withstand high winds.
Also Read : Flat Roof Vs Pitched Roof | Advantages of Flat Roof Vs Pitched Roof | Disadvantages of Flat Roof Vs Pitched Roof
Roofing Materials Suitable for Lean to Shed
Any Roofing Materials can be installed for lean-to roof material when it comes to choosing from different materials. The material is chosen to make the lean to the roofing "pinch" or "stepper". The flexibility of the slope allows you to take advantage of different Lean to Roofing Materials.
Metal roofing
Clay roof tiles
Polycarbonate Sheets
Asphalt shingle roofing
Cedar shakes or shingle roofing
Roll roofing
Aluminum Lean to Roof
Two types of materials are used for roofs: polycarbonate and glass. The other stuff in this stuff is more expensive. And Polycarbonate has more than one advantage.
1. Lean to Metal Roof
Metal lean to roofing can last for about 100 years. Most metal roofs are less expensive than other roofing materials. Metal roofing materials can be reused. The metal roofing company offers a 50 year warranty. Metal roof lean plans can be the best option for lean to roof.
2. Clay Roof Tiles
Clay roof tiles are products of solid materials like clay or shell. This ceramic product can be made in any shape. The durability and appearance of clay roof tiles are classified into four grades according to ASTM.
roofs made using clay roof tiles have a lifespan of about 100 years. It can survive in a variety of climates. For lean to roof, you can choose from different sizes, and colors of clay lean to roofing as per your choice.
3. Polycarbonate Sheets
Polycarbonate sheets are used instead of glass and acrylic in various applications due to their numerous advantages. Compared to glass, they are very light in weight, durable, and resistant to breakage and cracking. Polycarbonate sheets for construction purposes are available in various qualities and thicknesses.
Its material is expensive. Which makes expensive materials for lean to roof. So it was used only in commercial structures. In addition, polycarbonate lean to roof was used in high-profile restaurants, cafes, lounges, and offices. Now, lean to roof in the commercial sector, they are widely used in greenhouses, sports stadiums, railway stations, carports, and office buildings.
4. Asphalt Shingle Roof
An asphalt shingle roof is made primarily of asphalt shingles and other asphalt roofing components. There are three types of asphalt shingle roofs to choose from for your lean to roof. 3-tab lean-to roof, dimensional lean to roof, and luxury lean-to roof.
Doing this type of plastic material as roofing material provides proper insulation.
5. Cedar Shingles and Shakes
Cedar shingles and shakes can withstand wind, heavy rain, hail, snow, and other severe weather. It provides insulation in heat and cooling energy. you can save your bill. Cedar shingles and shakes can also be an option for you to lean-to roof.
Cedar Shake Roof is a premium roof made of natural wood (cedar) material. It also gives the roof the most aesthetic look. It provides roofing services similar to asphalt or metal roofing.
6. Rolled Roofing
Rolled roofing is mineral-surfaced roofing material. It is a thinner, less durable, and cheaper material. It mainly comes in rolls. Which makes it suitable for lean-to roof. Rolled roofing is used a lot for DIYers and small areas like sheds and garages.
7. Aluminum Roofing
It is made from lightweight, soft, and corrosion-resistant aluminum panels. Aluminum roofing for lean-to-roof is the lightest roofing material on the market. Aluminum roofing costs can range from about $ 3 to $ 9 per square foot.
Bottom Line
lean to roof is an option to build an extension shed in your existing building. Its structure style is very simple. Lean to roof has become very popular in modern design for porch, verandahs, and carports. Its simple design makes it very economical.
You can hire a roofing contractor to install the lean-to roof. Which can help you choose the right roofing material based on your roof. To choose a roofing contractor, you should estimate its full cost from three different contractors. These include installation costs, material costs, and detailed labor costs.
---
Like this post? Share it with your friends!
Suggested Read –
---
Frequently Asked Questions (FAQ)
Lean to Roof
Lean to house plans is a type of pitched roof with a single slope. The design of this type of roof is simple and straightforward. It is mainly added to the front of the building as an extension. Lean-to roof is most commonly used in ordinary homes.
Skillion is also known as shed roof or lean to. It is a single, sloping roof, with one side usually attached to a high wall. It can be considered for installation as a half pitched roof or as a more angled flat roof. Skillion roofs are often used for home additions, sheds, and porches.
How to Lean to Shed? or How to Build a Lean to Shed?
To build a lean to shed, start by cutting lumber into joists that are the width you want your shed to be. After you've built the frame of your shed floor, add 4 skid beams for support and cover them with plywood.
How to Build a Lean-to Shed Roof?
Lean to roof plans are usually a shed with three walls and a sloping roof. Learning to shed plans for an existing 12×14 shed. Start by gathering your supplies, including a tape measure, 48-inch level, circular saw, nail gun, and drill driver.
Senior citizens can find free roof repair services by following the same approach and adding three additional options: charities and churches, other government benefits, and the Section 504 program. Free grants can make your roof replacement project more affordable.
Lean to Roof Ideas
Lean-to roof diagram is the most used roof for the extension of houses. It is a common type of pitched roof. In some cases, the role of the roof is to provide additional living space. It makes the building energy-efficient, resilient, and weather–proof by providing a roof.
Building a lean to roof
Building lean to roof on a house step by step:
Step 1: lean-to roof Cleaning and Levelling
Step 2: Mark the lean-to-the-roof Area.
Step 3: Create lean to roof Post Holes to Install Supporting Posts.
Step 4: Fill the Post Holes with Concrete.
Step 5: Cut Notch on Top of Posts.
Step 6: Driving purling
Step 7: Proper Fixing
Step 8: lean to roofing material
Lean to Roof Pitch
Lean-to-roof minimum pitch is 1/4:12. Which translates to a 1/4-inch rise to 12 inches of run.
What Is the Minimum Pitch for a Lean To Metal Roof?
The minimum roof pitch for a lapped, unseal metal roof is 3:12. That ratio equals just over 14 degrees. Lapped metal roofs with sealant between the laps can go as low as ½:12, which equals around 2.5 degrees.
Lean-to roof Cost
Building a simple roof with a lean-to-roof house costs $ 1,400. The average cost for a lean-to-conservatory roof replacement depends mainly on the lean-to-roof size and the lean-to-roof roofing material. lean-to roof Replacing a tiled concrete roof costs £ 350- £ 850 per square meter.
Building a lean-to porch roof cost can range from $4,600 – $22,000 for a 200-square-foot.
What Is a Lean-to Patio?
lean to patio roof ideas is a perfect way to provide space for dining and recreation in landscape design. which reduces the physical size and lowers the cost of materials required for such construction.
How to Build a Lean to Off a Shed?
Attach any purlins you plan to use on the outboard side of your lean-to. Fasten the nailer to the side of your existing building where you will attach the upper end of your rafters.
Roofing Repair & Rebuild
USA Construction LLC: This company specializes in residential and commercial shingle, tile, metal, and flat roof leak repair, siding leak repair, chimney leak repair, gutter leak repair, and skylight leak repair. Their services include roof flashing repair, roof vent pipe repair, wood rot roof repair, roof plywood repair, siding leak repair, and roof replacement.
Luxury Rebuilding LLC: Luxury Rebuilding is a roofing contractor in Bogota, New Jersey. This roofing contractor is family owned and operated.