Conservatory Roof
Hello guys, Today, after extensive research, I'm going to share with you an ultimate guide to Conservatory Roof.
Glass Conservatory Roof is the ideal option for you in conservative roof types. The option of Glass Conservatory Roof is ideal for viewers to create a fun, lighter space. There are many more great advantages to select the GLASS Conservatory ROOF, which includes: durable and energy-efficient.
A conservatory roofing system allows for the entry of natural light and has the advantage of controlling the temperature.
Polycarbonate roofing is an inexpensive option to replace your conservatory roof. Its materials are easier to work with and require less framing skills, so labor is less expensive. Individual panels are also less expensive than a comparable glass panel or tile area.
Single-glazed or polycarbonate roofs like most old-style conservatory roofs are cold in winter and very hot in summer. However, now, you may also be eligible for a conservatory roof replacement grant.
Conservatory Roofing
Conservatory blind ideas will add color and texture to create a stylish, comfortable, and welcoming space. There are six types of conservatory roofs:
1. Glass Conservatory Roof
With a variety of forms and shapes, glass roofs allow light to stream into space, creating a stunning visual effect and a sense of space that is both functional and aesthetically pleasing.
Strong aluminum frames are used to support the glass, creating a solid and resilient roof that can endure the worst of British weather, including high winds and heavy snowfall.
The 'greenhouse' effect that glass has can make a space uncomfortable in the summer and the winter. Conservatories may now be used all year round thanks to new glass technology that uses coatings to deflect solar gain and conserve heat.
To a degree, the glass roof can only do so much when exposed to direct sunshine. Roof blinds for a south-facing conservatory are highly recommended throughout the warmer months to help regulate the temperature. Hybrid roofs are another option.
2. Solid Tiled Conservatory Roof
With a tiled roof, the conservatory feels more like an extension of the house, but the light floods in through the fully transparent walls. The solid roof's superior thermal performance is the primary driver behind its widespread adoption as a conservatory roof covering. As low as 0.12 W/m2K is possible for a tiled roof.
Tiled roofs are also beneficial for south-facing spaces since they help regulate the temperature. Your conservatory will have a vaulted ceiling or sloping ceiling if you choose tiled roofs. With a tiled roof, you can enjoy your conservatory all year round, making it more of an extension than a simple room addition.
3. Hybrid Roof Conservatory Roof
As long as you want a tiled roof, but don't mind letting in some natural light, a hybrid roof is an ideal solution. Insulated conservatory roof composite exterior panels and high-performance PU board insulation are used in a hybrid roofing system.
These are extremely durable and completely efficient in terms of heat transfer. Large glazed portions are created by inserting glazed panels into the roof, which creates a light and airy atmosphere. While hybrid roofs are the most expensive option, they will produce a more appealing and functional area than any other.
4. Polycarbonate Conservatory Roof
Polycarbonate is the most common material for conservatory roof panels and is the most cost-effective option. Its materials can cost around £3,000. This includes all fixings and polycarbonate sheets required for conservatory roof panels.
There are two options for replacing your existing conservatory roof with a new energy-efficient roof system. Replacement polycarbonate roof panels or roof glass replacement.
By layering multiple layers of multi-wall plastic sheeting with an air gap between the sheets, a polycarbonate roof creates a thermal barrier that traps warm air. Due to its lighter weight than glass, plastic can be utilized to swiftly and cheaply construct a lightweight construction without the requirement of a reinforced frame.
Despite its affordability, polycarbonate isn't the best choice for a home conservatory because of its lightweight and structural stability. Polycarbonate was once the standard for conservatory roofs, but it leaked, overheated, and provided inadequate sound insulation. A polycarbonate conservatory roof can devalue a home since it looks cheap and unattractive to potential purchasers.
Also Read: Lean To Roof Ideas | Sawtooth Roof | Hip and Valley Roof | Catslide Roof 
Conservatory Roof Options
The majority of conservatory designs have a rectangular or square floor plan. As a result, the majority of existing conservatory roofs can accommodate a square-shaped building. In reality, the roofs of many square conservatories lend a particular look to the structure.
The Victorian conservatory and the P-shaped design are the two non-rectangular designs. With its square design and Victorian elegance, the conservatory blends the best of both worlds.
Victorian  Style
Lean-To Roof Style
Gable Roof Style
Edwardian Roof Style
Solid Roof Style
Loggia Style
1. Victorian Conservatory Roof Style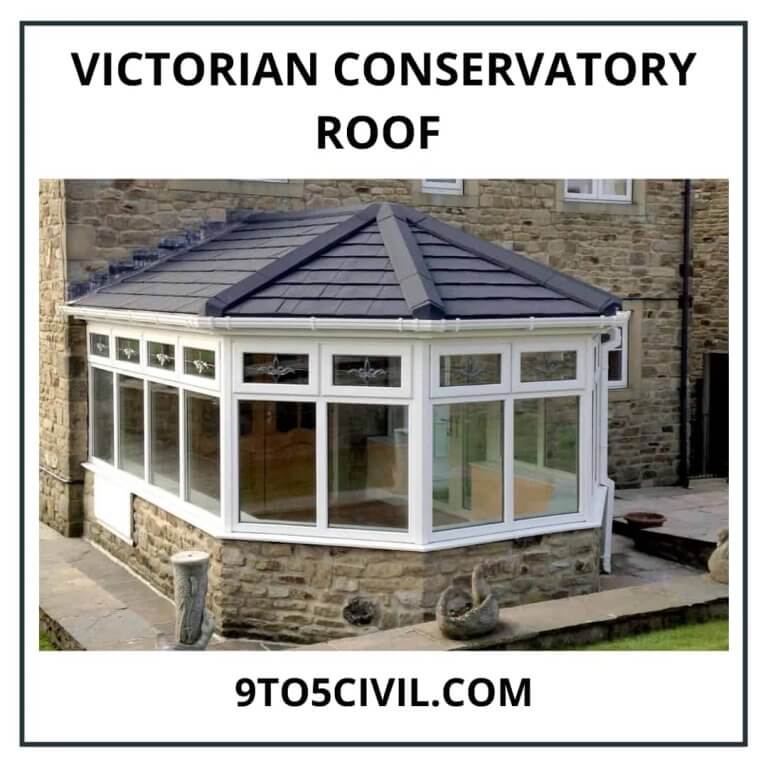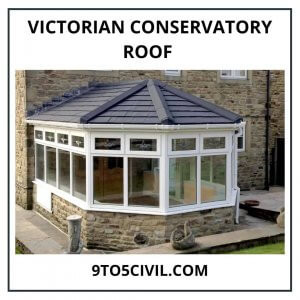 The most popular conservatory roof style is the Victorian. There are just a few styles of conservatories that have a distinct roof and shape. A bay window at one end distinguishes this design of conservatory. Multiple facets make up the bay window's form, which projects outward from the wall. A window sash represents each facet. As a result, one wall is dramatically bent.
This curved shape is perfectly suited to the conservatory roof. These triangle panels are used to make the roof "fan" out along this edge. For properties that have been around for a long time, this type of conservatory is a must-have. It can, however, be adapted to modern homes in order to bring a refined appeal to them as well.
It's a traditional design that gives you more than just a square room in your conservatory. You feel as if you're looking out into the garden from the bay window. For one thing, it gives character to the room.
Also Read: Saddle Roof | Bow Roof | What Is Roof Flashing? | Butterfly Roof 
2. Lean-To Conservatory Roof Style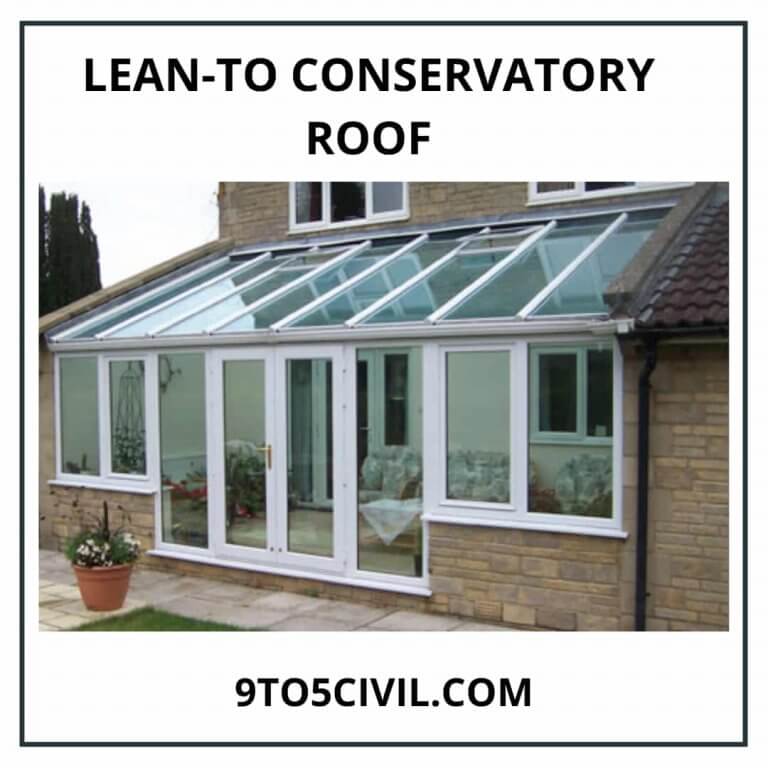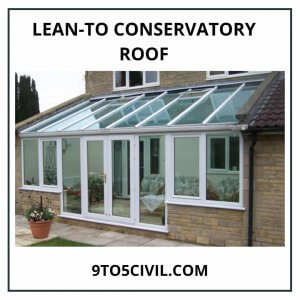 For bungalows, a lean-to-conservatory roof is a preferred option because of its visual appeal. Due to the reduced height, many bungalow owners choose this type of conservatory roof. The style's name derives from the roof's form. You can alter the pitch of the roof so that it appears to be leaning against the house at its tallest point, giving the impression that it is.
When it comes to lean-to-conservatory roofs, the most common shapes are the square or rectangle with a single-sloped pitch, but they do a great job of letting in more natural light.
3. Gable Conservatory Roof Style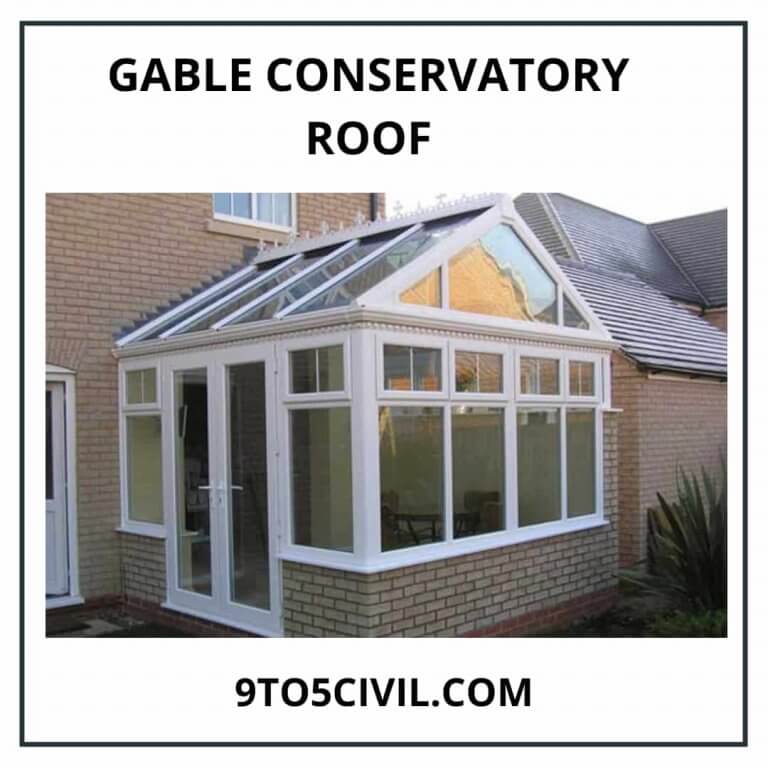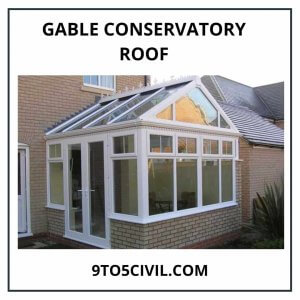 Gable Conservatory roofs with high vaulted ceilings and triangular-shaped front panels are called gable conservatories. This gable roofs are known for their exquisite structure and for being relatively high in pitch and height in comparison to other roofs.
They're making a huge impact on the look and feel of your home. Vertical systems and symmetrical designs maximize space and light.
Also Read: Types of Crawl Space Insulation | How to Insulate a Crawl Space?
4. Edwardian Conservatory Roof Style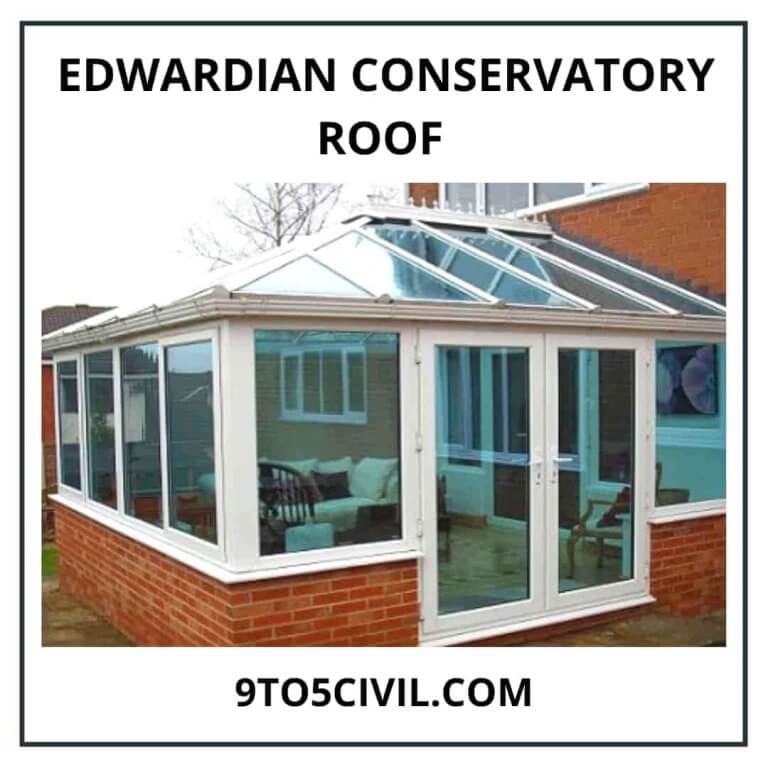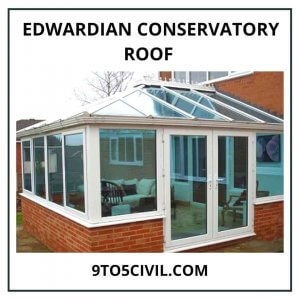 A nod to the past may be seen in the design of this conservatory's roof, as well. Similar to Victorian conservatory roofs, these roofing styles are better suited to conservatories with fewer features.
These types of roofs in the Edwardian style, which are often made up of three portions that slope upward, tend to be popular with those who want contemporary design. If you're looking for a Victorian-style conservatory look, these roofs will help you get the same effect.
You should, however, spend some time comparing and contrasting the Edwardian and Victorian conservatory roofs. There are a number of small details and variances, and we are delighted to assist you in making a decision that is right for you.
5. Tiled Conservatory Roof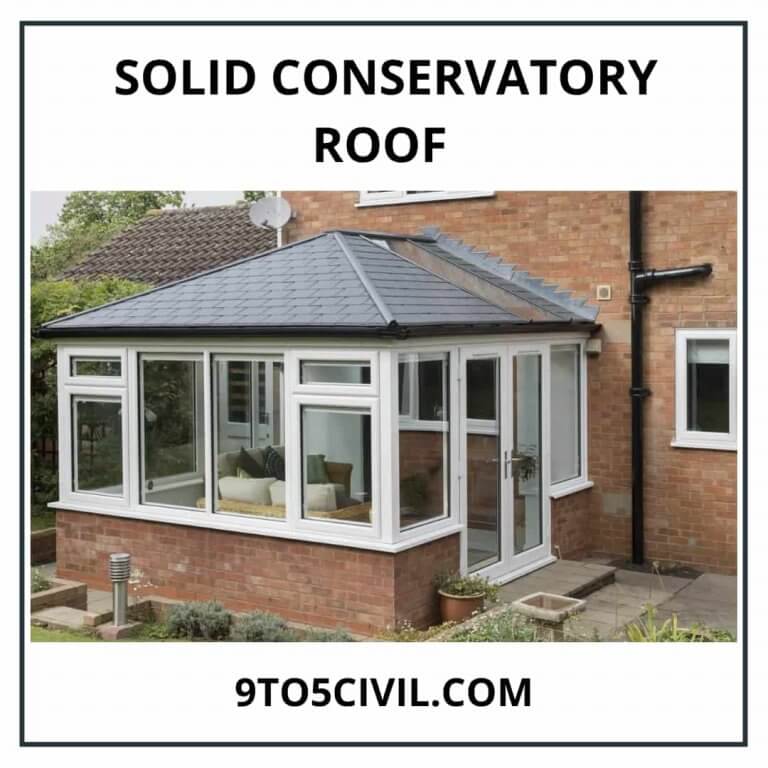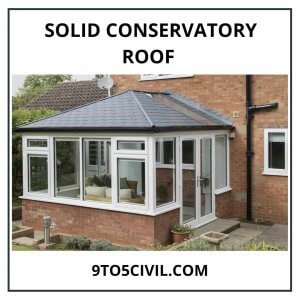 Yes, you can have a tiled or heated roof on a conservatory. What's the harm? Choosing a tiled conservatory roof over a glass or metal one may seem like a no-brainer if you want your addition to be as seamless as possible with the rest of your house.
Solid roofing can, of course, be customized with skylights and glass panels to maximize the amount of light passing through. Of course, a stunning glass conservatory roof is the best way to make a statement in terms of style. But there are many who would rather harmonize their outward appearance.
Also Read: Best Flat Roof Coatings | Roof Eaves | What are Asphalt Shingles?
6. Loggia Conservatory Roof Style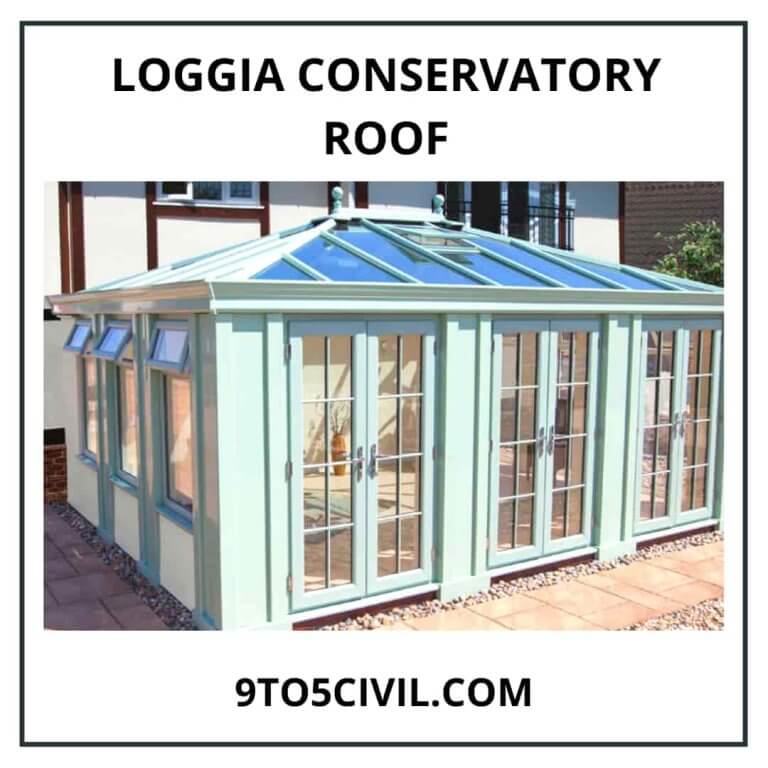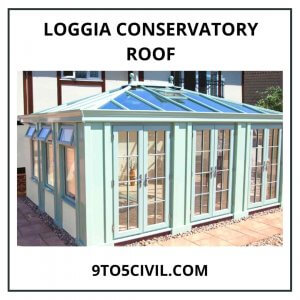 Lastly, a Loggia conservatory roof is a contemporary, European-inspired design. It's obvious from the name that this dish is influenced by Italian cooking methods. This type of roof has four hip sides, like a roof lantern. Loggia roofs are often more environmentally and energy-efficiently friendly than other types of roofs.
What Is the Best Conservatory Roof Type and Material?
To choose the greatest conservatory roof for your needs, you'll need to take a few things into mind.
Spend some time considering how different conservatory roofs will affect your financial plan and how often you'll use your new room when it is installed to get the most bang for your buck and the room itself.
The style of conservatory roof you choose can have a significant impact on how much natural light and how much temperature control you get out of your room.
In order for your conservatory to remain functional, pleasant, and pleasurable throughout the year you must select the correct roofing solution.
A wide range of budgets can be accommodated by our roofing choices, and at Conservatory Land our polycarbonate and glass conservatory roofs are two of the most popular options.
We'll walk you through the benefits and drawbacks of both types of conservatory roofs so you can make an informed decision about your home improvement project.
Also Read: Saltbox Roof | Saltbox House | Saltbox Roof Design
Energy Efficient Polycarbonate Conservatory Roof:
Conservatory roofs composed of transparent or colored polycarbonate sheets are called polycarbonate roofs. When it comes to insulating a conservatory, the thicker the roofing material, the better, as the gaps between the stacked sheets trap warm air, preserving the heat in the room below.
The plastic roof can be upgraded to a thickness of up to 32 mm at Conservatory Land for additional energy-saving insulation. For cooler months, this is especially beneficial because a thicker polycarbonate roof will limit heat loss through the conservatory roof and retain the heat produced by internal heating equipment.
You may enjoy your conservatory all year round if you keep the interior a little bit warmer in the winter. Roofing sheets made of polycarbonate plastic are a long-lasting alternative to glass. conservatory ceiling. Because they are lighter than a glass roof, they can be installed more quickly and transported more easily.
For this reason, you may rest assured that no matter how hot or cold it gets, your polycarbonate conservatory roof will not fracture or break. Plastic polycarbonate roofs can be scratched or dented easily, and their look may change over time, necessitating replacement despite their exceptional durability.
Many homeowners who want to build a conservatory on a budget choose for a polycarbonate conservatory roof, which can save them hundreds of pounds over a glass roof.
If you're worried that your conservatory will get too hot once the sun comes out, a UV-blocking tinted polycarbonate roof can help keep the heat from the outside out and keep the temperature cool in the conservatory during the summer.
Conservatory Cost
Conservatory Cost varies based on design, local labor and material costs. Before you start conservatory construction, you should consult a roofing contractor. A conservatory costs approximately $7,500 to $15,000.
Conservatory Roof Replacement Cost
The cost of a new conservatory roof can range from £3,000 to £8,000, depending on a variety of factors. Perhaps you might negotiate a lower price or perhaps you could command a higher price for one. To a large extent, this is determined by your conservatory's overall size, as well as the materials you've chosen for the roof and other custom options.
Glass conservatory roof replacement costs can range from £3,000 to £3,500, depending on the size of the Lean-To conservatory you have. When compared to Victorian conservatory roofs, which might measure up to 5.1m by 5.1m (16ft by 16ft), prices ranged from £5,00 to £8,00. As a result, Replace conservatory roof depends on the size and style of your conservatory.
It all boils down to what you want in a roof and how much money you have to work with. Do your homework to find a conservatory roof that matches your needs.
Conservatory Roof Repairs
Replacement of old and damaged roof panels, along with the resealing of weathered joints and seals, can repair a leaking conservatory roof quickly and efficiently. Polycarbonate will adhere to with epoxy no problem, in fact, it is easy to glue with many adhesives including super glue. Find a bit to patch the hole up and glue it with two parts of epoxy.
Conservatory Roof Replacement Cost
The cost of a new conservatory roof can range from £3,000 to £8,000, depending on a variety of factors. To a large extent, this is determined by your conservatory's overall size, as well as the materials you've chosen for the roof and other custom options.
How to Clean Conservatory Roof?
Conservatory roof cleaning is necessary to keep it looking good and working well. Here's how to clean a conservatory roof step by step:
Make sure you have all of the appropriate safety equipment before beginning to clean the conservatory roof. Sturdy stairs, non-slip shoes, and protective glasses are examples.
Collect the Cleaning Equipment: Collect the cleaning equipment you'll need, such as a soft brush or broom, a long-handled squeegee, a bucket, mild detergent or conservatory roof cleaner, warm water, and a microfiber cloth.
Remove Material: Using a soft brush or broom, gently remove any loose material, such as leaves, twigs or dirt, from the roof of the conservatory. Be careful not to scratch the surface.
Pre-Wash: Fill a bucket with warm water and mix in a small amount of mild detergent or conservatory roof cleaner. Mix the solution well. Dip a soft brush into the soapy water and carefully scrub the ceiling, starting at the top and working your way down.
Using a Pressure Washer: After you've cleaned the roof, use a garden hose or a pressure washer on a low setting to completely clean it. Make certain that all soap residue and grime are removed from the surface.
Dry and Polish: Using a microfiber cloth, dry and polish the glass or plastic panels to remove any lingering moisture and give your conservatory roof a streak-free sheen. Wipe the surface gently in a circular motion until it is dry and clear.
Also Read : Slate Roof | Gable Roof | Bonnet Roof | Saltbox Roof | Gambrel Roof | Types of Curved Roof
Advantages of Conservatory Roof:
A tiled roof conservatory is becoming a popular choice for many homeowners who want to expand their living space. Glass or polycarbonate is the most common material for a conservatory roof.
It is possible to use our tiled roofs on any type of conservatory. From Edwardian to Gable-style conservatories, our tiled roof options are made to order to fit your specific conservatory.
Here are five reasons why you should take advantage of these benefits.
Enhanced Power Efficiency: This is one of the primary advantages of having a tiled conservatory roof. Your conservatory can be enjoyed year-round thanks to the additional  insulation in the roof structure. You'll also save money on your heating bills in the winter, as compared to a conservatory with a polycarbonate or glass roof.
Acoustical Enhancements: With the addition of a tiled roof, not only does your conservatory's thermal efficiency improve, but the acoustics improve as well. Tiled roofs are quieter than glazed or polycarbonate roofs, reducing noise levels by up to 30 decibels.
Improved Visually: Our solid roofs are available in a wide range of colors and styles, allowing you to match them to your home. As a result, your conservatory will appear to be a traditional addition to your house rather than a separate structure.
Conservatories Can Be Made More Modern by Adding Skylights: Choosing a solid roof doesn't mean that you can't enjoy the light that a traditional glass roof conservatory provides. A vaulted ceiling will give your home a unique feel, while skylights will bring in the light you'd expect from a conservatory.
Enhances the Value of Your Property:  You can raise the market value of your home by installing a tiled roof conservatory. Adding a tiled roof conservatory to your home can completely transform your living space. If you decide to put your home on the market, a tiled-roof conservatory could help you sell it more quickly by increasing the value of your home.
Disadvantages of Conservatory Roof:
There are also some disadvantages of conservatory  roofs that are as follows:
Inability to Maintain a Consistent Temperature: The quality of conservatory roof glass has improved, but its primary function remains unimpressive. Keeping the temperature at a comfortable level is generally the primary goal of conservatories, which can overheat in the summer and feel cold in the winter.
Expensive: As durable as polycarbonate is, glass conservatory roofs may not be as cost-effective as some other options.
Reputational Calamity: Prospective buyers may be deterred from purchasing a glass conservatory because of the drawbacks that come with it. They may not see a conservatory roof as an extra worth paying for, but rather as a squandered space. This means that the cost of building a new glass-roofed conservatory may not be worth the effort if you decide to sell.
---
Like this post? Share it with your friends!
Suggested Read –
---
Frequently Asked Questions (FAQ)
How to Clean Conservatory Roof?
Collect the Cleaning Equipment:
Remove Material:
Pre-Wash:
Using a Pressure Washer:
Dry and Polish
Conservatory Roof Options
Victorian  Style
Lean-To Roof Style
Gable Roof Style
Edwardian Roof Style
Solid Roof Style
Loggia Style
How Much to Replace Conservatory Roof?
If you're replacing your conservatory roof, then it may be that you need a new roof for the interior of your household as well, the cost to replace a roof can cost between £3,000-£5,000 depending on size, material and location.
How Much Does a Tiled Conservatory Roof Cost?
On average, replacing your glass conservatory roof with a solid, tiled roof you can expect to pay for a smaller conservatory (below 4,000mm by 4,000mm) is £16,000. For a larger conservatory roof, replacing glass or plastic with tiles will cost around £30,000.