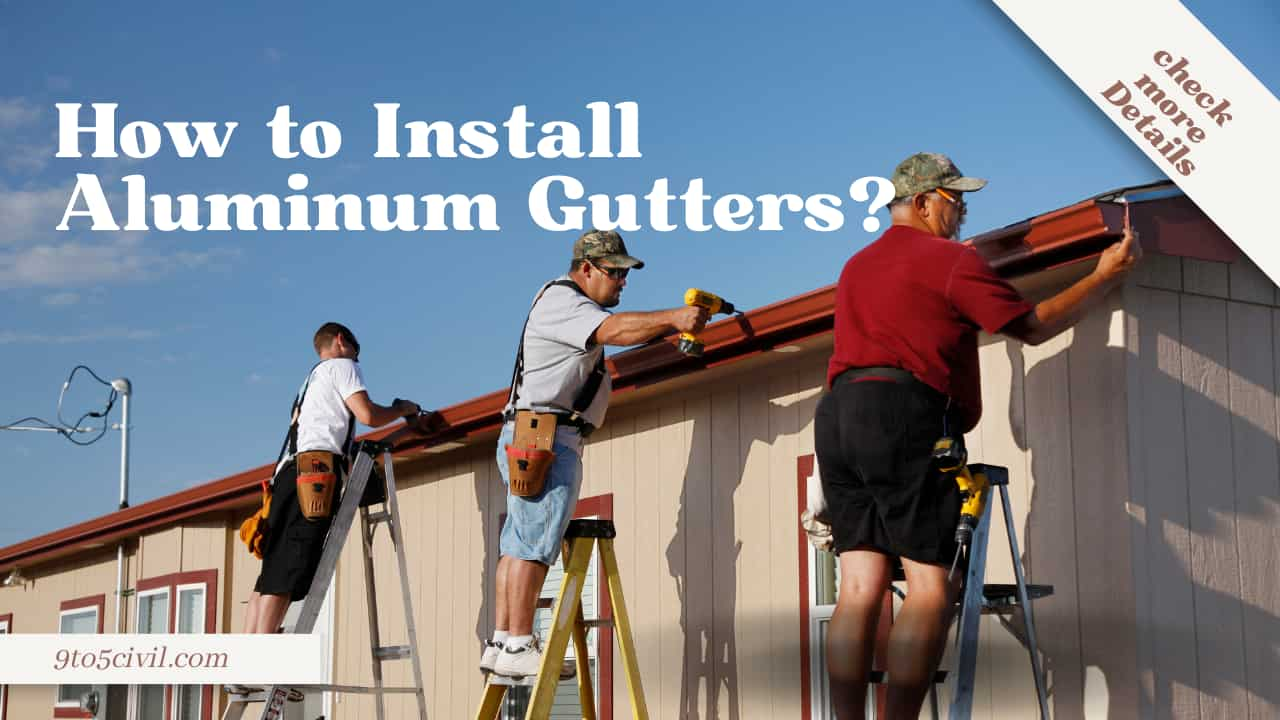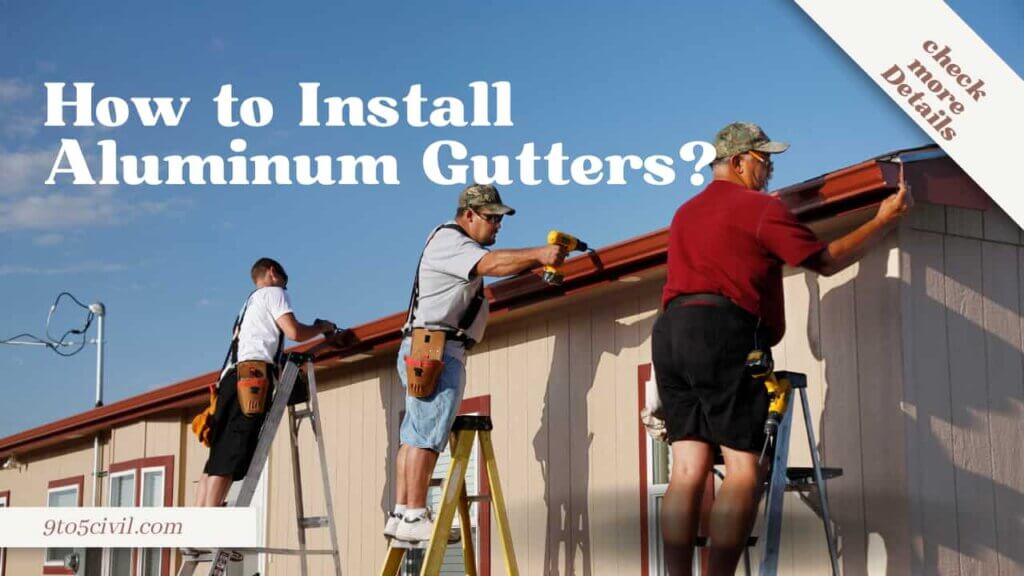 Rain gutters and downspouts are important parts of the roof. Which you use to dispose of and transport rainwater to the right place. Which usually helps prevent soil erosion, damage to the siding, and leakage into the basement.
A roofing contractor usually installing aluminum gutterss, but there's no reason you can't do it yourself. All accessories related to the gutter systems are easily available at home improvement stores. If you are going to repair your gutters and downspouts, you can also improve the overall look and effectiveness of your rainwater system.
So you will know that proper installation of the gutter is necessary for it to work properly. If you want to do the gutter installation yourself, you can also solve it yourself. Many homeowners usually install the gutter themselves. Yes, you know that for any task its information should be known. I will give you instructions on how to install aluminum gutters in this article. So you keep reading.
Aluminum Gutters
There are many materials to choose from when searching for the right materials for your new gutter system. Such as PVC gutter, steel gutter, aluminum gutter, copper gutter, etc. Aluminum Gutters may be the ideal solution for your gutter. Aluminum is a common gutter material that is considered to be the most versatile option. It has many benefits that you should know about.
Aluminum gutters are the most popular metal used for gutters because they are low cost and low maintenance. Aluminum rain gutters do not corrode, so it is an excellent practical investment as it lasts a long time.
Aluminum gutter systems are durable. It can last for 20 years or more in different conditions. It can also be easily painted. You can also design it according to your need. Seamless aluminum gutters are also very popular.
Also Read: Lean To Roof Ideas | Sawtooth Roof | Hip and Valley Roof | Catslide Roof 
Aluminum Downspout Extension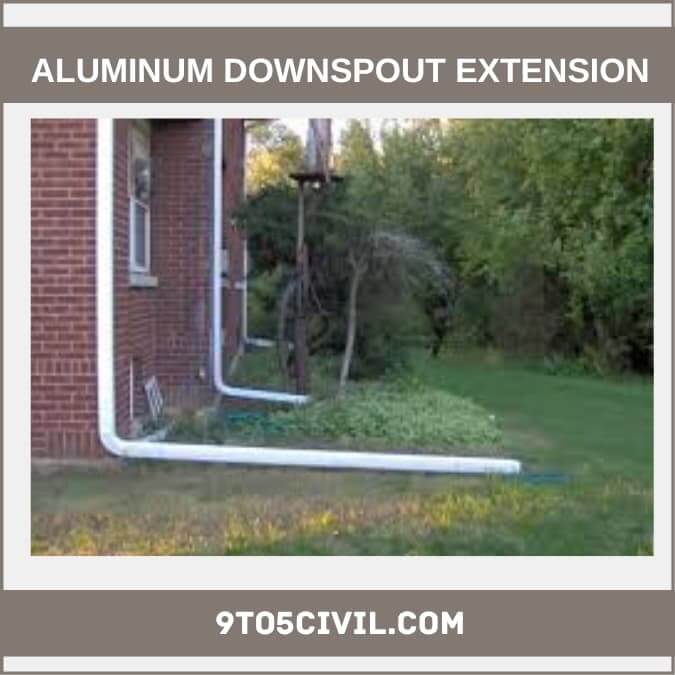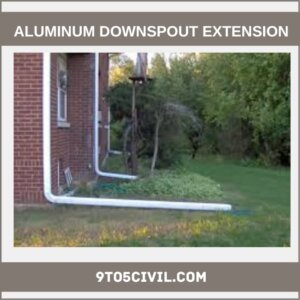 The purpose of a gutter is to collect water that falls from your roof and remove it (or channel) it from the pier and beam foundation of your home. If there is no gutter, water can wash your foundation and seep into your property. Therefore, if you have a basement leak, we recommend that you install downspout extensions in your gutter system.
The aluminum downspout extension is often only an additional segment of downspout installed on the bottom elbow. It runs horizontally and exits in your yard, away from your house. They are lying on the ground in the photo above.
K Style Aluminum Gutters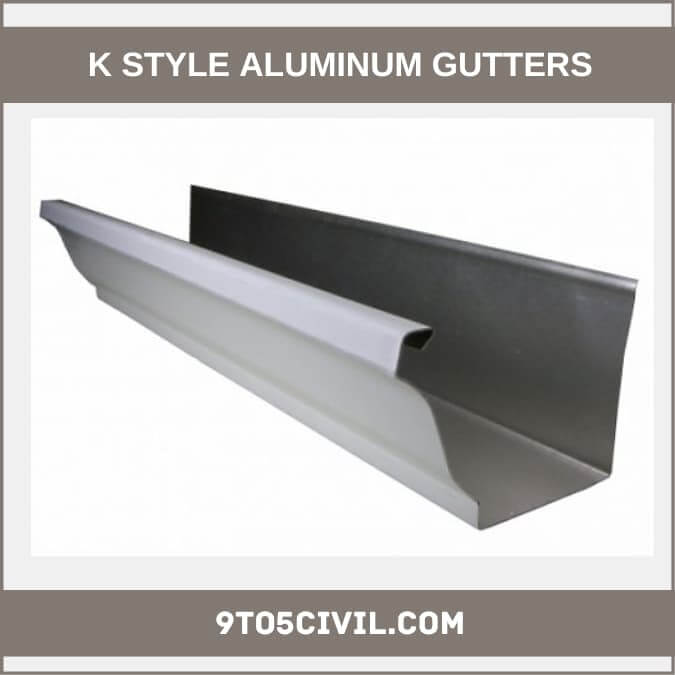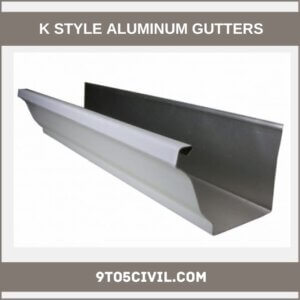 Painted aluminum K-style gutters are a popular gutter profile among homeowners all around the country. They are low-maintenance, durable, light, and simple to install.
Guttersupply.com offers over 20 different color options, ranging from copper penny aluminum to Savannah Wicker aluminum. it can ship any length up to 20 feet in length (10-foot min. order per size and color). When you go to checkout, its system will prompt you for specific lengths based on the total footage required.
Also Read: Chimney Flashing | Roof Flashing | Counter Flashing | Gutter Guard | Gutter Helmet Vs Leaf Guard
Standard Aluminum Gutter Sizes
Gutter sizes are usually 5 inches and 6 inches, although 4 inches are also available. Downspouts are 2 x 3 inches and 3 x 4 inches in size or 3 or 4 inches in diameter. When determining the size of a sewer system for any home, the rainfall density of that area should be taken into consideration.
Half Round Aluminum Gutters
| | | |
| --- | --- | --- |
| Half Round Gutter Size | Material | Weight / Thickness |
| 5″, 6″, 7″ & 8″ | Aluminum Standard Colors | 0.027″ thick |
| 5″, 6″, 7″ & 8″ | Aluminum Kynar Colors | 0.032″, 0.040″ thick |
| 5″, 6″, 7″ & 8″ | Copper | 16 oz, 20 oz /sqf |
| 5″, 6″, 7″ & 8″ | Galvalume | 24 Gauge, 26 Gauge |
| 5″, 6″, 7″ & 8″ | Galvanized Steel Kynar Colors | 26 Gauge, 24 Gauge |
| 5″, 6″, 7″ & 8″ | Lead Coated Copper | 16 oz, 20 oz /sqf |
| 5″, 6″, 7″ & 8″ | Stainless Steel | 26 Gauge |
| 5″, 6″, 7″ & 8″ | Zinc | 0.7mm |
Also Read : Conservatory Roof | Gable Roof | Bonnet Roof | Saltbox Roof | Gambrel Roof | Types of Curved Roof
Aluminum Gutter Installation Cost
Seamless gutters are also called continuous gutters. It is a type of metal gutter made by a fabricating machine. It does not need to assemble the gutter parts together. It can continuously gutter to the required length of your roof. The only joints in it are at the corners.
A seamless gutter is highly preferred as they almost eliminate leakage. It can only be constructed with a large, truck-mounted machine. It is a seamless gutter installed by professionals according to the need of your home.
Aluminum gutters are lightweight, corrosion-resistant, and easy to cut. Since aluminum is a very lightweight material, it is more susceptible to bending and cracking than other metals. Aluminum gutters cost can be between $ 5 and 15 per linear foot, depending on their style and thickness. These gutters can last for about 20 years, but aluminum downspouts can last for 10 to 20 years.
| | | | |
| --- | --- | --- | --- |
| Cost of Aluminum Gutter | Basic | Better | Best |
| Aluminum Gutter Material Prices | $496.00 – $520.00 | $608.00 – $656.00 | $720.00 – $840.00 |
| Aluminum Gutter Installation Cost | $400.00 – $480.00 | $560.00 – $640.00 | $672.00 – $864.00 |
| Aluminum Gutter Cost Per Foot | $5.92 | $7.70 | $9.68 |
Aluminum Gutter Replacement Cost
Aluminum gutters have a lifespan of at least 20 years. If it is maintained properly, its lifespan can be extended. Aluminum gutters repair cost between $ 100 to $ 250. At some point, they must be replaced, especially after 15 or 20 years.
If the gutter has large leaks, large holes, or cracks it is time to replace it. In addition, rusting and water pooling around the base of your home are also featured. For removal and disposal of old sewers, expect to pay anywhere from 0.65 to $ 0.85. New aluminum gutter cost between $ 900 and $ 3,000.
Also Read : What Is Roof Valley | What Is Metal Roof Insulation | Foam Gutter Guards | Modified Bitumen Roof 
How to Install Aluminum Gutters?
If you want to install aluminum gutters for your home, the Aluminum gutter installation step-by-step process is:
First of all, Before starting the aluminum gutter installation, you should determine how much gutter material you will need for the house.
For that, you need to measure the length of each aluminum gutter part with a house fascia. For that, you need to measure the length of your house fascia from one side of the house. Yes, more for that you will need a ladder and measuring tape.
Repeat the above procedure for each side of your home. Combine all the measurements together to calculate its length and add 10% to the overlapping materials of the gutter. It will show the length of the entire gutter material.
After you get the materials for your aluminum gutters, cut them to the required length using hex and tin snipes.
Now, attach the cutting aluminum gutters together using the gutter sealant, tin snipes, drill, and rivet gun.
Next, fix the corner at the end of the gutter. Next, you determine the location of your downspouts.
Make a 3-inch-diameter hole in the bottom of the gutter, use a drill shaw for that. Attach the outlet fitting into that hole. Use a sealant to prevent leakage from that outlet. Arrange the L-shaped gutter assembly in front of the house fascia.
For proper water disposal, your gutter should be given an average slope of 1/2  per 10 feet.
The slope of your gutter should be determined based on the length of your fascia
Depending on the slope calculation you should mark both ends of your house.
Attach its final caps to its sections using gutter sealant and your crimping tool.
Next, attach your gutter to your home, using a screwdriver and hex screw according to the correctly determined slope.
By overlapping your gutter sections, attach them to the gutter flashing.
Then, fix it with gutter hangers to secure your gutter. Now your aluminum gutter installation is complete!
Also Read : Clerestory Roof | Composition Roofing | TPO Roofing | Butterfly Roof
Benefits of Seamless Aluminum Gutters
Some of the benefits of seamless aluminum gutter are:
The excessive length of the regular gutter weakens the gutter system. Which may result in a leak. But seamless aluminum gutters are the best option. It can carry water properly.
These gutters come in a wide variety of colors to match your home and roof material.
The aluminum gutter requires very low maintenance and it will not rust.
Its installation is very easy. Seamless gutter installation can be completed in about a day.
The cost of seamless aluminum gutters is much lower than other types of gutters. It offers the same functionality and excellent finish as other gutters.
Aluminum Gutters Pros and Cons
Aluminum is one of the most widely used materials for gutter systems today due to its flexibility and durability. Many people consider the aluminum rain gutter as a universal solution. Which works well in most homes and industrial sites.
Also Read: Flat Roof Repair Tips | Gutter Helmet Vs Leaf Guard
Aluminum Gutters Pros:
Some of the advantages of aluminum gutter are :
It is much cheaper than other types of gutter systems.
Aluminum gutters are very easy and quick to install.
Aluminum gutter parts are lightweight and can be easily transferred.
Aluminum not only resists rust, but it will also resist thinning.
Aluminum gutter supplies near me.
Aluminum gutters Lowe's and home depot aluminum downspout extension lets you easily match your home.
Its content will last more than 20 years in any climate.
Seamless Aluminum gutters can be customized on your site to fit perfectly with your home.
Aluminum downspouts can last for about 30 years.
Aluminum Gutters Cons:
Some of the Disadvantages of aluminum gutter are:
Aluminum gutter does not bend like vinyl gutter; However, it can be a problem in dents operation. Which makes them less durable than steel gutters or copper gutters.
The material of the aluminum gutter is prone to corrosion. Therefore proper maintenance is required.
It needs to be maintained and painted periodically.
The material of the aluminum gutter expands and shrinks in extreme temperature changes. Which in turn causes cracking, splitting, etc.
---
Like this post? Share it with your friends!
Suggested Read –
---
Frequently Asked Questions (FAQ)
Aluminum Gutters
Aluminum gutters are the most popular metal used for gutters because they are low cost and low maintenance. Aluminum rain gutters do not corrode, so it is an excellent practical investment as it lasts a long time.
How to Paint Aluminum Rain Gutters?
5 steps to painting aluminum gutters on your home:
Determine if you need to remove any part of the gutter to paint it.
Clean Your Gutters Thoroughly
Apply an Appropriate Primer
Apply an Oil Based Enamel
Apply an Aluminum Appropriate Paint (with Weather Protecting) Properties
Aluminum Perforated Gutter Guard
Perforated aluminum gutter guards are made from flat sheets of aluminum that are formed into shape by a roll-forming machine. Most roll-formed aluminum gutter guards have a simple profile that either has a smooth or wavy surface.
Aluminum Awning Gutter
An Aluminum Awning Gutter is a useful finishing item for your aluminum awning. Rain gutters perform the important function of draining hundreds of gallons of water off the roof and away from the foundation of your building. In addition, rain gutters help prevent water damage that sometimes seeps into your home, causing ceiling and wall damage.
Lowes Aluminum Gutters
The lowes have a wide selection of gutters, gutter downspout components, gutter connectors, and gutter brackets. There are two main types of gutters to choose from. Aluminum gutters are more popular because they are durable and have been known for over 20 years in any climate.
It is available in a wide range of colors, so if you are looking for something special like a white gutter, black aluminum gutters, or brown gutter to match your home, you will have no trouble finding it. Vinyl gutters are usually less expensive than aluminum but have a shorter lifespan. Depending on where you live, vinyl gutters may be the right option for you. Replacing the gutter is a big job. It is a free guide.
Aluminum Gutter Installation Cost Per Foot
The average cost of installing new aluminum gutters is between $4 and $8 per linear foot. Vinyl gutters are less expensive, ranging from $3 to $6 per linear foot. Installation should cost between $600 and $1,600 for a typical home with 150 to 200 feet of gutters.
Aluminum Gutters Home Depot
5 in. x 16 ft. White Aluminum K-Style Gutter: Amerimax Home Products The 16-foot Aluminum Gutter is made of extra-long, heavy-weight aluminum. This robust gutter, with a baked-on white finish and a typical K-type shape, may be used to regulate runoff and protect your home's walls and landscaping. This gutter fits 5 in. gutter systems and is an excellent addition to your property.
Aluminum Elbows
Aluminum downspout elbows are placed at the bottom of a downspout to guide drainage away from the foundation and connect the gutters to the downspouts at the roof line. A style downspout elbow
distributes water from the gutter outlet to the downspout in either direction. B style downspout elbow
move water from the gutter outlet to the downspout to the left or right.
Extruded Aluminum Gutters
The technology used to make seamless gutters extruded aluminum benefits greatly as it creates a unique profile to connect the gutters only to the inside and outside corners or downspout outlets. Which eliminates the chance of leaking, accumulating dirt, or otherwise failing.