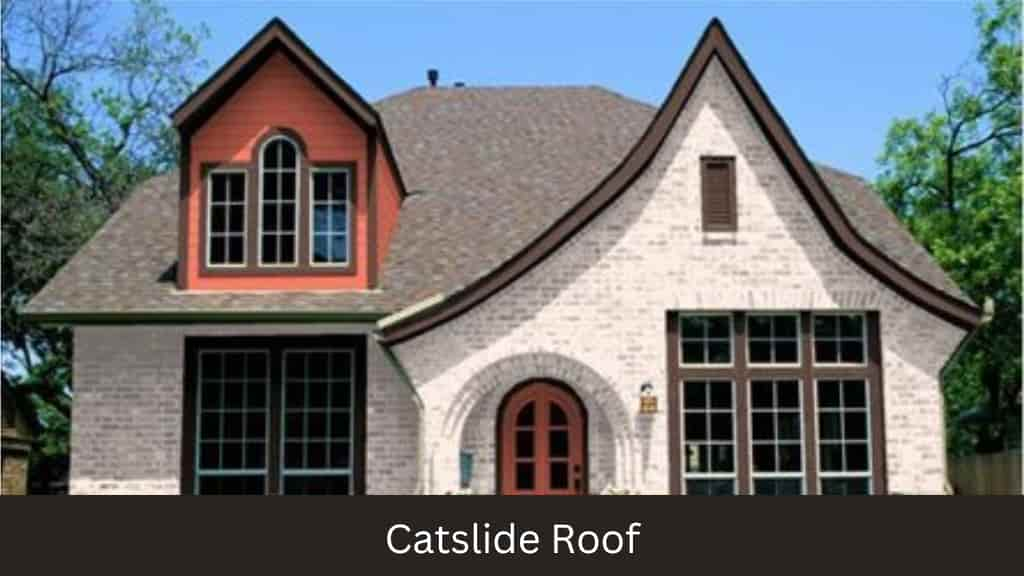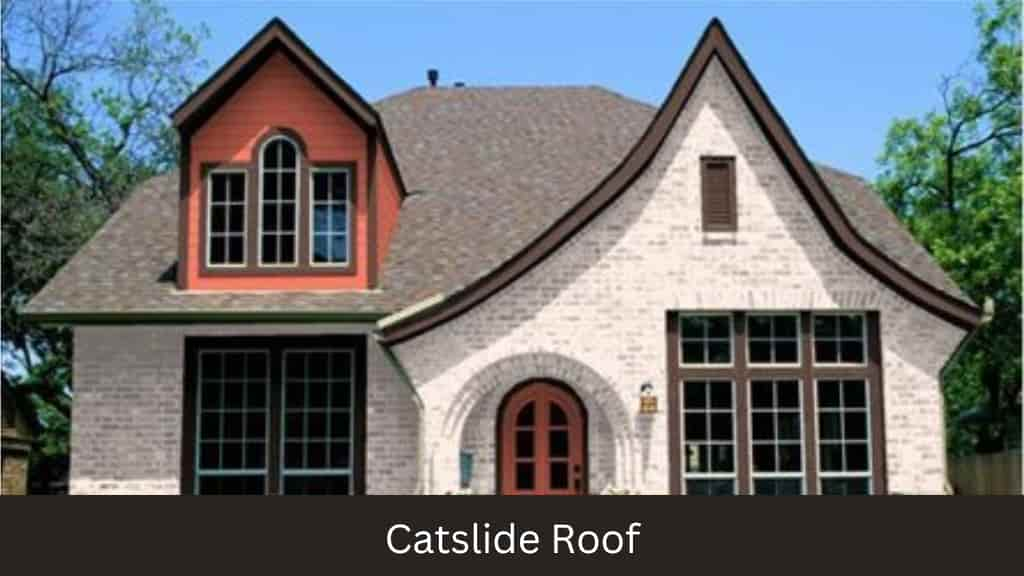 What Is Catslide Roof?
A catslide roof is one type of pitched roof. In a catslide roof, one side slopes steeper than the other. This extension allows for an increase in interior space without extending the height of the building.
It extended till it touch the ground. It is used to increase the space in the house without changing the height of the building.
Catslide Roof Extension
Catslide Roof Extension gives you the extra space you need in the house. It increases the space of the house without increasing the ridge height of the roof. It can be placed according to your choice.
You can put that till the ground of the ground floor, making an extra roof for use. Or you can it outside of the house as a porch or a big garage. It is used as extra space by households. It gives quite a decent look to the house too. Many people like the idea of a catslide roof because of it.
Catslide House
You can put Catslide roof in different places of the house. It depends on where you want to need the extra space for the house. Most common is Catslide roof stretched down to the floor in the ground on the ground floor.
Some people prefer it outside of the house and use the extra area like a porch. Some put catslide roofs to their garages or outbuildings. So, they can have extra space to fit their all cars. So there are many places it can be used.
Also Read: Crawl Space Foundation | What Is Crawl Space Foundation? | How to Build a Crawl Space Foundation?
What Is a Catslide Frame?
Catslide frames are the frames that are added after the extension of the roof to the ground level without increasing the height of the building. It gives the artistic look to the house and it is one of the reasons many prefer this. Timber frames are most common to use in this system.
What Is a Catslide Dormer?
Catslide dormer extends beyond the pitch of the roof in the traditional way. The windows have a slight pitch to them, not like typical traditional dorm windows which have flat roofs. It makes the house attractive in appearance from outside and from inside it give normal head height for a house.
Best Roof for Catslide Roof System
There are many roof styles. But only some of them suit best for the Catslide roofing system. From all the options two types of roofs are selected to be best suited for this roof system. They are Gable roof and Lean-to. Here are the reasons why they are suitable for catslide roofs:
Gable Roof:
It is one of the common roofs used by people.
It has space above which can be used as headspace or store or small attic.
It prevents the slope from snow and water as it sheds them easily.
It is easier to build than other types of roofs.
Lean-to Roof:
Not much expensive compare to other roofs.
It easily shed the water and snow from the slope of the roof.
Because of roof overhang roof is protected from wet weather.
The walls are high so there is space for attic storage or loft.
Solar panels can be installed
It is easy to build.
Catslide Roof Substrate:
The substrate is a surface where the roofing is installed. It can be of different types. You can use a thin-film layer between the membrane layer and insulation. It protects the roof from blistering which can be caused when many adhesive products are used during the installation of roofing.
Also Read: What Is Composite Roofing? | Types of Composition Roofing | Composition Roof Cost
Types of Roof Substrates Use in Catslide Roofing:
Plywood/OSB
Mineral fiber
Cement
Wood fiber
Gypsum fiber
Gypsum
High-density polyiso
Perlite
Asphaltic
Substrates are fastened to the underlying substrate or structural deck. After it is properly fastened you have to check it for any problem.
There are different types of techniques for the installation of the roofing system. One of the common is staggering the joists of the cover board in each line and to the different joints of the insulation belonging to it. This decreases the gaps and bridging between the layers of the roofing system.
Catslide Roofing Materials
There are different types of materials used for roofing. All of this is installed and then after a little bit of finishing touch everything is done. So here are the materials that can be used in roofing:
1. Metal:
Metals have a lot of advantages. It is low weight. It long last than many roofing systems. It is weather resistant which is one of the things preferred by many house owners. The only problem is that it is expensive but it gives protection for a longer time than other materials.
2. Cedar Shakes:
It can last longer if it is maintained properly. You have to check it frequently to get the best use of it. It is naturally insect resistant, which is a very good condition for houses. It protects the house from the sun. It has traditional look which is liked by many people. Its range is not very expensive, it comes in average cost.
3. Three-Tab Shingles:
It is one of the common roofing materials as it is cheaper than most of the other materials. It is easy to install. It can be done by normal people without roofing skills. But still many prefer professional staffs for installation. If it is properly maintained then it can last longer also.
4. Asphalt Shingles:
In this, two or more layers of asphalt are laminated together. These are normally seen in residential buildings. It is heavier than three-tab shingles. It can last for a lifetime. It gives the roof of the house an artistic look.
5. Mineral Surface Roll Roofing:
It is a glass fiber reinforced asphalt. It is fully coated with ceramic granular. It protects the house from UV radiation and weather and any physical damages. Its bottoms are coated with minerals extract. It is used for low-sloped buildings such as porches and carports. It is one of the versatile, durable, and inexpensive materials for roofing.
6. Board and Batten:
It can long last for many years. The batten is made up of wood and placed over the joints of wood panels. It gives extra protection to the house from bad weather. It is also used in drainage paths and different metals are used in it.
Also Read: What Is Space Frame? | Components of Space Frame System | Types of Space Frame | Space Frame Structures Examples | Advantages & Disadvantages of Space Frame Structure
Advantages of Catslide Roof:
Some of the advantages of catslide roofs are:
1. One of Affordable Roofing Style:
It is a cost-effective option for people who look for a budget before anything. It is budget-friendly because of the simplicity of the basic roofing design with only one slope is easier to install and takes less time to work on by the professional workers.
It provides lower roofing construction costs. Before people use this roofing system for only garage shed and garden shed. Now they change their opinions and use it to increase space in their house. It gives the value of practicality and affordability.
2. Different Types of Materials Can Be Used:
There are many options to choose from, the materials used in the construction of the catslide roof system. In this system, we can basically install any material. We can choose if we want it steeper or flatter. The types of materials can be used:
Metal roofing
Roll roofing
Clay roof tiles
Cedar shaker or shingle roofing
Asphalt shingle roofing
3. Best for Modern House Plan:
It is suited for contemporary residential building. It allows to the installation of solar panels or even plans a lining roof. You can install a green roof also, it lowers your utility bills and increases the environmental space.
This looks good on modern houses as it gives the aesthetic look to the house. It is easy to install, so it doesn't take much time. So who want roofing system for their modern house they can look for this type of roofing system.
4. Prevention from Water Pooling:
Catslide roofing system allows easy water drainage. It prevents the accumulation of water on the slope of the roof. It makes the water pass easily to the gutter.
It maximizes the water and snow drainage. Its very low roofing structure prevents drainage problems. Basically because of this type of roofing system the water moves freely and doesn't clog.
5. Skylights Can Be Installed:
Skylights can easily be installed in this kind of roofing system. It gives you the view of the outside and the fresh air of nature. It cut down the stale air in your house and exchanges it with natural fresh air. It works as natural ventilation.
Because of this, you can turn of all the lights during day time. It also gives you the essential sunlight you need and vitamin D for better health. And you can watch the stars at night.
6. You can increase space in the house without increasing the height of the ridge of the roof. It provides the extra space you need for your house.
7. From the outside, it gives aesthetic look to the house. It is preferred by many people because of the look it gives.
8. You can cater hoe much of the roof to extend. It totally depends on how much space you want to add to your house. It can be a small space or a big room.
Also Read: Skillion Roof | Types of Skillion Roof House | Advantages & Disadvantages of Skillion Roof | Cost of Skillion Roof
Disadvantages of Catslide Roof
There are also some disadvantages of catslide roof which are as follows:
1. Boxed Gutter Have to Made:
The gutter in the roof will have problems in handling large volumes of water especially when it rains. Because of that, you have to install a boxed gutter that can handle a large amount of water. It doesn't allow the water to accumulate on the slope of the roof.
The frame made for this is wood framing. But the problem is you have to properly construct it and regularly clean it. If the construction is not done properly or it doesn't clean regularly. Then it will need more maintenance.
2. Basic Design Doesn't Like by Many People:
It doesn't give a very fancy look to the exterior, especially if you have a two-storey house and a complicated roofing structure or big house.
It can be done in small houses can look nice but for complicated roofing systems, it doesn't go that well. A complicated roofing system has many issues which have to be dealt with before the construction.
3. Not for Big Houses:
It doesn't go well with large houses. It doesn't give the aesthetic look that people preferred. Because of the big house structure, it doesn't suit very well with the catslide roof system.
It is not good especially if you want to build a house with two or more stories. For big houses, a flat roof system is more suitable and it also gives quite a good look to the house from outside.
Conclusion of Catslide Roof:
A catslide roof is a pitched roof extended to one side more. It is used to create more space in the house without increasing the height of the building. Above there is all the information related to the Catslide roof. Hope you get all the information you were looking for in the above-written article.
---
Frequently Asked Questions (FAQ)
What Is a Catslide Roof and How Does It Work?
Catslide roofs effectively give the appearance of a regular gable roof. But it is so wide on one side that it is wider on the back than on the front.
Can Catslide Roofs Be Used on a Sympathetic Extension?
Yes.
What Is the Difference Between a Gablet and a catslide?
A catslide roof is a pitched roof extended to one side more. It is used to create more space in the house without increasing the height of the building. A gablet also called a Dutch gable, is where you have a hip end with a small gable at the top.
Catslide Roof
Catslide roof is the roof that continues down below the main eaves height and it gives the building the depth without changing the ridge height. In this, the section of roof extended below to cover lean-to or side room.
Why Is It Called a Catslide Roof?
A catslide roof is a pitched roof extended to one side more. It is used to create more space in the house without increasing the height of the building. One imagines some medieval builder watching a cat trapped on the roof, missing its step and tumbling down. and it has been a 'catslide' ever since.
---
Like this post? Share it with your friends!
Suggested Read –