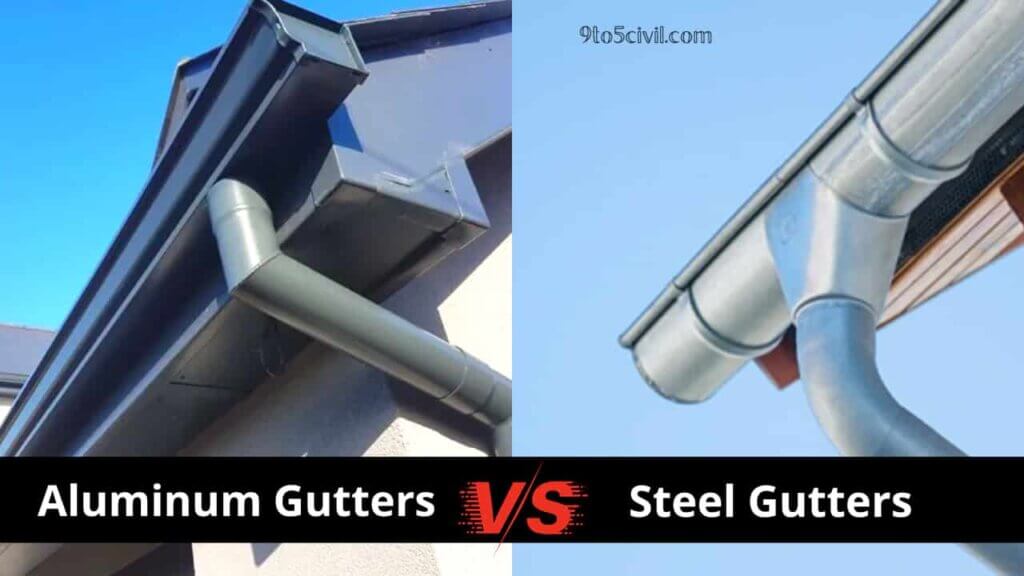 Hello people, after doing a lot of research, I have come across a fantastic guide on Steel vs Aluminum Gutters. Some how they are both, and at the same time, they are not. Let's get into the details.
Steel gutters are more durable than aluminum gutters. It maintains its shape and profile for a longer time. Steel gutters are also difficult to dent and hold in heat. However, steel metal gutters are not rust free metal. So zinc coatings are necessary to maintain it.
Gutters are an integral part of your home's exterior. When  installed correctly, they direct water away from roofs and properties. It prevents leaks and damage to the roof's protective material. Now, modern gutter systems have many different gutter material types that you can choose from for your gutters. However, aluminum and steel gutters are most preferred for residential homes.
A common question many homeowners ask a roofing contractor is which of the most popular gutter materials like steel or aluminum is the best.
While PVC gutters, zinc gutters, and copper gutters are available in the market, many homeowners prefer aluminum and steel gutter materials. If you also want to install new gutters. So for you, it is very important to decide between aluminum gutters or steel gutters. Installing suitable metal gutter materials for your home or business can save you money for a long time.
Steel vs Aluminum Gutters
1. Materials:
Installation costs of continuous aluminum gutters are lower than steel gutters. Initially, steel gutters were used as seamless installation instead of continuous aluminum gutters.
Continuous aluminum gutters are a lighter-weight material than steel. which can be made on site as aluminum gutters. Since seamless gutters do not have joints, they can last for a long time.
After aluminum gutters came on the market, it provided consumers with an additional alternative to steel gutters. An aluminum gutter is a lightweight yet durable material that works efficiently. It can be made by fabricators more easily than steel.
2. Cost:
Typically, galvanized steel gutters vs. aluminum gutters, consumers can expect aluminum options to be slightly less expensive. The final cost of steel vs aluminum gutters can vary depending on geographic location. which helps customers to make decisions.
In general, aluminum gutters cost per foot $2 for material, while steel gutters cost an average of $3 per linear foot for material. Thus, if for 140 feet of material, and aluminum gutter costs $840 to $1,400. While a 140-foot steel gutter can average between $980 and $1,680.
3. Steel vs Aluminum Gutters Installation:
Aluminum gutters are lighter than steel gutters. Many DIY homeowners and professional contractors choose aluminum gutters over steel gutters for this reason. Being lighter in weight compared to steel gutters, aluminum gutters install faster and are therefore less expensive.
Additionally, they may require fewer workers to lift and hang them. Your home can benefit from a seamless gutter installation with galvanized steel gutters.
4. Extreme Weather
When choosing between steel or aluminum gutters, it is important to consider the climate. Galvanized steel gutters are very durable, and can withstand extreme weather conditions well. Galvanized steel gutters tend to rust over time. But it can better resist severe winter and icy conditions. Due to the oxidation process of standing snow, ice and water, it can quickly lead to corrosion.
When exposed to extreme temperature fluctuations, aluminum gutters can quickly crack and warp in the climate. However, aluminum gutters expand and contract more than steel gutters.
5. Maintenance and Durability
Both aluminum and steel gutters require maintenance at times. They can usually last at least 20 years before needing major repairs or replacement. Aluminum gutters can resist corrosion better. Which can last longer than steel.
However, they require repainting every 10 years. But, if struck by tree limbs or hail, aluminum materials can dent more easily. Dent's drain obstructs its function and it can also reduce its appearance.
To help steel gutters last longer, they should be repainted or sealed every few years and they should be inspected regularly. Steel gutters tend to become chalky over time, so they need to be painted periodically.
Also Read: Flat Roof Repair Tips | Drain tile system | Types of Roofing Shingles | Aluminum shingles
6. Leaks
Most homeowners are aware of the possibility of leaks in their gutter system. But when it comes to choosing between aluminum and steel gutter materials, aluminum gutters are more prone to leaks. Which can mostly be caused due to the expansion and contraction of drains over time. or which may be due to seam leaks.
In contrast, steel gutters can be installed as a seamless gutter system without joint sections. Steel gutters expand and contract less than aluminum gutters.
7. Rust & Corrosion
While aluminum gutters are more prone to cracking and splitting with rapid temperature fluctuations, and it can become dented easily. However, aluminum material is a rust-proof metal. Therefore, it requires less maintenance than steel.
Therefore, although aluminum gutters are more prone to denting, they are a very durable material. Even the thickest aluminum gutters can withstand tree branches, heavy snowfall, and snow.
Before deciding between steel gutters vs aluminum gutters for your home or business, it's also important to look at the surrounding materials that the gutters come into contact with. With dissimilar metals, both steel and aluminum undergo galvanic reactions.
Steel, when exposed to copper, leads to galvanic corrosion of the steel and it rusts quickly. Although aluminum materials are not fully compatible with copper, they do not have nearly as much galvanic reactivity as steel.
8. Lifespan
If we talk about the lifespan of aluminum and steel gutters, both of them have a lifespan of around 20 years. However, you need to maintain it properly. During that time frame, aluminum gutters will need to be carefully maintained for dents and leaks.
Steel gutters require a little more maintenance than aluminum gutters. It needs to be kept clean to keep the water flowing in it. Aluminum vs galvanized steel gutters should not allow water to stand for long periods of time. Galvanized steel gutters need to be inspected regularly for zinc coating and any new rust spots.
Also Read: Lean To Roof Ideas | Sawtooth Roof | Hip and Valley Roof | Catslide Roof 
Are Steel Gutters Better Than Aluminum Gutters?
Hello friends, if you are buying a new gutter system for your home, you need to keep in mind a few things that suit your budget and the specific features of your home.
Stainless steel vs aluminum gutters: Aluminum gutters are more expensive than steel gutters, but they are lighter in weight and last longer than steel. Steel is more resistant to gutter damage and it does not fluctuate in weather conditions.
Many people get caught up in thinking about drain cleaning and maintenance.
However, by keeping the gutter clean from time to time, it will save you money in the long time. Proper gutter design can help maintain the structural integrity of your home and prevent damage. which disposes of snow and water away from your home in a suitable location.
After all, if you don't clean and maintain your gutter system regularly, backflowing water can cause serious damage to your home's foundation, window, and door frames. Which can result in the growth of mold and various other defects in the house.
You should inspect your gutters periodically throughout the year. Which will save you expensive home repair costs in the long run. During your gutter inspection, you should check for continuous holes in the gutter and any parts that may be bent or have clogs; Which may signal to you that your gutters need to be replaced.
Aluminum Gutter Installation Cost: Aluminum gutters are lightweight, corrosion-resistant, and easy to cut. Since aluminum is a very lightweight material, it is more susceptible to bending and cracking than other metals. Aluminum gutter cost can be between $ 5 and 15 per linear foot, depending on their style and thickness. These gutters can last for about 20 years, but aluminum downspouts can last for 10 to 20 years.
Also Read: Chimney Flashing | Roof Flashing | Counter Flashing | Gutter Guard | Gutter Helmet Vs Leaf Guard
Steel or Aluminum Gutters: Pros and Cons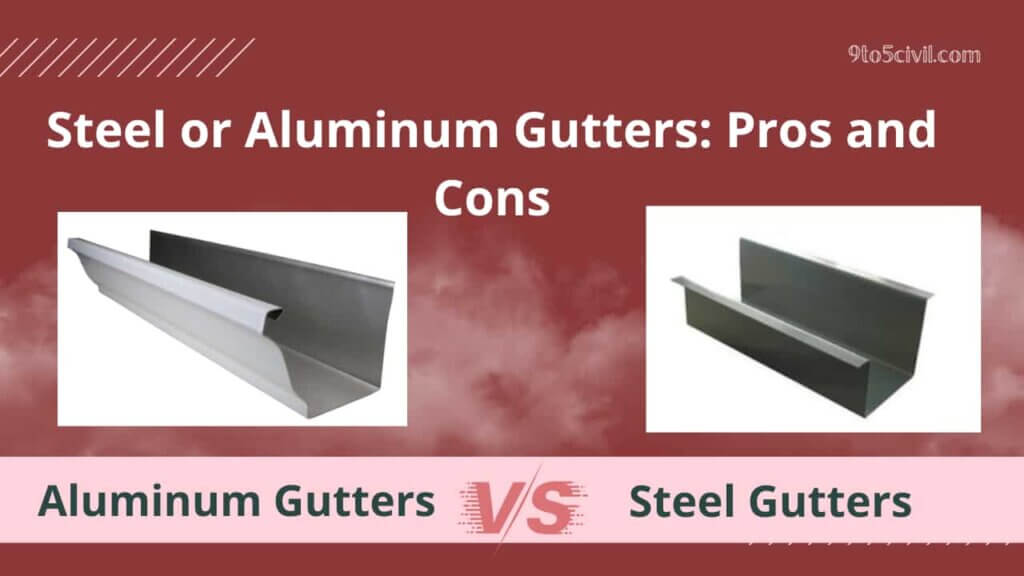 Steel or Aluminum – The final choice depends on the climate of the area where you live, the conditions around your home, and your budget. So to help you sort out any confusion between steel or aluminum gutters, here are the pros and cons of each:
Steel Gutters Pros and Cons:
Steel gutters are available in stainless steel gutter or galvanized gutter. You can opt for a traditional seam or seamless gutter as per your preference. Let's look at the advantages and disadvantages of stainless steel gutter
Stainless Steel Gutters Pros:
Some of the advantages of stainless steel gutter are :
Resistance to harsh climates: Stainless steel is known for its strength. Which can withstand weather challenges like snow, ice, wind, heavy rain, and hail.
Stay shiny and beautiful for a long time: Stainless steel is unique among various gutter metals because it does not require polishing or special maintenance. Chromium in stainless steel prevents oxidation and dulls the finish.
Durability: Stainless steel gutters are stronger and last longer than other gutters. You can place a ladder in front of them without worrying about dents or damage.
Rustproof: Stainless Steel Gutters are made of iron, nickel, silicon and chromium alloys. which makes it resistant to corrosion. Galvanized steel gutters can rust.
Low Maintenance: It requires little periodic maintenance to prevent the build-up of debris. If you add a drain guard, debris will stop entering the drain system.
Also Read : Conservatory Roof | Gable Roof | Bonnet Roof | Saltbox Roof | Gambrel Roof | Types of Curved Roof
Stainless Steel Gutters Cons:
Some of the Disadvantages of stainless steel gutter are:
Heavy and Expensive: Stainless steel drains are the heaviest drains compared to other drains. It requires heavy fittings and hangers. Its material is more expensive than other gutters. And it requires skilled labor. Generally, stainless steel gutters cost three times more than other gutter types.
Professional Installation Required: Only stainless steel gutter installation requires a skilled professional.
Fewer style choices: Stainless steel gutters are available in fewer styles and colors than other types of gutters.
Also Read : What Is Roof Valley | What Is Metal Roof Insulation | Foam Gutter Guards | Modified Bitumen Roof 
Aluminum Gutters Pros and Cons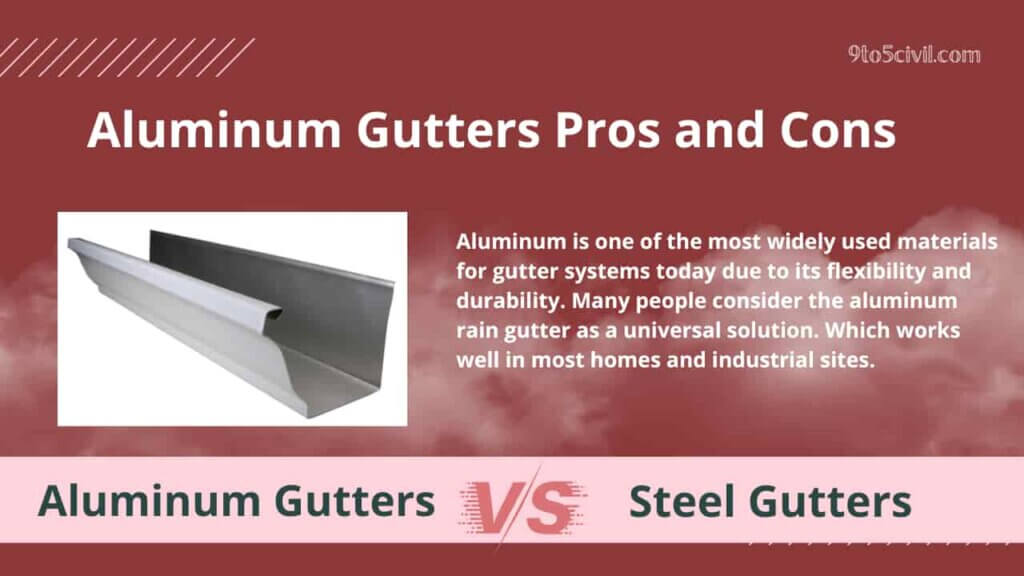 Aluminum is one of the most widely used materials for gutter systems today due to its flexibility and durability. Many people consider the aluminum rain gutter as a universal solution. Which works well in most homes and industrial sites.
Aluminum Gutters Pros:
Some of the advantages of aluminum gutter are :
It is much cheaper than other types of gutter systems.
Aluminum gutters are very easy and quick to install.
Aluminum gutter parts are lightweight and can be easily transferred.
Aluminum not only resists rust, but it will also resist thinning.
Aluminum gutter supplies near me.
Aluminum gutters Lowe's and home depot aluminum downspout extension lets you easily match your home.
Its content will last more than 20 years in any climate.
Seamless Aluminum gutters can be customized on your site to fit perfectly with your home.
Aluminum downspouts can last for about 30 years.
Also Read : Clerestory Roof | Composition Roofing | TPO Roofing | Butterfly Roof
Aluminum Gutters Cons:
Some of the Disadvantages of aluminum gutter are:
Aluminum gutter does not bend like vinyl gutter; However, it can be a problem in dents operation. Which makes them less durable than steel gutters or copper gutters.
The material of the aluminum gutter is prone to corrosion. Therefore proper maintenance is required.
It needs to be maintained and painted periodically.
The material of the aluminum gutter expands and shrinks in extreme temperature changes. Which in turn causes cracking, splitting, etc.
---
Like this post? Share it with your friends!
Suggested Read –
---
Frequently Asked Questions (FAQ)
Steel Vs Aluminum Gutters
Stainless steel vs aluminum gutters: Aluminum gutters are more expensive than steel gutters, but they are lighter in weight and last longer than steel. Steel is more resistant to gutter damage and it does not fluctuate in weather conditions.
Steel Vs Aluminum Gutters Cost
Aluminum gutters cost between $4 and $8 a linear foot, while steel gutters cost between $4 and $9 a linear foot. Installation costs can vary depending on how many downspouts, hangers, bends, and mitered corners your home has.
What Is Better Steel or Aluminum Gutters?
Steel gutters are stronger than aluminum gutter alternatives in gutter systems. Which makes steel gutters a stronger option than other alternatives. Must Know DIY Gutter Installation Tips.
Which Is Better Aluminum or Steel Rain Gutters?
Aluminum gutters resist rust better and last longer than steel. However, they still need to be repainted about every 10 years. Aluminum also dents more easily if hit by tree limbs or hail or if a ladder is leaned against it.
Galvalume Gutters Vs Aluminum
Galvalume is more expensive than aluminum. Second, the installation takes longer. It's tricky to get galvalume gutters properly bonded and sealed.
Vinyl Vs Aluminum Downspout
Aluminum vs vinyl downspouts: aluminum downspouts are more durable than vinyl downspouts. They will not sag and can last 20 or more years in most climates.
Vinyl Vs Aluminum Gutters Cost
Vinyl gutter installation costs can range from about $1,370 to $2,616 for a 1,500 square foot home. This average cost of vinyl gutters includes vinyl PVC gutters, vinyl downspouts, vinyl gutter guards, end caps, labor cost to install vinyl gutters, and cost to install vinyl gutters.
Aluminum gutter installation costs can range from $ 4 to $ 5 per foot. Aluminum gutters cost can vary depending on the style of gutters and the thickness of the metal. Aluminum gutter installation costs are higher than Vinyl gutter installation costs.
Vinyl Vs Aluminum Gutters Florida
Vinyl or Aluminum Gutters: Aluminum gutters are especially preferred for seamless guttering systems. Vinyl gutters are the cheapest choice but are also more likely to cause cracks in harsh weather conditions. If they are split, even vinyl gutters can start to leak at the joints.
Are Aluminum Gutters Better Than Vinyl
Yes, Aluminum gutters are better than vinyl because:
last longer
More durable
Less likely to leak
Easy Installed