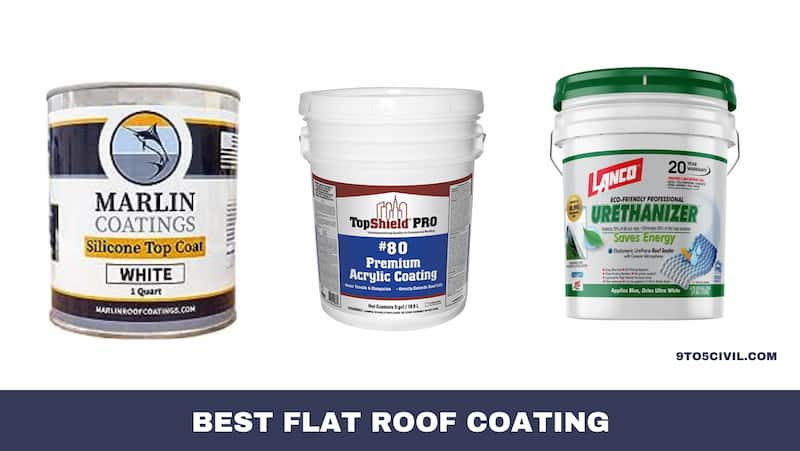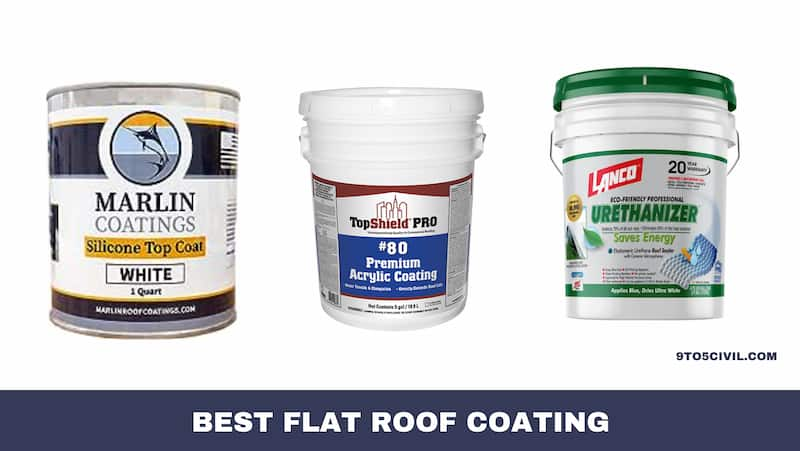 What Is the Best Flat Roof Coating?
Best Flat roof coatings improve roof efficiency and reduce maintenance costs. In addition, it helps to prevent roof leakage. So the life of the roof is longer than other roofs.
Most homeowners are concerned about leaks in their flat roofs. Unfortunately, one of their common mistakes affects the durability of your roof.
You need to apply a Flat roof coating every five years to increase the durability of the flat roof and reduce costs. However, many roofing coatings are readily available in the commercial market today.
Here, as Roofing Solutions, we have given you information about the top best roof coating for flat roof
Tips for selection, and roof sealants.
7 Best Flat Roof Coating
Different types of flat roof coatings are available in commercial roofing. The formulation uses and application methods of each material are different. Not every coating works consistently on all roof surfaces. For that, your roof coating should be completed according to the manufacturer's requirements.
The use of appropriate materials on site is of utmost importance for all liquids and adhesives used in the roofing industry. The specific shelf life of each product is determined.
1. Silicone Flat Roof Coating
Best Silicone Flat Roof Coating is elastic material made of one hundred percent silicone solids, which increases the resistance of the existing surface to external weather. It rarely becomes tough or brittle. Silicone coatings have become very popular in the economical roofing market in the last decade. This is because of its long-term ability to cope with lake water.
Most other coatings cannot withstand lake water. The best silicone for flat roofs provides excellent ultraviolet protection in extreme temperatures and bad environments and can withstand oxidation. Silicone coating offers different colors, emission ratings, and high reflection available.
Application of silicone can be applied to only a few materials other than silicone. Debris is more likely to accumulate on the surface of the silicone coating and lose reflection over time.
2. Polyurethane Coatings
Best Polyurethane flat roof coating is a protective layer of polyurethane applied to the substrate's surface. It protects against corrosion, weather, abrasion, and other external processes.
It is a form of polymer with which the carbamate chemical component group is attached. This polymer substance is also thermosetting, which means that it burns instead of melting when heated. Another feature of polyurethane coatings is their adaptability. It can also be used in glossy, muted, opaque, or transparent coatings.
3. Acrylic coatings
Acrylic roof coatings are an excellent way to repair and maintain a commercial roof. This coating is commonly used on electrical circuits because of its excellent moisture resistance and fungus resistance.
Acrylic coatings were initially used to protect sprayed urethane foam applications from the sun. These coatings may now be found on a wide range of roof membrane surfaces, including single-ply membranes and metal systems.
Acrylic-based polymers provide good radiation and hail protection and the flexibility to withstand the dimensional instability of most roofing membrane surfaces.
According to some studies, when exposed to direct sunshine at 85 degrees F, appropriately designed acrylic coatings can lower surface temperature by as much as 20 degrees F.
4. Urethane Roof Coatings
Urethane roof coating is the strongest and most durable coating. This applies to fluids in the roofing system. It is used in polyurethane foam insulation and other commercial roofing substrates. You can choose from aliphatic and aromatic urethane coatings.
Aliphatic urethane coatings are highly UV resistant, dirt-resistant, and retain color for a long time. It is suitable for use in topcoats.
Aromatic coatings are less expensive than Aliphatic urethane coatings. But it is less resistant to UV rays. It is therefore used as a base coat.
Urethane roof coatings are well suited for most flat roofing substrates. It produces odors with a short lifespan. It is relatively difficult to spray for roof coating.
5. Best Elastomeric Roof Coating for Flat Roof
An elastomeric Flat roof coating can be applied to any type of roof. Its material has an elastic quality. The best elastomerci roof coating for flat roofs is a suitable option for protecting roofing material, sealing, and preventing leakage.
Elastomeric roofing coating can be used on industrial roofs, modified bitumen, concrete roofs, BUR roofs, EPDM roofs, or new PUF roofs as sealants on industrial and commercial roofs.
6. Reflective Roof Coatings
A reflective roof coating is a coating used to resist the sun's rays. These include aluminized or other pigments to obtain a reflective white. This causes a "cold" effect on the roof. In the case of a black EPDM roof, it can typically reduce the afternoon temperature to 60 ° F (34 ° C).
It is applied to the roof to prevent too much heat from entering the house. So the use of air conditioning is less. Thus, it contributes to the conservation of energy.
7. Asphalt Roof Coating
Asphalt Roof Coating is a strong, waterproof, and long-lasting roof coating system. It extends the life of your roof and can be easily applied to existing roof systems. It is usually suitable for use with other roofing membranes.
It is primarily used as a waterproofing compound for existing built-up, BUR roofing, modified bitumen, TPO, EPDM, and gravel roofing.
Asphalt roof coatings protect your roof from strong winds, heavy rain, hail, snow, and other severe weather conditions.
Also Read: What Is a Slate Roof? | Bonnet Roof | Hip and Valley Roof | Skillion Roof House 
Roof Coating Comparison Chart
| | | | | | |
| --- | --- | --- | --- | --- | --- |
| Property | Metal | Natural Slate | Premium Asphalt | Standard Asphalt | Wood Shake |
| Aesthetics/Looks | Excellent | Exceptional | Exceptional | Average | Average |
| Logevity | 100Years | 100+ Years | 50 +Years | 5 to 15Years | 5to 15Years |
| Storm/Fire Proof | Excellent | Exceptional | Average | Average | Poor |
| Weathering | Excellent | Excel ent | Class A | Class B | Poor |
| Energy Savings | Excellent | Poor | Excellent | Poor | Poor |
| Green Friendly | Excellent | Excellent | Average | Poor | Poor |
| Weight | Exceptionally Light | Medium | LightIMedium | LightIMedium | Medium |
| Noise | Average | Average | Average | Average | Average |
| Color Fastness | Excellent | Exceptional | Average | Average | Poor |
| Color Choices | Excellent | Excellent | Excellent | Average | Poor |
| Walkability | Average | Poor | Good | Good | Good |
| Lightning Susceptibility | Low | Low | Low | Low | Low |
| Maintenance | Excellent | Medium | Medium | Poor | Poor |
| Initial Cost | High | Very High | Average | Low | Very High |
| LongTerm Cost | VeryLow | VeryLow | Low | High | High |
Best Roof Coating for Metal Roof
Acrylic roof coatings are among the most durable and inexpensive elastomeric coatings in the industry.
Roof Coatings Costs
Flat roofs need to be re-coated to sustain the flat roofing material long time. The flat roof coating cost may vary depending on the Flat roof material used.
1. Asphalt Roof
The average cost ($ 1,000 to $ 2,500) depends on the material and use of the asphalt roof coating.
Bitumen and asphalt-based sealants are used in homes with sensitive areas like (chimneys, skylights, and flashing) at the top. Bitumen can cost between $ 0.75 and $ 1.50 per square foot.
2. Metal Roofs
Elastomeric coatings are suitable for a metal roof to resist corrosion and extend its life. The cost can be as high as $ 1 to $ 2 per square foot, depending on the material.
3. High-Quality Coating
It can cost more to do a high level of coating to reclaim a flat roof. It can also cost about $ 5 per square foot to buy and apply high-quality coats such as polyurea.
4. Steep or Sloped Coating
If your home has a skylight or an unusually steep slope, you may be charged an extra per square foot.
Read: Types of Roofing Shingles | Lean to Roof | Roof Eaves | Eave of House  | Flat Roof Repair
Best Roof Coatings Pros and Cons
Flat roof coating is a suitable option to protect the roof from water, sun, and hail damage. Before applying to a roof, you should know the advantages and disadvantages of roof coating
Pros:
Cost-Effective: Flat Roof coatings reduce any costs for maintenance, repair and replacement. It is therefore a suitable roofing solution for commercial buildings as its high reflectivity helps reduce the heat generated in homes and buildings. So it reduces the use of air conditioning.
Weather Resistant: Flat Roof coatings provide an extra layer of roofing. It helps protect the roof from weather and corrosion. And it significantly reduces the risk of hailstorms. In addition, it resists the degrading effects of rainwater. So help prevent growth like moss and mildew.
Increased Reflectivity: Flat Roof coating is a suitable option to increase the reflectivity of the roof. It helps keep your house cool during the summer by reflecting harmful UV rays to the roof. This results in a significant reduction in your energy bill. It also prolongs the life of your roofing system by reducing sun damage.
Cons:
Ponding Water: Roof coating prevents water from entering your flat roofing system and reduces damage. However, acrylic roof coatings struggle to withstand lake water. The water of the lake can promote the growth of flat roof mold and mildew.
Loss of Reflectivity: Your roof gradually loses its reflectivity due to the sun's rays. That is why the roof reflects less heat, which causes the indoor temperature to rise during the summer months.
Holds Dirt: Silicone-like roof coating retains dirt. Dirt reduces the look of your flat roof. Significantly reduces its reflectivity.
Also Read:  Counter Flashing Roof | Chimney Flashing | Roof Flashing Types | Roof Maintenance Cost
Flat Roof Problems
Best Flat roof coating faces a number of unique challenges. Flat roofs are more likely to have lake water effects than sloping roofs. Ponding problems usually result from inadequate drainage such as clogged gutters, blocked downspouts, pitch problems, faulty installations, poor design, etc.
The main problem of leaking flat roofs is inadequate drainage. Even if ponding water on flat roof
problems exists on the roof surface, it does not always reveal the leakage immediately. The intense UV rays of the sun slowly weaken the substrate of the flat roof over time.
This causes gradual damage to parts such as seams, transitions, laps, and other flashing. Small cracks and other small holes develop in the roof membrane, through which water can enter. If they are not repaired properly, they can cause further damage to the roof.
Best Flat Roof coating is a very effective and cost-effective way to maintain the current flat roof membrane.
Best Flat Roof Material
The best roofing material for flat roofs
EPDM membrane roofing.
TPO membrane roofing.
PVC membrane roofing.
Standing seam metal roof.
Roofing Contractors
Best roof coating contractors list
1. Roofs By Reveille, Inc:
Roofs by Reveille, Inc. has been in the roofing industry for 32 years and is a licensed and certified contractor. They are the preferred roofing contractor in Sun First Solar, Maverick Renewables, and California's Great America.
2. Bay Valley Contractors:
It uses GAF products in residential and commercial roofing, as a GAF Master Elite® Certified Roofing Contractor. Its other services include:
Roof repair
Commercial roof coating
Gutter installation
Roofing maintenance services
Solar roofing system installation
Home additions
Home remodeling.
3. Buck's Roofing Inc:
Buck's Roofing Inc. He also specializes in residential and commercial roofing. It has been in the roofing business for over 21 years and provides quality workmanship and excellent customer service. It is a residential and commercial roofing company serving the South Bay and Santa Cruz areas.
Best Flat Roof Sealant
Best Overall: LR Liquid Rubber Waterproof Sealant – Multi-Surface.
Best for Leaks: LR Liquid Rubber Peel and Stick Seam Tape.
Best for Rv Roofs: LR Liquid Rubber Rv Roof Coating – Solar Reflective.
Best for Flat Roofs: Rubber seal Liquid Rubber Waterproofing Coating.
Best Value: Gorilla Waterproof Patch & Seal Tape.
---
Like this post? Share it with your friends!
Suggested Read –
---
Frequently Asked Questions (FAQ)
What Is the Best Flat Roof Coating?
Silicone Coating
Polyurethane Coating
Acrylic Coatings
Urethane Roof Coatings
Elastomeric Roof Coating
Reflective Roof Coatings
Asphalt Roof Coating
What Is the Best Flat Roof Coating for a Metal Roof?
The best flat roof coating for a metal roof depends on various factors, including the type of metal, climate, and budget. However, silicone-based coatings, elastomeric coatings, and acrylic coatings are often recommended for metal roofs due to their durability and waterproofing properties.
What Is the Best Flat Roof Coating for Aluminum?
For aluminum flat roofs, acrylic or silicone-based roof coatings are excellent choices. These coatings provide protection against corrosion and UV radiation, ensuring the longevity of the aluminum roof.
What Are the Flat Roof Coating Options Available?
Flat roof coating options include acrylic, silicone, elastomeric, asphalt, and polyurethane coatings. Each has its own set of advantages and is suitable for different roofing materials and conditions.
What Is the Best Silicone Roof Coating for a Flat Roof?
The best silicone roof coating for a flat roof can vary depending on specific needs, but popular choices include Gaco Silicone Roof Coating, GE Silicones Enduris Roof Coating, and Dow Corning Silicone Roof Coatings. It's essential to consult with a professional to determine the most suitable option.