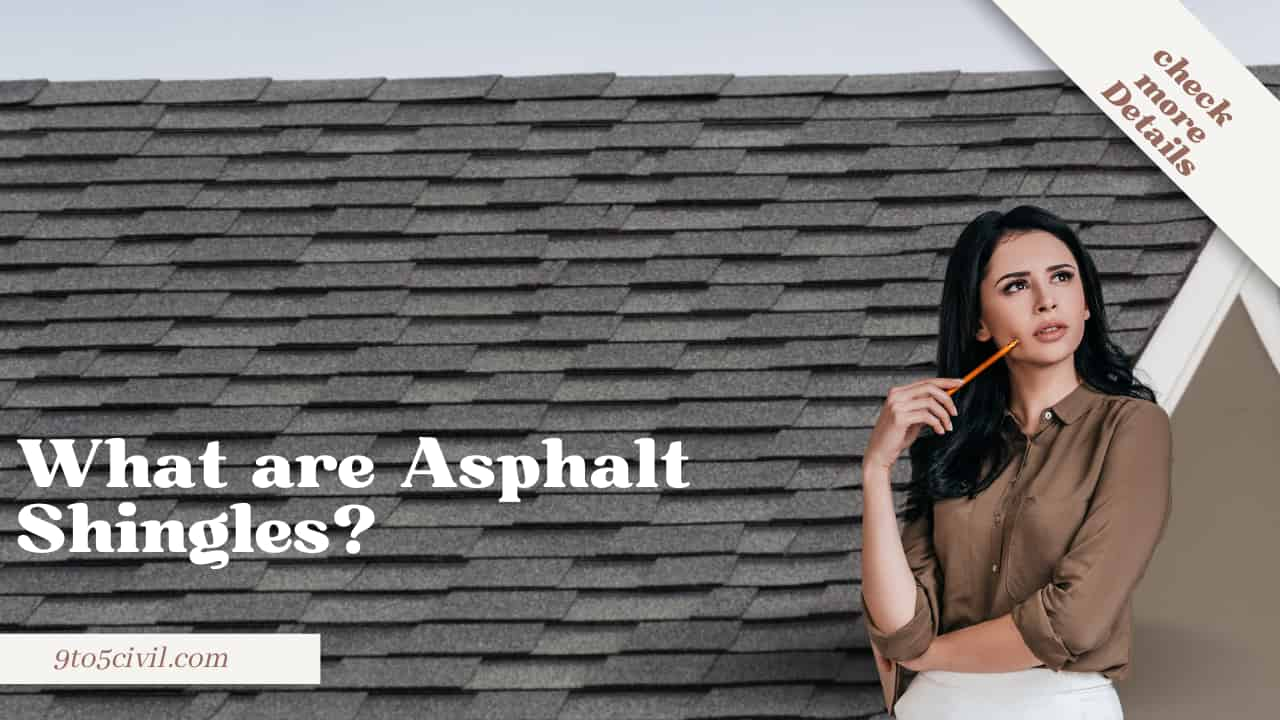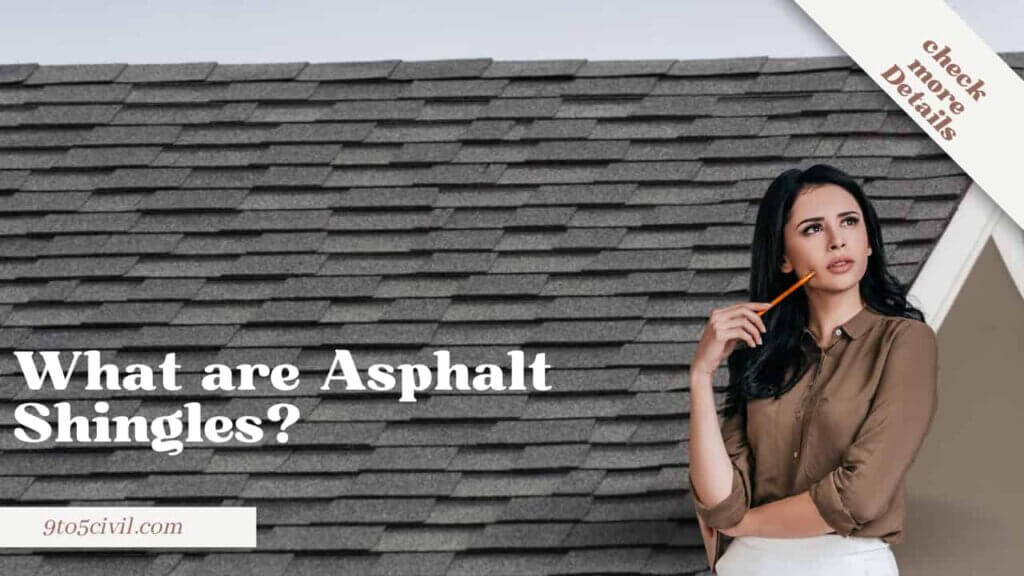 What are Asphalt Shingles?
Asphalt shingles roofs are one of the most common types of roofs which are primarily made out of asphalt shingles and other asphalt roofing components. It's a form of shingle that employs asphalt to keep water out of your home. Due to its low initial cost and ease of installation, it is one of the most often utilized roof coverings in North America. 3-tab shingles are easily identifiable because of their design.
Different types of shingles are asphalt roofing shingle products available today – strip shingles, dimensional shingles, and luxury shingles. It is important to understand the differences between each type of roofing shingle in order to pick the right product for your home.
Two types of base materials are used to make asphalt shingles. Organic and fiberglass. In which the asphalt-saturated base is covered on one or both sides with asphalt or modified asphalt, the exposed surface is impregnated with slate, quartz, vitrified brick, stone, or ceramic granules. Before use, the shingles are treated with sand, talc, or emery to prevent them from sticking together.
GAF is North America's largest roofing manufacturer of roofing shingles and roofing materials. It also manufactures roofing supplies, roof vents, best roofing shingles, best asphalt shingles, asphalt roofing sheets, 3 tab roof shingles and membrane roofing.
Styrene-butadiene-styrene (SBS) Shingles can be made more impact resistant by adding a scrim backing to the backside, which is a cloth backing. Using Class 4 impact graded shingles can save homeowners money on their insurance premiums.
What Are Asphalt Shingles Made of?
Materials used in this product include cellulose fibers (organic material) or glass fibers (inorganic material). Organic mats are saturated with asphalt and coated with ceramic-coated opaque mineral granules.
Also Read: Lean To Roof Ideas | Sawtooth Roof | Hip and Valley Roof | Catslide Roof 
Types of Asphalt Shingles
Today, three main categories of products this roof shingles types are available in Asphalt Shingles, Organic Asphalt Shingles, Fiberglass Shingles, Architectural Shingles or Three-Tab Asphalt Shingles.
1. Organic Asphalt Shingles
This types of shingles are made from waste paper or cellulose or wood fiber or other organic materials. Afterward, a layer of adhesive asphalt is sprinkled on top, and a layer of solid granules is added. Fiberglass shingles, on the other hand, contain about 40% less asphalt per square foot.
They have a maximum class "B" FM fire rating because of their organic core, making them more vulnerable to fire damage. Even in the coldest climates, they are more durable than fiberglass roof tiles because they are less likely to crack or shatter.
2. Fiberglass Shingles
Asphalt fiberglass shingles are very popular. It is often compared to an organic mat asphalt shingle. Organic asphalt shingles use paper as their base, while fiberglass shingles have a fiberglass mat.
A class "A" fire rating is possible for these shingles, which resist fire better than those with organic/paper mats. The average area density is between 1.8 and 2.3 pounds per square foot. Until 1982, organic felt shingles were gradually being replaced with fiberglass roof shingles.
Asphalt shingles can only be used on roof slopes of two units vertical in 12 units horizontal (17 percent slope) or greater, according to 2003 International Building Code Sections 1507.2.1 and 1507.2.2. Decks should be well-sheathed before installing asphalt shingles. Asphalt rolled roofing, or another roofing treatment is required for lower slopes.
Also Read: Chimney Flashing | Roof Flashing | Counter Flashing | Gutter Guard | Gutter Helmet Vs Leaf Guard
3. Architectural Shingles or 3 Tab Asphalt Shingles
Architectural shingles and three tab shingles are the two most common asphalt shingle designs. There are three types of three-tab: flat, plain, and square. Because they employ less material than architectural shingles, they are lighter and less expensive for both the material and installation costs.
In addition, they aren't as durable or come with as long of a warranty as premium architectural shingles, or asphalt shingles. Rental properties and low-value residences are still the most prevalent places to find three-tab windows.
However, the architectural style is becoming more fashionable. Aesthetically, architectural shingles or dimensional shingles are more appealing because they are thicker and stronger, have a wider range of shapes and sizes, and produce more distinct, irregular shadow lines. In the end, you'll get a more organic, classic appearance.
Since asphalt shingle roofs are so frequently rebuilt before the manufacturer's warranty has expired, these roofs can cost more to build but come with longer warranties, sometimes lasting up to 50 years. Dimensional shingles normally last 24–30 years, whereas three-tab shingles typically need to be renewed every 15–18 years.
Also Read : Conservatory Roof | Gable Roof | Bonnet Roof | Saltbox Roof | Gambrel Roof | Types of Curved Roof
Cost of Asphalt Shingles
Traditional asphalt shingles can range from $100 per square and $30 per bundle, while slate may run $800 to $1,600 per square and $270 to $540 per bundle.
The use of these shingles is widespread. Because of their accessibility and affordability, they are being utilized increasingly frequently. They are available in a wide range of styles and materials, making them suitable for a wide range of architecture. Asphalt shingles cost around $90 per square. Asphalt shingles are the most commonly used roofing material.
Fiberglass shingles and Organic roofing shingles both have Asphalt exteriors, which makes them very comparable. The item they utilize as a base is the only thing that makes a difference. As the name implies, a fibreglass variation has a fibreglass basis, whilst an organic one typically has a wood-based base like paper.
Fiberglass shingles are better at coping with the heat and are more environmentally friendly because they use less asphalt. However, compared to organic shingles, it has less cold resistance. In addition, organic shingles are more durable.
Also Read : What Is Roof Valley | What Is Metal Roof Insulation | Foam Gutter Guards | Modified Bitumen Roof 
Maintenance of Asphalt Shingles
Asphalt shingles can be damaged by biological growth such as algae, lichen, and wood debris, and chemical processes in wet and dry weather.
Asphalt roofing materials can last a long time if they are cleaned frequently, and re-applied properly with copper sulfate, zinc chloride, or other solutions.
Also installing zinc or copper strips or wires along the ridge and every four to six feet down the roof will help prevent moss and moss growth. Additionally, you can use a bleach solution to remove black algae growth.
Asphalt Shingles Lifespan:
The number of years you may expect your roof to last is referred to as its lifespan. As a result, each of the three asphalt shingle kinds has a set lifespan from the manufacturer.
3-tab shingles have the shortest life expectancy, lasting only 25 years. Both dimensional and luxury shingles have a 30-year life expectancy, while luxury shingles have the potential to last up to 50 years under the correct conditions.
Will an asphalt roof last that long, even if these figures are provided by the shingle manufacturer?
A properly fitted asphalt roof can expect to last as long as the manufacturer's stated lifespan if your attic is properly vented. As a result, you may expect an asphalt roof to last roughly 80-85 percent of its expected lifespan.
For example, a 3-tab shingle roof can last 20-22 years, whereas a dimensional shingle roof can last 25-28 years. The lifespan of your asphalt roof is influenced by a variety of things.
Also Read : Clerestory Roof | Composition Roofing | TPO Roofing | Butterfly Roof
How to Install Asphalt Shingle?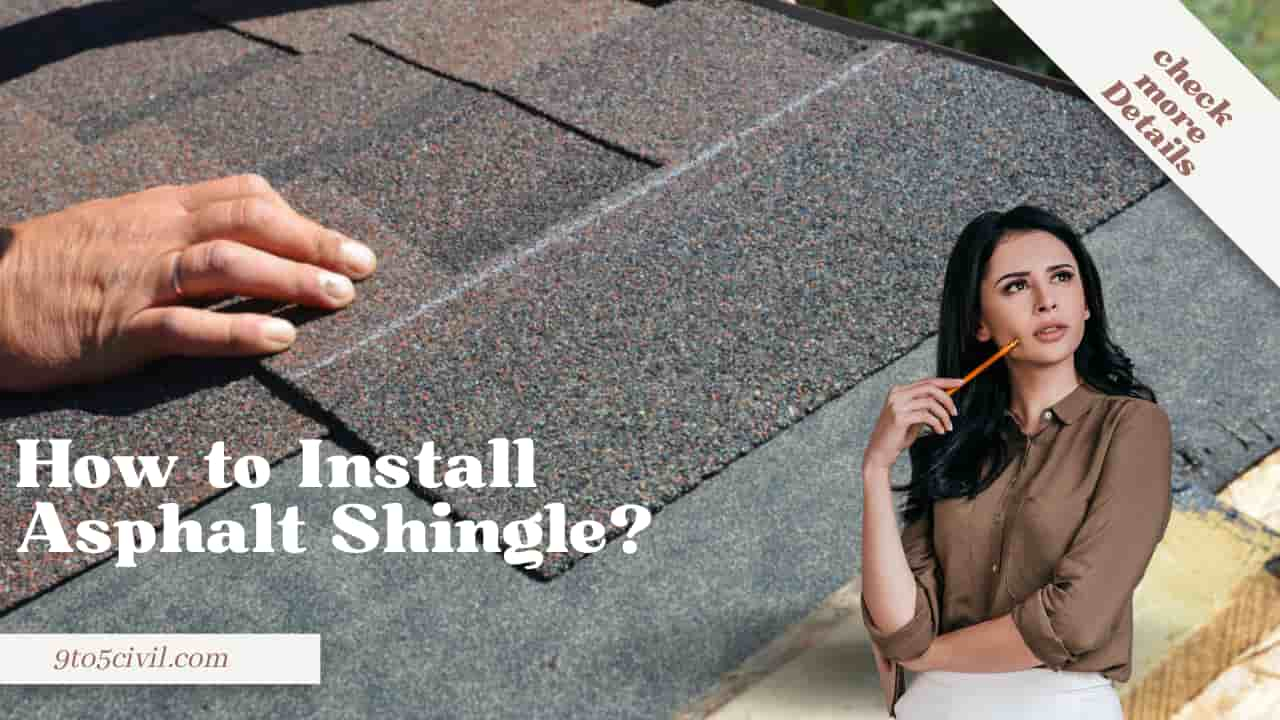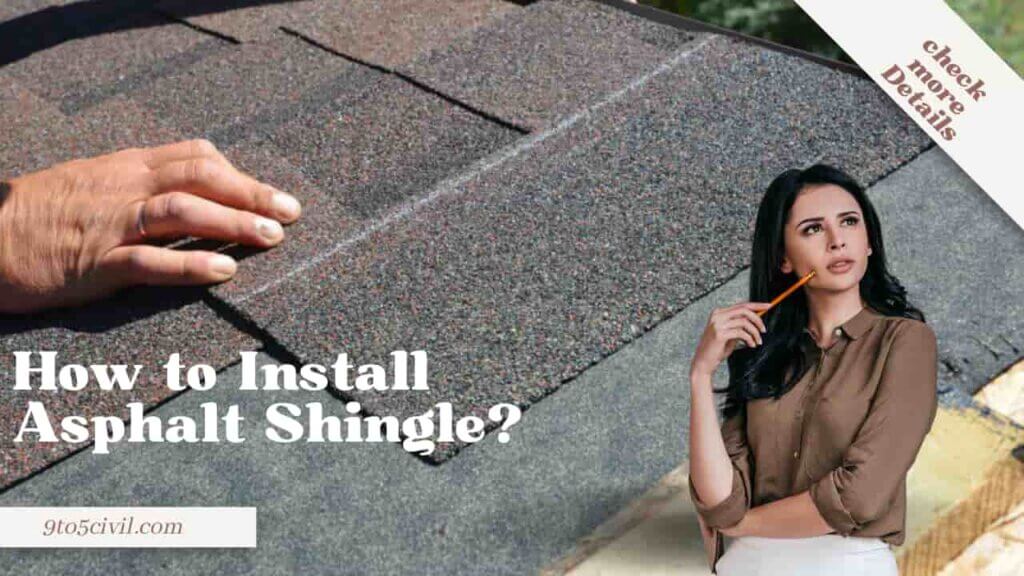 You may save a lot of money and time by doing your own shingle installation. To obtain the same polished appearance, simply follow their lead. Re-shingling your roof can help protect your home, your family, and yourself from the weather. Become an expert at installing ridge shingles on your roof by learning how the pros do it.
Sufficient Amount of Shingles Should Be Purchased:
100 square feet of the roof can be covered with three shingle bundles (9.29 square meters). The so-called "bundles" of asphalt shingles are actually sealed containers. Determine the size of your roof and then buy the correct amount of roofing material.
To calculate the total surface area of the roof, add the length and width of each section together. To get the correct number of squares, add the areas of each part and then divide by 100. To determine the total number of bundles required, multiply this number by three.
Length of a Shingle Can Be Determined by Tracing It Across the Roof:
The width of the roof will assist define how the shingles are laid out. The average length of an asphalt shingle is three feet and ninety-one centimeters. Each row will have a partial piece if the breadth of your roof is not an even multiple of the length of the shingles.
The bottom row of shingles must extend past the roof's border. In order to accommodate this, you'll need to cut each shingle in half to form a straight line.
Get Rid of Any Old Roofing and Flashing:
It's best to begin by cutting away at the shingles closest to where you plan to dispose of them or gather them. Garden forks or roofing shovels can be used to swiftly remove them, while the hammer method and going by hand can be used to remove them more thoroughly.
Use a huge piece of plywood against the house below where you are working to protect the house's walls and windows while you accomplish this. Otherwise, you risk breaking a window or damaging the exterior paneling.
Remove the ridge caps by prying up the nails. Getting all the nails isn't necessary because you can always go back and remove those that slipped through the cracks.
Remove the metal flashing from around chimneys, vents, and valleys in the roof. Flashing in the valleys is especially prone to being destroyed. Even if your roofer saves some of the good flashings, it's probably best to get rid of it all at once.
Roof Cleaning:
Clean the roof to the best of your ability. If you haven't already, trim any nails that haven't grown in. Reattach any sheathing boards that have come free. Replace any parts of sheathing that have been damaged or rotting.
Roof Flashing and Underlayment Must Be Replaced:
Overlay the roof with asphalt, felt paper, or a waterproof underlayment like a self-healing membrane that is designed specifically for this purpose. 15-pound (6.8 kg) roofing paper is a successful method for some roofers, but a self-sealing membrane with a rain screen is the best option. Work your way up from the lowest point on the roof and staple the felt in place.
Each row should be at least 3 inches apart. Avoid damaging the paper by using a lot of staples and working cautiously. When stapling the paper to the ceiling, use a lot of staples. If the roof will be exposed to the wind before shingles are put, use "tin caps" under the staples.
Underlay with sticky back ice and water shield where ice dams, leaf and twig dams, and valleys or the end of the roof at a wall are prone to form (wide metal flashing may also be used there).
Replacing the flashing is a simple process. A metal flashing is known as a "drip-edge" should be nailed to the roof deck near the gutters to prevent water from dripping down. For the roof's sides, you'll also require rake edge flashing.
Ensure that the chimneys and walls are properly flashed. Step flashing and turn back flashing are two examples of this form of flashing.
Decide on the Type of Introductory Course That You'll Use First:
If you bought some or are going to cut your own initial shingles to fit a certain project, you can utilize narrow tab-less beginner shingles. There are some people who prefer to buy a single type of shingle and cut it themselves, while others like the convenience of pre-cut starting shingles that do not have tabs.
Use chalk lines to create a reference point for your own work:
Mark a chalk line commencing 7 inches (17.8cm) from the bottom of the roof edge, depending on the shingles you're using and the roof you're working on. In either scenario, the starter course adhesive strip is applied to the drip and rake edges.
The chalk line should be visible immediately above each course and should be drawn from the left to the right border of the roof. At least four courses (rows) across the roof should be chalked with additional parameters based on the shingle's width. When laying felt paper, make sure the lines are all running in the same direction and are all square.
Also Read: Flat Roof Repair Tips | Gutter Helmet Vs Leaf Guard
Asphalt Shingles Pros and Cons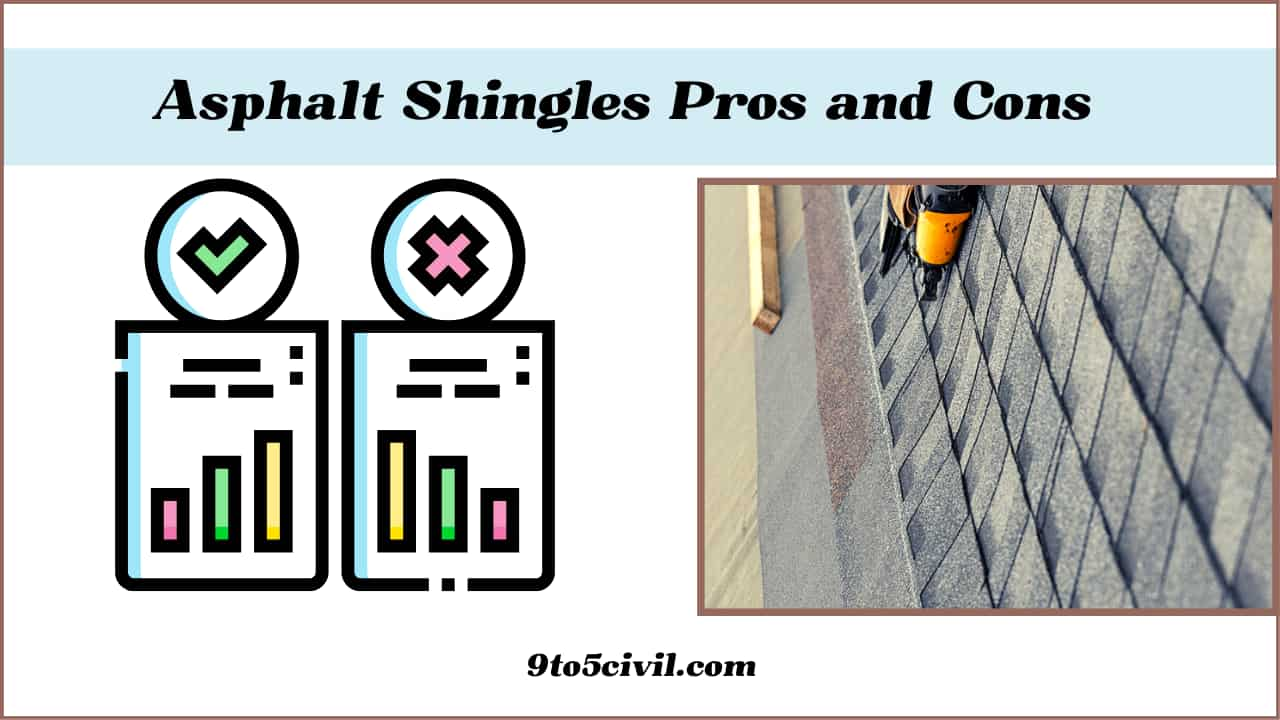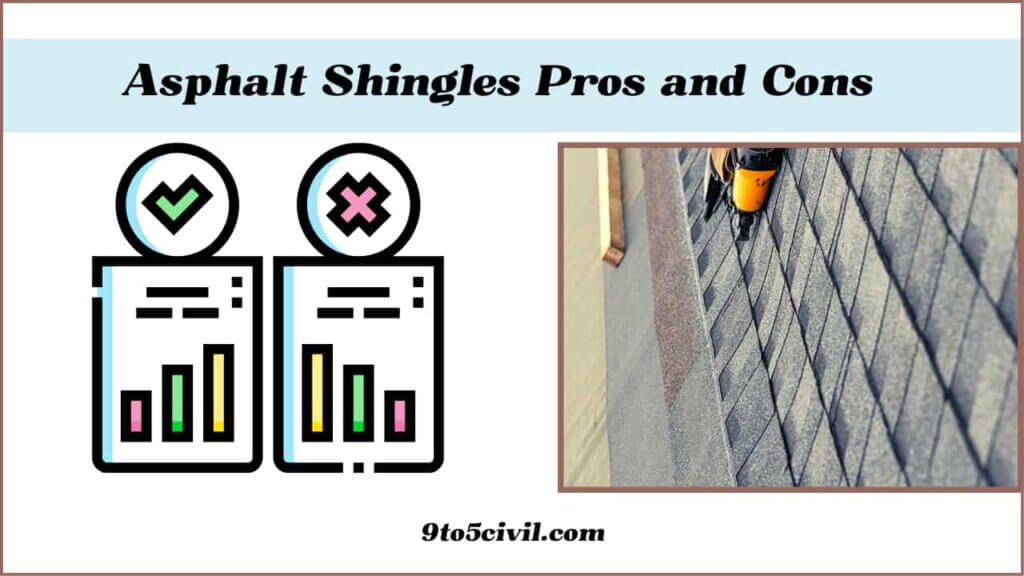 Asphalt shingles advantages and disadvantages are:
Pros of Asphalt Shingles
Asphalt shingles advantages are:
Installation Ease:  Among all roofing materials, asphalt shingles are the simplest to set up. If the roof deck is robust and there is just one layer of asphalt shingles on the roof, they can be placed over them.
Inexpensive: Both labor and material expenditures are included here. In terms of roofing materials, it's the most cost-effective choice available.
Lifespan:  Asphalt roofs can last between 15 and 50 years. Longevity increases with increased shingle weight. It is possible to extend the lifespan of a building by adding decorative architectural components. For high-quality materials, warranties can last up to 50 years.
Color and Style Option: Asphalt shingles come in a wide variety of colors and patterns. At a fraction of the price, they often look like other styles. In addition to color and design options, there are energy efficiency options that help lower summertime roof temperature absorption and hence.
Cons of Asphalt Shingles
Asphalt shingles Disadvantages are:
Regular Maintenance: In addition to maintaining the roof clear of debris, you'll also need to inspect the flashing, make sure shingles haven't fallen, and check for moss or algae buildup. The insect risk and fire resistance of wood shingles make them much worse (or lack thereof).
Insulation: Despite the importance of attic ventilation, some materials simply have a higher insulating value in this case.
Environmental effect: The shingles have a harmful impact on the environment because they are made from petroleum and fiberglass. Compared to fiberglass shingles, organic shingles have a higher percentage of asphalt in them. Roofing nails, for example, are commonly disposed of in landfills that allow for pavement and patching recycling.
Short life span: Asphalt shingles with the lowest initial cost will last the least amount of time. Clay, concrete, and slate are all long-lasting materials. To around 75 years of metal. And some wood for around 30.
If you're thinking about using asphalt shingles for your roof, be sure to weigh the benefits against the drawbacks. There are several advantages to using asphalt shingles, but they are not the sole reason to do so.
---
Like this post? Share it with your friends!
Suggested Read –
---
Frequently Asked Questions (FAQ)
What Are the Best Asphalt Shingles for a Roof?
Best Brand of Asphalt Roof Shingles:
Certainteed Asphalt Shingles
Presidential Asphalt Shingles
Gaf Asphalt Shingles(gaf timberline shingles)
Owens Corning Asphalt Shingles
Atlas Asphalt Shingles
What Is a 3 Tab Shingle?
Three tab shingles are made of asphalt and feature several tabs or strips along their lower edge. Each section of a 3 tab shingle gives the visual impression of being comprised of several individual shingles. 3 tab shingles have been around for decades, and they have been the dominant type of roof shingles for a long time.
Asphalt Shingle Roof Cost
The average cost to install asphalt shingles on your roof ranges between $4,290 and $6,430 for a standard single-story 1,800-square-foot home.
Asphalt Shingle Colors
Choosing a color for your new roof is very important as it enhances the overall look of your home. You can find similar style homes with similar colors to your own. Generally, the list of Asphalt roof Shingle Colors is as follows.
Pale Gray
Medium Gray
Dark Gray
Beige
Red
Medium Brown
Dark Brow
Blue
Blue – Green
Polychromatic Light and Dark Tones
Asphalt Shingle Sealant
Best Asphalt Shingle Sealant:
LR Liquid Rubber Waterproof Sealant
Gorilla Waterproof Patch & Seal Tape.
LR Liquid Rubber Peel and Stick Seam Tape.
LR Liquid Rubber RV Roof Coating
Rubber seal Liquid Rubber Waterproofing Coating.
Dimensional Asphalt Shingles
Dimensional roof shingles, also known as architectural or laminated shingles, are asphalt shingles with a twist. Laminated asphalt shingles, also known as "architectural" or "dimensional" shingles, are layered, and their thickness and depth make them look more like slate shingles or wood shakes shingles. dimensional asphalt shingles cost an average of $480 per square and $160 per bundle.
Asphalt Shingles Vs Composite
The terms "asphalt" shingle and "composition" shingle are general terms for the same thing. The term "composition" is used because the shingles are a composite product made from either a fiberglass or a cellulose mat, and asphalt and minerals, as opposed to a single material, such as wood shingles or clay tiles. The reason composite shingles roof is durable with a long lifespan is because of their impact rating.
Asphalt composition shingles typically lasts 20 years. However, with the right materials and proper maintenance, composite shingles can last up to 50 years and beyond.
Luxury Asphalt Shingles
Luxury shingles are made from a blend of asphalt and other materials that make them three times heavier than their natural counterparts, meaning they can stand up stronger to high winds, hurricanes, snow storms, and hail. luxury asphalt shingle cost around $8.00 per square foot.
Architectural Asphalt Shingles
Architectural shingles, or laminate shingles, consist of two or more layers of material. They are made of asphalt-coated fiberglass and are installed over the roof deck and underlayment.
Architectural asphalt shingles cost can be between $13,500 to $21,500 depending on the slope, pitch, and size of your roof. You can expect to pay $1.00 to $1.50 per sq. Foot or $100 to $150 per square installed on a standard-sized single-story home.
Shingles Construction
Shingle, a thin piece of building material, usually with a butt end thicker than the other. Shingles are widely used as a roof covering on residential buildings and sometimes for siding. They are of stock sizes and various materials—including wood, asphalt, and slate. They are attached in overlapping courses or rows.