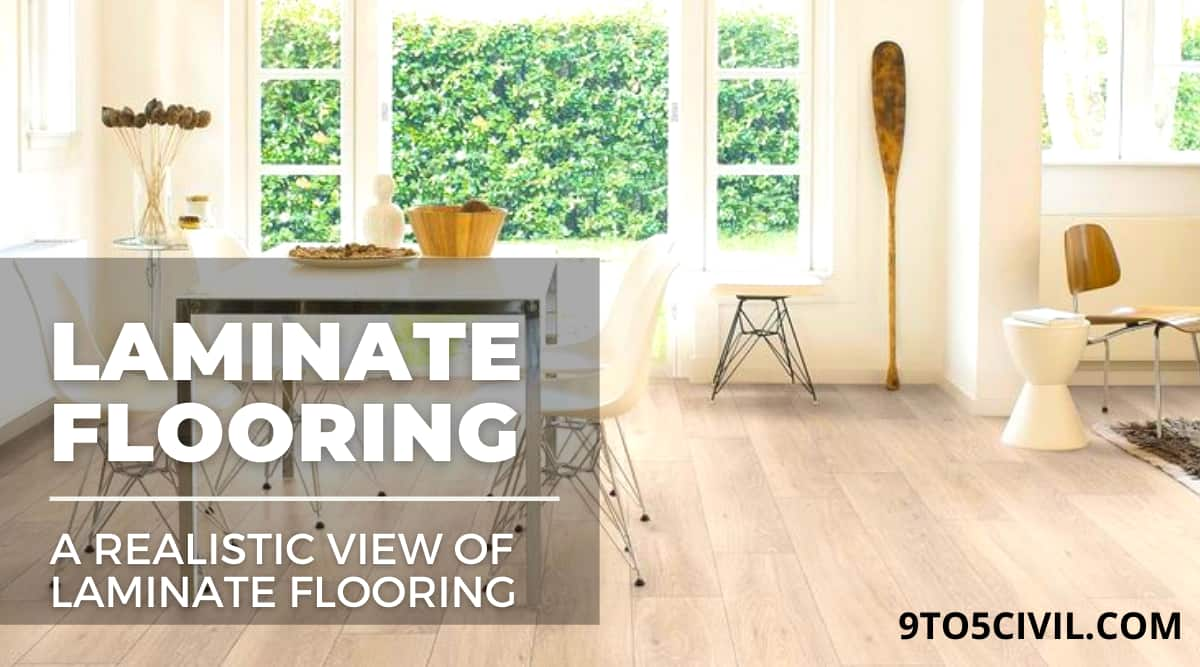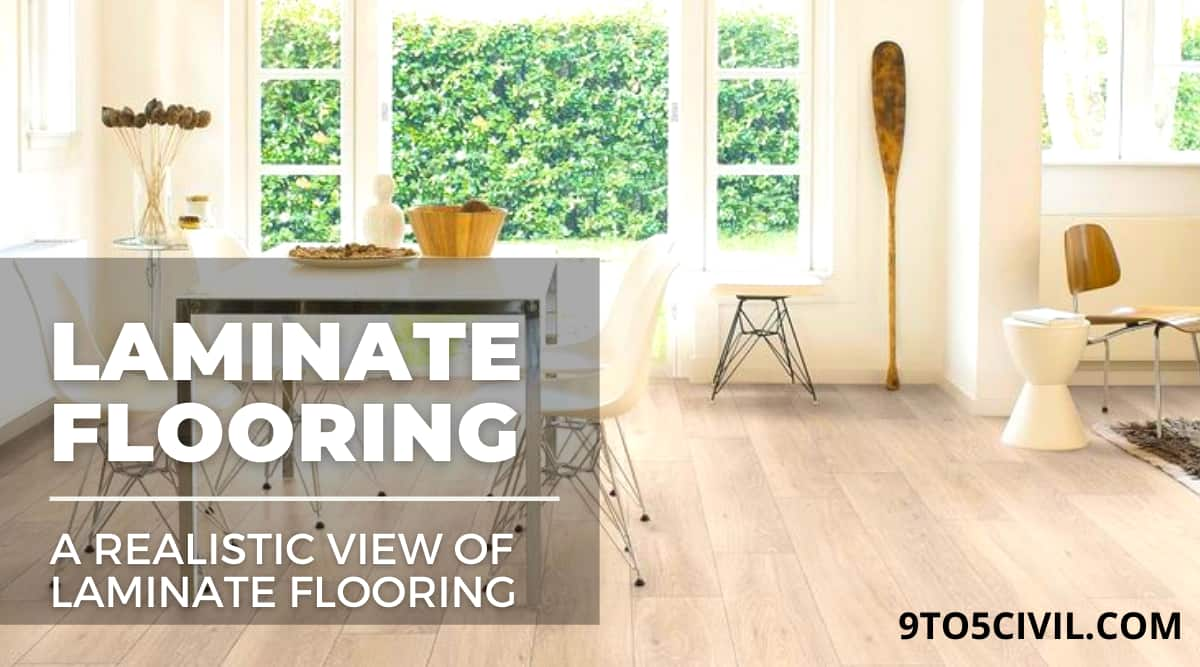 Laminate flooring is basically a synthetic floor covering which is designed in such a way that it looks like wood flooring or stone flooring. The Laminate floorings are an excellent alternative for wooden flooring.
In this article, You will get to know about one of the most demanded flooring materials Laminate flooring and methods and how you can set about the installation process of laminate flooring, and whether or not it would suit your taste and likings.
Undertaking the task of a residential building or house construction can be quite hectic and tiring, from choosing the foundation, out of so many available out there, to pitching on the best quality flooring that would prop up the weight and wouldn't break apart upon laying pressure and strength.
What Is Laminate Flooring?
For those of you who are not well acquainted with this type of flooring, laminate floors are hybrid or mixed floors. Such floors consist of a particleboard wood base, over which an image layer and a transparent wear layer are placed.
This type of flooring is quite the trend at present, and voguish especially when confronted with the difficult task of choosing floors for living areas, kitchens, dining areas, hallways, bedrooms, and others, for these places aren't at risk of excessive moisture exposure. Laminate flooring is made from multiple layers.
The idea of laminate flooring came about in 1977 when the Swedish company Perstorp thought it would b great to use up waste wood by exposing them to high pressure, heat, and binding chemicals and then using them for floor coverings. The idea was appreciated and shared by many other firms, who then decided to walk in their footsteps.
Also Read: What Is Wood? | What Are the Uses of Wood in Construction? | Types of Wood
How to Repair Warped Laminate Flooring?
The flooring sometimes comes apart, and the reason may or may not be known to the homeowners. Over here, one seeks the best suitable method to put it on the mends, instead of getting it replaced with other types of floorings.
If you found signs such as Bubbling, splitting, buckling, cracking, or discoloration, it shows damage in the laminate flooring, and it is necessary to repair it as soon as possible.
The only way to fix any damaged laminate flooring is to replace the broken pieces or planks, to be precise. One just cannot fix them and make them go back to their original state by dryer or iron. To take out the damaged piece, you have to go for either of the two procedures outlined just below:
1. Disassembling the Floor
The first way to restore the warped laminate floor is by disassembling the entire floor. If we speak of laminate flooring, such types of floors snap together and also unsnap, though in only one specified direction.
Start the disassembling process on the edge of the floor as the tongues are facing this. However, if you are unable to figure out where exactly the tongue is facing, strip away the baseboard and take a quick glance at the edge of the flooring.
The reason why so much emphasis is laid on the tongue is that it makes up the lower part of the locking system, and dissembling can be begun on that side of the space.
To go about the process, start lifting the edges of the floor planks in the first row so as to pull them apart from the other ones. It is always advisable and recommendable to take out the entire row before you head off to the next one.
The trail back to the destructed floor area, remove the planks that have been causing problems and place the new ones in the place. One thing that should always be kept in mind is that the new one may be slightly brighter than the old ones, for they tend to fade away with time.
To achieve a similar color, you can coat them with a neutral color so that the new one can blend with the old ones smoothly.
2. Taking Out the Warped Floor
At times, you will be faced with the situation where the warped plank may be falling right in the center of the room, and you cannot go ahead with the first repair method, because there's too much furniture in and around the area.
In such a scenario, cutting out the warped planks can be a better alternative. This can be carried out using a circular saw set and making a ¼ to ½ inch deep cut.
Start cutting a line down the middle of the disfigured plank and, after that, make widened diagonal cuts in the corners of the planks. To pull out the pieces, you can use a pry bar. Keep in mind to leave the undamaged planks untouched and away from the saw machine and pry bar.
Onto the replacement part, start by preparing the replacement plank and, to do so, cut off the tail part of the groove from a side or both the ends.
Affixing one side of the board to the adjacent plank, take some glue, spread it out on the remaining space of the groove, and put the plank down into its place.
For glue to act and set, place some heavy stuff on the repaired area and leave it for a while. Make sure to not linger around the area while it is still trying to hold down the two planks.
Also Read: What Is Varnish? | Characteristics of Good Varnish | Use of Varnish | Types of Varnish | How to Apply Varnish to Wood? | Advantages & disadvantages of Varnish
What Are the Best Eco-Friendly Laminate Flooring Options?
If you are someone who wants to advance a step in the direction of green with their flooring choice, here are a few options you can opt for:
Hardwood Flooring: The first type of flooring we bring you is the hardwood one. Such flooring is a natural product of the earth and is renewable as well. Another reason why this was placed up high is that these types of floors are biodegradable and are recyclable as well, for they can be used as fuel or other flooring projects one takes up.
Bamboo Flooring: Bamboo is yet another natural product that grows fast with a harvest cycle of three to five years, making it one of the very few renewable alternatives to laminate flooring. The only drawback to this alternative is that they are grown in a specific part, so to and fro may cause pollution.
Natural Stone flooring: Up next, we have stone floors primarily used by stone lovers or admirers. These are yet another renewable material that is recreated by natural tectonic processes that take place. In no way are they harmful to the earth or the environment, but one may have to be very careful with the to and fro of such material.
How to Install Laminate Flooring on Stairs?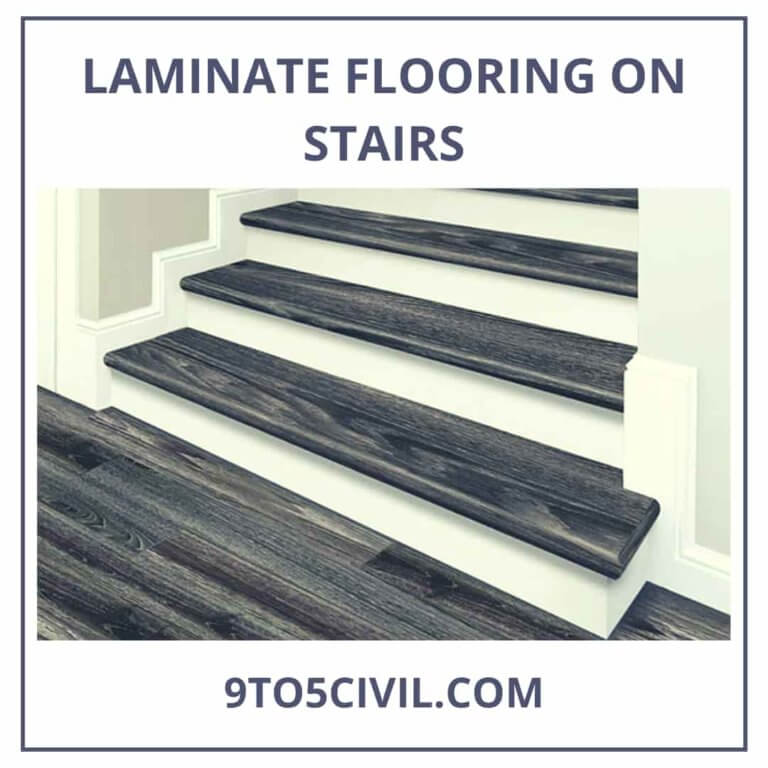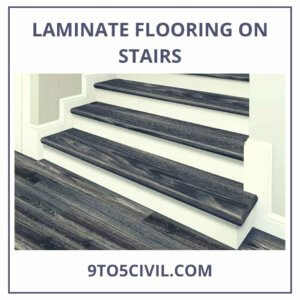 Installation of laminate flooring; on the stairs, uneven floors, and in the bathroom.
Once you have made up your mind about laminate flooring, the next step is to gather the material and set the plan in stones. Following are the ways you can install laminate flooring on the steps:
Place the tread: The first part is to lay the tread piece and install them. You are recommended to always opt for high-quality wood glue to glue the pieces/tread boards together. Place the three beads on the back part of the tread boards(that you just glued together). Now, you have to lay it warily, so it ties up to the back step with the tongue edge of the laminate.
Installation of risers: Up next, you have to put some wood glue to secure it into place on the part of the step that goes up vertically. To avoid any mishap of the step riser falling off, you need to hold it firmly in place until the glue has dried. Alternatively, you can bring a nail and hammer it into the top of the plank so that it stays in place. And no, the state would still look unmatched and sleek.
Stair nosing to be fitted: Once the riser is placed, the next step will be to install the nosing. Again, grab some wood glue and spread it evenly on the subfloor. Hold the glued place down, along with the tapered end, which is over the top of the thread piece. Throw in a screw to secure the top nosing into its place. Bear in mind the top nosing is to be covered in duct tape(this way, laminate flooring will be protected). It leaves a gap of around 9 inches from the center to auger a countersink hole and stick some wood screws into it. Don't touch the screw with the plastic or duct tape on.
The ball is in your court: This was a rough detailing as to how you can go about installing laminate plank flooring and installing laminate wood flooring. Often, people install step risers and tread simultaneously, while others prefer to undertake one step before taking up the others. You can go for either the former or the latter process; the only thing you need to be a bit more careful about is the laminate laying scrupulously. Install it to increase the longevity of the steps and the laminate.
Also Read: What Is Fire Escape Staircase? | Types of Fire Escaping Stairs | Fire Escape Staircase Regulations
Installation of Laminate Flooring on the Uneven Floors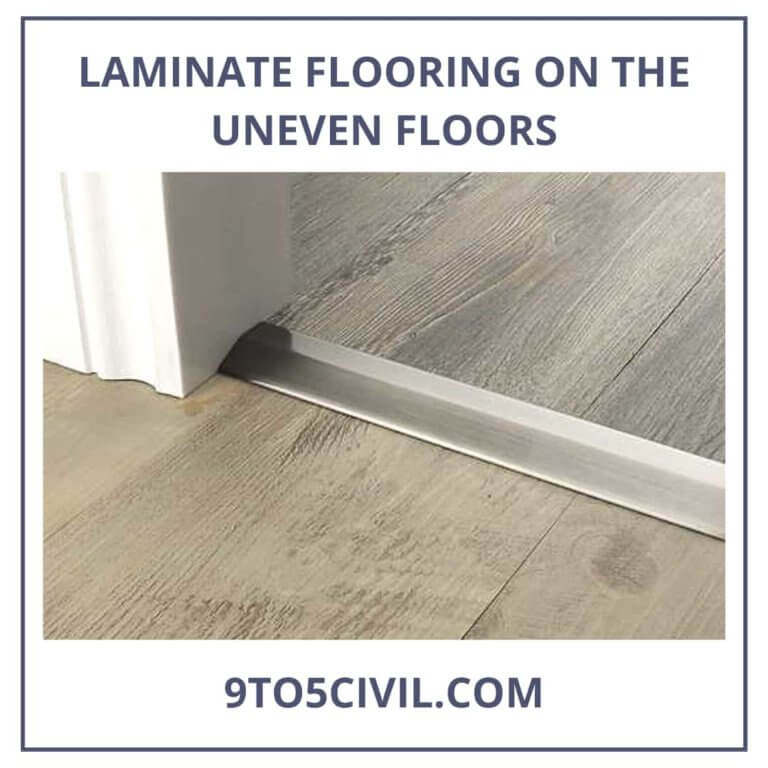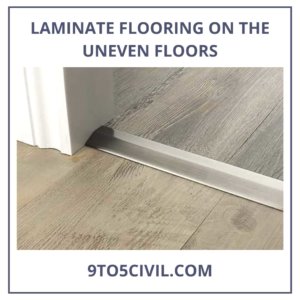 Before getting laminate flooring installed on your uneven surfaces, ask yourself if you can even do so; is it even possible.
Most uneven floors result from dips and bumps caused in the subfloor as time goes by. This is the case with older houses mostly. It could be the case that your floor is flat, but some parts of it may not be as even. This, however, is induced by any disruption to the house's structure, and such structural damage cannot be mended by any ordinary person.
This is why inspect your floors and subfloors before dashing ahead with installing the laminate floor over the uneven surface. Additionally, you cannot install or put laminate covering over the uneven floors fixed unless you get them fixed.
When you should and shouldn't install laminate on uneven floors: Look for any bump that measures beyond 3/16 inch as in such case, you would have first to get the floor leveled or even off. One cannot just dive into the lamination process as there are chances of laminate settling and sliding deep into the uneven surfaces.
Why you shouldn't laminate an uneven floor:
The first reason to drop this idea is that the dips in the subfloor could end up creating air gaps underneath the boards, thus making it hard for laminate to underprop the weight, and it would start cracking up. Another major disadvantage of sneezing at these warnings is that the interlocking mechanism(that locks up each laminate board) would be severely damaged.
There are also very high chances of uneven surfaces damaging the laminate and will end up raising the areas a bit. The negligence may also trigger off the event of edges of the boards wearing away.
However, one can still go ahead with the plan of getting a new laminate floor installed on top of the uneven floors. The major drawback of this would be the quality of the end product that you will end up with. And your money and time are likely to be flushed down the drain.
Once you have evened off the floor and there are no bumps left to be dealt with, a new laminate over it can be installed without any two thoughts.
Also Read: What Is Porch Foundation? | Porch Foundation Options | How to Build a Porch Foundation?
Installation of Laminate in the Bathroom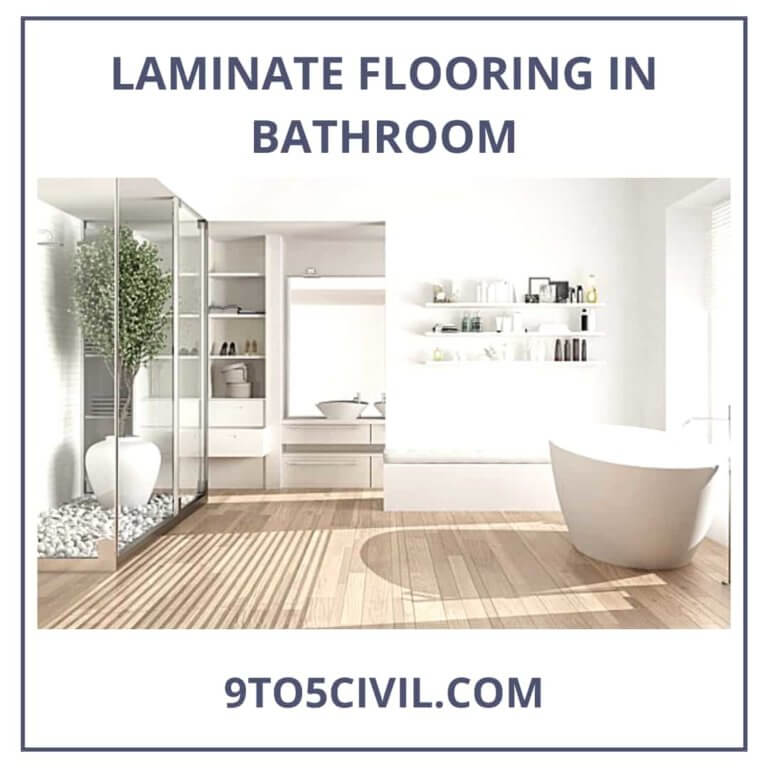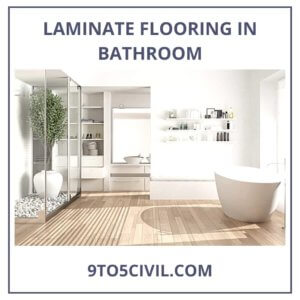 Installing laminate flooring in the bathroom can call for a few considerations before giving the idea the green light.
The first thing you must remember is that this type of flooring suits smaller bathrooms the most. Bathrooms where only a sink and toilet are there and no significant water container like bucket or tub have fewer chances of humidity. And there would be little to no problem with maintaining these small laminated bathrooms daily.
If you think the laminate coating will extend the lifespan of bathroom floors, be sure to protect the savior itself with some waterproof silicone caulk. Since this material is flexible and impenetrable, there'll be no fear of water being soaked up by laminate flooring. Another significant advantage that cannot be skipped over is that such silicone caulk naturally expands and contracts in order to fill flooring gaps(if there are any). So, before getting it installed, call up your contractor and have a word with them.
The benefits of having everything tiled, from the walls to floors, aren't hidden and if anything at all, this is heavily promoted. There's no doubt that silicone grout is the perfect choice to protect the inner joins and attached laminate tiles and planks, it certainly fails to protect the laminate flooring ends. For there are no barriers, water can gush in and reach the laminate ends, thereby causing more serious destruction to the entire flooring.
To prevent this from happening, you can top the laminate flooring off with a designed hard tile border, baseboard, or molding over the laminate flooring and the areas like the bathtub, shower, sinks, and toilet. This would add a protective layer and seal the outer edges off, thus thwarting the possibility of moisture making its way through any bumps or left-out areas.
One must not forget that bathrooms tend to have higher levels of humility when set against kitchens, living rooms, and others, the reason being the presence of showers that may very well steam up the room. Since laminate flooring is prone to moisture attack and disruption thereafter, it becomes necessary to undertake steps to prevent things of such sort from happening.
You can take simple measures to clamp down on such scenarios as turning on the exhaust fan while leaving the bathroom or even while taking a shower. If there is no exhaust fan, consider lifting up the windows and allowing for some air.
Yet another step you must take and ask your family members to be also mindful of is to foil the standing water from leveling up the moisture level. To get rid of water collecting up in a place, mop it out as soon as you see and find the possibility of this happening. Or, get a cloth and let it soak the water in.
If not dealt with this problem then and there, the water may seep between the seams of the laminate floor, which takes the form of mold and you will be compelled to splurge money to get the entire subfloor replaced.
Another way to protect the laminate wood floor, if someone pitches on this alternative, is to lay a rug or carpet over the floor. As soon as you hop out of the shower and make your way to the vanity mirror, you can stand on the rug while doing your stuff. You can also go for bath rugs and runners for the longevity of your laminate flooring.
Among other advantages, putting a rug or carpet over the laminate floor won't have you losing your sleep over the chances of mishaps like something falling because of the watery floor. Having laminate flooring in the bathroom increases the risk of mishaps connected with the spillage of water on the same. Many companies have taken the worries of their customers into consideration and came up with an ameliorate version of laminate floor that has more texture, grip, and traction.
These considerations call for a second thought about whether such type of flooring will increase the lifespan or worsen the chances. As per experts and designers, laminate flooring shouldn't be a consideration when talking of bathroom/washroom.
Also Read: Types of Drain Tile System | Interior Drain Tile | Exterior Drain Tile | Cost of Drain Tile System
Pros and Cons of Laminate Flooring
There are several pros and cons of getting laminate flooring installed and we would be talking of these in detail.
Pros of Laminate Flooring
As for the pros, laminate flooring has the following benefits:
Such type of flooring is much more affordable when compared with other alternatives. Since these are made from composite wood brought together and subject to high temperatures. This makes it more affordable than natural timber, considering the exoticism of the tree.
Up next we have the resilience attribute of laminate material. Such materials are hard-wearing and scratch-proof to boot. The top coating makes the material stand the situations of high traffic, kids running around, and pets' claws. Also, the color of the laminate won't fade as quickly if it is UV resistant.
Floors having laminate touch looks beautiful and well put together. The laminate flooring gives off a natural wood look which is loved by nature-lovers way too much.
You don't have to put any extra effort into maintaining such flooring. Just a wipe is enough to get rid of spillage and other mishaps.
Cons of Installing Laminate Flooring
For the cons, they are specified in the points mentioned below:
The major downside to such type of flooring is that it can never be moisture-proof naturally. These floorings are assailable to moisture attacks and can never be a go-to option for bathroom floors. Some of the people don't recommend using them for kitchen or laundry rooms either, for these rooms have moisture breakout chances too.
Laminate flooring, when contrasted with timber flooring, cannot be given the final touch. Since these floorings' top layers are designed keeping in mind the scratches and sanding down of such can destroy the sleek and plain layer and also disturb its resilient attributes.
Also Read: What is Drain Tile? | How to Install Drain Tile Around Foundation
Laminate Installation Labor Cost
The cost of installing laminate flooring can vary from region to region. As for the US standards, one can expect to splash out $5000-$6000 to get an area of 1000 sq ft. installed with laminate. Other regions' costs may slightly differ, depending on various factors that are at play when choosing this alternative over others.
Laminate Flooring Installation labor costs can again differ from place to place. However, the average labor cost that one would be set back by $1.72 per sq. ft.
The average cost required for labor for the installation of the laminate flooring is about $1.72 per square foot. Let us take an example If the labor cost required is about $568 to install laminate in a 330 square foot living room. With the average cost of installation costing around $3 to $8 per square foot total, labor costs make up anywhere from about 20% to 50% of the final cost.
For about a 330 square foot living room, labor costs can go up to $560. Therefore, the average cost of installation can fall anywhere between $3 to $ 10 per sq. ft. As for the labor, they make up anywhere between 20% – 50% of the final/full cost incurred in getting these floorings installed.
---
Like this post? Share it with your friends!
Suggested Read
Frequently Asked Questions (FAQ)
What Is the Best Floor Laminate?
The best floor laminate is subjective and depends on individual preferences and needs. However, some popular and highly regarded laminate flooring brands include Pergo, Shaw, Armstrong, Mohawk, and Quick-Step. It's essential to consider factors like durability, water resistance, warranty, design options, and budget when choosing the best floor laminate for your specific requirements.
What Is the Best Laminate Flooring?
The best laminate flooring can vary depending on personal preferences and specific needs. However, some popular and highly regarded laminate flooring brands include Pergo, Shaw, Armstrong, Mohawk, and Quick-Step. It's important to consider factors such as durability, water resistance, design options, warranty, and budget when choosing the best laminate flooring for your requirements.
Which Laminate Flooring Is the Best?
Determining the best laminate flooring brand or product depends on individual preferences and specific requirements. However, some highly regarded laminate flooring brands known for their quality and performance include Pergo, Shaw, Armstrong, Mohawk, and Quick-Step. These brands offer a wide range of options with different features, designs, and price points. It's important to consider factors such as durability, water resistance, warranty, design options, and budget when choosing the best laminate flooring for your needs. Additionally, reading customer reviews and seeking professional advice can help inform your decision.
What Are Some of the Top-Rated Laminate Flooring Brands?
Several laminate flooring brands are highly rated for their quality and performance. Some of the top-rated laminate flooring brands include Pergo, Shaw, Armstrong, Mohawk, and Quick-Step. These brands are known for their durability, realistic designs, and wide range of options. However, it's important to consider your specific needs, such as water resistance, budget, and design preferences, when selecting the right laminate flooring for your project. Reading customer reviews and seeking professional advice can also help you make an informed decision about the top-rated laminate flooring that suits your requirements.
What Are Some Popular Laminate Flooring Brands?
There are several popular laminate flooring brands available in the market. Here are a few well-known brands:
Pergo: Pergo is a highly recognized brand known for its wide range of laminate flooring options with realistic designs and durability.
Shaw: Shaw offers a variety of laminate flooring options known for their quality, durability, and innovative features.
Armstrong: Armstrong is a trusted brand that produces laminate flooring with various styles, including wood and stone looks, and offers features like water resistance and easy installation.
Mohawk: Mohawk is known for its high-quality laminate flooring that replicates the look of hardwood or stone, providing durability and style.
Quick-Step: Quick-Step is a reputable brand that offers laminate flooring with a focus on style, design, and ease of installation.