The colouring of the WPC board can be done by using some different colours and additives in the raw material. This colourful WPC board can be used for outdoor deck floors, door and window frames and outdoor landscapes, etc.
Due to the progress of research in construction in the modern era, new materials are emerging in construction from time to time. Wood-plastic composite (WPC) is currently the new material in the construction industry. Which can be used as an alternative to natural wood and plywood.
Percentage 70% virgin polymer, 15% wood powder (fibre) and the remaining 15% additives are used for the production of WPC board.
In modern times WPC board is used as a very durable and safe material for construction purposes.
What Is WPC Board?
Wood-plastic composite (WPC) is a product made from wood fibres and thermoplastics for construction use. Materials used for these thermoplastics include polyethene (PE), polypropylene (PP), polyvinyl chloride (PVC), or polylactic acid.
In addition to wood fibres and plastics, lignocellulosic and/or inorganic fillers can be used for WPC boards.
WPC board can be used in construction at various locations for the floor, decks, rails, fences, landscaping, windows, doors, exterior or interior cladding, for the manufacture of doors and window frames. In addition, WPC board can be used for strong and designed furniture.
WPC boards are made from properly mixed wood fibres and thermoplastics waste. This thick mixture is placed in the mould. Where WPC board is produced in different sizes according to the size of the mould as required.
Size of WPC board
The standard size in the WPC board market is usually 2440 mm x 1220 mm (8 feet x 4 feet). The thickness of the WPC board can be found differences in the market as per the requirement. The thicknesses of this WPC board are 5 mm (0.20 in), 6 mm (0.24 in), 7.5 mm (0.30 in),10 (0.43 in), 12 mm (0.47 in), 17 mm (0.67 in) And 18 mm (0.71 in).
Characteristics of WPC Board
The various features of WPC are described as follows:
The external appearance of WPC is similar to natural wood. Furniture made from the WPC board requires less repair and maintenance.
This material is resistant to moisture. As a result, it can last longer.
This type of material is resistant to termites and fungus.
It does not decompose easily under different weather conditions and its components do not lose their strength.
WPC type of material is durable and strong as it is made from a composite material of recycled plastic and waste wood.
Materials like WPC boards have more grip than natural wood-like nails, screws and fasteners etc.
Its popularity has increased due to its special properties. This prevents unnecessary felling of trees.
Applications & Uses of WPC Board
1. Interior Areas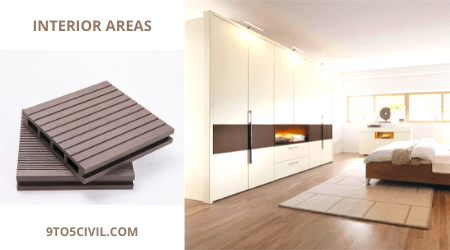 The WPC board can be used in a variety of interiors. In which necessary furniture items like wardrobes, kitchen cabinets, interior partitions etc. are made in the house. In addition bathroom doors and extensions can be used as the ceiling of the room.
2. Outdoor Decks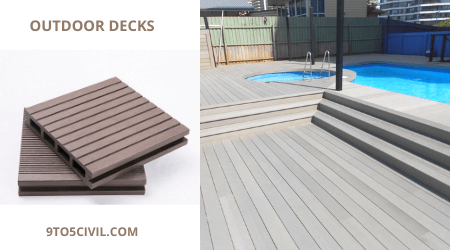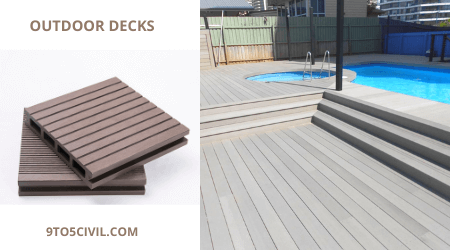 WPC board is specially used in outdoor decks and patios. Various manufacturers of WPC boards can be used as solid decoration, hollow decking, mosaic decking etc. as decking options.
3. Paneling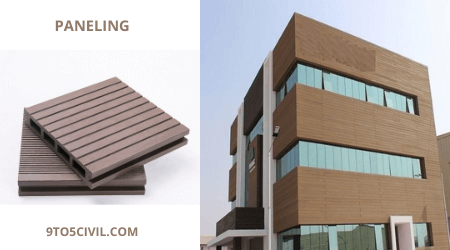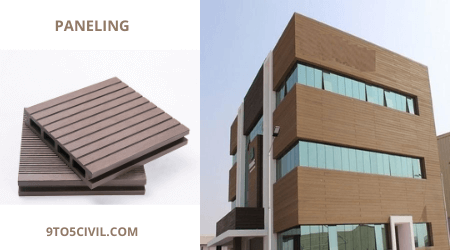 This material can withstand long periods of weather. In addition, WPC board can be used as decorative in indoor as well as outdoor panelling as it is easily available in the market in various sizes.
4. Fencing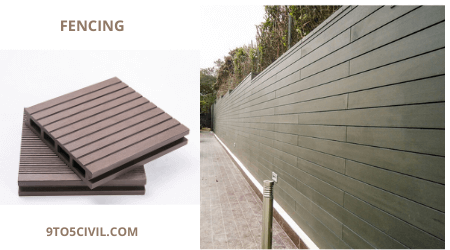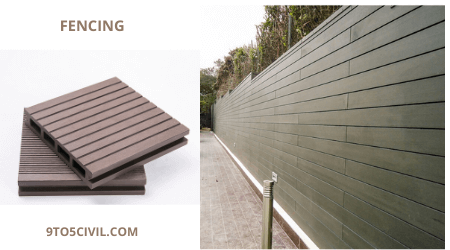 This material can be used for safe and durable purposes. Therefore WPC board is widely used for gardens and other outdoor fencing purposes.
Due to the features of the WPC board, it can be used for a long time in modern times. Due to the strength, durable modern design and characteristics of WPC board, its use as a traditional building material is increasing.
Advantages and Disadvantages of WPC Boards
Advantages of WPC Board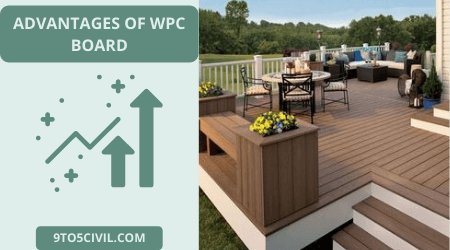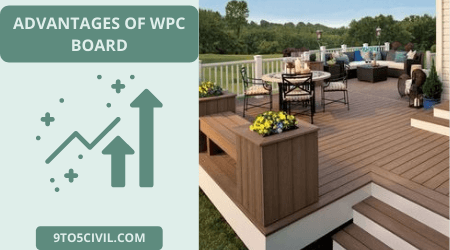 It has various properties like modifiers, foaming agents, stabilizers and various elements.
These ingredients are mixed together in a specific and strict ratio. The result is the use of high-quality materials to become high-quality materials.
According to different needs, it can be moulded and given different shapes. Because of this, it can be used to make designer doors and windows as well as door and window frames. It is used to give the house a rich look and beautiful polishing.
WPC material is 100% termite proof and waterproof due to the properties of thermoplastics.
Which makes it a very durable item in outdoor weather. When it comes to such waterproof shades and termite-proof boards in modern times, many vendors offer a lifetime guarantee on this type of material.
It is a polymer-based material that does not ignite when in contact with a fire source.
WPC board is fire resistant. This type of material does not allow the fire to circulate. This type of material does not burn with fire.
Paint can be used for modern and high-quality surface treatment to make WPC doors and WPC flooring looks rich. Materials made from surface treatment WPC provide a distinctive and attractive look.
WPC type material is a promising and cost-effective alternative to plywood due to the various features listed in the construction.
Disadvantages of WPC Board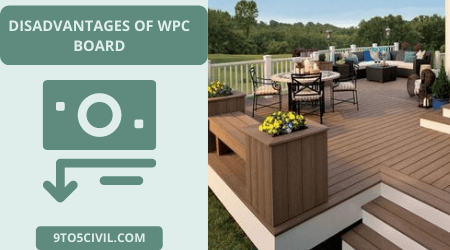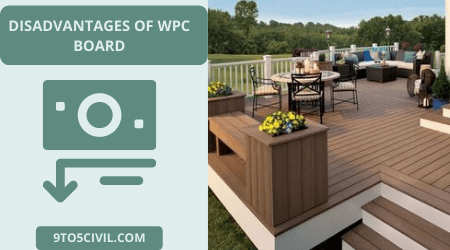 WPC material has a lower temperature resistance than wood.
WPC materials cost more than other materials used for the same purpose of construction.
It lacks a natural wood-like texture. So the feeling of natural wood indoors made from WPC is lost.
Furniture made from WPC is not completely maintenance-free.
The material of WPC of the same size is heavier than the material of wood. Because it is a material made from dense wood fibres and polymers.
Why WPC Board Is Comfortable For Interior Designing?
Modern WPC boards can be used as a flooring material. WPC content offers many new and different advantages for interior designing projects compared to older materials.
Various attractive compositions can be assumed using WPC coloured board. Below are some of the security benefits of WPC.
1. Excellent Water Resistance
Sometimes in interior designing projects, floorings and additional products are required to have excellent water resistance. We can get rid of this worry by using WPC board for its solution. Because this WPC material can give excellent resistance to moisture.
The quality of this type of material is due to its micro composition and system. As a result, we can be used as a durable door in the toilet, bathroom, kitchen. In addition, WPC can be used for a long time in interior designing wonderful aesthetics.
2. Best Value For Money
In modern times consumers want the right sustainability for the money spent. The WPC board can be used specifically for appearance enhancement and for structural safety. In addition, the WPC board also has a long life.
The WPC board is able to retain its properties. So its appearance does not fade. In addition, it does not require staining and painting.
Initially, the cost of WPC is expensive. But can provide satisfactory value over time and efficient long term solutions for interior designing.
3. No Fading For Decades
WPC Board is high quality and high-impact thermoplastic material. Thus it can withstand the rays of sunlight and various adverse weather conditions. Good quality WPC board will not fade for about 25 years.
For interior designers, the WPC Board offers an option as a material to provide safety in the long run. So as to be appreciated for the high quality and long duration intervals for the building of any customer. The WPC board can provide a decent advantage as weatherproof.
4. Fire Retardant Properties
WPC boards are a material made of plastic and wood powder. So this type of material can withstand fire for a long time. This quality of WPC board is preferred over wood, plywood and any type of interior designing commodities.
Because of this WPC board can be used for a long time as a solution for flooring and decking. It can also be used for a variety of interior designing projects for durable, safe and extremely comfortable use.
Also Read : What Is a Skeleton Frame? | What Is Building Skeleton? | Use of Steel Frame Structures | Advantages &  Diaadvantage of Steel Frame Construction
What Are the Advantages of Using Wpc Boards?
WPC boards come with assured quality.
WPC can be molded into different shapes and sizes.
WPC material is highly fire-resistant.
The WPC material undergoes modern and high-end surface treatment through paint or thermal transfer which makes the WPC profiles, doors, or flooring look flourishing.
How Do WPC Boards Compare to Traditional Wood?

WPC is more durable and weather resistant than natural wood. WPC is no painting or staining requirement with low maintenance. Natural wood needs to be cut to required sizes followed by painting or polishing. WPC has more color selections including those with the finish of traditional wood.
Where Can I Buy High-Quality WPC Boards?
ALSTONE WPC quality is the best. other companies are also manufacturing WPC but customer's interest is in Alstone WPC only. customer's want ALSTONE Industries quality only.
Are WPC Boards Suitable for Outdoor Applications?
WPC boards are highly durable, weather resistant, waterproof and termite resistant which makes these suitable for several interiors as well as exterior applications. These boards are good for termite-proof furniture even for outdoor areas.
What Is the Lifespan of WPC Boards?
WPC tiles or terrace planks are more durable than planks or tiles made from wood. Because of their resistance, solid WPC planks have a life of up to 30 years. Apart from the durability of WPC, another thing to remember is the level of care it requires.
Are WPC Boards Fire-Resistant?
The fire-retardant properties of WPC planks have been enhanced by adding halogen-free fire retardants to the wood-polymer mixture during the melt phase.