What Is Varnish?
Varnish provides a sleek look and protective coating for wood surfaces and decorative objects.
Varnish is a clear transparent hard protective coating applied to a wooden surface. Which gives an attractive appearance on a wooden surface.
It creates a yellow shade on the surface due to the materials used for the manufacturing process. But varnish is easily available in different shades in the market.
Different types of varnish are made according to the mixture of drying oil, resin, and dilute solvent.
It enhances the beauty of the wood grain and it is resistant to the effects of the external environment, heat, erosion, water, and alcohol, etc. Varnish is sometimes used as a top coat over painted surfaces.
Varnishes are available in different types using materials like oil, turpentine or alcohol, etc. The varnish dries after application to the wood surface and produces a hard, transparent, and glossy film on the wood surface.
Characteristics of Good Varnish
The ingredients in the varnish should be able to dry quickly.
Varnish should have properties resistant to external weather. And it should easily surface.
After the varnish has dried on the surface a hard, tough, and durable coating should be formed.
The varnish should be sufficiently capable of coloring and finishing after applying to the surface.
Different types of varnish should provide a uniform and attractive look towards drying.
Also Read : What Is Bridge Abutment? | Uses of Bridge Abutment | Components of Bridge Abutment | Type of Abutment
Use of Varnish
The use of varnish provides protective coatings and decorations to the wood surface.
The use of varnish can hide scratches in wood flooring, interior wood paneling etc.
Varnish can be used to protect wood surfaces such as windows, doors from the external environment.
Various varnishes are available in the market for specific uses. Which is made for different situations.
Spirit varnish is made up of a mixture of alcohol. This type of varnish can be used in musical instruments.
Also Read : What are Traps? | Specification of Plumbing Trap | 14 Types of Traps in Plumbing
7 Best Types of Varnish
1. Oil Varnish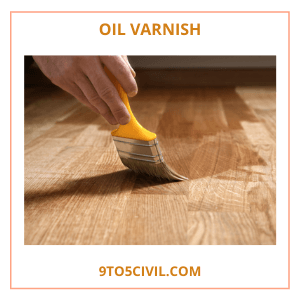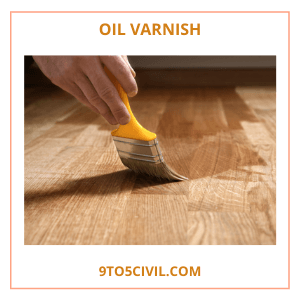 Natural resins are used in this type of varnish. It uses resins like amber or copal for its drying properties.
This type of varnish takes time to dry on the surface. But this varnish is harder and more durable than other varnishes. Suitable for use on exposed surfaces such as doors and windows that require polishing or frequent cleaning.
2. Spirit Varnish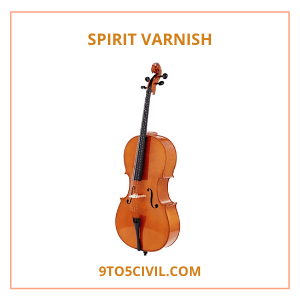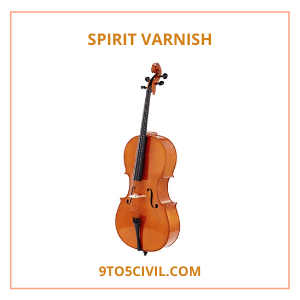 This type of varnish is prepared by adding shellac resin 0.15 kg per liter in methylated spirit.
This type of varnish can be colored by adding some pigments.
This type of varnish dries faster and this type of varnish provides a harder and brighter surface than turpentine varnish.
It has low resistance to external weather. This type of varnish is commonly used only for wood. Which is not in direct contact with the external weather.
Also Read : What Is Formwork? | Requirements of Good Formwork | Type of Formwork | Type of Shuttering | Advantages & Disadvantages of Formwork
3. Acrylic Varnish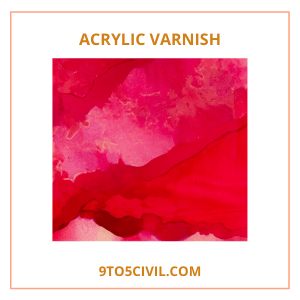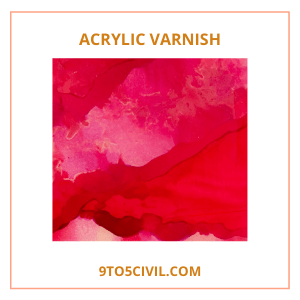 This type of varnish is resistant to ultra-violet rays. This type of varnish is a quick-drying and non-toxic base type of varnish. So this varnish can be used on surfaces exposed to sunlight.
It can be used on materials other than wood. This type of varnish is superior to other varnishes. It is able to provide a clear, strong, and very transparent surface.
4. Yacht Varnish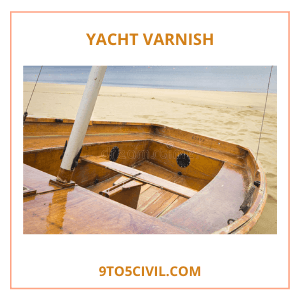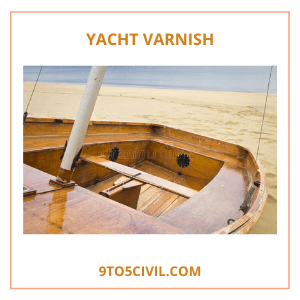 This type of varnish is used as a marine varnish. This varnish is mainly made using special ingredients to be used on the boat.
This type of varnish is used especially on boats to retain water. This type of varnish has flexibility. Varnish can crack under sea stress if it forms a hard texture. Water from these cracks can enter the boat.
This type of varnish does not provide a special glossy surface. The use of this varnish is to provide protection against a little water. Yacht varnish can be used in new technology to make high glossy surfaces based on tung oil and phenolic resins. This type of varnish is ideal for wood exterior surfaces.
Also Read : What Is Concrete Frame? | What Is Precast Concrete Frames? | The Components of Concrete Framed Structures | Advantage & Disadvantage of Concrete Framed Structure
5. Polyurethane Varnish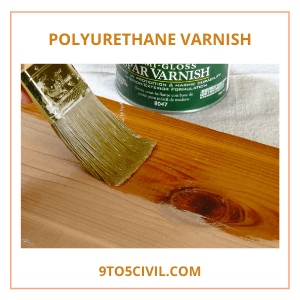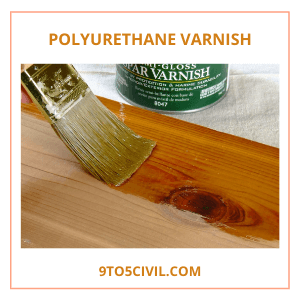 Polyurethane varnish provides a hard, abrasion-resistant, and durable type of coating. It is especially popular for wood panels, but the use of this type of varnish by some wood finishers is considered difficult or unsuitable for furniture surfaces.
Polyurethanes have a higher hardness than certain alkyds. But are usually able to make a tought film.
Compared to plain oil or shellac-like varnish, polyurethane varnish forms a more rigid and waterproof film.
If a thick film of polyurethane is subjected to heat or shock, the film forms fractures and white patches on the surface. This type of condition increases the crack when it is exposed to prolonged sunlight or when applied to the surface of softwoods like pine.
Also Read : What Is Salt Finish Concrete? | Specification of Salt Finish Concrete | Process of Salt Finish Concrete
6. Exterior Varnish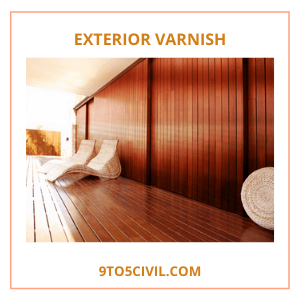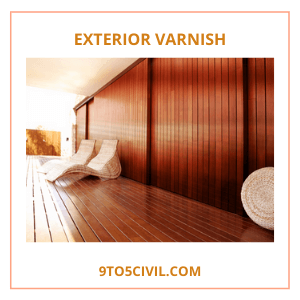 This type of varnish is specially provided on the outer surface exposed to the weather.
This type of varnish has the ability to resist ultraviolet rays. So that the surface of the wood can be protected by varnish.
This type of varnish is always used for a variety of purposes. This type of varnish contains a fungicide to prevent fungi and termites.
Comparing this type of varnish does not make much difference in the composition and performance of the yacht varnish. This type of varnish dries quickly and it has flexibility.
Also Read : What is a Short Column? | What Is a Long Column? | Difference Between Short Column and Long Column
How to Apply Varnish to Wood?
Before applying varnish to any wood surface, the woodwork is completely ready. Varnish is coated on wood to hide marks, unwanted stains, and bumps, etc.
After the first coat of varnish is applied to the wood surface, a second coat of varnish is applied after it dries.
Dust and varnish do not mix with each other. So after applying the varnish, give it time to settle.
If you apply varnish in a dusty environment, it will stick to the varnish on the surface and it will potentially spoil the surface. To solve this problem, fine sand is removed using fine-grit paper. Then another coat of varnish should be applied.
Varnish is applied to wood surfaces to improve the wood finish, enhance the look and make it more durable.
Varnish is usually applied to the wood surface by brush. If you use a roller to apply varnish. So that's more appropriate.
Also Read : What Is Folded Plate? | Folded Plate Structures | Folded Plate Staircase | Advantages & Disadvantages of Folded Plate Structures
Advantages of Varnish
The various advantages of varnish are classified as follows,
After applying the varnish to the wood surface, it protects the wood surface against the adverse effects of the environment.
Varnish is applied to unpainted furniture to make the surface transparent and decorative without hiding the beautiful grain of the wood.
Varnish is applied to the surface to enhance the beauty of the wood surface.
Varnish can be used to give wood a strong, durable surface.
It is used to hide the effects of hair-like cracks and scratching and external damage.
Using varnish helps reduce the damage to the wood from the moisture in the surrounding weather.
Varnish has flexibility and helps to maintain the surface for a long time.
Varnish protects wood surfaces from UV rays.
It brings out the natural gain nature of wood.
Varnish is cheaper to buy because of its use.
Varnish can be used on painted surfaces to enhance the appearance of the paint and increase its durability of the paint.
Also Read : What Is Plaster? | Type of Plaster | Type of Plaster Finishes
Disadvantages of Varnish
Some of the disadvantages of varnish are shown below,
Varnish produces a strong and unpleasant odor. So you have to wear a mask as a precaution when using varnish.
Reacts components of varnish with glue, wax, and silicones.
It is not advisable to use vanish in summer.
Varnished surfaces have a low resistance to abrasion.
Also Read : What Is Gypsum? | Types of Gypsum Products | Properties of Gypsum | Uses of Gypsum | Advantages & Disadvantages of Gypsum
Frequently Asked Questions (FAQ)
What Is Varnish Used for on Wood?
Varnish protects wood, providing a durable surface that helps to prevent damage and keeps it in good condition.
Which Is Better Varnish or Polyurethane?
Varnish works well for exterior finishes on decks and patio furniture. Polyurethane works better on wooden surfaces that are indoors. While varnish is durable and inexpensive, it's best suited for softer woods. Polyurethane dries quicker and requires fewer coats but won't hold up in the outdoors.
What Is the Best Floor Varnish for Wooden Floors?
Polyurethane is the most popular finish for floors. It's tough enough to handle constant traffic and is resistant to almost everything. There are two types of polyurethane finish: oil-based (solvent borne) and water-based (waterborne).
What Are the Benefits of Using Varnish?

Varnish can prevent scratches and abrasions on table tops. As well as waterproofing the wood, varnish can also prevent wooden surfaces from getting scratched. Finishing wood with a product such as varnish, serves to protect wood from the little knocks and spills that are inevitable in a busy family home.
What Are the Benefits of Plastic Varnish?
Plastic Varnish Flat creates a "dead" flat finish, eliminates lighting angle sheen and is ideal for video and film work. Creates a tough flat finish even capable of reducing sheen on an underlying shiny surface.
What Are the Benefits of Acrylic Varnish?
The reasons why varnish acrylic painting are numerous:
Varnish protects the acrylic painting from dust and dirt.
Varnish doesn't let moisture inside.
Easy cleaning process.
Varnish protects the painting from extremes of temperature or humidity and UV radiation
Varnish makes colors more vibrant and increases color saturation
Which Type of Varnish Is Best?
Polyurethane varnishes are the preferred option for wood floors. The harder surface they create tends to provide great overall protection from the effects of heavy use. On the downside, they are not UV-resistant—for this reason, polyurethane is better for indoor use.
What Is the Most Durable Varnish?
Hard resins such as amber, copal etc are used which makes this type of varnish most durable.