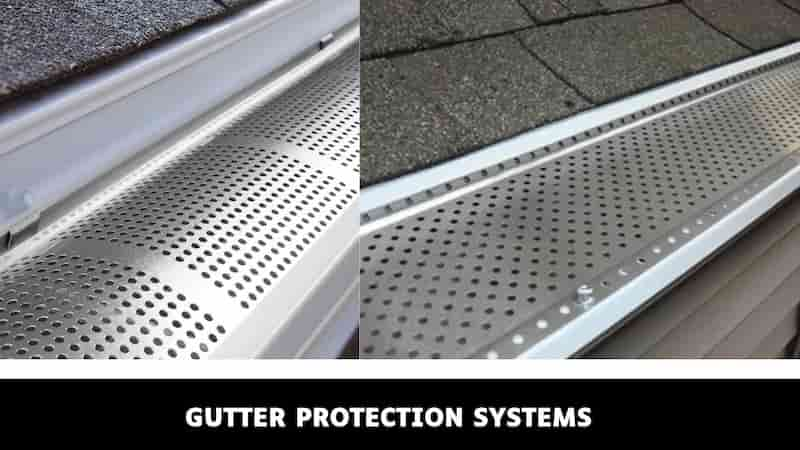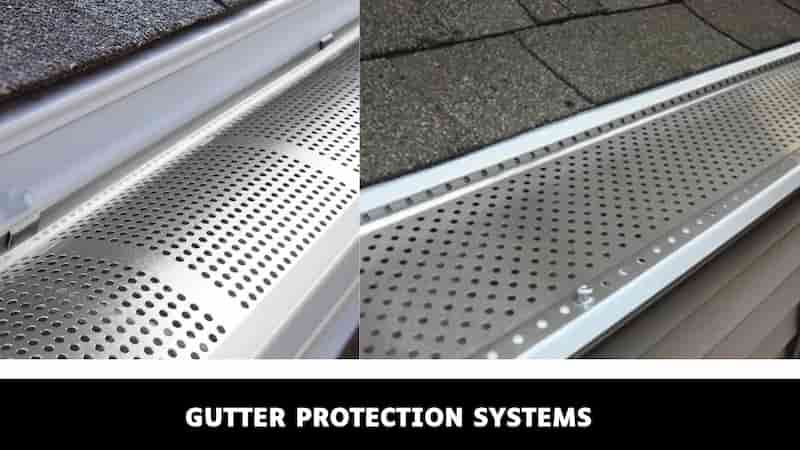 Gutter protection systems are materials designed to prevent debris from entering and clogging gutter. It is used in residential and commercial buildings to ensure proper drainage of rainwater to prevent water damage.
Gutters are essential to prevent water damage to different parts of your home. If you install it correctly and take care of it properly, it quickly drains rainwater away from your home. Installing a gutter apron protection system is one of the easiest ways to care for them.
A gutter protection system reduces gutter maintenance and cleaning requirements improves water flow and extends the life of the gutter system. Additionally, that gutter protection system helps prevent water damage to the building's foundation, landscaping, and interior.
Many people think that cleaning their gutter is difficult and takes a lot of time. To reduce frequent cleaning, they install gutter guard systems.
There are different types of gutter guard systems on the market. This article tells you about gutter protection systems' pros and cons.
What Is a Gutter Protection System?
Gutter Protection Systems are also known as Gutter Guards. Gutter protection systems are solutions to prevent debris, such as leaves, twigs, and other unwanted materials, from entering and clogging gutters. Gutters are essential components of a building's drainage system, as they collect rainwater and direct it away from the roof and foundation, protecting the structure from water damage.
Gutters are designed to direct stormwater away from the house. Without a gutter protection system, uncontrolled water can leak into basements and cause damage to landscaping, decks, patios, and foundations.
There are many types of gutter protection systems commonly available in the market including gutter guards, screens, covers, and filters. Gutter guards are made of mesh or plastic. Which is fitted to the top of the drain.
Which allows water to flow while preventing leaves and other debris from entering. Screens are similar to gutter guards but are made of metal and the cover completely covers the gutter, allowing water to drain through small holes or slots.
What Is the Best Gutter Protection System?
1. LeafFilter:
LeafFilter is a company that sells home and commercial gutter protection solutions. The company offers a micromesh technology that is designed to keep leaves, trash, and other things out of gutters while enabling water to easily flow through. The LeafFilter system is meant to prevent clogging, which can result in costly water damage, foundation damage, and other issues.
The LeafFilter system is install by skilled specialists and comes with a transferable lifetime warranty. The system is intended to suit most gutters and is available in a range of colors to complement the façade of the building.
2. LeafGuard:
LeafGuard is a company specializing in seamless gutters for residential and commercial properties. The company's unique one-piece gutter design prevents clogs and ensures that rainfall flows smoothly away from the building, thereby preventing water damage and other related problems.
LeafGuard gutters are manufactured from durable materials and are available in a variety of colors to suit the building's appearance. If the gutters ever become clogged, the company will clean them for free.
LeafGuard offers additional home renovation goods, such as replacement windows and doors, insulation, and roofing, in addition to its gutter systems. The company has been in operation for almost 25 years and has installed gutter systems on over one million homes in the United States and Canada.
3. HomeCraft:
HomeCraft is a provider of home remodeling services, including roofing, siding, gutters, and windows. The company provides a range of products and services designed to improve the aesthetics, energy efficiency, and functionality of residential and commercial facilities.
HomeCraft's roofing services include the installation, maintenance, and replacement of asphalt, metal, and flat roofs, among others. The company's siding installation and replacement services encompass a variety of materials, including vinyl, fiber cement, and wood. HomeCraft's gutter services consist of the installation and replacement of seamless gutters as well as the installation of gutter guards to prevent clogging.
4. MasterShield:
MasterShield is a provider of gutter protection solutions for business and residential premises. While preventing dirt from entering gutters, the company's unique microfiltration technology allows water to flow freely. This technology is designed to remove even the smallest particles, such as pine needles, shingle grit, and insect nests.
MasterShield's gutter protection systems are custom-fitted to each home or structure and come in a variety of exterior-matching colors. The systems are installed by certified technicians and come with a transferable lifetime warranty. Also, the organization offers a maintenance schedule to ensure that the gutter system functions properly and to extend its life.
4 Common Types Of Gutter Protection Systems
1. Foam Gutter Protection Systems
Foam gutter guards are commonly known as gutter sponges. It is a foam insert designed to fit into your gutter. Generally, foam gutter guards are made from porous polyether or polyurethane foam.
Foam gutter guards prevent your gutters from clogging by catching leaves, twigs, and other debris as water passes through your gutters. Since foam gutter guards are impermeable, water can pass freely while debris is prevented from entering your gutters.
2. Brush-Style Gutter Guards
A Brush Gutter Guard is a gutter guard with a stainless steel or galvanized steel wire core and long black polypropylene bristles. The guard usually comes in lengths of 1 m and has a diameter of about 12 cm.
Brush-style gutter guards are very resistant to corrosion, may be installed by the homeowner, and can come at an affordable overall cost. Installing a brush gutter guard will ensure that your gutters are protected and save the time you spend cleaning them.
3. Reverse Curve Gutter Guards
A gutter helmet is a reverse curve system. Rain that reaches the edge of the gutter guard drains through a narrow, 3/8-inch-wide hole. Since the opening is too small, leaves cannot get in, and only water can go down the drain. Things start falling to the ground. The system can handle more than 22 inches of rain per hour. Your gutter guard system will work no matter how it rains to catch water and move it along while sending debris to the ground.
4. Micro Mesh Gutter Guards
Micro Mesh gutter guards are a form of gutter protection that prevents leaves and other debris from blocking gutters. They are formed of a mesh material that is installed on top of your roof's channels and sit on top of your roofline.
The mesh allows water to travel through while preventing trash from entering. This will reduce the frequency with which you must clean your gutters, saving you time and work. It can also avoid water damage to your home caused by clogged and overflowing channels.
Affordable Gutter Protection Systems for Small Budgets
There are several affordable gutter protection systems available that can fit small budgets. Here are a few affordable gutter protection systems are:
There are several affordable gutter protection systems available that can fit small budgets. Here are a few affordable gutter protection systems are:
Gutter Screens: Gutter screens are an inexpensive option for preventing leaves and debris from clogging your gutters. They are easy to install and can be purchased at most home improvement stores.
Gutter Brushes: Gutter brushes are designed to fit inside gutters and prevent debris from settling inside. They are made from sturdy materials and can last for several years.
Gutter Strainers: Gutter strainers are similar to screens and are placed over the top of gutters to prevent debris from entering. They are affordable and can be easily installed without professional help.
Gutter Foam Inserts: Gutter foam inserts are made from a porous material that allows water to flow through while trapping debris on top. They are easy to install and can be purchased online or at most home improvement stores.
DIY Solutions: There are several DIY solutions for gutter protection, such as using wire mesh or chicken wire to cover gutters. These options can be cost-effective, but they may require more maintenance and upkeep.
Benefits of Gutter Protection Systems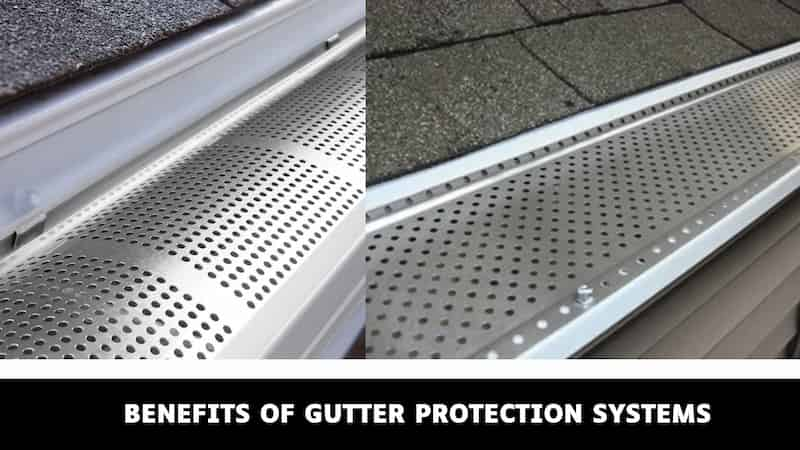 1. Save Time and Money
Installing gutter guards on top of your roof will keep your gutters clean, saving you a lot of time. Otherwise, your gutters would have to be cleaned and all the debris removed.
However, hiring a professional to clean your gutter can be extremely expensive. Thus, installing a gutter protection system can save you time and money.
2. Prevent clogging:
Gutter protection systems prevent leaves, debris, and other materials from entering the gutters, preventing them from clogging and causing water to overflow.
3. It helps prevent pest infestation
Clogged gutters are an open invitation for unwanted insects to enter your roof. The ecosystem created by stagnant water can attract birds, bats, mice, mosquitoes, spiders, and annoying squirrels.
Gutter protection systems act as a barrier. Which helps keep away animals like bats, rats, mice, and squirrels.
4. Prevent Rust and Corrosion
If drains are not cleaned regularly, decaying leaves and slimy algae will accumulate and clog your pipes. If it is not regularly maintained, your gutters can rust. Using a gutter protection system prevents the corrosion of your gutters by preventing the accumulation of organic debris. Thus, providing the best protection for your gutters. Investing in a gutter protection system may be the right decision if you want to extend the life of your gutters.
5. Reduced maintenance:
Without debris in the gutters, gutter protection systems reduce the frequency of cleaning and maintenance required, saving time and money.
6. Improved curb appeal:
Gutter protection systems can improve the appearance of the building's exterior by preventing debris buildup and the unsightly appearance of overflowing gutters.
7. Increased durability:
With less debris and water buildup, gutter protection systems can extend the lifespan of gutters, reducing the need for costly repairs or replacement.
Like this post? Share it with your friends!
Frequently Asked Questions (FAQ)
Why You Need a Gutter Protection System for Your Home?
Gutter protection systems, also known as gutter guards, are a defensive mechanism that prevents unwanted debris, such as leaves and twigs, from impeding the water flow in your gutters. Without a gutter protection system, uncontrolled water can leak into basements and cause damage to landscaping, decks, patios, and foundations.
Types of Gutter Protection System
Foam Gutter Protection Systems
Brush-style gutter guards
Reverse Curve Gutter Guards
Micro Mesh gutter guards
What Is the Best Gutter Protection System?
LeafFilter
LeafGuard
HomeCraft
All American Gutter Protection
MasterShield
What Is the Best Leaf Gutter Protection System?
LeafGuard is an excellent pick for your gutter guard system. Its gutter guard withstands heavy downpours, and its reverse-curve design helps the guards remain durable against large debris such as tree branches. If efficiency and longevity are your primary concerns.
Clean Sweep Gutter Protection System
Use your garden hose to pressure clean the tops of the gutter guards. High water pressure can rinse through the gutters themselves after you have safely removed the gutter guards. Even though some gutter guards are permanently attached, you can remove the inserts and gain access to the gutter.
Homecraft Gutter Protection Cost
Gutter guard installation costs an average of $800 to $2,000 for a typical home with 200 linear feet of gutters. HomeCraft Gutter Protection Reviews HomeCraft Gutter Protection is accredited by the Better Business Bureau (BBB) and holds a B rating* with the organization.