What Is Composite Roofing?
Composition roofing is a combination of different materials. These materials include fibreglass, asphalt, paper, slate, wood, polyester, plastic and laminate. Composition roofing is fire-resistant and does not suffer from moisture issues. Many manufacturers provide a shingle that is resistant to mould and algae growth. Composite shingles, if damaged, can be changed one at a time.
Composite Roofing does not split, peel, crack, or warp, and it is available in a wide range of colours, shapes, and sizes, making it a very flexible option. Composite roof shingles can be an excellent "green" alternative, depending on the type of shingles you choose.
Recycled plastics and hemp fibres are used to produce some composite roofing systems. Composite shingles come with a 30- to 50-year warranty, which reduces the need to re-roof your home. Polymer, known as composite or synthetic roofing shingles, are constructed from synthetic materials, including recycled plastics and rubber.
Different types and profiles are available, ranging from asphalt shingles to wood shakes and stone tiles to mimic the original look. Although they are more expensive, composite shingles don't need to be replaced as often as their more-traditional counterparts.
Types of Composition Roofing:
1. 3-Tab Shingles: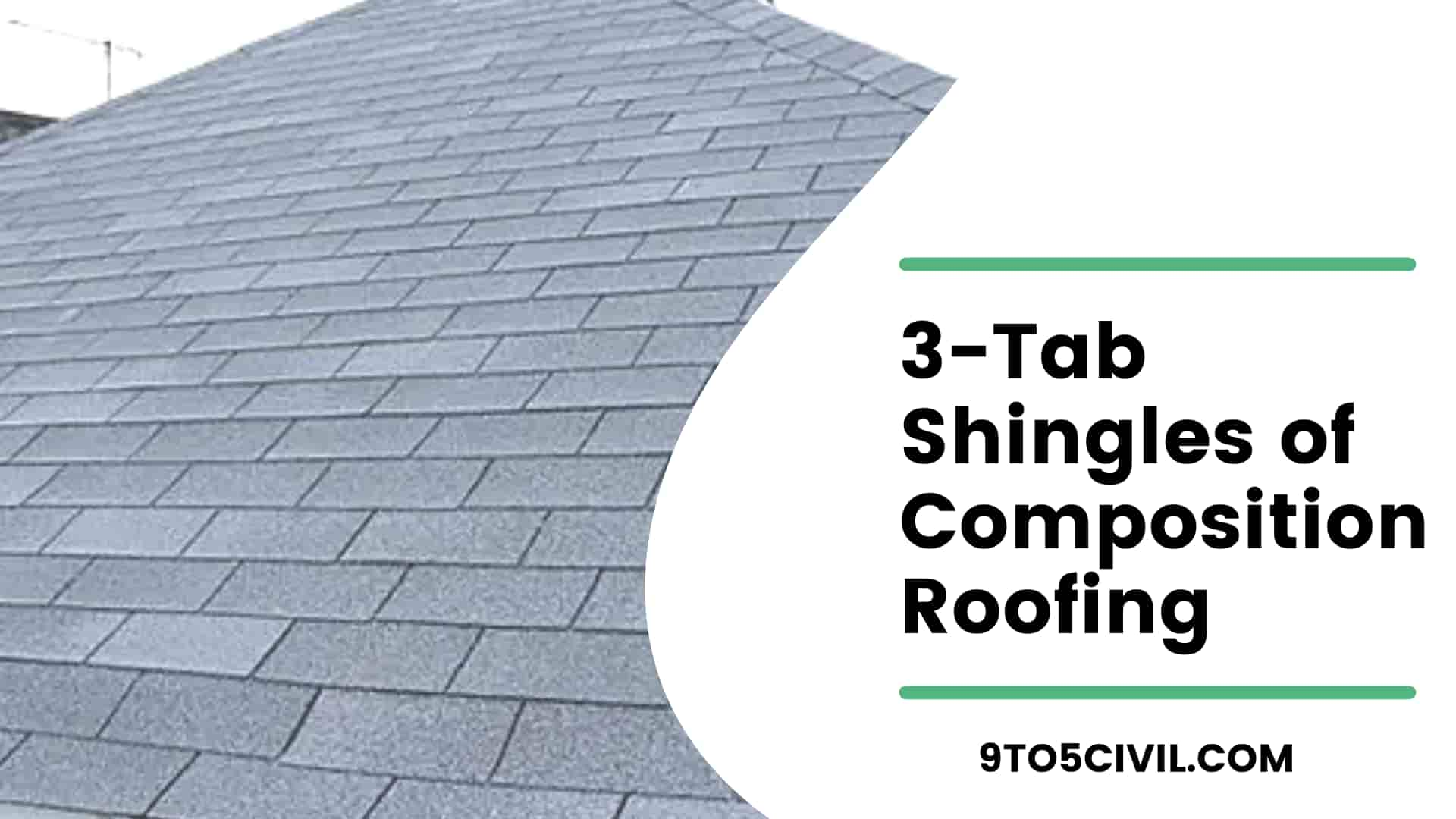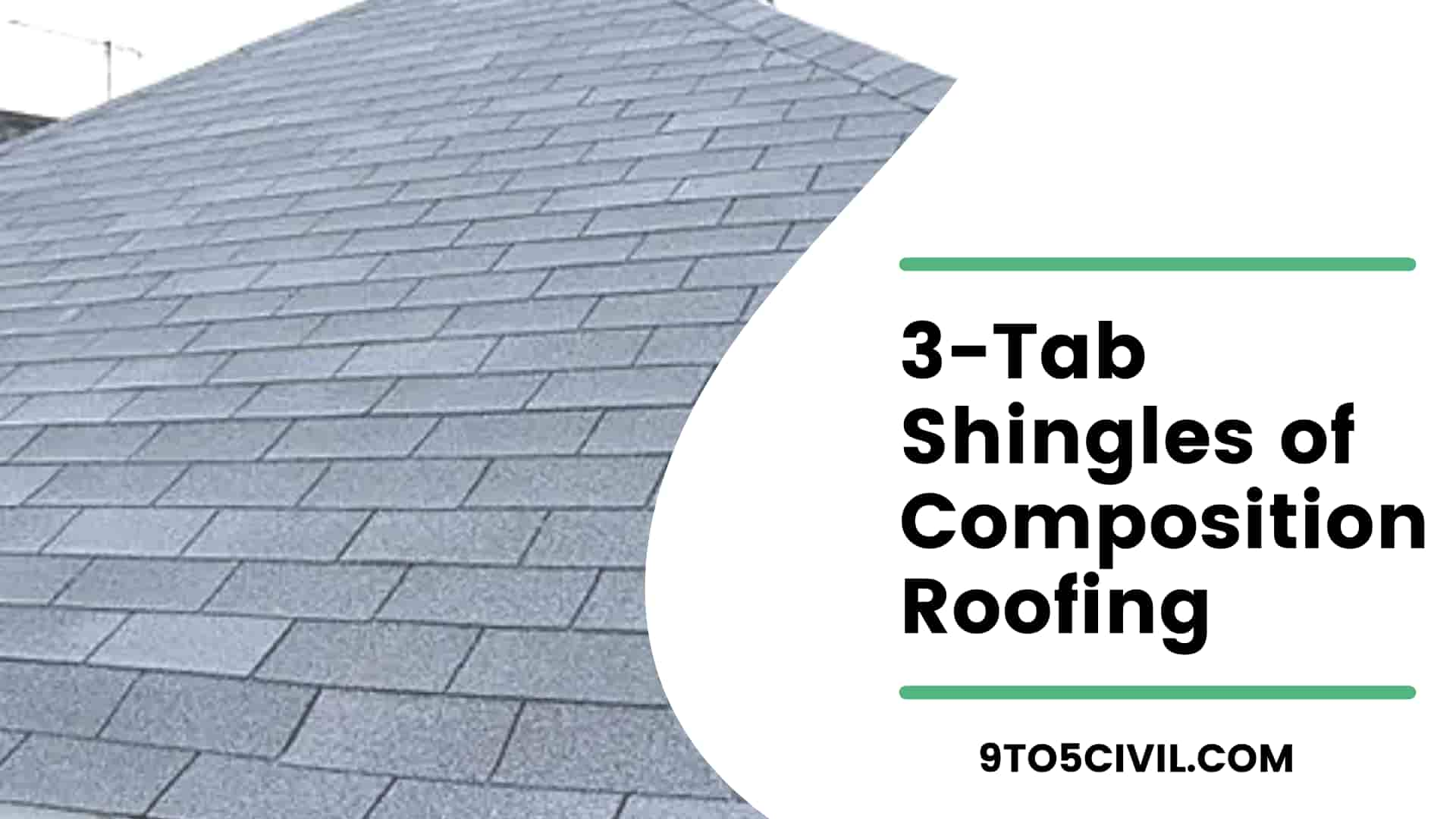 If you're on a tight budget, 3-tab shingles may be the answer. Because of these vertical slots that are notched into the lower part of the shingle, the name 3-tab shingles was coined. It looks like a shingle design because of the tabs.
A major selling point of 3-tab shingles is that they're quite inexpensive. As a first-time homeowner, 3-tab shingles can save you money in the long run because of their lower installation costs. In general, 3-tab shingles don't survive as long as other types of shingles.
With shorter warranties and a higher risk of deterioration and mould due to moisture buildup, 3-tab shingles may not be the best choice for your roof. High winds and harsh weather conditions cannot withstand them and other types of shingles. When it comes to quality, 3-tabs may not be able to hold a candle to other composition shingle options, even for a first home.
Also Read: What Is Roof Eaves? | Different Types of Eaves Styles | Roof Eaves Repair Cost
2. Composition Architectural Shingle: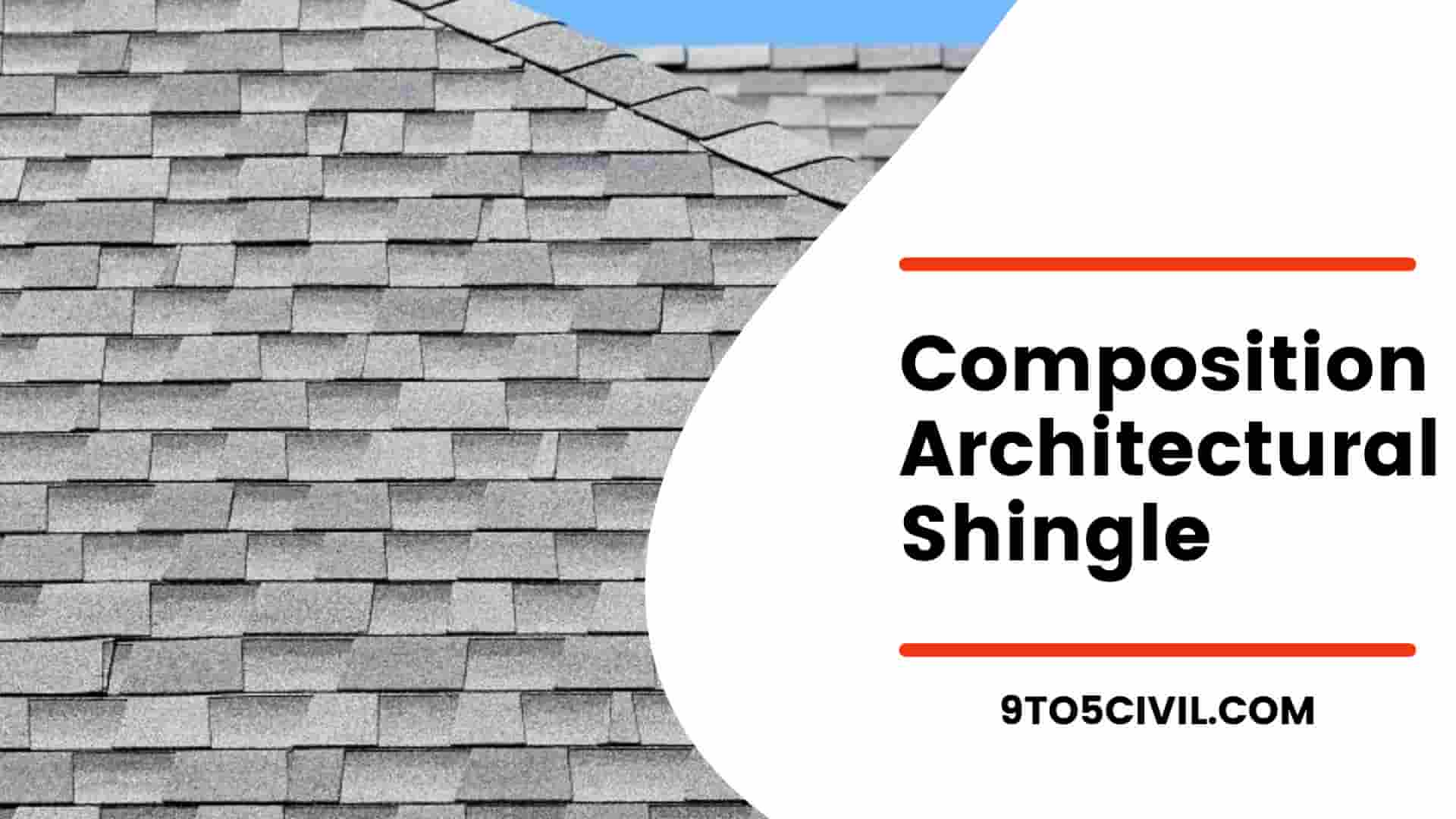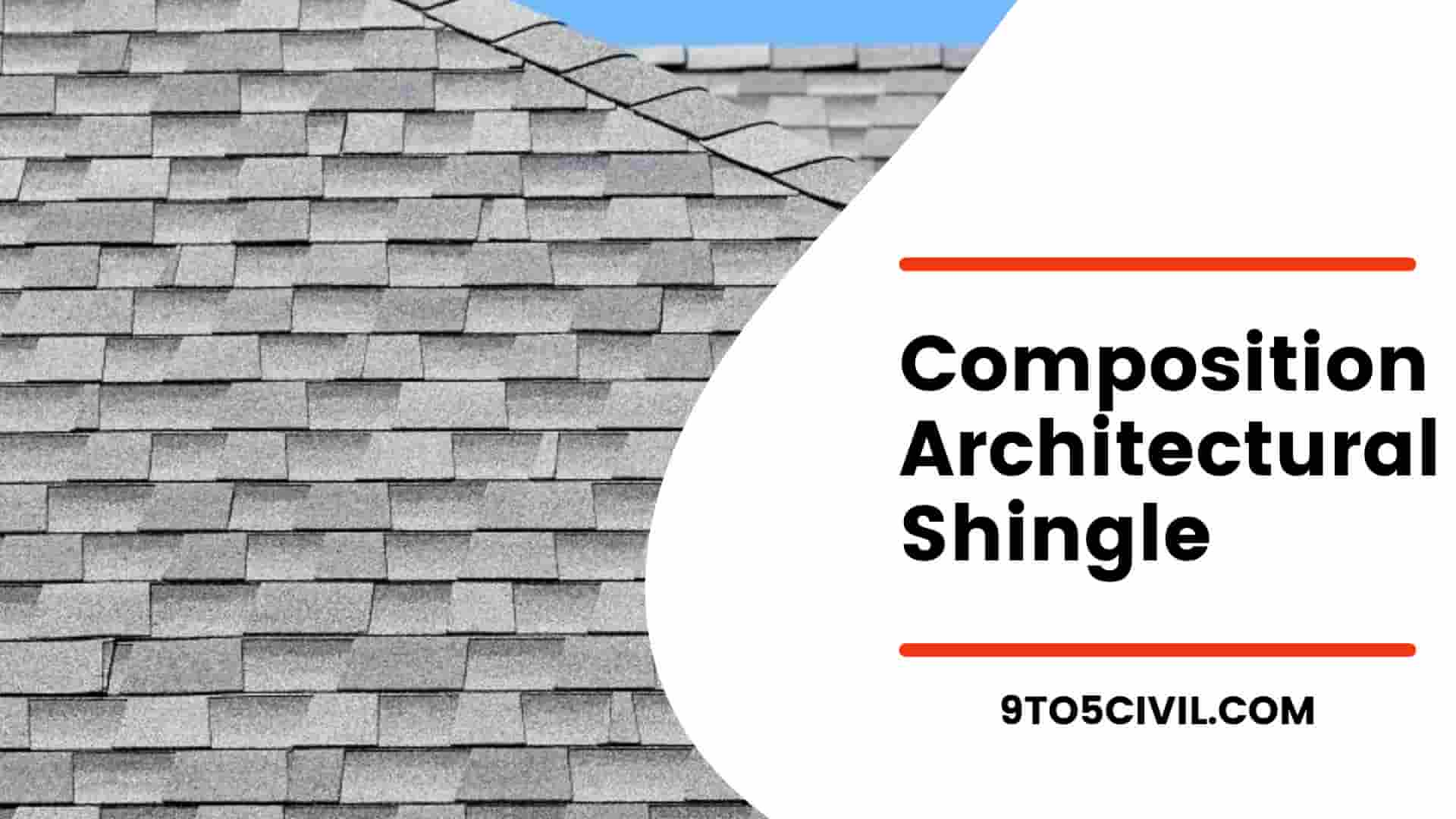 As far as composition roofs are concerned, Composition Architectural Shingle often called laminated composition shingles or dimensional shingles, are currently the most common option. A step above the 3-tab shingle, architectural shingles cost less than premium composition shingles.
As a result, they're an excellent choice for anybody looking for a high-quality, eye-catching product. It is possible to double the thickness of architectural shingles by adding a second tabbed layer. Architectural shingles come in a wide range of colours and styles, just as the 3-tab.
These shingles often come with a 30-year, 50-year, or limited-lifetime manufacturer's warranty, which is longer than the 3-tab shingle. Additionally, architectural shingles have a natural appearance that mimics wood or slate. As the last point, they're far more durable than 3-tabs, able to handle higher winds and rougher weather.
Also Read: Augmented Reality in Construction | Augmented Reality in Civil Engineering | Augmented Reality for Construction Projects
3. Premium Composition Shingles: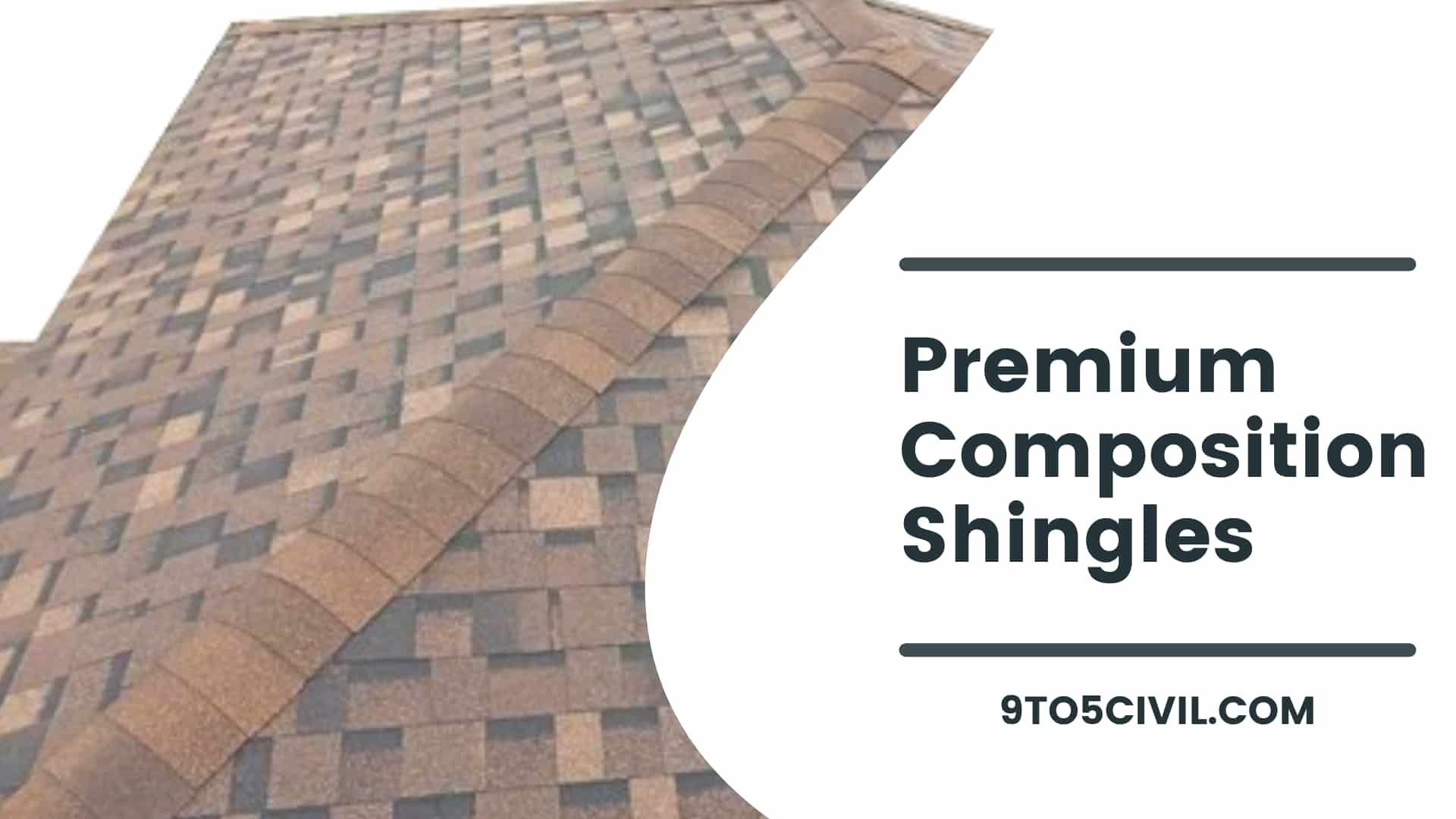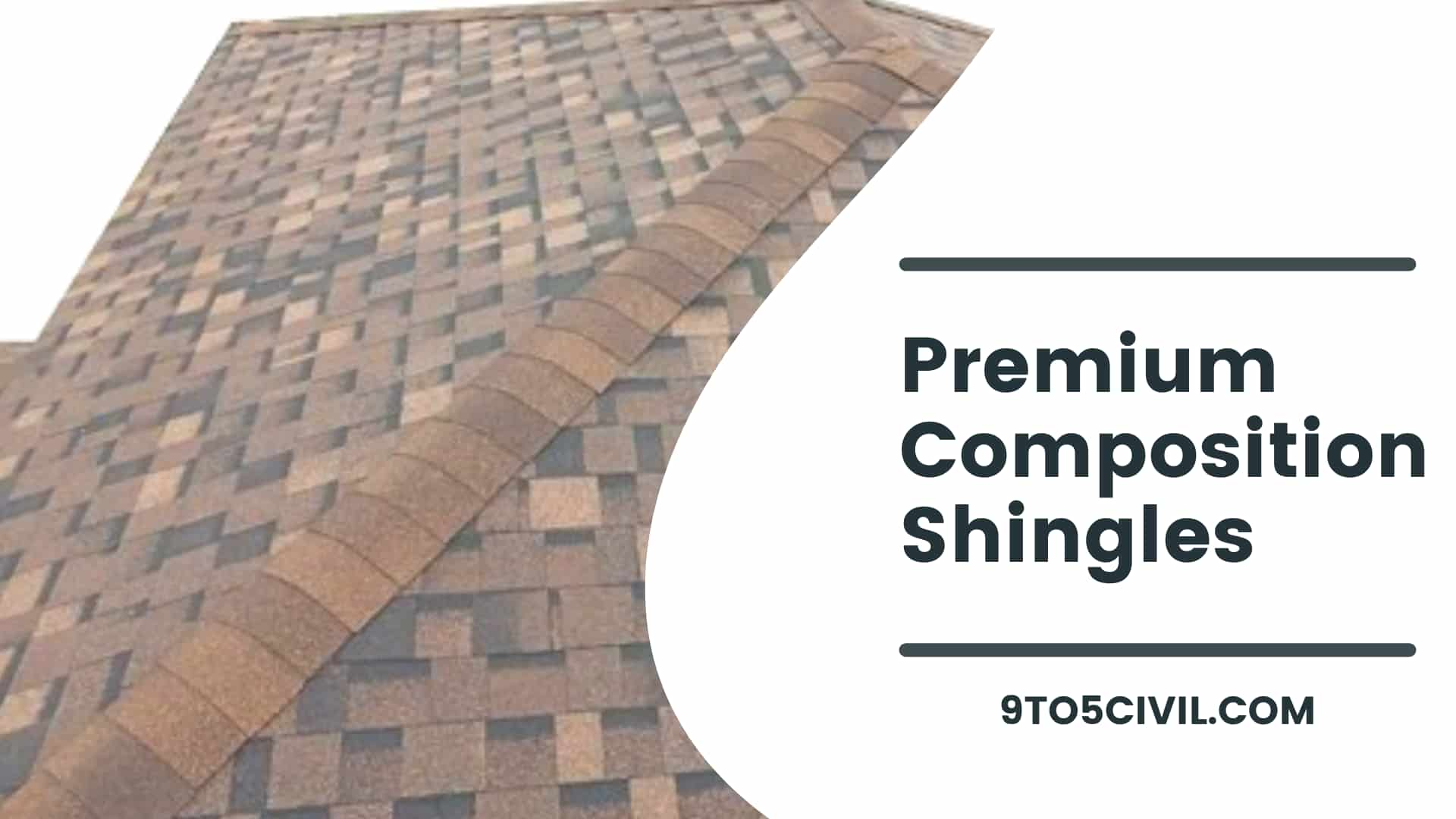 Premium composition shingles are an excellent choice if you're willing to commit a significant amount of money on your house. If you want a composition roof that will last and look fantastic, go no further than premium composition shingles from CertainTeed.
As a result of their bigger size and heavier weight, premium shingles are more resistant to the elements than normal shingles. There is a range of appealing types to choose from, including those that resemble wood, slate, and tile.
Even while quality shingles look great, are durable, and are impervious to the elements, they are more expensive.
As a result of that price, the product comes with extensive warranties. It's worth it to invest in superior composition shingles for your home because they can hold up to harsh weather conditions and still look great.
Also Read: What Is a Sawtooth Roof? | How to Build a Sawtooth Roof? | Advantages & Disadvantages of Sawtooth Roofs
Life Span of Composite Roofing:
Composite shingles are a high-quality product because of the combination of different types of roofing materials. In particular, the long-term usefulness of composite shingles is well-known. When compared to other types of roofing shingles, the typical lifespan of composite shingles is 30-50 years, on the lower end of the spectrum. As long as you take good care of them, you should be fine.
Advantages of Composite Roofing: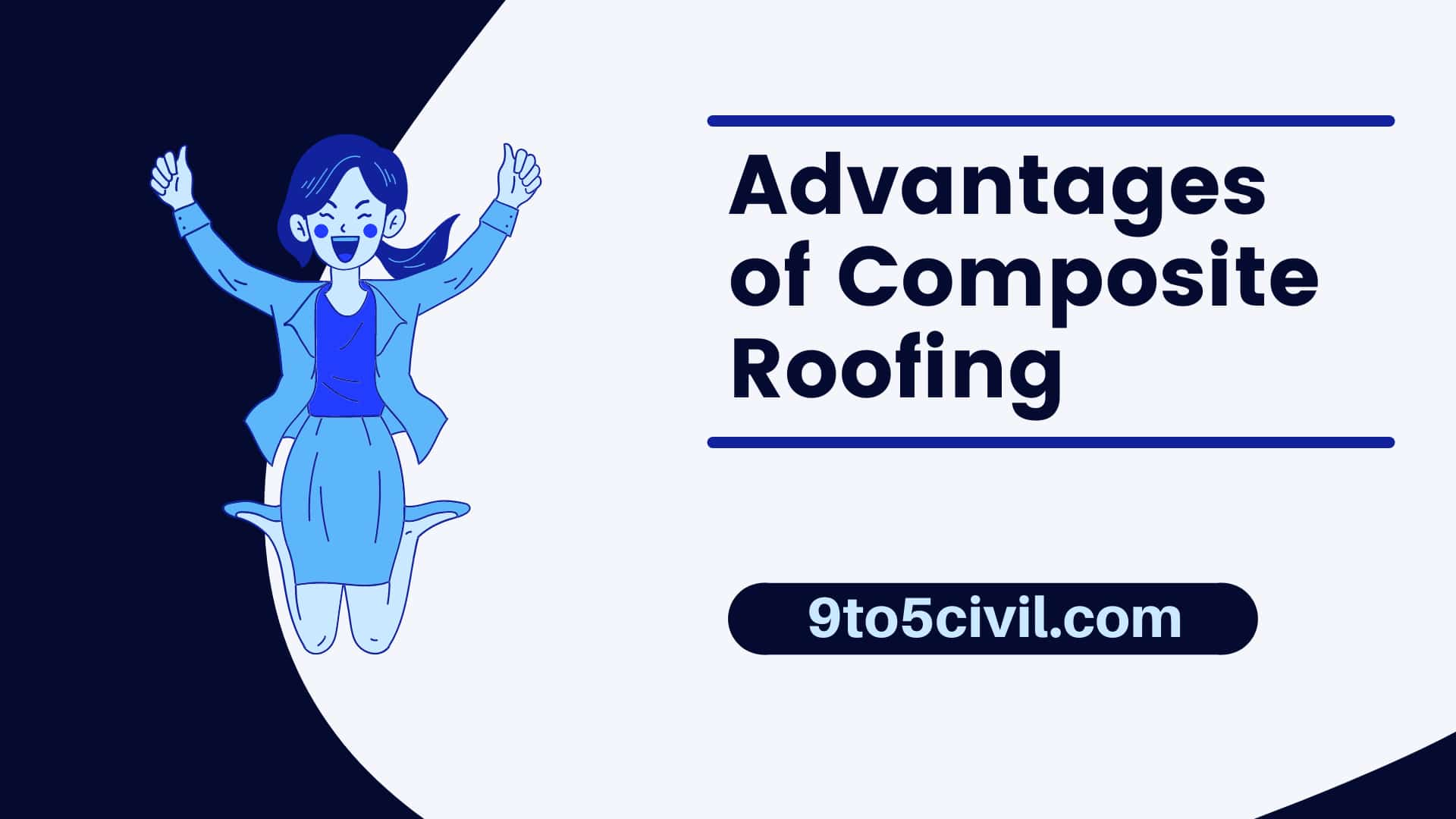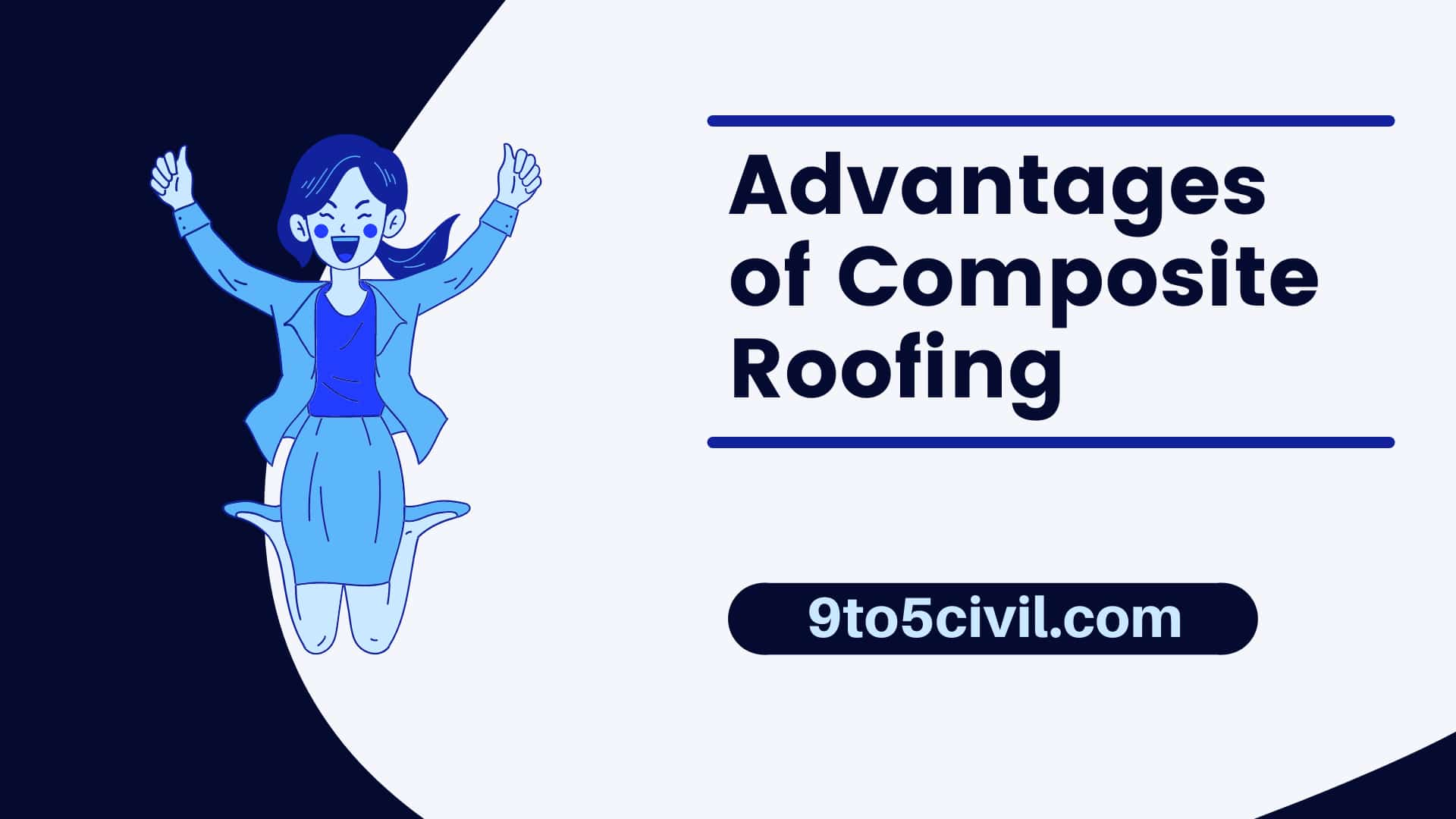 There are various advantages of Composite shingles, which are as follows:
1. Composite shingles are eco friendly:
Humanity's impact on our environment is becoming more widely recognized. – Roofing companies are creating ecologically friendly roofing materials as a result.
To begin with, composite shingles are environmentally beneficial. Recycled materials are used in the production of composite shingles (rubber and plastic).
2. Composite Shingles Look Just Like Slate and Cedar Shake:
Many homeowners go towards composite shingles because of their look. They are designed in such a way that they will look exactly like a slate or cedar shake roof. Composite slate shingles are modeled from actual slate and even have chisel marks to add a hand-crafted touch to give them a completely authentic look.
composite shake shingles have realistic grain patterns and deep grooves to create a composite shake roof that looks just like shake shingles.
3. Composite Shingles Are Long-Lasting and Durable:
Long-lasting and sturdy, composite shingles are the best option. A major advantage of best composite shingles is that they are long-lasting. Because composite shingles are constructed of recycled plastic and rubber, they bounce back when whacked with a hammer. Also, unlike real slate and cedar shakes, you won't risk damaging them while on the roof.
As an added bonus, the impact resistance of the best composite shingles is excellent as well. Roofing shingles made by DaVinci Shingles (the main producer) have a Class 4 classification, the highest possible.
Hail, for example, is no match for these roofs, which are built to withstand even the harshest conditions. In addition, composite shingles are among the most long-lasting roofing options available. As long as the roof is properly placed, you may expect to get 40-50 years of service out of a composite roof.
4. Composite Slate Shingles Don't Cost as Much as Real Slate:
The price difference between a synthetic cedar shake roof and a real cedar shake roof will be similar. It's worth noting, though, that composite slate roofing and actual slate are priced differently.
This means that a composite slate roof will always be less expensive than a real slate roof because of the materials used. Comparing the cost of the shingles and components, composite shingles are about half the price of the actual slate.
Even though composite roof shingles types of materials are less expensive than those used in a real slate roof, you don't have to worry about the weight issue that comes with real slate. The roof on your home will not collapse on you if you don't do anything to retrofit it. This will save you money while still providing the beauty of a real slate.
5. The Material Warranty That Comes with a Composite Roof:
There are two types of warranties you can choose from when obtaining a new roof. On the one hand, you'll have a warranty from your roofing contractor, and on the other, from the manufacturer.
Next, let's talk about the material warranty that comes with a composite shingle roof. You'll normally find that the material guarantee on composite shingles is prorated after a particular amount of time has passed. The producer of your composite shingles determines the length of the guarantee on their products.
Also Read: What is Drain Tile? | How to Install Drain Tile Around Foundation
Disadvantages of Composite Roofing:
There are also some disadvantages of composite shingles, which are as follows:
1. Composite Shingles Will Be Expensive:
The most significant drawback and source of worry for prospective composite roof purchasers is the price. A composite roof is regarded as a high-end roofing option. There will be an additional cost because of this. The most significant drawback and source of worry for prospective composite roof purchasers is the price.
A new composite roof's price can't be determined because there are too many variables to take into account. In the meanwhile, I can offer you a rough estimate of the amount of money you'll need.
It will cost between $10.00 and $12.00 per square foot to install a new composite slate roof, with the potential for a higher price. Upgrades like copper flashing or a metal accent bring the price much closer to the upper end of the market.
The most expensive asphalt shingle roof will be more expensive than a composite roof, which is more expensive. When it comes to cost, this isn't the best option for you. In contrast, a composite shingle roof can be afforded by those who are seriously contemplating slate or cedar shake.
2. Composite Shingles Are Newer to the Roofing Industry:
Despite the fact that this isn't a major drawback, you should keep it in mind while weighing your options for a composite roof. It's a drawback that composite shingles are very new to the roofing business in general.
As a result, there are several unanswered questions surrounding them. However, keep in mind that most manufacturers of composite shingles provide a limited lifetime warranty.
There is no way that they would support a product that doesn't work or that they don't take pride in. Even though composite shingles are relatively new compared to other types of roofing materials, they are becoming increasingly popular.
Also Read: What Is Metal Roof Insulation? | Metal Roof Insulation Options
Composition Roof Cost:
The composite shingle roof cost can range from approximately $ 7.75 to 14.50 per square foot to install. Typically installed for homes is about $ 8.85 to $ 12.50 per square foot.
Composite Roofing Vs Standard Asphalt Shingles:
Asphalt shingles and composite shingles are the two most popular options for shingles, respectively. Composite roofing, unlike ordinary asphalt roofing, typically has a longer warranty and can be produced to resemble the look of most, if not all, roofing materials despite their many similarities.
Composite shingles are also less cumbersome to transport and put up because of their lighter weight. The difference between the standard asphalt shingles and the composite shingles are as follows:
1. Lose of Granules:
An asphalt shingle's highest layer consists of fine-grained granules. The major purpose of these granules is to shield the asphalt waterproofing layer beneath them from damage caused by ultraviolet rays. An asphalt shingle's brittleness and cracking can be hastened by the absence of a granule layer.
Installers cannot walk on bare asphalt, thus the granules provide additional fire resistance and enable installation. However, exposure to the outdoors implies that these granules will eventually be lost. Even Class 4 impact certified tiles are susceptible to granule loss due to wind and hail.
Grains aren't covered by your product's warranty, either. One of the most important signs that your roof is nearing its end of life is when you notice that your shingles are losing granules.
When using Polymer Composite shingles, there is no need to be concerned about the shingles losing their protective qualities. A single layer of UV-resistant, tough material is used instead of multiple layers to protect asphalt shingles from everything from wind and rain to the foot traffic of installers.
2. They Easily Tear on Impact:
Despite the fact that some asphalt shingles have a reasonable level of resistance to wear and tear, they are neither indestructible or extremely impact resistant. Hail and wind can significantly shorten the lifespan of shingles when they are exposed to the weather.
If they are handled and fastened down incorrectly during the installation process, they can be damaged. In order for the roof to last, it will need to be a composition roof repair or replaced if it has been damaged in this way.
Shingles made of Polymer Composite material are designed to withstand both the elements and the stresses of installation. Because they are more durable than asphalt shingles, they are also more resistant to tearing and breaking. As a bonus, they're much less likely to suffer from granule loss or tear and split shingles during installation.
3. Roof Damage Due to Strong Wind:
Class D Wind Rating is assigned to asphalt shingles due to their limited wind resistance in the 90 mph range. In most places, severe winds can cause shingles to be pulled from the roof's surface, making the house vulnerable to storm damage.
To deal with repairs or a complete roof replacement, which can be an exorbitant expenditure during a severe weather event. Composite shingles have Wind Ratings that range from Class F to Class H, which means that the shingles can resist gusts of 110mph or more. Since they can resist winds up to hurricane strength, they are a great option for any home.
4. They Generate More Heat:
While the granules on asphalt shingles are intended to provide some protection from the sun's rays, the shielding is not ideal. They are infamous for generating more heat than other roofing types, which means that the interior temperature of a home will rise, increasing the homeowner's heating and cooling costs.
Producing more heat also implies that asphalt shingles are more susceptible to weathering and will therefore become worn much more quickly. Polymer Composite shingles, on the other hand, have a significantly greater level of UV protection.
Certain types are designed to reflect the Sun's rays; as a result, they are more resistant to weathering and will not deteriorate as quickly. Additionally, they can assist the interior of a home in maintaining a more consistent temperature, ensuring year-round comfort.
5. Prone to Algae Growth and Ice Dams:
The formation of algae on asphalt shingles is more likely in humid areas and on north-facing roofs. Mildew growth and ice dams can also occur when there is too much moisture in the air. Attic or interior damage may also be caused by excessive moisture that permeates through roofs.
Algae growth, ice dams, and other detrimental consequences of excessive moisture are less of a concern with polymer composite shingles since they are inherently better constructed for water-shedding and moisture resistance.
6. They Might Not Last As Long as Expected:
Asphalt composition roofs have a shorter lifespan than polymer composite shingles because of the performance and installation concerns they encounter. There will come a time when asphalt shingles will need to be replaced because of granule loss and other difficulties including wind blow-off and hail damage.
For 50 years or more, Polymer Composite shingles do not require annual maintenance or replacement due to storm damage. A polymer composite synthetic shingle line from FWave is one option. One layer of the commercial-grade polymer has been created to be extremely durable and maintenance-free, making them ideal for use in high-traffic areas.
As previously said, they provide all the advantages of a polymer composite shingle while also being far more reliable. There are numerous types and profiles to choose from, including wood shakes, slate shingles, and the famous designer asphalt roof tiles.
Polymer composite shingles and asphalt composition shingles both have advantages and disadvantages to consider when deciding which to use for a new roof. Despite the fact that asphalt shingles have existed for almost a century, they have a long list of documented issues.
It's possible that UV and storm damage will cause you to have to replace your roof sooner if you choose asphalt shingles for your roof. It's easy to install, long-lasting, and low-maintenance with polymer composite shingle roofing, so it's a great alternative to asphalt.
FAQ
What Is Synthetic Composite Roofing?
Synthetic composite roofing is a combination of different materials. These materials include fibreglass, asphalt, paper, slate, wood, polyester, plastic and laminate.
How Long Does a Composition Roof Last?
This type of roof can last up to 50 years or more with proper materials and proper maintenance. Composite roofs usually have a 20 to 50-year warranty, but the length of the warranty will ultimately depend on the quality of the material.
What Is the Difference Between Composition and Asphalt Shingles?
Asphalt shingles are made of paper or fibreglass matte with a layer of asphalt on top. Composite roofing is a combination of different components, such as slate, laminate and wood, which improve their strength and longevity.
How Much Does a Composition Roof Cost?
The composite shingle roof cost can range from approximately $ 7.75 to 14.50 per square foot to install. Typically installed for homes is about $ 8.85 to $ 12.50 per square foot.
Are Composition Shingles Fire Resistant?
Class A type material is the most fire-resistant. Common Class A roof cladding includes asphalt fibreglass composition roofing and concrete or composite roofing tiles.
What Are Synthetic Composite Roofing Shingles?
Synthetic composite roofing shingles are made of a mixture of asphalt, fiberglass, clay and recycled materials. Synthetic composite shingles give a similar look to traditional roofing materials.
Is Synthetic Roofing Environmentally Friendly?
Composite synthetic roofing can be a great option as an environmentally friendly roofing material. Its composition is made from recyclable materials.
What Are the Best Composite Roof Shakes?
Brava's synthetic shakes are available in a range of different thickness options to help give your composite roofing the best-looking look.
What Are the Different Types of Synthetic Roof Tiles?
3-Tab Shingles
Composition Architectural Shingle
Premium Composition Shingles
What Is the Equivalent of Synthetic Slate Roof Tiles?
You can enjoy the aesthetic and appeal of all-natural slate tiles without all of the expense and hassle by instead going with the composite roof equivalent: polymer slate synthetic roof tiles by DaVinci Roofscapes or Brava Roof Tile.