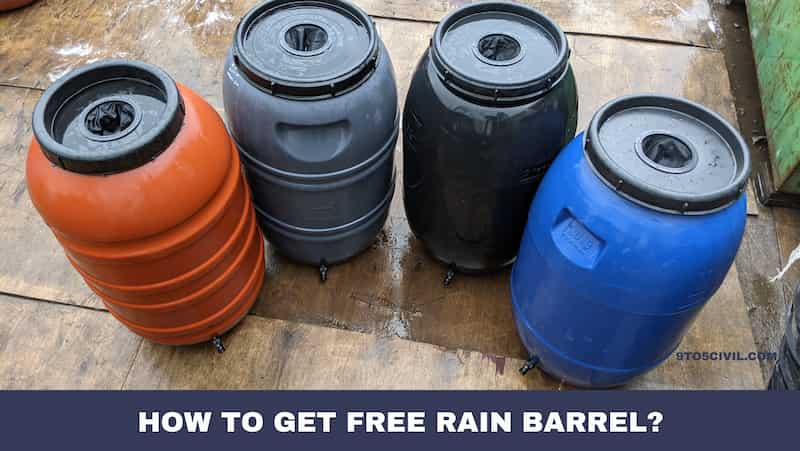 How to Get Free Rain Barrel?
Getting a free rain barrel is a great way to reduce your water bill and help the environment. With the right resources, it is possible to find free rain barrels in your area. You can often find them at city government departments, farms, nurseries, local recycling centers, or even from friends and neighbors.
Collect rainwater for gardening, lawn irrigation, and other non-potable water needs using rain barrels. You can also easily find "ready-to-install" rain barrels on various online marketplaces like Craigslist for affordable rainwater harvesting solutions.
You can also check online classifieds and websites for free or discounted rain barrels. Here are some tips to help you get a free rain barrel in your area.
6 Best Place That Offers Free Rain Barrels near Me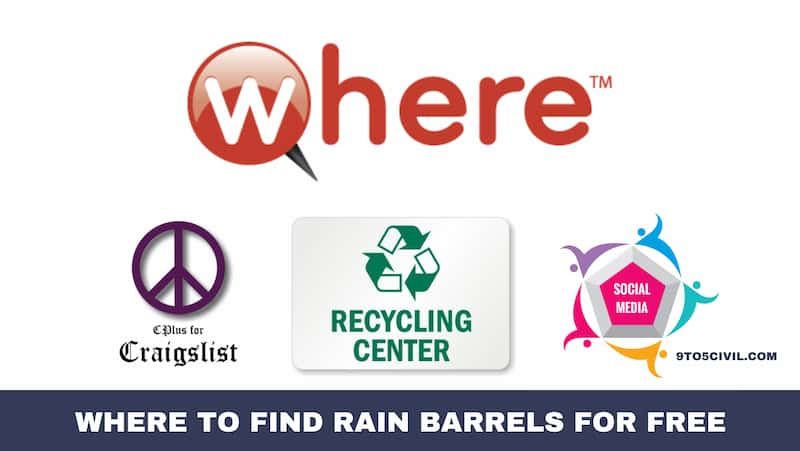 1. State or City Water Department
Rain barrel distribution and water conservation programs are frequently offered by state or local water departments. These programs aim to promote the use of rainwater for outdoor irrigation while reducing the demand for municipal water.
The water department may offer the rain barrel for free in some areas, while people may be required to pay an affordable price in others.
Residents may inquire about rain barrel programs by visiting the website of their state or city's water agency or by contacting their local office. In addition, some water departments may need residents to supply information about their property, such as the size of their roof and the location of their downspouts, for them to establish the right size and quantity of rain barrels required.
2. Non-Profit Organizations
Many non-profit organizations focus on promoting sustainable living techniques such as rainwater harvesting, including environmental organizations and gardening communities. To encourage households to collect rainwater, these groups often provide free rain barrels. which reduces their dependence on municipal water systems.
Some charities usually organize educational sessions on the benefits of rainwater harvesting and how to set up a rainwater harvesting system.
Homeowners may be required to participate in a rainwater harvesting program, attend an educational session or event, sign up for a newsletter or email list, or attend an event to receive a free rain barrel from a non-profit group.
3. Craigslist
Craigslist is a popular online platform where individuals can buy and sell a variety of items, including rain barrels. When searching for a rain barrel on a platform like Craigslist, buyers should consider a few key factors: It's important to make sure the rain barrel is in good condition. No major cracks, leaks, or damage.
If you are interested in obtaining a free rain barrel from Craigslist, here are some steps you can follow:
Go to Craigslist.org and visit the "Free Stuff" section in your local area.
Type in "rain barrel" in the search box.
Browse through the listings and look for any that offer free rain barrels.
Contact the seller through the contact information provided in the listing.
Coordinate with the seller for pick-up or delivery of the rain barrel.
4. Recycling Centers
In some regions, recycling centers offer free or minimal cost to the public to promote water conservation. These centers often receive rain barrels from various charities:
Many individuals and organizations donate used rain barrels to recycling centers. Recycling centers often partner with local governments, environmental groups, and businesses to run programs aimed at distributing rain barrels to residents. This partnership helps in raising awareness about the benefits of rainwater harvesting and creating a seamless distribution network.
Recycling centers organize workshops, seminars, or events focused on sustainable living practices, including rainwater harvesting. As part of this program, it provides rain barrels to encourage people.
Rain barrel distribution programs encourage community members to actively participate in sustainable initiatives. which promotes a sense of environmental responsibility and community engagement.
5. Social Media and Online Platforms:
Social media groups, community forums, and classified ads can be valuable platforms for sharing information about free rain barrel giveaways, exchanges, or events related to sustainable water management and conservation.
Many local communities and environmental groups have social media pages or groups. which is dedicated to topics like sustainable living, gardening, and conservation. They are using platforms like Facebook, Reddit, and Nextdoor. If you want to get a free rain barrel then you should check on social media platforms.
6. Local Businesses and Factories
Many local businesses and factories, especially those involved in manufacturing or bottling, may have extra containers that can be repurposed as rain barrels. Find businesses and factories in your local area that deal with liquids or require large plastic containers. Bottling plants, food processing plants, and other manufacturing facilities are good places to start.
Reach out to these businesses and inquire if they have any extra containers. Which they may be willing to give away or sell at a lower cost. Explain your purpose to them. However, it is important that you physically inspect those rain barrels to ensure that they are suitable for use as rain barrels. Check for cracks, leaks, or any signs of damage.
Also, check that the barrel is not used to store hazardous substances or chemicals. If you find a container that fits, you may need to make a few modifications to turn it into an effective rain barrel. This involves adding a screen or filter to the top to prevent debris from entering. Also includes a spigot at the bottom for water access.
Conclusion:
Getting a free rain barrel is a great way to contribute to water conservation efforts. At local government events, environmental organizations, workshops, and community events, you can find opportunities to get rain barrels without spending a fortune. Keep an eye on online platforms.
Like this post? Share it with your friends!
Suggested Read
Frequently Asked Questions (FAQ)
How to Get Free Rain Barrel?
State or City Water Department
Non-Profit Organizations
Craigslist
Recycling Centers
Social Media and Online Platforms:
Local Businesses and Factories
Where to Find Rain Barrels for Free?
You can find free rain barrels in the following ways:
Check online classified ads.
Obtain them from your city or town water department.
Check with businesses or factories such as soda pop manufacturers, car washes, car dealers, food processing plants and animal supply outlets.
Check with recycling centers.
Check with local home and garden supply stores.
Are There Any Government Programs That Provide Free Water Barrels?
Many towns and cities around the USA now offer free rainwater barrels. It's also common for them to give rebates on rainwater barrels that you purchase. The programs are usually run through the local Department of Water, Department of Public Works, Sanitation Department, or environmental protection programs.
How Can I Apply for the Free Rain Barrel Program?
To apply for the Free Rain Barrel Program, you can either fill out and mail in the paper application or create a BAWSCA account and submit an online application. The application process involves reviewing program requirements and eligibility, purchasing a rain barrel or cistern, installing your container(s), and submitting an application. To obtain a free rain barrel from a non-profit organization, residents may need to attend a workshop or event, sign up for a newsletter or email list, or participate in a rainwater harvesting program.
Where to Get Free Water Barrels?
Obtaining free water barrels can depend on your location and local initiatives. Here are a few places to consider:
Government Programs
Non-profit organizations
Community Events:
Local Businesses:
Online Platforms:
How Can I Get a Free Garden Rain Barrel?
Here are some ways to get a free rain barrel to water your garden:
Check if your city or town offers free rainwater barrels.
Look for free rain barrels in local classified ads.
Check with local businesses.
Look for IBC Totes.
Consider building an earthbag-style rain collection system.
How Can I Find a Free Rain Barrel Program near Me?
To find a free rain barrel program near you, you can start by searching online using keywords like "free rain barrel program [your city/region]," or "rainwater harvesting program [your area]." You can also check with local government websites, environmental organizations, or community groups, as they often host or promote such programs.