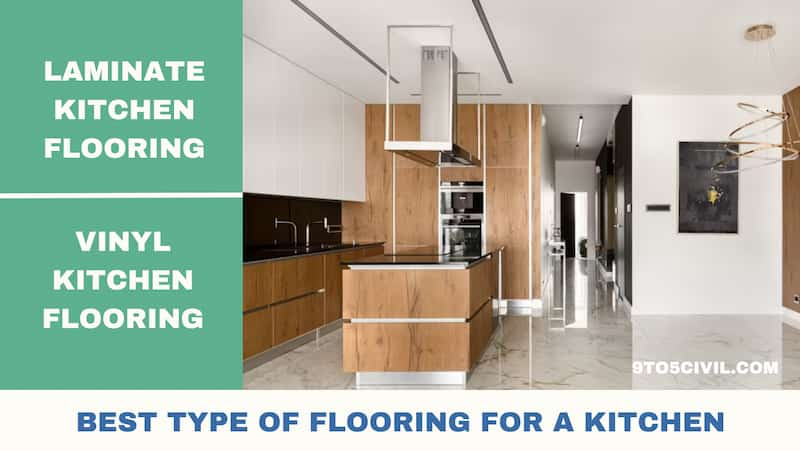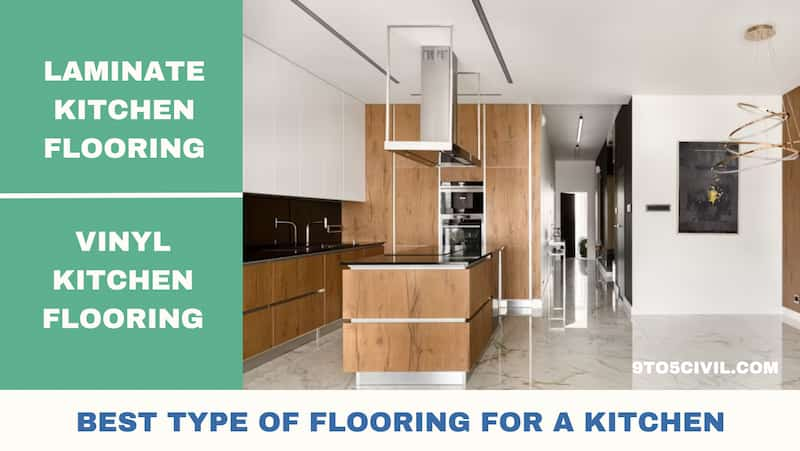 What Is the Best Type of Flooring for a Kitchen?
When it comes to designing the perfect kitchen, a crucial aspect is the choice of Best type of flooring for a kitchen. The kitchen is a high-traffic area prone to spills, stains and heavy use. There are numerous options available for choosing the right flooring material. However, each with its unique features, determining what's the best flooring for a kitchen can be a challenging task.
7. Best Type of Flooring for a Kitchen
The best flooring for a kitchen depends on many factors, including your budget, personal preferences, and the level of maintenance you're willing to commit to. Here are some popular and practical great flooring options for kitchens:
1. Hardwood Flooring
Hardwood flooring has provided a classic and timeless option for kitchen floors for many years. Although not completely waterproof, it is still a durable and practical choice.
Hardwood flooring can be refinished. Over time, the surface may become scratched or worn, but refinishing can help restore its original beauty and extend its lifespan. It is a convenient option for small kitchen renovations.
Hardwood also offers a variety of design possibilities. Like tile flooring, it can be laid in different patterns to add visual interest and complement the overall design of the kitchen. Hardwood is a popular and versatile choice for kitchen flooring, offering durability, aesthetics and customization.
2. Laminate Kitchen Flooring
Laminate flooring is a popular and cost-effective alternative to hardwood. It offers the same look as hardwood at a lower cost. Which makes it an attractive option for homeowners depending on the budget.
Waterproof laminate options have a protective layer. Which makes them more resistant to water damage, spills and moisture. So you can use it in areas like kitchen and bathroom. Laminate flooring can be easily installed.Laminate flooring can be a good choice for a kitchen due to its durability, affordability, and easy maintenance.
Laminate kitchen flooring is typically designed to withstand high foot traffic and is more resistant to scratches and dents than hardwood. Laminate floors are relatively easy to clean and maintain. Laminate flooring is more budget-friendly compared to other flooring options like hardwood or tile. Laminate flooring comes in a variety of designs, patterns and colors.
3. Cork Flooring
Cork flooring is gaining popularity as a trendy choice for kitchen floors compared to traditional materials. With its unique look, it can add aesthetic appeal to your home design while being environmentally friendly. Additionally, it is cost-effective and proves to be an excellent choice for DIY homeowners.
Cork flooring may not be as durable as other flooring materials, and is prone to dents and scratches. As a result, it requires a high level of maintenance and may need to be replaced every 3-4 years.
4. Vinyl Kitchen Flooring
Vinyl flooring is a cost-effective resilient flooring option. Which provides a soft and comfortable surface to walk on. The vinyl installation process requires precise measurements and cutting. Engineered vinyl plank choices are available for easy installation, providing added stability and resistance to dents.
Vinyl kitchen flooring becomes easy to maintain, as it is waterproof and stain-resistant. It also provides many options that closely resemble wood flooring, with a wide range of styles and colors. However, one drawback of vinyl flooring is that it can cause dents due to the weight of heavy appliances over a long period of time.
5. Linoleum Flooring
Linoleum flooring is a resilient flooring material. which can withstand heavy foot traffic, making it perfect for busy kitchens. It maintains its appearance over time. It is wear, tear and scratch resistant. However, spills must be cleaned up immediately to prevent any possible damage to the flooring.
Kitchen Linoleum Flooring is available in a wide range of colors, patterns and styles. Which allows you to choose the right design for your kitchen. Compared to some other flooring options, linoleum is relatively inexpensive.
6. Luxury Kitchen Flooring
Stone tile is an excellent choice for a luxurious and durable kitchen flooring option. Natural stone materials such as granite, marble, slate and travertine are unique in appearance and character. This feature adds a touch of uniqueness and elegance to any kitchen.
The variety of bright and earthy tones in stone flooring allows you to choose colors and patterns that complement your kitchen design and create a beautiful and inviting environment. The stone is famous for its durability and hardness. It can withstand heavy foot traffic, spills and scratches. Which makes it an ideal choice for busy kitchen environments. Properly sealed and maintained, stone floors can last for many years and retain their beauty.
7. Lowe's Kitchen Flooring
Lowe's can offer a wide selection of laminate flooring options, it's important to carefully consider your needs and preferences before making a decision. Laminate flooring can be a practical and budget-friendly choice for some homeowners, and it comes with many benefits.
What Is the Most Durable Kitchen Flooring?
Porcelain or ceramic tiles: Both porcelain and ceramic tiles are very durable and resistant to scratches, stains and water. They are ideal for high traffic areas like kitchens and can withstand heavy use.
Natural Stone: Options like granite, slate or travertine are highly durable and can handle the wear and tear of a busy kitchen. They require sealing to maintain their appearance and protect them from stains.
Luxury Vinyl Tile (LVT) or Luxury Vinyl Plank (LVP): LVT and LVP are engineered to be highly durable, scratch-resistant and water-resistant. They can mimic the look of wood or stone. But offers better durability in a kitchen environment.
Engineered Hardwood: Engineered hardwood is more resistant to moisture and temperature changes than solid wood. It makes a perfect choice for kitchens where humidity and humidity fluctuations are common.
Concrete Flooring: Concrete is a strong and versatile option for kitchen flooring. It can be sealed and stained in various colors or patterns, providing a durable and unique look.
Like this post? Share it with your friends!
Suggested Read
Frequently Asked Questions (FAQ)
What Is the Best Kitchen Flooring?
Recommended best floor in kitchen
Hardwood Flooring
Laminate Kitchen Flooring
Cork Flooring
Vinyl Kitchen Flooring
Linoleum Flooring
Luxury Kitchen Flooring
Lowe's Kitchen Flooring
What Is the Best Type of Flooring for a Kitchen?
Tile flooring has long been the go-to option for wet areas. If installed, grouted and sealed properly, tile can last a lifetime and sometimes longer. Tile is anecdotally-speaking, the number one most popular option for kitchen flooring.
What Type of Tile Is Best for Kitchen Floor?
Best flooring in kitchen
Ceramic
Porcelain tiles
Slate
Marble
Travertine
What Is the Most Durable Kitchen Flooring?
Best Flooring for Commercial Kitchens
Resin Flooring.
Ceramic Tile Flooring.
Concrete Flooring.
Vinyl Flooring.
What Is the Cheapest Flooring for a Kitchen?
Cheapest Flooring Options for a Kitchen Include:
Vinyl Flooring: Vinyl flooring is a popular and affordable choice for kitchens.
Laminate Flooring: Laminate flooring is also a budget-friendly option.
Linoleum Flooring: Linoleum is a natural and environmentally friendly flooring option.
Sheet Vinyl Flooring: Sheet vinyl is one of the most cost-effective options
What Is the Ideal Kitchen Flooring Material?
Ceramic tile or porcelain tile is a good choice for kitchen flooring because it's waterproof and resistant to stains. Kitchen floor tiles come in a slew of patterns and colors, so you can find best floor for kitchen to fit any design style.