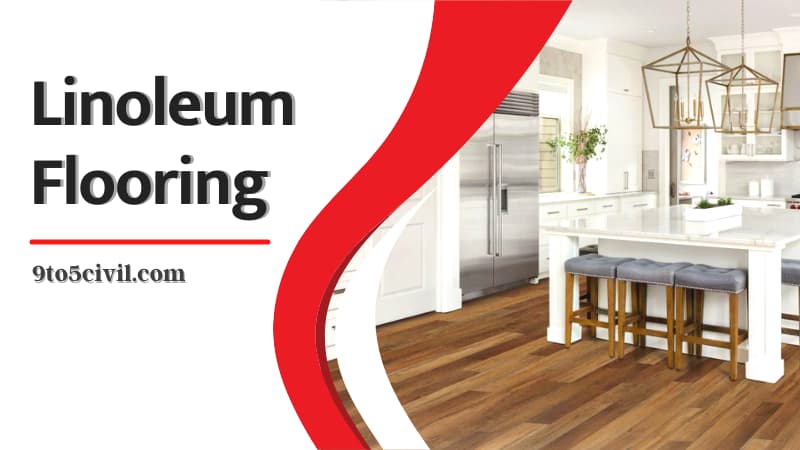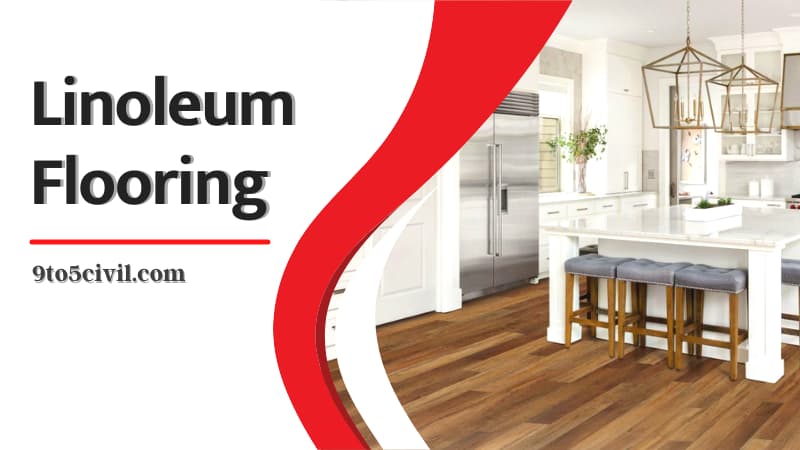 Linoleum Flooring Ideas
The design options of Kitchen Linoleum Flooring make it a good choice for the kitchen floor. It is durable and suitable for surface busy spaces, compared to the group of plastics. Kitchen Linoleum Flooring is inherently antibacterial, easy to clean.
Over the years, linoleum has received a terrible reputation. However, the lack of consistency among manufacturers and the vagueness of its trademark have caused it to be devalued and derided as a material for kitchen floor coverings. With faded colors and wrinkly edges, it's generally linked with old-fashioned designs.
Linoleum, on the other hand, is entering a new era. New high-quality brands have emerged that offer products that are not only long-lasting, easy to care for, and impervious to stains and water damage but also excellent for the environment both inside the home and outside it.
Explore some of the creative ways in which linoleum tiles and sheets are being put to use in order to better grasp the material's ornamental capabilities.
Also Read: How to Clean Sunbrella Fabric?
1. Faux Stone Linoleum Kitchen Floor
Linoleum is no longer merely a throwback to the 1950s. Manufacturers are now able to print these materials in a wide range of vibrant colors, patterns, and faux-natural appearances thanks to sophisticated printing techniques.
Your design will still have its ecological elegance and pragmatic utility if you include these diverse elements into it. The flooring in this kitchen consists of an eye-catching, eye-popping pattern of streaked white and brown tones that covers the whole surface of the room.
Finally, it's finished off with brown granite worktops and smokey dark wood cabinets and drawers. Ascending hues of greatest luminosity give the room a sense of lift that lifts it from Earth to Heaven.
2. Linoleum Bathroom Flooring
Manufacturers of modern linoleum are beginning to develop a range of products that can endure the demands of a bathroom. Because of the high levels of moisture and humidity, these materials are used to curl or come away from the flooring.
However, advancements in installation technology have made it possible for these eco-friendly goods to finally live up to their promise in these difficult conditions.
There is a delicate white backdrop that sets the tone for the rest of the room in this linoleum design of geometric forms. By choosing this choice, you can have a bathroom that is both low-key and elegant enough to be used on a daily basis.
3. School Flooring in Sheet Linoleum
Sheet linoleum has several advantages over tile in terms of upkeep, particularly in commercial settings. It is difficult for liquids and stains to infiltrate the underlayment for flooring when there are fewer seams between separate sections. Also, there are fewer spots where the installation can be pried apart with a snag.
When we look at this photo of an adorable nursery with yellow linoleum floors, we notice just how many characters and personalities linoleum can provide. White walls and red accents soften the glare of the golden features, evoking a dynamic spirit that begs for play and good times.
 4. Kitchen Floor Tiles in Linoleum
Linoleum tiles in shades of grey are used to create a faux-natural look in this rustic kitchen. Burnished golden lacquered wood furnishings and copper appliance knobs complete the look in this home. White Formica counters around the area, creating a sense of confinement and anchoring with a burst of color.
There are many people who believe that linoleum kitchen flooring is obsolete. Linoleum kitchen flooring is making a comeback after a brief decline in the mid-1900s due to the introduction of more affordable vinyl flooring.
Linoleum has gained popularity among a new generation of homebuyers who are attracted by its many advantages and lower cost than other high-end flooring options such as real wood, stone, or ceramic tiles. There are numerous advantages of linoleum flooring, which we'll discuss in this article.
Also Read: Silicone Roof Coating Problems
Advantages of Kitchen Linoleum Flooring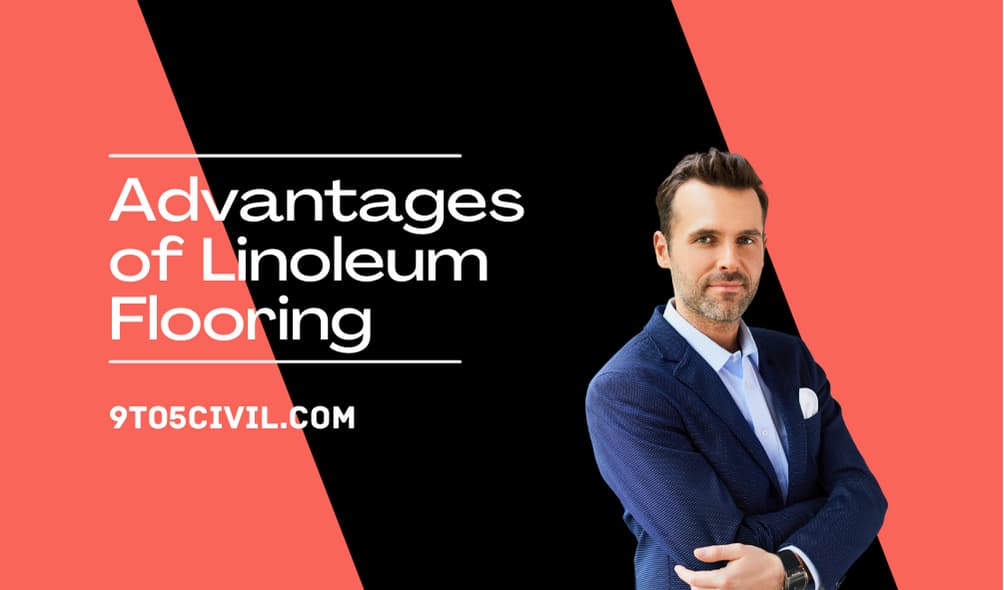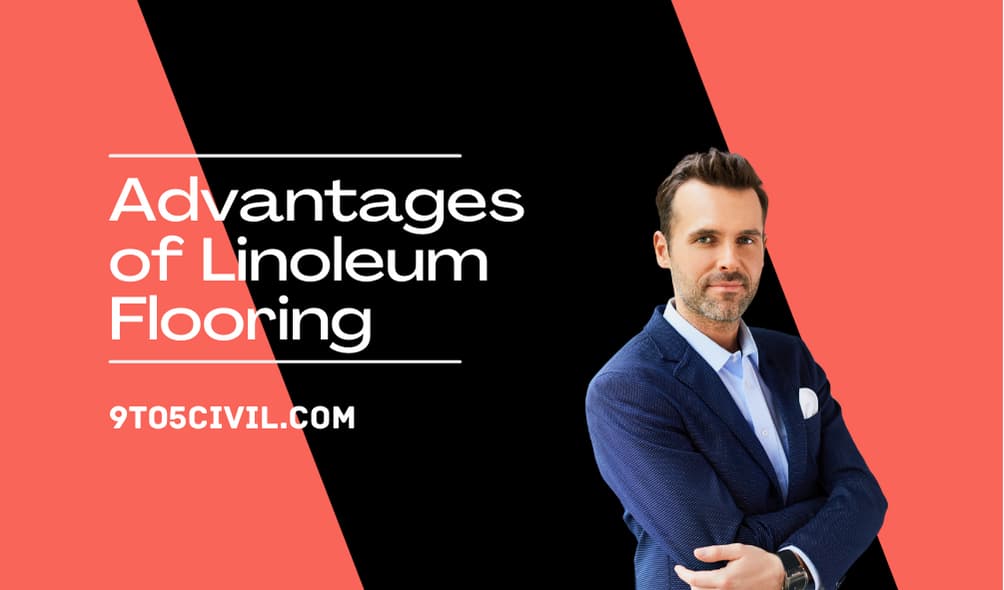 Linoleum flooring is a terrific option for homes because of its cost and aesthetic appeal, but it also offers a slew of other advantages. Linoleum's recent resurgence as a popular kitchen flooring option is largely due to these advantages.
1. Strong and Less Noticeable Damage.
The color is only applied to the top layer of other flooring materials. Scratches will show up more clearly because they'll be visible through a colorful surface.
Even in high-traffic areas like corridors and community rooms, linoleum flooring's color flows throughout the material, making any damage less noticeable. Linoleum is a long-lasting flooring option that doesn't require a lot of maintenance or repairs.
2. Antibacterial and Hypoallergenic
It is perfect for families with little children or pets because linoleum is naturally antibacterial. Due to its static resistance, it also repels dust and filth. As a result, the dirt does not build up or become caked on. As a result, linoleum is considered hypoallergenic because dust is less of a concern.
3. Quiet and Comfortable
It's a great surface for pets and children to play and relax on because linoleum is inherently soft. Walking on it or moving objects on its surface makes less noise because of its softness. This is a huge benefit for families with young children who frequently fall asleep at night.
Also Read: How to Make a French Drain in Yard?
Benefits of Kitchen Linoleum Flooring
Linoleum flooring is becoming increasingly popular, especially in the kitchen. However, it's also extremely resistant to water and stains, making it a popular choice. It's reassuring to know that linoleum floors aren't as vulnerable to messes as wood floors are because spills happen all the time in the kitchen.
Installation Options
As a result of its many advantages, linoleum may be used in virtually any room of your house. In terms of installation possibilities, it's as versatile as you can get. You have three options for installation, so you can find the greatest fit for your space, your DIY skills, and your financial situation.
Click-Lock Floating Linoleum
Homeowners who are looking to save money on labor by installing their own kitchen flooring can benefit from this strategy. There is no adhesive required for the click and lock system, which comes in small, controllable linoleum pieces.
Because it floats on top of the subflooring, you must ensure that it is level and dry before installing floating linoleum.
Linoleum Floor Tiles
Linoleum tiling is an excellent alternative to ceramic or natural stone, and it may be used in any room. Linoleum is a lot less expensive than ceramic or stone, and it has just about all the same advantages.
Linoleum on a Roll
Laminate flooring in the form of sheet linoleum is the most prevalent variety. It comes in such huge chunks that it is more suitable for larger areas than tiles or click and lock linoleum and offers the greatest variety of colors and styles.
Linoleum sheets come in enormous, heavy bundles that require the services of a professional flooring company to install.
The proper way to take care of your kitchen's linoleum floor
You want to prevent having to scrub too hard to remove dirt and debris, so sweep it up right away.
Linoleum is extremely sensitive to cleaners including bleach or ammonia, so use gentle, non-abrasive cleaners instead.
To avoid scratches and excessive dampness, use soft, damp mops and cleaning instruments.
It's best to refinish your flooring once or twice a year to maintain them looking their best.
Linoleum is better served by sunlight, especially when it's yellowed by exposure to oxygen. If the floor is frequently cleaned with harsh detergents or hot water, this process can be further accelerated.
Choosing linoleum as your kitchen's new flooring should be one of your most important decisions. Because of its natural materials, eco-friendly construction, and low cost, it is an excellent choice for the kitchen.
It also comes in a wide variety of styles and colors. The popularity of linoleum as a kitchen floor covering isn't due to its glitzy-sounding name.
Also Read: Fiberglass RV Roof Replacement | RV Fiberglass Roof Maintenance
Price of Linoleum Flooring
The factors that affect the price range for linoleum flooring are as follows
1. Quality
So how do you tell the overall quality and durability of your linoleum floor? The warranty, thickness, and surface treatment are the most important factors to look at when making your decision. The final price of the product will be affected by all three elements, which will vary depending on the manufacturer.
2. The Environmental Aspect
While its asbestos-laden predecessor should be left alone or covered up, the new linoleum is kind to the environment. This means that this sort of flooring has a high "Green Factor," even if some businesses are more environmentally friendly than others.
When it comes to making environmentally friendly flooring, the manufacturing process and materials used can have a significant impact on the price.
3. Format
Formats with linoleum flooring are the last big element in pricing, and we've already informed you what to expect. By the box or case, planks and tiles are offered, with the former costing more. Sheet linoleum, despite its name, is the cheapest of the three formats we've seen in our work.
Also Read: Flat Roof Vs Pitched Roof | Advantages of Flat Roof Vs Pitched Roof | Disadvantages of Flat Roof Vs Pitched Roof
How Much Does Linoleum Flooring Cost?
Even if you hire an expert, the expense of linoleum flooring will eat up most of your cash unless you have a problem with your current floor. If you're purchasing tiles or planks, it's charged per square foot, but it can also be purchased per square yard or per roll.
Sheet linoleum costs, on the whole, anywhere from $4.00 to $8.00 per square foot, on the low end. On the low end, tiles can cost as much as $3.50, but they tend to peak out at around $6.00.
The cost of click-lock linoleum ranges from $3.50 to $7.00 per square foot. Also, keep in mind that the length of the warranty and the thickness of the material affect the final cost.
To get an idea of how much linoleum will cost, measure the size of the room where you intend to lay it. To get the total square footage, multiply the length by the width of the room in feet.
A 7-by-12-foot room requires 84 square feet of linoleum. In order to get a square foot of flooring for $5.00, you'll need to spend about $420. Here are some pricing examples from some of the most popular linoleum manufacturers.
Kitchen Linoleum Flooring Installation Cost
Tiles and locking planks are the only viable DIY solutions for linoleum if you're looking to save money. Sheet linoleum, while requiring the same equipment and tools, is best left to professionals unless you have previous expertise dealing with sheet-based flooring or are working in a clean area with a flat floor that is free of any difficulties.
A Workman's Toolkit
Using a linoleum roller to apply linoleum tiles or sheets is required if you plan to do so. At the very least, you'll have to shell out at least $200 to get your hands on a 75 to 100-pound model. Another essential piece of equipment is a steam roller, which you can purchase up for a reasonable price if you must.
A razor knife, with the exception of particularly thick boards with a core, may also be used to cut through most types of linoleum. You'll also need an adhesive, which can cost anywhere from $50 to $200 depending on the size of the room or rooms you're working on.
Using products that contain harmful volatile organic compounds (VOCs) is not recommended in this area. Instead, follow the manufacturer's instructions carefully. A measuring tape, pencil, and a square or straight edge are a few of the additional things you'll require.
An Additional Set of Gear
With linoleum, there are fewer options for accessories than with LVP or even hardwood. Given the variety of linoleum styles, finding matching floor registers will be difficult, if not impossible.
It may be necessary to remove and replace any baseboards or moldings that cannot be reused. Keep in mind that cabinets, toilets, and any other items may have to be removed in order to lay new flooring in mind as an accessory.
Shipping is another hidden cost that can add hundreds of dollars to your project's cost. Linoleum isn't as popular as luxury vinyl or laminate flooring, so you may have to order it online from a specialty shop if you live in a region where it isn't readily available.
Also Read: Best Shed Shelving Ideas | Mistakes to Avoid Storage Shed Shelving Ideas
Installation of a Linoleum Floor by a Professional
As you can think, the cost of hiring a professional linoleum installer is going to be higher than if you did it yourself. In other words, you won't have to waste time or money running to the hardware store because the contractor already includes the cost of materials, labor, and supplies in the project price.
Installing sheet linoleum is the most expensive option. Small bathrooms necessitate the use of adhesives, and dealing with a sheet rather than tiles or planks is more difficult.
Sheet linoleum installation with flooring included will cost you between $5.00 and $8.00 per square foot, depending on the quality of your current flooring or subfloor. That's presuming your subfloor is sound and the flooring professionals are simply covering up your old flooring with the new.
The cost of installing linoleum tiles is about the same as that of installing hardwood flooring, although it might be more expensive depending on the size of the room.
It takes more time to lay down tiles than it does to lay down sheet linoleum, and if you want a design, you'll have to pay for it. If all goes well, linoleum tile or plank installation with flooring should cost between $6.00 and $8.50 per square foot.
Carpet and other types of flooring will cost more to remove and dispose of, so expect to pay anywhere from $200 to $500 more if the contractor is required to do it first. If asbestos is found and must be removed, the costs should be at least doubled.
Also Read: What Is Acrylic Roof Coating | Acrylic Roof Coating Pros and Cons | Acrylic Roof Coating Cost
---
Like this post? Share it with your friends!
Suggested Read –
---
Frequently Asked Questions (FAQ)
How Do You Lay Kitchen Linoleum Flooring?
Locate the wall farthest from the door where you enter the kitchen.
Lay out the linoleum tiles on the floor in the pattern you plan to install them.
Spread a small amount of linoleum adhesive onto the floor with a trowel.
Press the linoleum into the adhesive in the same pattern you determined earlier.
How Much Does It Cost to Put Linoleum in a Kitchen?
The costs will vary according to the quality and type of vinyl or linoleum you select. Sheet linoleum costs about $4 per square foot to install while sheet vinyl costs around $3 per square foot. Installing luxury vinyl tiles (LVT) or planks (LVP) costs considerably more at $7 per square foot.
Affordable Kitchen Flooring Ideas
Inexpensive Kitchen Flooring Ideas:
Hardwood Flooring Within Reach.
Bamboo Flooring on a Budget.
Low-Cost Cork Flooring.
Pinch Pennies with Parquet Flooring.
Cheap Laminate Flooring.
What Are the Trends for Kitchen Floors?
Eco Theme in Flooring.
Unusual Kitchen Floor.
Non-Standard Laying of Parquet and Boards.
Unusual Flooring Finishes.
Light Colored Floors.
Kitchen Linoleum Flooring
The design options of Kitchen Linoleum Flooring make it a good choice for the kitchen floor. It is durable and suitable for surface busy spaces, compared to the group of plastics. Kitchen Linoleum Flooring is inherently antibacterial, easy to clean.