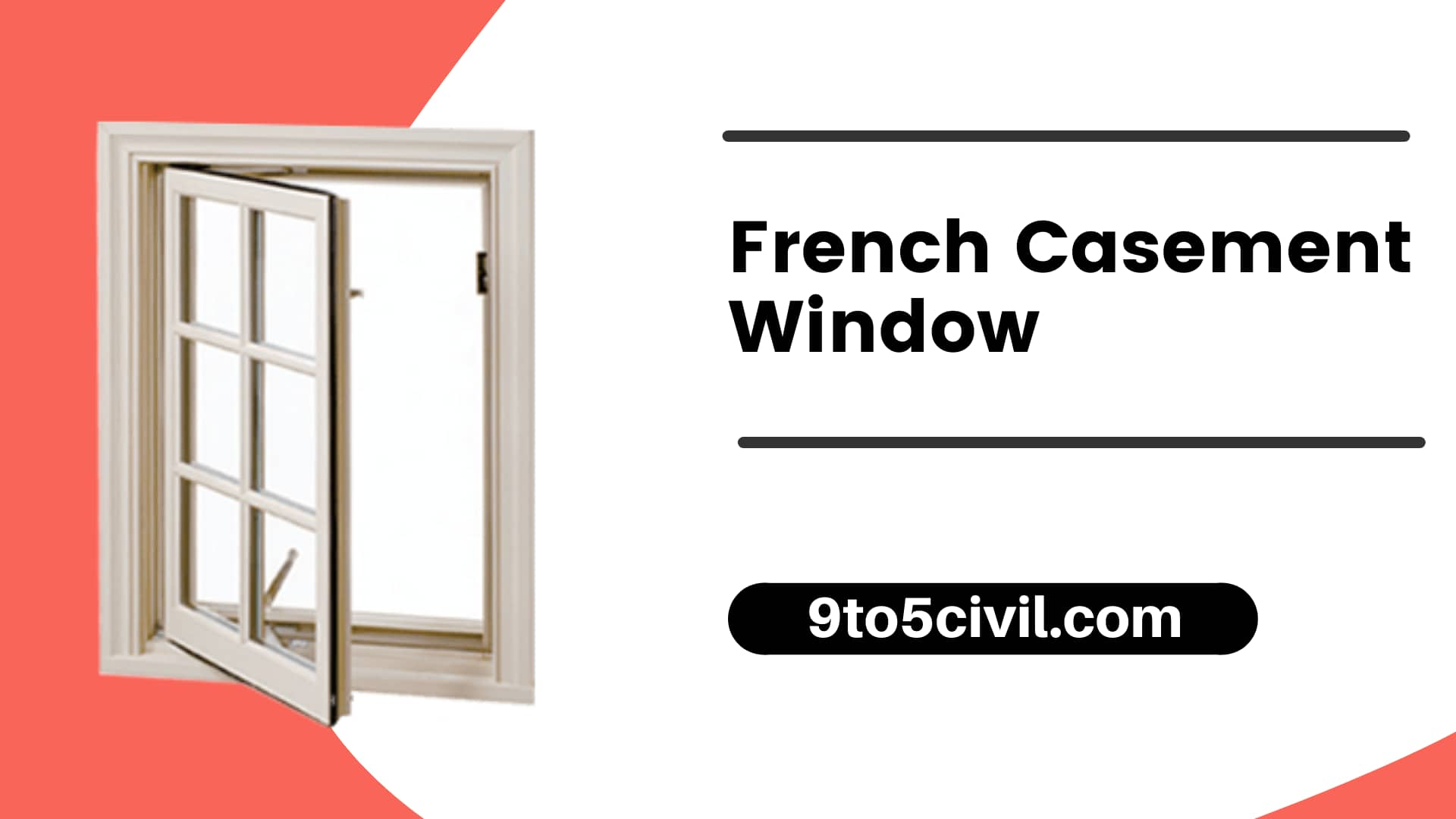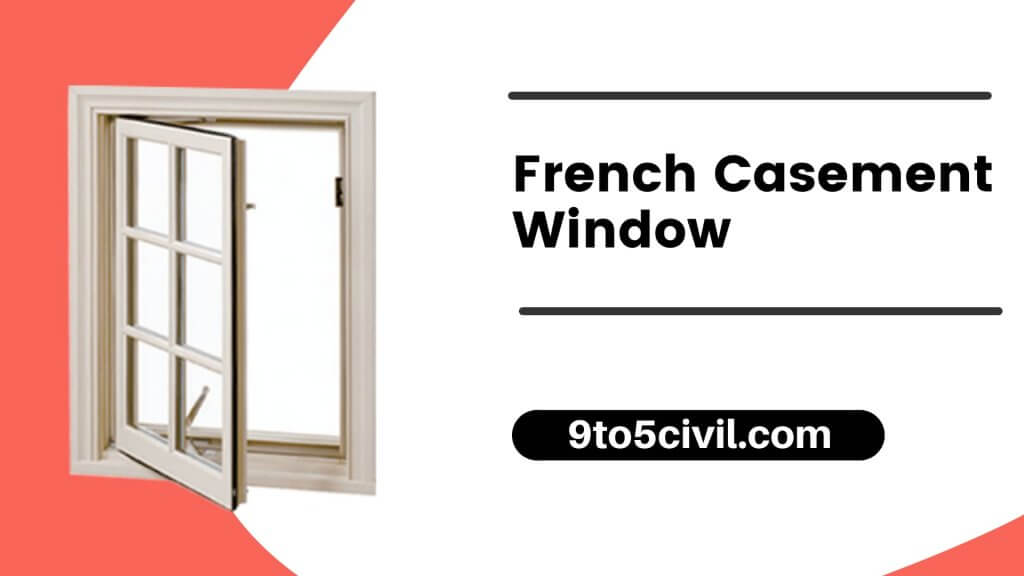 French Casement Windows
If you are looking for an elegant and modern window profile, then the French casement window is one of the best options for you. Investing in the casement window is the best choice because a casement window is attached to the frame on the side by one or more hinges.
Many people go for french casement windows because of their classic look and design and the various benefits that these types of windows offer over the conventional ones.
In this article, you will get to know about the French casement windows, how it works, and the various advantages and disadvantage of the french casement windows.
Double French Casement Windows
The double casement window has two sashes that open from the center with no center style, giving the glass a wide, unobstructed pane. This custom option is hinged on each side and it works easily with the handle.
What Is a French Casement Window?
Similar to regular casement windows, French casement windows protrude from your home's walls. There is no vertical post between the two casement windows in French casement windows, which open outward from the middle. With a hand crank, a single window is able to open and close within the frame of the sash.
For example, if you had a pair of classic casement windows side by side, you'd have to open each one individually to observe how the vertical posts divide the windows. Because of this, you would have a blocked view. When France was at war with Italy in the sixteenth century,It was influenced by Renaissance design concepts.
This is when this style got its start. At the time, putting so much natural light into a building was innovative thinking. There is no denying that technology and performance have advanced tremendously since the 1500s.
Though French windows have fallen out of favor in recent years, they are still a popular choice for homes with a lot of outdoor space, such as cottages. Traditional touches like monkey-tail handles can add a special flair. With their iron frames made by blacksmiths, Casement Windows supplanted older stone-mullioned units in the 1700s and later became solid timber ones.
There hasn't been a significant decline in its popularity since then. Aluminum, uPVC, and timber-effect uPVC are just a few of the materials available. Because of this, they can be found in a variety of sizes and combinations.
When compared to French windows, casement windows typically feature one smaller window that opens outwardly over the larger, primary glazed section rather than both.
On either side of the window are hinges that hold it firmly to the frame. Because of its adaptability, it may be used in almost any home, although it works best in older properties that are seeking to maintain a more traditional aesthetic.
Also Read: What Is Stucco? | Different Types of Stucco | Stucco Application Systems
When to Use French Casement Windows?
If you want two windows side by side, French casement windows are a fantastic option. Choosing a casement window for a small location, like a hallway, would be a bad idea. It's possible that a French casement window might be a good choice in this scenario.
For bedrooms, French casement windows can be a stylish option. A romantic atmosphere is created while the space is filled with natural light from the windows. These windows are ideal for sunrooms since they allow you to see the outside world.
You'll be able to experience a cool breeze while these windows are open. In terms of energy efficiency, French casement windows are an excellent option. Windows press against the sash from all sides when they are shut. Because of this, air leaks are less likely to occur. The outcome is cheaper heating and cooling expenditures for your home.
French casement windows are ideal for large, open spaces like your kitchen or bedroom, where a large window is needed. There is no place for them in corridors, stairwells, or bathrooms because they are too large. Open all the way, they let in a lot of fresh air and light.
If you have a room with a stunning view, a French window will allow you to take full use of it. Casement windows with a swinging sash, such as those seen in a sunroom, a bedroom, or a family room, provide excellent ventilation. Over kitchen sinks, these windows are also a great option.
If you want two windows next to each other, a French casement window is a good option if there is enough room on the outside of the house to allow the windows to open all the way to the outside.
As two windows in one, French casement windows aren't a good fit for tight spaces. If you have a small space, a regular casement window is an ideal option for you to consider.
You can also get an energy-efficient French casement window by purchasing one of these. All four sides of this window's sash are pressed against each other when the window is closed, creating a tight seal that helps to keep the home warm.
Also Read: What Are Weep Holes? | Purpose of Weep Holes | Advantage & Disadvantage of Weep Holes
How Do French Casement Windows Work?
Traditionally, the sash of a casement window is opened by turning a hand crank. There is a vertical post where the two panes of glass meet if two traditional casement windows are installed side-by-side. This is a problem if you want to open both windows at once. Open both windows at the same time using a French casement to get a clear view.
Double-paned units with hinged doors are a popular choice because of their large glass surfaces. They can either open inside or outwards, but more often than not, they open outwards. All kinds of different materials are available for you, from aluminium to plastic to uPVC that looks like wood.
What are the Benefits of French Casement Windows?
French casement windows are preferable to double-hung windows for a number of reasons, including their distinctive appearance. French casement windows are more airtight than double-hung windows because the entire pane of glass may be opened and closed.
With casement windows, you'll get the freshest air into your home. Compared to double-hung windows, single-hung windows are more energy-efficient when closed.
Particularly in places where you must extend your arm to open a window, casement windows are more convenient to operate than double-hung ones. Why do you commonly see them above kitchen sinks, for example? There are a variety of design options to choose from with casement windows, so you can make the window match the style of your home.
Also Read: Caisson Foundation | Use of Caisson Foundation | Type of Caisson Foundation | Advantages & Disdvantagesof Caisson Foundation
Advantages of French Casement Windows pros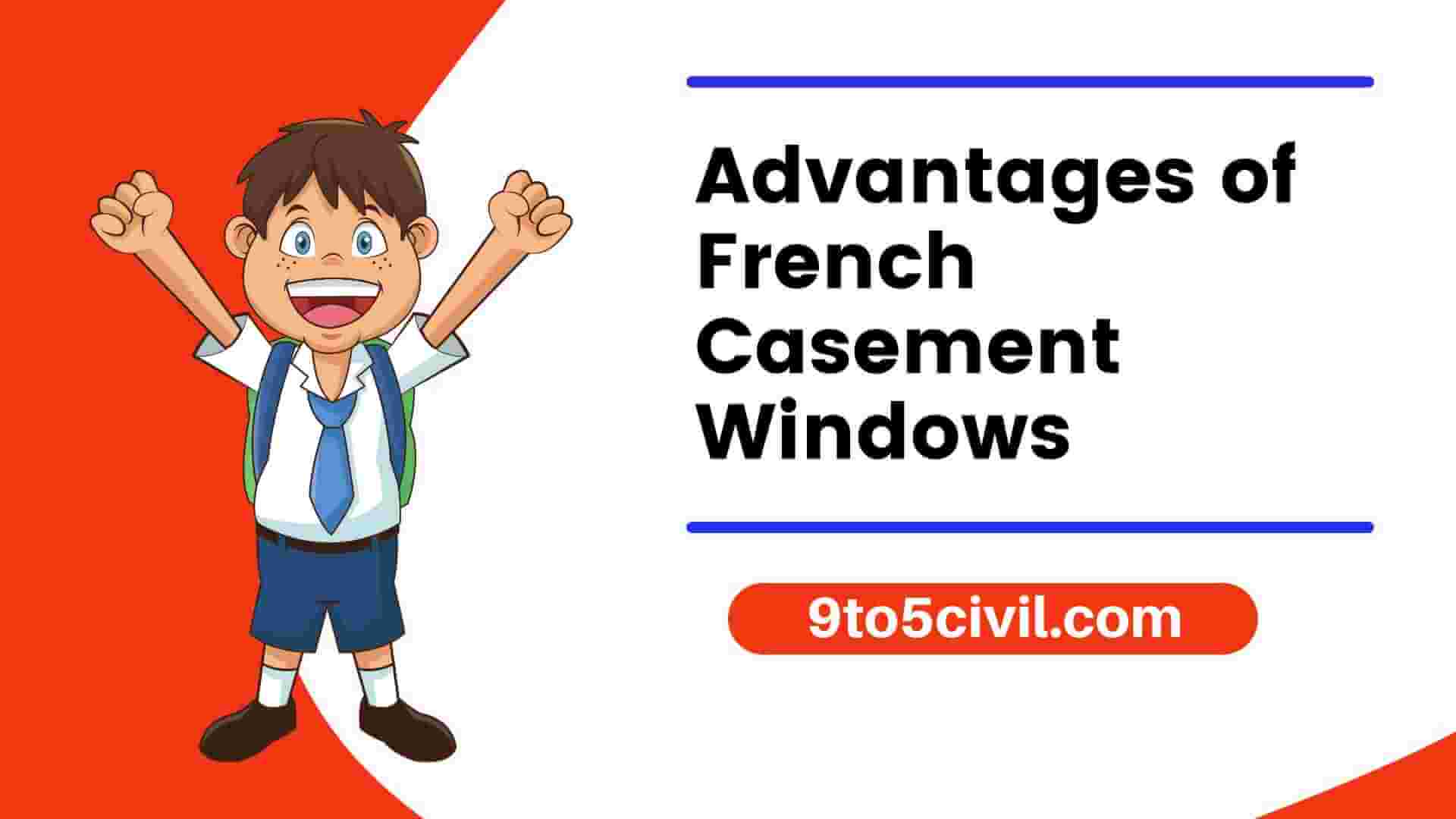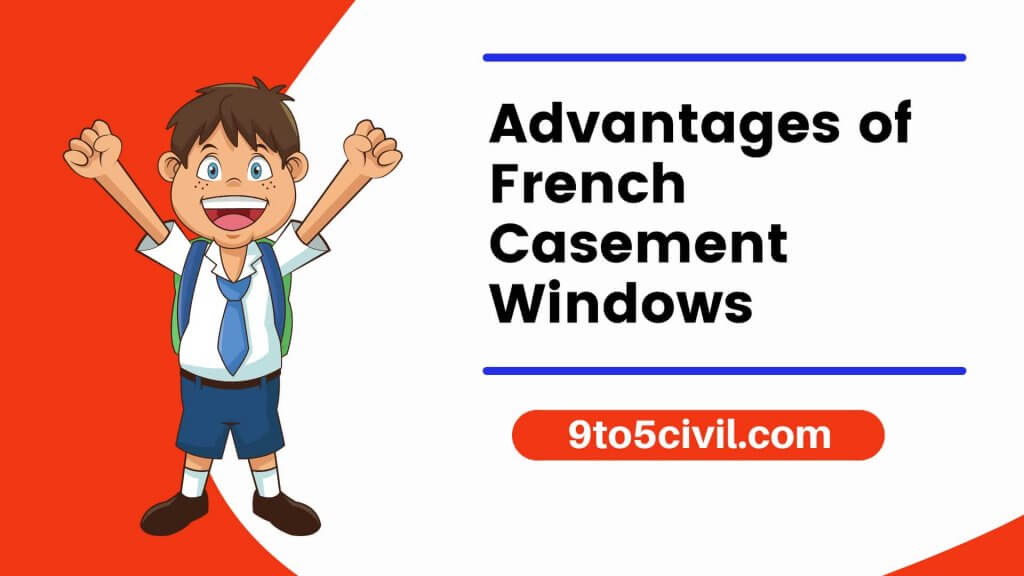 French casement windows have the following advantages:
1. Versatility: A wide range of options are available, including uPVC and aluminum frames. They are available in a variety of colors and may be customized to fit any room.
2. Insulation: In order to keep out cold air while preserving heat, casement windows are completely sealed when closed, creating an airtight seal.
3. User-friendly: Open and shut is a snap with these types, which also have excellent security and an unobstructed view when closed, making them ideal for both residential and commercial applications.
4. Ventilation:–French windows open out to 90 degrees plus and allow for rapid airflow into the room. You also have the choice of opening just one side if you need some ventilation, but don't want to open the windows the whole way.
5. Security:– French window security is typical of a very high standard. They come with locks that are highly secure so you don't have to sacrifice safety. They also open so wide that they can also double up as a fire escape if needed.
6. Views:– As mentioned previously, French windows offer unobstructed views of the great outdoors.
7. Low Maintenance:– French windows, especially uPVC ones, are extremely low-maintenance. A quick wipe every now and then will keep them clean, and they don't need to be treated regularly like wood.
8. Efficiency:– French windows offer better energy efficiency than double-hung windows, whilst simultaneously providing more ventilation.
9. Variety: – With French-style casement windows, there are plenty of opportunities for customization and personalization. This makes them particularly appealing to our design-minded customers. You'll get a lot of natural light and great levels of security and durability from these trendy models.
In heights of up to 7 feet and widths of up to six feet, these crank-out windows are available. Durable hardware makes individual sashes open easily. The crank-out operation offers control over the angle of the open window. Multiple locking points ensure a tight seal and total security. Unique wash mode allows access to both sides of the glass from an indoors uninterrupted view.
Also Read: What Is a Sawtooth Roof? | How to Build a Sawtooth Roof? | Advantages & Disadvantages of Sawtooth Roofs
Disadvantages of French Casement Windows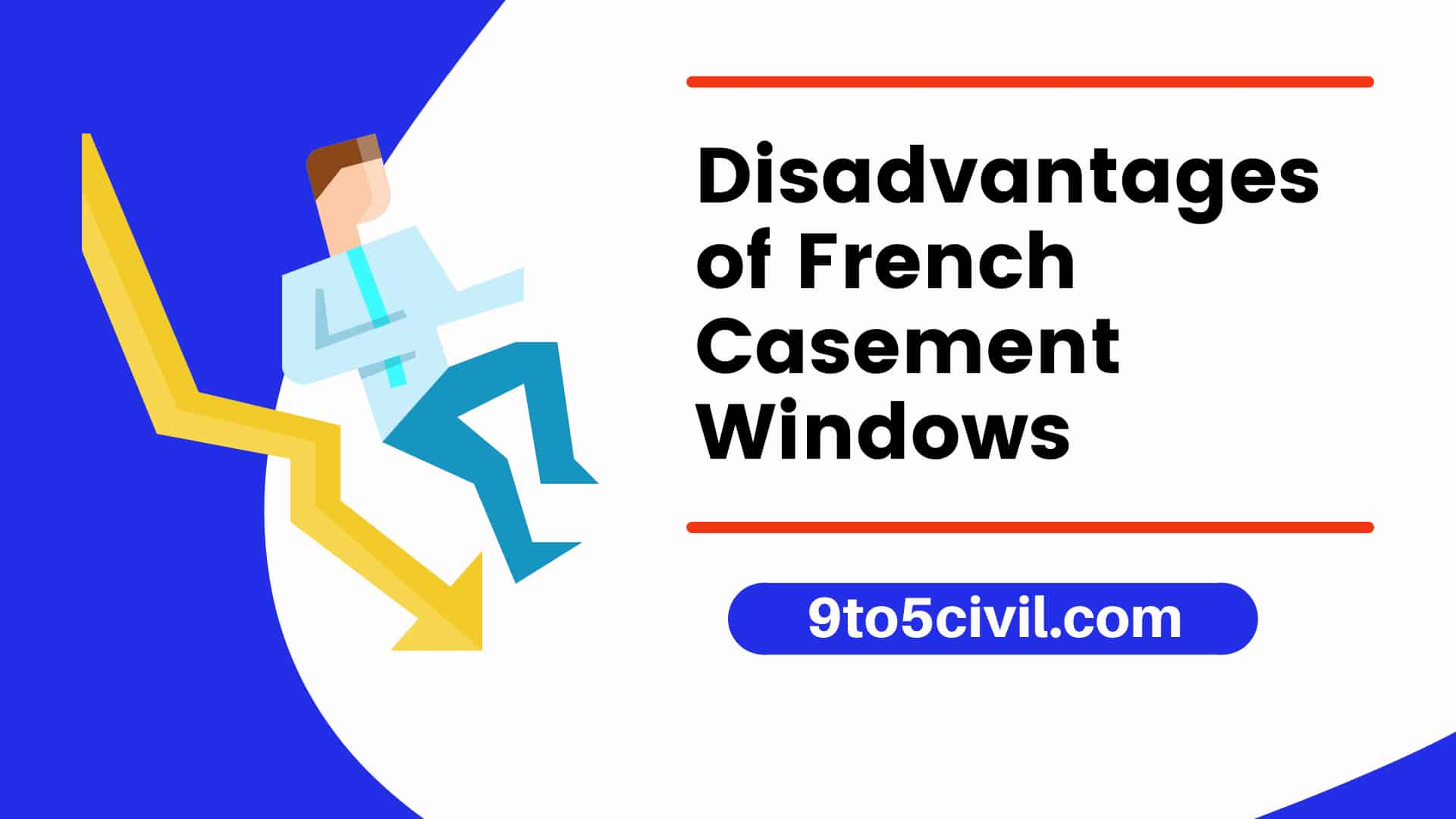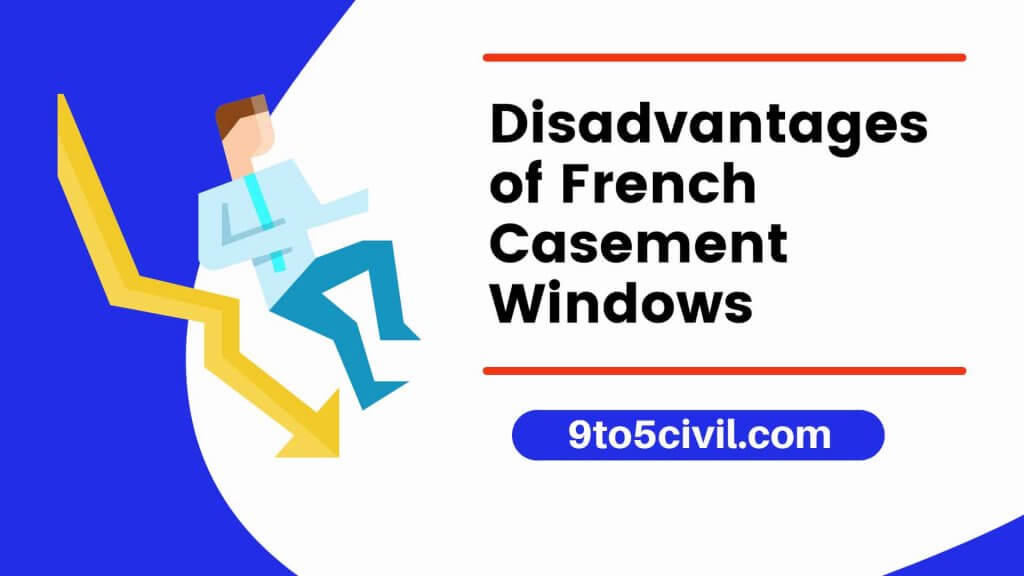 There are also some of the disadvantages of the French windows which are as follows:
Because of their two-panel design, French windows can't be used to replace a three-panel casement window, for example. For this, you would need to fill in some of your windows.
Due to the windows being cranked outward, casement windows cannot be used for window air conditioners. To keep a window conditioner unit secure, you'll need windows that move up and down. For the most part, casement windows can't have screens or storm windows installed. Casement windows open outward, which necessitates screens and storm windows to keep them closed.
Because casement windows open outwards, you're limited in terms of window size. For an open window, the sash must be light enough to support itself on the frame.
Most casement windows have mechanical parts, such as a crank, that open and close the sash. These parts can be easily broken. There is a chance that this part will fail on you. Stripped gears, on the other hand, may freeze up or corrode.
Replacement of the complete mechanism is required in this situation. In addition, you may encounter issues with the sliding arm and the track. You will have difficulty opening and closing your window if the seals become clogged with debris and grease.
To keep your windows closed and save energy, the locks on your windows must be in good working order. To ensure that your window is properly closed, you must do so in this manner.
At specific hours of the day, sunlight can be reflected directly into the house by the window glass. The angle of the opened sashes is to blame. Casement windows are not a good choice if you reside in an area that is frequently exposed to direct sunlight.
French Casement Windows Cost
Materials, sizes, specific treatments for the glass, and the quantity of labor required to install them all affect the cost. If the window set has built-in side or top panels, this will also affect how much space is needed.
A typical set of uPVC French Windows cost anywhere from £250 to £500 with installation, depending on the size and design. Starting at roughly £600 without installation, French windows can be utilized as doors for as little as £850. There is a significant difference in pricing between white uPVC frames and aluminum ones.
Also Read: What Is Plum Concrete | Purpose of Plum Concrete | Use of Plum Concrete | Advantage & Disadvantage of Plum Concrete
French Windows Vs Casement Windows
The comparison between the French casement windows and the Traditional casement windows is done on the various factors such as view, security, safety, colors, etc.
Quality
French Casement Windows
 Casement Windows
   

 

View

There are no fixed mullions (a vertical bar between window glass panes ) to obscure the view. In this case, the window can be fully opened. The French windows can be left open as far as you desire with friction hinges, as well.
There is no mullion when two casement windows open at the same time, despite the fact that they are separated by a gap. Consequently, the vision is limited by the mullion.

 

 

 Security

Shoot bolts, friction hinges, and an integrated four-point lock for the movable mullion are all part of the locking system. The PAS24-approved window features stainless steel hinges of the finest quality.. Our industry-leading warranty coverage covers these parts.
There are also crimped frames and locking handles. In addition to the stainless steel hinges and guards, they use stainless steel.

With its PAS 24 certification, it is also one of the most secure windows on the market today.

 

 

 Colors

Woodgrain finish and dual-color choices are available in 150+ RAL colors.
More than 150 RAL colors, as well as wood grain treatments, matte and satin finishes, and dual-color options.

 

 

 

 Safety

They can be utilized as an emergency exit window in accordance with current construction rules.
In accordance with current construction laws, emergency exit windows can be installed inside or top-hung casement windows.
Conclusion
For ages, casement windows have been a popular choice for homeowners who want to give their homes a unique look. In the past, they were only available in one sort of sash.
Windows that can be pushed out and French casement windows are recognized for bringing in a lot of natural light. Wider opening casement windows, which have a contemporary look, are being used in kitchens, patios, entrances, backyards, and balconies.
When it comes to mixing and matching, casement windows are a great option. Casement windows can be positioned in a variety of ways, and they can also be adorned with plain grills, stained glass, ornate bar grills, and wooden shutters.
Crank windows can be used by homeowners to highlight their homes' vertical lines, tight openings, and tall constructions. Your family's safety is also enhanced by multi-point locking mechanisms and properly-fitted cranks.
---
Like this post? Share it with your friends!
Suggested Read –
---
Frequently Asked Questions (FAQ)
French Casement Windows Cost
Picture Window with Casement Flankers:  $600 – $800
Single Casement Window: $224 – $370
Double/French Casement Window: $445 – $585.
French Casement Windows
French casement windows can be a stylish option. A romantic atmosphere is created while the space is filled with natural light from the windows. These windows are ideal for sunrooms since they allow you to see the outside world.
French Casement Window Sizes
French casement windows are suitable in places where more ventilation is needed. Such as bathroom or kitchen. Standard widths are kept between 1 foot, 2 inches, and 2 feet, 11.5 inches. Standard heights are kept between 2 feet, 5.5 inches, and 6 feet, 5.5 inches.
Double French Casement Windows
The double casement window has two sashes that open from the center with no center style, giving the glass a wide, unobstructed pane. This custom option is hinged on each side and it works easily with the handle.
How Long Do Casement Windows Last?
Generally speaking, your window will last about 20-25 years. They can last a long time if they are installed by reputable professionals.