Introduction of Quartz Pool Finish
Swimming Pools are the core attraction among people. People Prefer personal pools at residential home or at parties they want poolside or pool view from their room or for kids parties or for pool parties which are very popular among youngsters.
So, as we see that pools are a major attraction in which people take a keen interest and also people want that their pool look beautiful and for that, they use so many things like accessories, plants, etc. While making pools, people prefer different finishes available to make their pool beautiful and long-lasting, and for that different types of finishes are available in the market.
Quartz Pool Finish is one of them which used in making pools. In this article, we help you in finding the best Quartz Pool Finish and reasons to go for it if you are planning to make a pool. This will help you find an effective and durable option for your interest.
In this article, we will be highlighting the Quartz pool and different types of Quartz pool finish and various pros and cons of Quartz Pool.
Also Read: What Is Terracotta Cladding? | Terracotta Rain Screen Cladding
What Is Quartz Pool Finish?
Quartz Pool Finish is a pool finish that is a combination of cement and crushed stones. It is a surface of the pool in which white cement is used with crushed stones and gives a perfect finish to the surface of the pool which looks beautiful and strong. In Quartz Pool Finish the finish is given by using sponges or brushes.
Finishing is the most important part as it gives a final look to the pool, so it is very important to choose the best finishing technique and material for pool finishing. Quartz pool Finishing is done simply as plain plaster. According to Mohs scale, On the scale of 0 to 10 Quartz Pool Finish gives strength somewhere between 6-8 which shows that this gives strong surface or toughness.
 Types of Quartz Pool Finish:-
As we know that there are so many types of finishing available in the market such as Marcite Finishing or traditional pool finishing in which simple white cement is used.
Quartz pool finishing in which combination of white cement with colourful crushed stones is used in this finishing marcite is used as a base with silica and crushed stones mixture and Pebble pool finish in which larger stones are used which gives a rough surface to the pool and stones which are used in this are rough than the quartz pool finishing and certain texture are made in this.
The most lovable finishing is Quartz Pool finish in the pool construction industry and opted by maximum people for their pool and because of its high demand, there are several companies which are manufacturing this material and earning profit.
Quartz pool finish colors is consists of colorful blend which gives an amazing look to the interior of the pool.
Also Read: What Is a Sawtooth Roof? | How to Build a Sawtooth Roof? | Advantages & Disadvantages of Sawtooth Roofs
There are two types of Quartz Pool Finish:
Standard Quartz Pool Finish
Upgraded Quartz Pool Finish
1. Standard Quartz Pool Finish:-
Standard quartz pool finish colors contain standard colors of blue shade which are used in making pool which includes some major color such as Cool blue in which light blue crushed stones are mixed with plaster, Super blue is the color in which dark blue crushed stones are used with plaster etc.
In standard Quartz Pool Finish the base is of white color which is the original color of plaster and in plaster crushed stones are mixed and these are according to the want of the customer so basically only the change which is happening is only in the colors of stones and base will be same in all the conditions. This will help you to understand the concept of Standard Quartz Pool Finishing.
2. Upgraded Quartz Pool Finishing:-
Upgraded Quartz Pool Finishing is the type in which certain Category of colors is included, or we can say that upgraded colors are included in finishing.
which is given particular names such as Verde in which green crushed stones are used with a green color base. Tahoe Blue in which blue crushed stones are used with a blue color base, Pearl in which white and other light color crushed stones are used with off-white base, Premium White in which pure white crushed stones are used with a white base.
In other words, an Upgraded Quartz Pool finish is a type of finish in which the same base is used as the color of crushed stones either white or any other color.
Also Read: What Is the Well Point System? | Types of Well Point System | Advantages & Disadvantages of Well Point System
Quartz Pool Finish Problems:-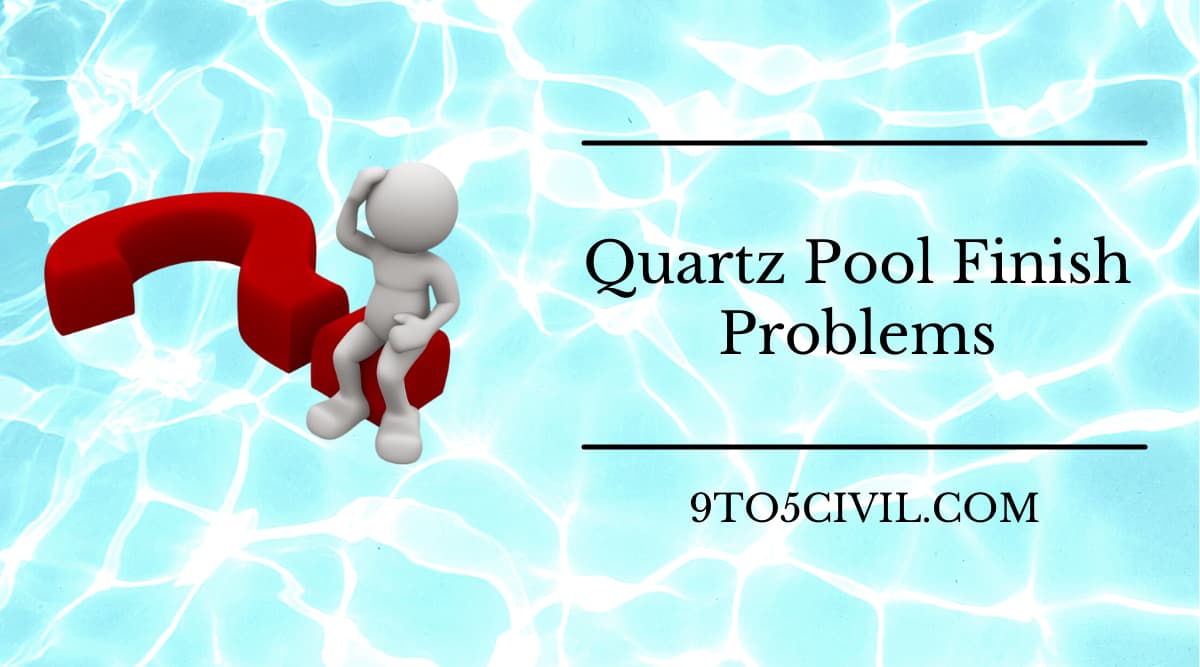 There are many issues which are faced in Quartz Pool Finishing by the people some of them we discuss below:
A Lot of people face the problem of washing as the pool gets dirty and also form spots which look very bad, and they find it difficult to clean. For the cleaning of the pool, people use acid as guided by some forums, but it also won't work well.
As sometimes people use acid to clean the pool it damages the surface area and also the supporting are or wall area of the pool.
The upper layer of the surface starts breaking by the use of acid and harsh scratching.
Color finishing becomes so light and looks so dull.
As chlorine is used to clean water it results in color fading.
If troweling is not properly done then peeling of surface area start soon.
Also Read: What Is Pavement Marking? (Road Marking) | Importance of Pavement Marking | Functions of Road Markings | Types of Pavement Marking And Their Meanings | Advantages & Disadvantages of Pavement Marking
Pros and Cons of Quartz Pool Finish:-
Pro of Quartz Pool Finish:-
The various pros of Quartz Pool Finish are as follows:-
Cost-Effective: Quartz Pool Finish is a cost-effective finish that can be opted for by people. It cost lesser than other finishes and gives a better result. According to the demand and quality, this is the cost-effective finish for which a person can go.
Easy to Clean: Quartz Pool Finish is easy to clean as by using muriatic acid in the diluted form it will be easily clean all the pool surface in less time.
In Demand: Quartz Pool Finish is in high demand in society and because of this high demand, many manufacturers started to manufacture the material and grow their business in the pool-making industry.
Long-Lasting: Quartz Pool Finish is a long-lasting finish. It will last for more than 10 years. So its durability is not questionable as its duration of stability is very high.
Different Colors Availability: In Quartz Pool Finish different types of colors are available to choose for your pool. According to the taste and preference of the customers, the color will be decided for the pool.
Finish do well in different conditions: Quartz Pool Finish is always ready to fight with different weather conditions either too hot or too cold the pool finish doesn't get affected by weather conditions.
Low maintenance: The maintenance cost of Quartz pool finishing is not too much high. It is very easy to maintain Quartz pool finish at a low cost.
Good Appearance: The appearance of the Quartz pool finish is so beautiful as different colors are available, and also creative look comes up in this finish. It is the most lovable pool finish among people.
Also Read: What Is a Concrete Wall Finish? | Types of Concrete Finishes
Cons of Quartz Pool Finish:-
There are also some cons of Quartz pool finish which are as follows:-
Installation Cost: The installation cost of Quartz Pool Finish is high. It costs higher than normal plastering because in this crushed stones are used and if someone wants a base color as same as pebble then also the color cost will be added which makes it a bit expensive.
Splotchy Appearance: Quartz Pool Finish become blotchy after some time and doesn't look good at all which leads to an expensive and tough cleaning task for people.
Surface start peeling: In quartz pool finish people use acid to clean it which destroys the surface area of the pool and the surface starts peeling out.
Color fade problem: Quartz Pool Finish became fade because of the use of acid in cleaning and also as chlorine used to clean water, so it fades all the color of the pool which looks not good.
Peeling issue: sometimes troweling is not done properly and in a result of that surface area starts peeling out.
Also Read: What Is Stone Masonry? | Types of Stone Masonry | Advantages & Disadvantages of Stone Masonry
Quartz Pool Finish Cost:-
The cost require for Quartz pool finish depends upon various factors such as the size of the pool, depth of the pool, shape, and local rates. The Quartz pool finish cost generally ranges from $3000 to $4500 and this does not include the cost required for the replacing of the waterline tiles and teh pool deck.
The additional cost is required if you want to refill the pool with water and the chemical approx cost around $25-$30.
Also Read: What Is Stucco? | Different Types of Stucco | Stucco Application Systems
Conclusion:-
While studying the whole scenario the conclusion is that the Quartz Pool finish is the best option for Pool finishing as it gives a variety of colours and also a strong foundation to the pool. It is waterproof in nature and easy to clean with the help of acid.
It has low maintenance cost as it is long-lasting in nature and durable. Quartz Pool Finish is cost-effective in comparison with other pool finishes. It is expensive than simple plaster Finishing or traditional finishing but better in terms of quality and design.
A creative look is given in Quartz Pool Finish as crushed stones are used in it. A mixture of plaster and crushed stones is used which gives a smooth and hard surface to the pool. The life of Quartz Pool Finish is about 10-12 years which is very long, so it is a long-lasting choice if you prefer this.
As per the high demand for pools in society, there are so many manufacturers are present who are manufacturing the material used in Quartz Pool Finish, so you will get material easily anywhere. Its excellent long-lasting feature and low cost of maintenance make it more acceptable by the people and makes it a great choice for making a pool.
FAQ
What Color Is Quartz Pool Finish?
Gray cement and quartz produce blue-gray water colors that shine and give pleasure, defining sophistication and elegance.
How Long Does Quartz Pool Finish Last?
Seven and 12 years.
Is Quartz a Good Pool Finish?
Used as a finish in new or rebuilt swimming pools, quartz creates a strong, non-porous and stain-resistant interior surface. In addition, it works longer and more effectively against erosion caused by chemical imbalances in pool water. In addition to offering increased durability and functionality, quartz helps deliver excellent styling results.
Can You Acid Wash a Quartz Pool?
Especially for quartz finishes, acid washing is a key part of the pool finishing process. The basic idea is to take a very dilute muriatic acid and wash the entire surface quickly with it.
Is Quartz Pool Worth Finishing?
Quartz surfaces are stronger than plaster and offer a variety of pebble-like colors. Quartz Finish is perfect for families who want a low maintenance option but also want to define their pool backyard.
What Does Blue Quartz Plaster Look Like?
The most popular colour is a white background with blue quartz, this surface looks like a "Certs breath mint". Quartz finish is stronger and more durable, the average lifespan of a quartz finish is 10-15 years.
What Is Better Quartz or Pebble Tec?
Quartz based products are more cost-efficient for pool finishes. Quartz finish cracks more often than gravel. In the long run, gravel is more durable and has less colour. If the plaster needs to be exposed above the water line for design, gravel will be the only suitable option.
Like this post? Share it with your friends!
Suggested Read –