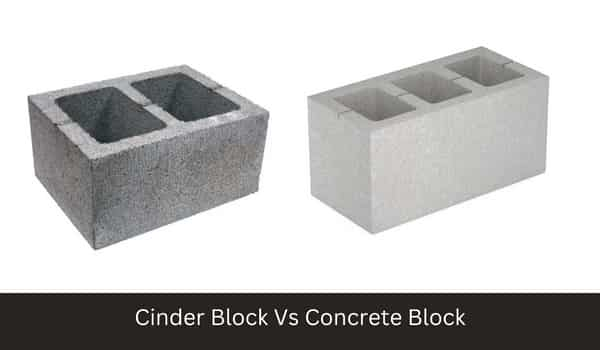 Cinder Block Vs Concrete Block
Cinder blocks are hollow rectangle-shaped structures usually made of concrete and coal cinders which find use in construction sites. Concrete blocks often, on the other hand, are flattened constructs made of steel, wood or cement.
What Is Cinder Block?
Cinder blocks are made of hollow rectangular-shaped structures. Which are usually made using concrete and burnt coal. Cinder blocks are shaped similarly to concrete blocks.
Concrete and cinder blocks are often made by the same basic process. But there are cinder blocks made using a special material made for various special functions.
Cinder blocks are also made by mixing coal cinders in a concrete mix. Cinder blocks are lighter in weight than concrete blocks. Cinder blocks are made like hollow concrete blocks.
They are not particularly strong as they are made of coal dust, so they are always avoided in some places.
Specification of Cinder Block
They cannot be used in a place like a turn.
Cinder block increases water absorption.
The cinder block is the result of a mixture of coal dust and concrete.
Repairs done with cinder block are very expensive so it is avoided.
Cinder blocks were used in wooden framed doors and windows. In addition, cinder blocks were used in decorative opening doors for structures.
The tensile strength of the cinder block are less.
In the old days, people used to make this type of block using industrial waste. Now, this type of block has become extinct for almost 50 years.
History of Cinder Block
Large coal-fired power plants and steel mills were producing coal waste every day. So the people there used it to make 'cinder blocks'. They were made of concrete blocks shape.
But in cinder block, coal cinders or ash is mixed with concrete. As a result, the weight of cinder blocks becomes lighter than that of concrete blocks.
In the villages, people used this cinder block in the compound wall.
How Much Does a Cinder Block Weigh?
Standard Cinder Block Weighs 38 lb. / is 17 kg. Its standard size is 8 inches x 8 inches x 16 inches. Cement and aggregate are used to create a cinder block. It may be industrial waste, fly ash, coal ash, recycled material, slag cement or recycled overall, etc.
Therefore, cinder blocks are lightweight. It is sometimes designed as a low-density block. 12 inch x 8 inch x 16 inch hollow cinder block weighs 52 lb. / 23.5 kg.
| | |
| --- | --- |
| Cinder Block Size | Weight |
| 8″ x 8″ x 16″ | 38 lbs (17kg) |
| 8″ x 8″ x 8″ | 14 lbs (6 kg) |
| 4″ x 8″ x 16″ | 27 lbs (12 kg) |
| 12″ x 8″ x 16″ | 55 lbs (25 kg) |
| 8″ x 2″ x 16″ Cap | 15 lbs (7 kg) |
| 4″ x 8″ x 16″ Cap | 35 lbs ( 16 kg) |
Cinder Block Sizes
| | |
| --- | --- |
| 4″ Cinder Block | Dimensions |
| Cinder Block Name | Nominal Size (LxWxH) |
| Solid Pier | 8″x4″x4″ |
| Solid Pier | 8″x4″x8″ |
| Solid Pier | 12″ x 4″ x 8″ |
| Solid Pier | 16″x4″x4″ |
| Solid Pier | 16″ x 4″ x 8″ |
| Hollow Pier | 16″ x 4″ x 4″ |
Cinder Block Dimensions
---
---
What Is a Concrete Block?