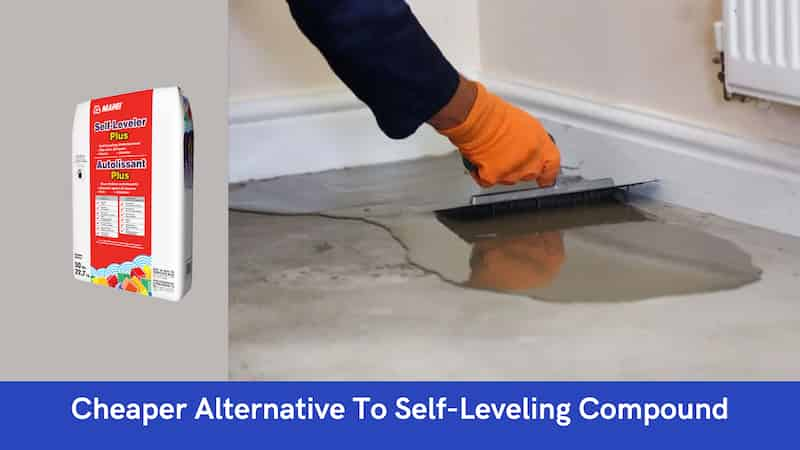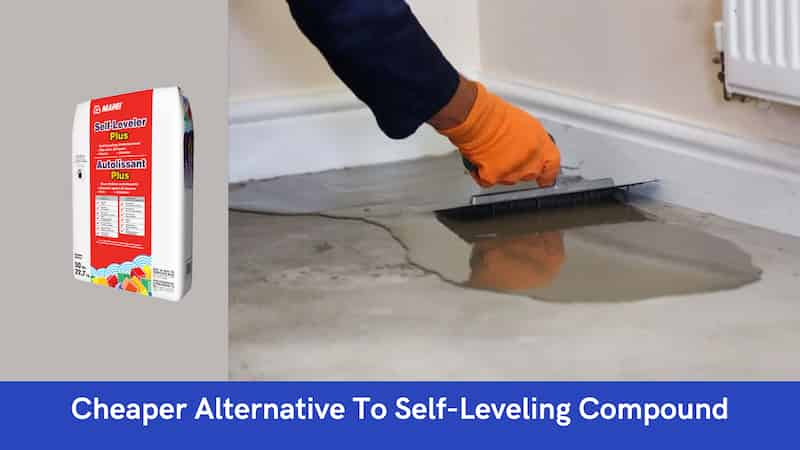 Cheaper Alternative To Self-Leveling Compound
Everyone knows that a self-leveling compound is a good way to level concrete. It can be expensive. If you are looking for a Cheaper Alternative To Self-Leveling Compound then you are in right place. Self-leveling compound (SLC) provides a strong, flat base for carpet, tile, or wood flooring.
The sand mix is a suitable option for a cheaper alternative to self-leveling compound. A sand mix compound is a mixture of sand and cement that you can use to level uneven spots on your floor. But, unlike the original product, the sand mixture requires you to use a trowel-like tool to level uneven spots. It takes a lot of work. But, using a sand mix can save some money.
5 Cheaper Alternative To Self-Leveling Compound
Using self-leveling compound to level concrete floors is an expensive option. You can save a lot of money in your home or business by using the following techniques.
1. Sand mix
The most popular alternative to self-leveling compound is a sand mixture. It is easily available at any hardware store. It can be easily mixed with water and used to level the floor. A sand mixture is usually used to level the floor before tiling or installing laminate flooring. It may not be suitable for heavy-duty industrial use.
However, it may not be as durable or strong as a traditional self-leveling compound. So consider your intended use before choosing this option.
Sand admixture is a cost-effective option for smaller projects. However, before choosing the choice of sand mix, it is important to check the strength and durability as per your requirement.
2. Portland Cement and Sand
A Portland cement and sand mixture is another Cheaper Alternative To Self-Leveling Compound. Mix portland cement and sand in a proper ratio of 1:3 and place it on the required floor.
Portland cement and sand compounds may require more frequent maintenance and repair than a professional self-leveling compound. Additionally, sand and Portland cement may not work for all types of flooring. Before using this option on floors that require a certain level of smoothness or strength, it is necessary to consult an expert.
Apply evenly on the area you want to fix. Note, let it dry completely before walking on it or putting anything on the floor.
3. Gypsum-Based Compound
Gypsum-based compound is another less expensive alternative to self-leveling compound. Gypsum-based compounds can be applied directly to uneven surfaces with a trowel or other smoothing tool. It is often used for small, smooth surfaces such as countertops.
However, gypsum-based compounds cannot be used for self-leveling in high-traffic areas. Before using a gypsum-based compound, it is important to follow the manufacturer's instructions.
4. Drywall Compound as a Floor Leveler
If you want to use drywall compound as a floor leveler you can use it. Drywall compound provides support for your tiles or any other flooring material. However, there are some downsides to drywall compounds. So, some things should be considered before using it.
You have several options for leveling the floor. In general, drywall compound is inexpensive and provides a suitable option for homeowners on a tight budget.
Drywall compound is a more readily available and cost-effective option. You have to give it enough time to dry properly to get the final finish. Drywall compound may not be suitable for all self-leveling projects. Therefore, you should seek the advice of a professional before using drywall compound.
5. Foam
Sometimes foam can be used as a floor-leveling material. The foam dries quickly. So it is used to easily fit in any place. The foam may not function properly on heavy loads or uneven floors.
Professional advice should generally be sought before attempting floor leveling techniques using foam. To obtain a smooth and level surface, self-leveling foam can be an effective and efficient option.
Cheapest Way to Level Concrete Floor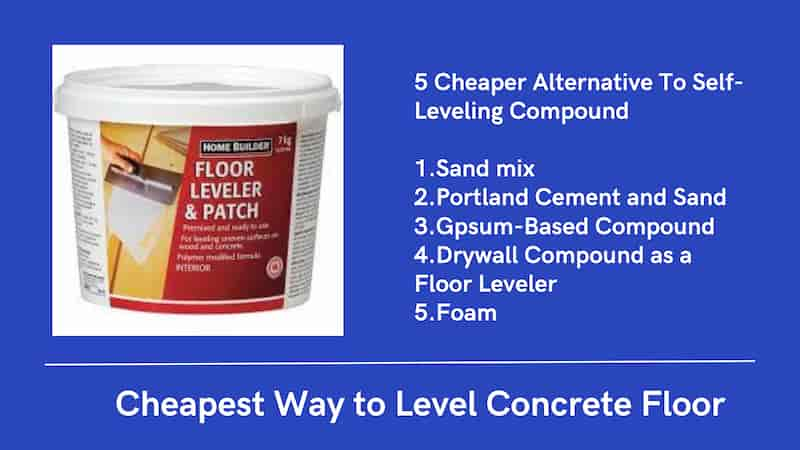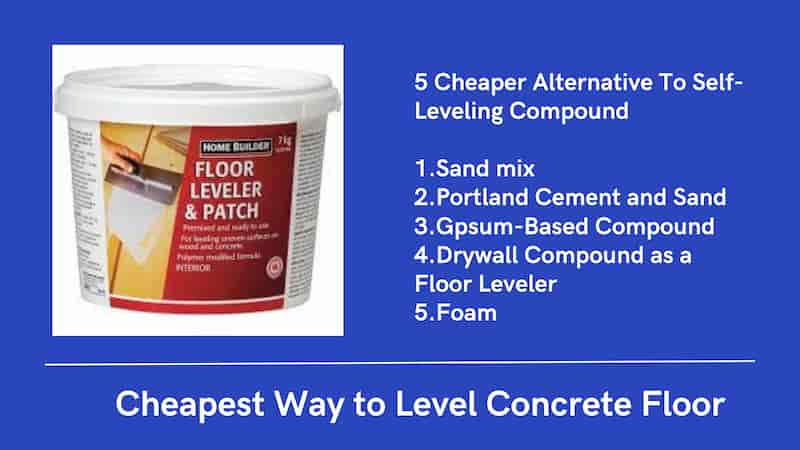 You can easily level a concrete floor in a few steps using a sand mix for self leveling. A mixture of sand is capable of providing similar SLC-grade results. However, you need some extra effort and time while leveling, as per the proper instructions in it. You need the same level of skill on the even floor.
Do you know how SLC works? Let me friend tell you that SLC is a type of cement. which contains polymers. When water is added to it, it turns into a liquid-like consistency. You can easily level the concrete floor by pouring this compound on the uneven floor.
No special skills or experience are required to use SLC compound. SLC compound can be used by following the instructions given above. But, it is very expensive, especially for large projects. Sand admixture becomes a suitable alternative for SLC from a precise and economic point of view. So, without further ado, or care, let's get started on how to level concrete floors cheaply, step by step.
1. Prepare The Floor
First, you have to prepare the uneven floor surface. It's surface you have to free from dirt, oil or grease. If it has any loose material, clean it too. If necessary, you should clean the floor using a power washer.
2. Proper Mixing of Sand Mix
Mix the sand mix properly and apply it on the uneven surface of the concrete. A ratio of one part portland cement to three parts sand is suitable for its proper mixing. which can achieve the desired result. To get more information, you can contact the experts.
Spread the ideal sand mixture on an uneven floor. Then, use a trowel or some other flat tool to level it.
For larger projects, using sand mix requires a lot of effort. However, you will get the desired result cheaply in it.
Once you have spread the sand mixture at floor level. Then, wet the sand mixture. You should spray it with a light spray.
3. Leave the Surface To Dry
After wetting the surface, it's time to let the sand mix level the surface to dry. The duration of this process varies depending on the local temperature and humidity. Ideally, it takes about 12 hours to dry the entire surface.
4. Get Rid Of Sand Particles
After the sand has dried, any sand particles on the floor must be removed. For that, you should use a bristle brush. It will help remove any particles still attached to the surface. Handle carefully to avoid scratching the floor.
However, these step is not always necessary. After the floor has dried, if there are no sand particles, nothing must be removed.
Frequently Asked Questions
What Is a Cheaper Alternative to a Self-Leveling Compound?
5 Cheaper Alternative To Self-Leveling Compound
Sand mix
Portland Cement and Sand
Gypsum-Based Compound
Drywall Compound as a Floor Leveler
Foam
What Is the Cheapest Floor Leveling Compound?
The sand mix is one of the less expensive options for a self-leveling compound. You can use a sand mix to level up inequalities in your floor by combining sand and cement. However, the sand mix won't spread uniformly on its own, unlike the original product. To level it out, you will need a flat implement like a trowel.
Can You Use Grout to Level a Floor?
No, grout cannot be used for floor leveling. Generally, grout is used to fill tile joints and cracks. It is not intended for use as a self-leveling compound. Grout is unsuitable for leveling floors as it lacks the properties required for such tasks.
Can I Use Cement as Self Leveling?
No, cement cannot be used alone as self-leveling material. Cement will dry and crack without sand because it lacks the strength that sand provides. If you are considering using cement to level your floor, you should not do so. It can be used to produce a slurry, but not for self-leveling.
Cheapest Way to Level Uneven Concrete Floor
The most simple and direct method is to apply a self-leveling compound, also known as liquid floor underlayment or floor resurfacer, within sections of level-cut rails. The material flows out like thick syrup before hardening into a smooth, perfectly level surface in as little as an hour.