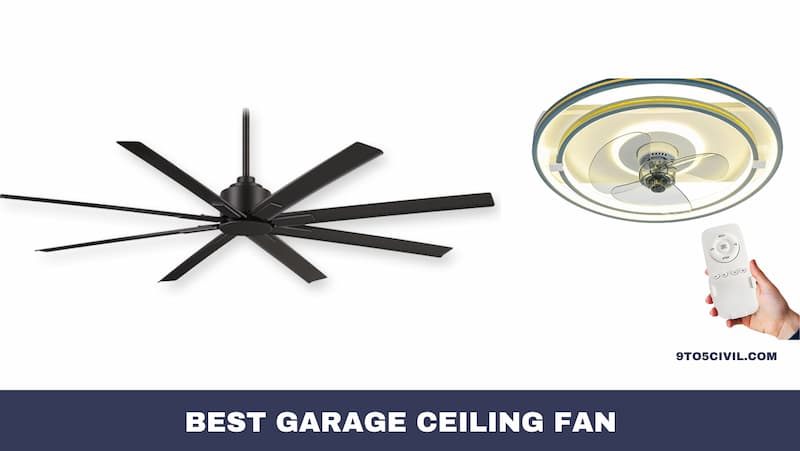 Best Garage Ceiling Fan
If you are looking for the best garage ceiling fan, then look no further. This article will provide you with information on the top garage ceiling fans available in the market today and help you make an informed decision when selecting one for your garage.
Garage ceiling fans provide the ventilation and cooling needed during hot summer months or when working on automotive projects that generate heat and fumes.
The best garage fan helps improve air circulation, making the space more comfortable on hot summer days, and helps distribute heat evenly in the colder months. It also helps reduce humidity and prevent condensation.
7 Best Garage Ceiling Fan
Garage ceiling fans come in two main styles: standard and low profile. Standard ceiling fans are more common and are suitable for large garages with high ceilings. Standard fans are known for their ability to move more air, making them effective in cooling large garage spaces. Low-profile ceiling fans are ideal for small garages or garages with low ceilings, which help save space and prevent collisions with tall objects in the garage.
Low-profile fans are easy to install in garages with limited ceiling clearance. However, modern garage ceiling fans come with motion sensors. Motion Sensor The fan runs only when someone is present in the garage. This can prevent the fan from running unnecessarily and reduce electricity costs.
Motion sensors eliminate the need to manually turn the fan on or off when entering or exiting the garage. When choosing a garage ceiling fan, the size of your garage, ceiling height, and your specific cooling needs should be considered.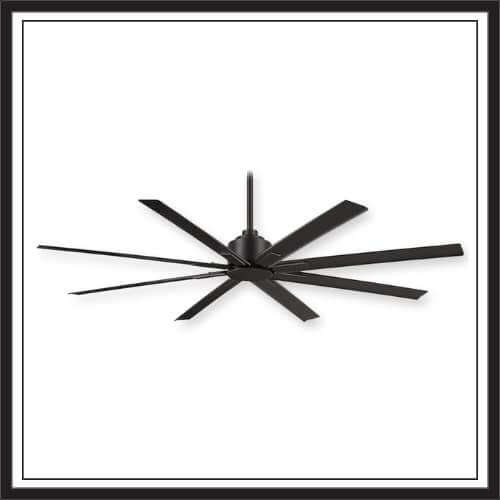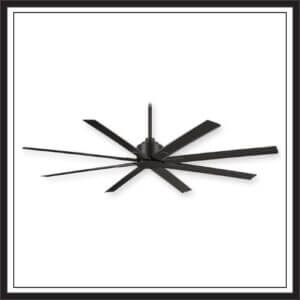 Minka-Aire F896-65-CL Xtreme is a high-efficiency ceiling fan. which is designed for use in garages. It is perfect for its powerful airflow and industrial style. This fan is an excellent choice for garages due to its powerful motor, large blade span, and durable construction. It helps improve air circulation and keep your garage comfortable.
The Minka-Aire F896-65-CL Xtreme Fan has an impressive 65-inch blade span, making it perfect for large garage spaces. The fan has 9 blades made of ABS (Acrylonitrile Butadiene Styrene) plastic. These blades withstand various weather conditions and provide efficient airflow.
Additionally, it is equipped with a full-function handheld remote control so you can adjust the fan speed and other settings remotely. The Minka-Aire F896-65-CL Xtreme offers multiple speed options. These typically include low, medium, and high settings.
Most Minka-Aire ceiling fans, including the Xtreme model, typically come with a limited lifetime warranty on the motor and a 1-year warranty on other parts.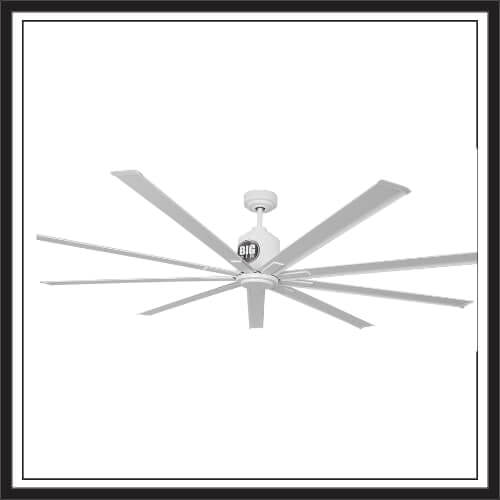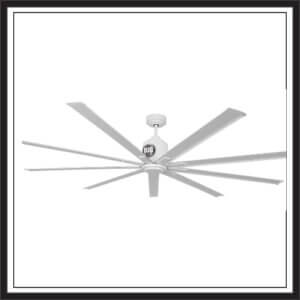 The Big Air 72″ Industrial Ceiling Fan is particularly suitable for large spaces such as garages. It is a perfect solution for workshops, warehouses, and commercial facilities. With a large 72-inch blade span, it can circulate air in even the largest garages. which provides a constant and comfortable environment.
The Big Air 72″ Industrial Ceiling Fan is remarkably energy-efficient. It is equipped with a high-performance motor that consumes less energy than traditional cooling solutions such as air conditioning units or multiple small fans. It is environmentally friendly and cost-effective to maintain a comfortable garage environment. it is an effective option.
The fan blades in the Big Air 72″ Industrial Ceiling Fan are made of high-quality materials that can resist bending over time. The Big Air 72″ Industrial Ceiling Fan features variable speed control. So you can choose from multiple speed settings to achieve the ideal level of air circulation.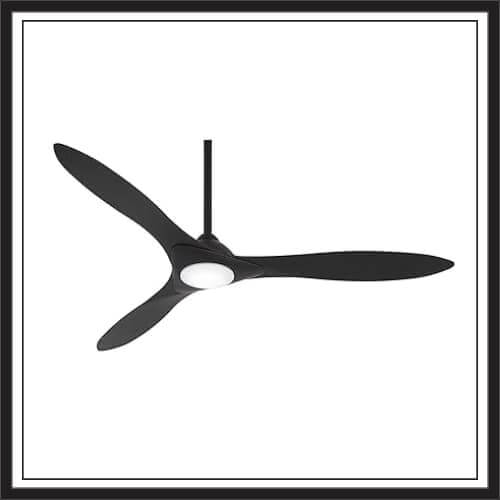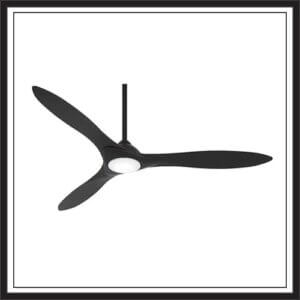 The Minka-Aire F868L-WHF is the Best garage ceiling fan with light designed for use in garages. Minka-Aire F868L is a smart fan. It is available in several colors including black, bronze, brushed nickel, and white. White is the most popular color among buyers.
It comes with a remote control that offers six pre-set fan speeds. Additionally, the remote can control the integrated 1200-lumen LED light. The Minka-Aire F868L can be controlled via an app for both iOS and Android devices. It also offers integration with popular smart home platforms such as Google Home, Amazon Alexa, Nest, and Ecobee. If you have one of these compatible smart devices in your garage, you can control the fan using voice commands.
4. Hubbell Industrial 72″ Ceiling Fan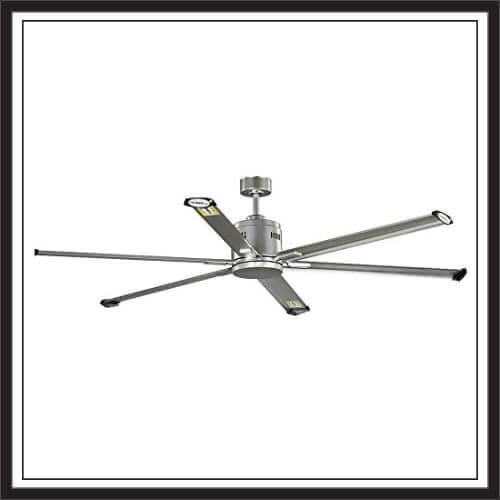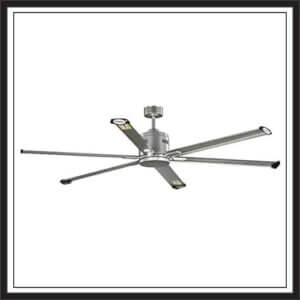 The Hubble Industrial Ceiling Fan is a budget-friendly option with a large size and impressive airflow capacity.
The fan is larger than most standard ceiling fans, with a diameter of 72 inches. Its large size can efficiently circulate air in large spaces.
The Hubble industrial fan is equipped with six aluminum blades and can move an impressive 8,423 cubic feet per minute (CFM) of air when set to its highest speed. This high airflow capacity allows it to cool large areas.
It comes with a metal wall control that lets you conveniently adjust the fan settings. Like other ceiling fans, the Hubble Industrial Fan can be set to rotate in either direction. Which makes it suitable for both cool and hot seasons. In the summer, you can set it to create a cooling wave, while in the winter, it can help distribute the warm air more evenly.
5. Hunter Kennicott 44″ Ceiling Fan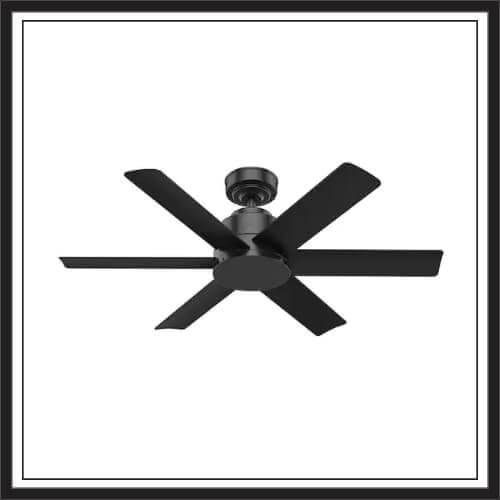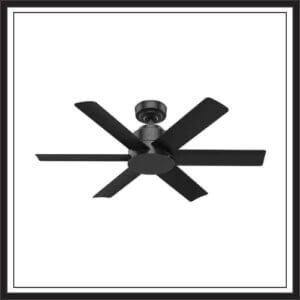 The Hunter Kennicott 44″ Ceiling Fan is a versatile and stylish ceiling fan. The Hunter Kennicott Ceiling Fan has a 44-inch blade span, making it ideal for rooms with limited space or low ceiling heights. Its compact size makes it best for bedrooms, small living rooms, and small garages. The fan has an attractive and modern design.
The Hunter Kennicott fan offers three-speed settings. You can adjust the airflow and cooling effect according to your comfort needs. The Hunter Kennicott Fan 44-inch fan can change the direction of fan rotation. In summer, you can set it to rotate counter-clockwise to create a cooling breeze. In winter, clockwise rotation helps distribute the warm air more evenly.
This ceiling fan is suitable for small rooms like bedrooms, small garages, small living rooms, home offices, and other comfortable spaces.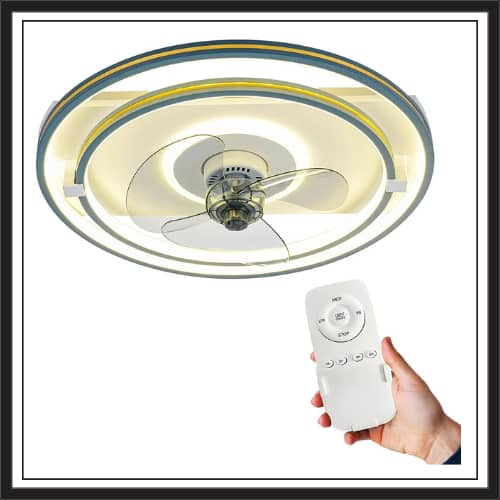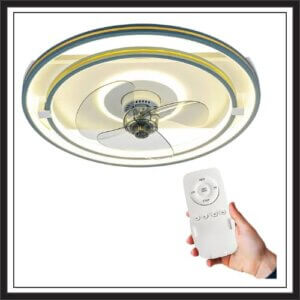 VYROL Flush Mount Ceiling Fan Light is suitable for garage use. It is a viable option for improving airflow and lighting in garage spaces.
This fan combines the functions of both a ceiling fan and a light fixture. That makes it practical for garages that need both air circulation and lighting. It also features a flush mount design, which is convenient for low ceiling heights found in garages.
The size of this fan may vary. So it is important to check the product specifications. In general, it is also suitable for different room sizes, including garages, with different blade spans and dimensions.
Control options may vary depending on the VYROL flush mount ceiling fan model. Some versions of these fans come with a remote control, while others may offer compatibility with smart home systems such as Wi-Fi or voice control.
7. Air King 9375 Ceiling Mount Fan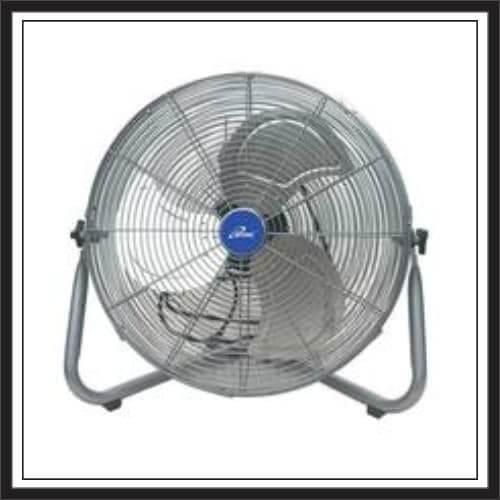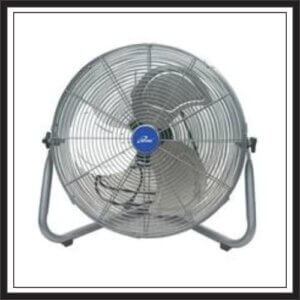 The Air King 9375 ceiling mount fan is an excellent choice for garage use. Its durable construction, powerful motor, and ceiling mount design are the best options to keep your garage well-ventilated and comfortable.
A ceiling mount fan like the Air King 9375 is ideal for garages. Because it saves valuable floor space, keeps the fan out, and also provides air circulation throughout the space. This is especially beneficial when you have limited space in your garage.
The Air King 9375's oscillating feature ensures that air is distributed evenly throughout your garage. Despite its powerful motor, this fan is designed to be energy-efficient. It can help keep your garage well-ventilated without significantly impacting your energy bills.
The Air King 9375 is versatile enough for year-round use. In hot weather, it provides cooling. While in the colder months, you can reverse the fan to help distribute the warm air more evenly. Which is useful for maintaining a comfortable garage temperature throughout the year.
Conclusion
When it comes to choosing the best ceiling fan for a garage, there are many factors to consider. You should consider your budget, the size of the room, the style of the fan, and the features you require, such as speed settings, light kits, and remote controls. The ceiling fans mentioned in this article are all of high quality, energy-efficient, and offer excellent value for money, making them some of the best options on the market.
Like this post? Share it with your friends!
Suggested Read
Frequently Asked Questions (FAQ)
What Size Ceiling Fan for the Garage?
The size of the ceiling fan for your garage depends on the square footage of the space. For garages up to 144 square feet, a fan with a blade span of 36 to 42 inches should suffice. For larger garages between 225 and 400 square feet, opt for a fan with a blade span of 44 to 50 inches. If your garage is over 400 square feet, consider two or more fans or a single large fan with a blade span of 52 inches or more.
What Is the Best Garage Ceiling Fan for Hot Climates?
Best Garage Ceiling Fans:
Minka-Aire F896-65-CL Xtreme
Big Air Industrial Ceiling Fan
Minka-Aire F868L-WHF
Hubbell Industrial 72″ Ceiling Fan
Air King 9375 1/3 HP Oscillating Ceiling Mount Fan
How to Choose the Right Size Garage Ceiling Fan?
Measure the Garage Dimensions:
Consider Ceiling Height:
Calculate Cubic Feet:
Choose the Fan Size:
Style and Design:
Check Manufacturer Recommendations:
Seek Professional Advice:
What Size of Best Ceiling Fan for a Large Garage?
For a large garage, it's recommended to choose a ceiling fan with a blade span of at least 60 inches or more. This will help ensure effective air circulation and cooling in the spacious area.
What is the Best Fan for Garages with High Ceilings?
The best ceiling fan for a garage depends on the size and layout of the garage, but generally, a fan with a high airflow rating (CFM) and a large blade span is preferable. Some of the best-rated garage ceiling fans are:
Minka-Aire F896 Xtreme (84-inch, 11,000 CFM)
Big Air Industrial Ceiling Fan (88-inch, 13,000 CFM)
Hubbell Lighting P250017-152 (72-inch, 8,423 CFM)
Hunter Fan Company Builder Elite (52-inch, 4,999 CFM)