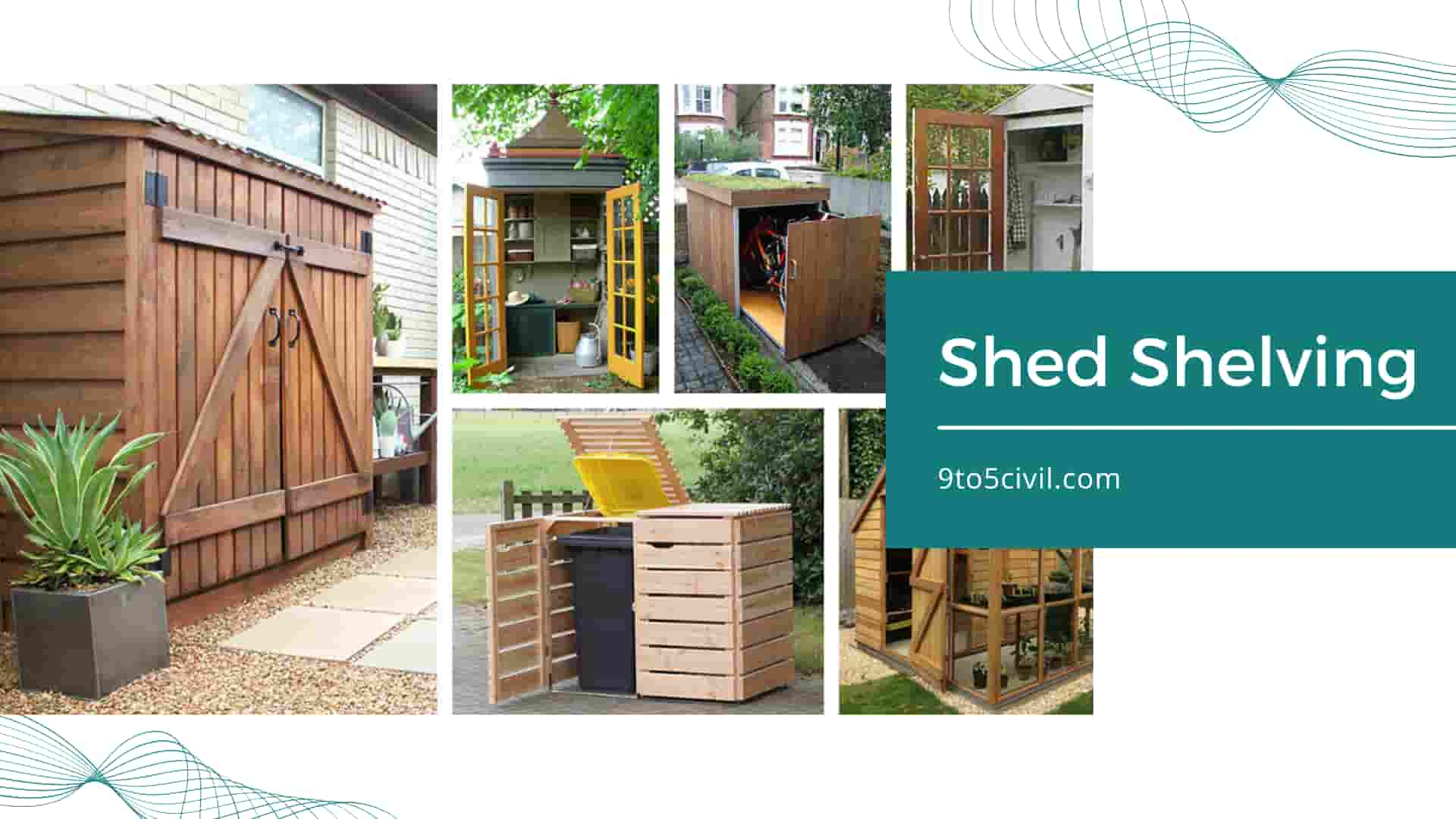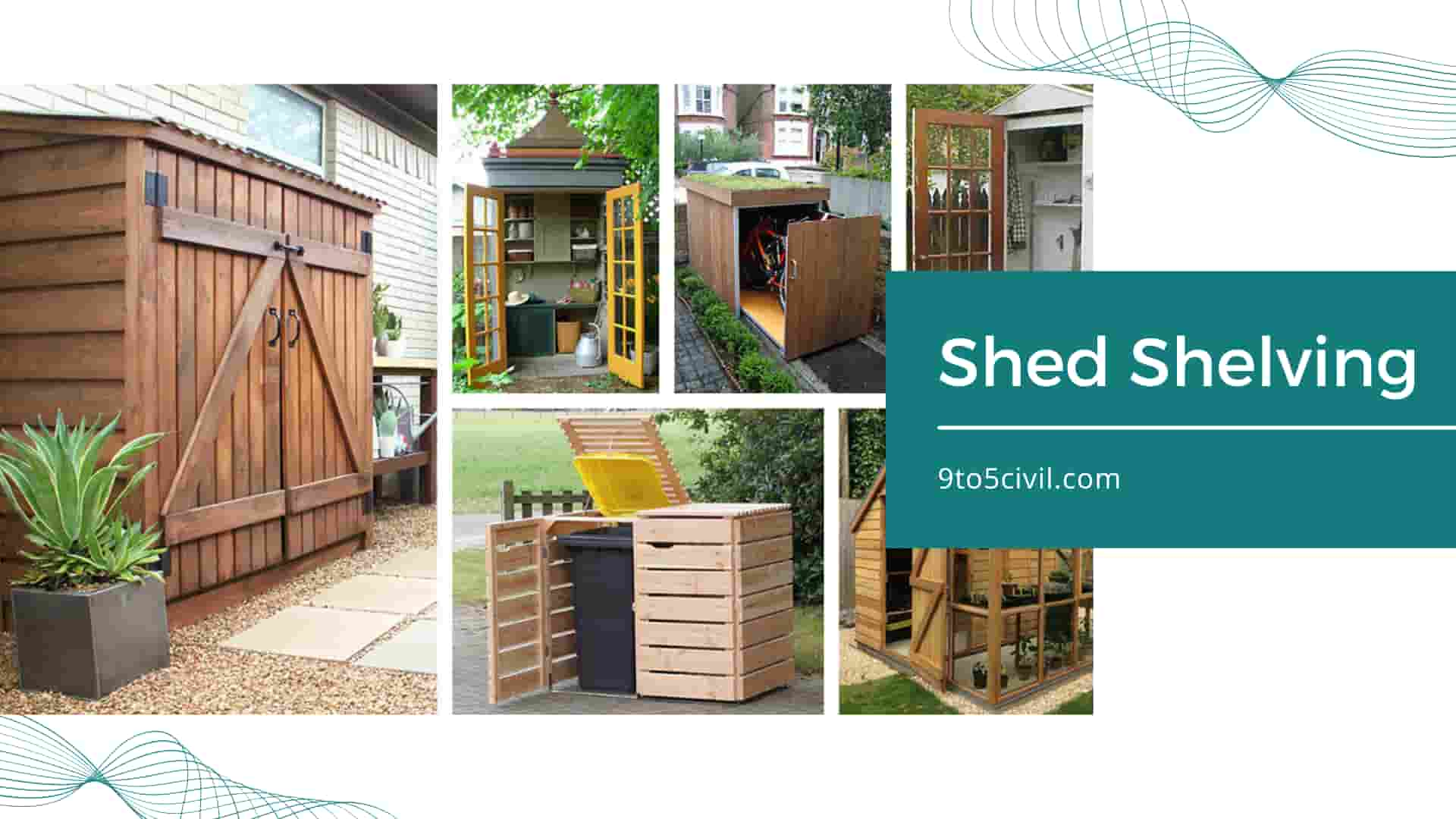 Best Shed Shelving Ideas
A shed is used to store extra items. Which you cannot store in your home and most of them are made in the home yard. Even those houses that have a shed cannot store more things in the shed. The reason is that they are not installed properly which will fit more things. Most people would think that building a shed is a waste of money if you can't use it to store more things.
You just have to use some ideas on how to build a shed properly to get more space to store things in the shed. Many people think that making a shed is difficult and expensive but it is not. I am going to share some great shed shelving ideas that are simple, effective, and quite affordable. Here are some great shed shelving ideas for storage:
This article also tells you what mistakes to avoid during the best shed shelving ideas and what not to store in the shed.
Also Read: What Is Quartz Pool Finish? |  Types of Quartz Pool Finish | Quartz Pool Finish Cost
Best Shed Shelving Ideas
Here, the best shed shelving ideas are as follows:
1. Clean Up the Space
Before doing anything you should clean all the area of the shed. Then only you can work on shelving the sheds properly as untidy space is not suitable for doing anything.
Clean areas motivate you to work more efficiently. And clean space will help you in deciding where to put different types of shelves rather than cluttered space.
2. Upcycle
Use the items which you already have for storing in the shed before buying and building new shelves. That not only save money but also recycles the thing which you think are trash.
So don't have to use only new things for storage in the shed but you can use old shelves just by transforming them a little bit. It also saves you from buying many shelves at one time and it saves your money.
3. Storage and Workspace in One Place
Many sheds are only used for storage but if you organize the shed well, you will have space for working. Workspace can be the low areas and the storage areas can be installed higher in the head of the workspace.
By doing that you can easily work there and also have a storage facility. It also saves the space from getting wasted and you get somewhere to work outside your house.
4. Use Heavy-Duty Shelves
Heavy-duty shelves are a good choice if you want to install shelves for storing things. They can be used for storing almost everything. Gorilla racks are heavy-duty shelves used by many people for their sheds.
It came with built-in advantages for storage shed organization. However, for installing these you must have a level floor. It is not at all suitable for a shed with a dirt floor.
5. Hooks for All-Purpose
Hooks can be used to hand large tools and hoses. Things like bungee cords, hanging power cords, buckets, ropes, and many other things can be hung in the hook. Hooks are space-saving, low-cost, and user-friendly items. It uses the shed wall area rather than the floor area.
6. Get Rid of Unnecessary Items
Things of no use should not be there in the shed. Try to declutter the area as much as possible so you can store more necessary things. Sometimes unnecessary things take all the place and do not leave a space for necessary items which will be required for working. It clears the space for you to use for other things.
7. Tool Hanger
Tool hangers come in handy in shed storage as there are many tools used. Tools like shovels, rakes, gardening tools, and many more can be easily hung on the tool hanger.
You don't even have to drill holes in the tools to hang them. You can install the tool hanger on the door. You can use it to hang mop and broom also, which are necessary for the shed for cleaning purposes.
8. Magnetic Bar
Magnetic bars can be used to store small tools. Then there will be mot much need for hangers. It can be easily installed so preferred by many people. You can stick all the metal tools on the magnetic bar and you don't have to worry about losing them. You can install the upside of your workplace so you can use the tools easily.
9. Small Shelves
Adding small shelves in the shed other than big shelves comes in handy to store all the small things. It is very troublesome to look for small things all over the place when you are working. So by building small shelves it is easy to use small things like gloves, screws, nuts, bolts, etc.
It is better to build the small shelves upper side of your workspace, so you don't have to look for it anywhere else while working on your project.
10. Fold-Down Table
Fold-down tables come in handy in a shed. You can do potting, store tools, or use them for your work. After that, you can fold it up and you will get the space clear which can help you to work on other things easily without stumbling on anything.
But it should be built in a strong wall. Most of the sheds have big and sturdy tables but it is not possible for those who have little space. So for them, a folding table is a suitable option.
11. Light Up the Space
You can not work properly if you can not see properly inside the shed. For that, you have to install the space with some lights to work properly there.
Lights not only help you to see things properly but also gives an aura to the place. There are different types of lights you can choose from. Just by putting on some lights can make the shed look good.
12. Use the Doors and Outside Walls
You should use all the space in the shed to get more storage area. Doors and walls can be used for storage too. You can install hangers and hang all the tools, ropes cords, and hoses.
You can easily use these things by taking out them from the hanger.  It is used for space-saving by freeing up the floor space. You can also hand mops and brooms as they are used regularly to clean the space of the shed.
13. Adjustable Shelving
For more space needed in the shed, you should use adjustable shelves. You can adjust it upside or downside according to your need. It is used to hold more things by taking up less space.
It also makes the area of the shed look clean as it does not clutter the space because of its space-saving feature.
Also Read: What Is Clerestory Roof? Why Install a Clerestory Roof? Clerestory Roof Cost
Mistakes to Avoid Storage Shed Shelving Ideas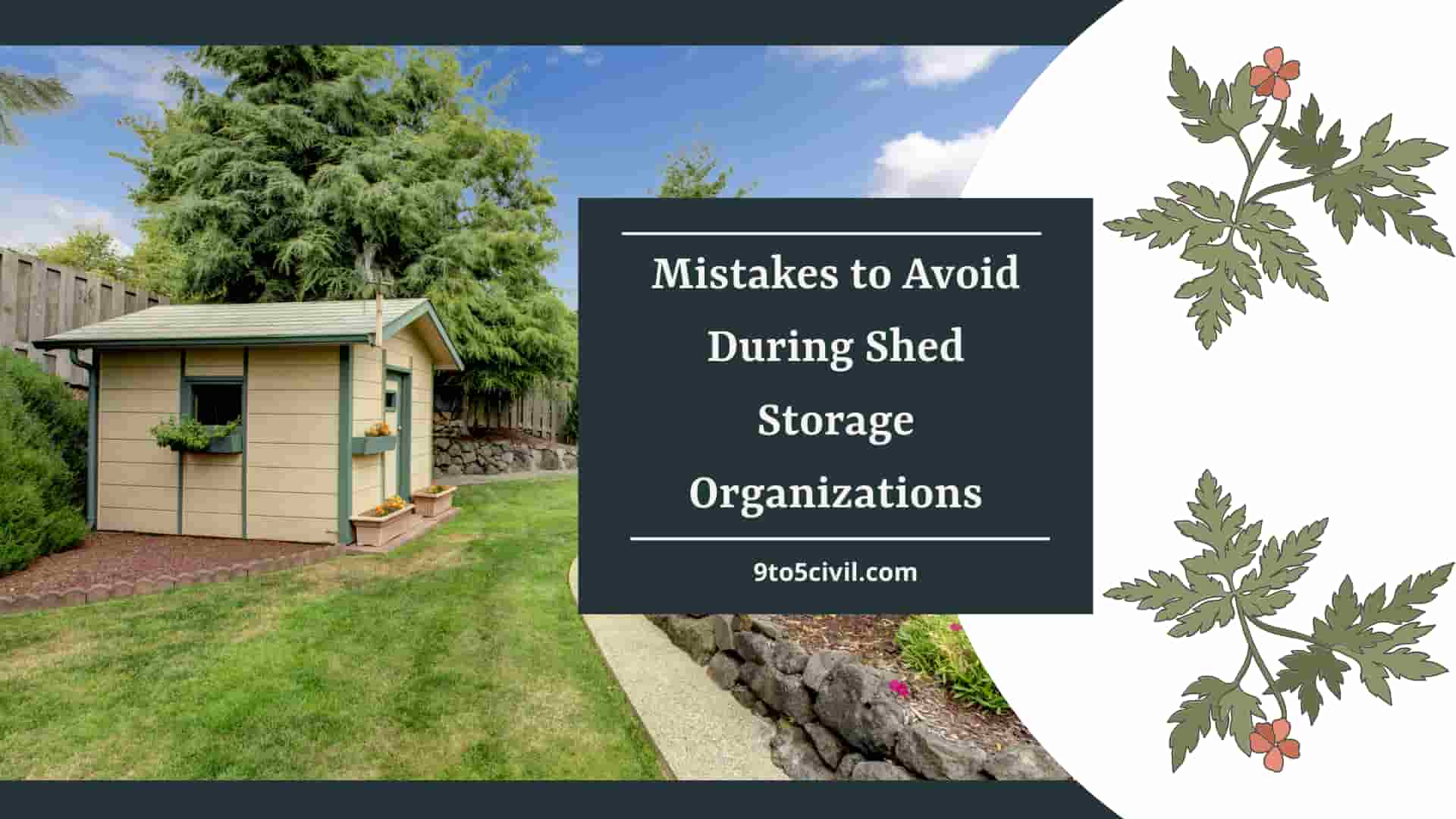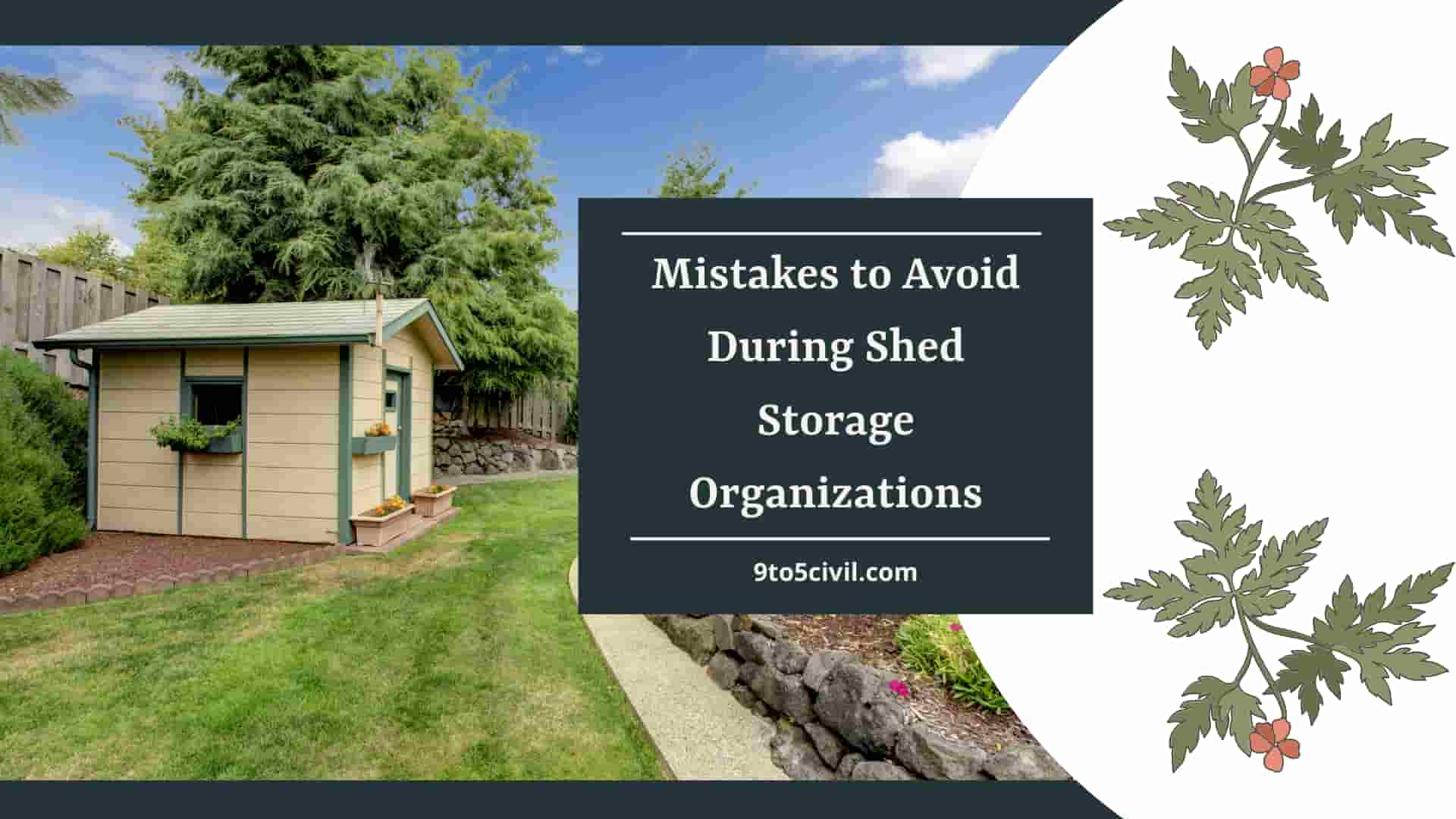 1. No Proper Labeling
If you don't label things properly then it will be difficult to find things in the shed storage. If the labeling is not done properly then you may have to go through all the storage boxes just to find what you are looking for.
2. Flimsy Storage and Wrapping Materials
You should buy boxes made up of rubber or plastic and should avoid cardboard boxes as they damage easily as compared to rubber and plastic boxes. Cold, heat, and humidity can affect many materials, so it is better to choose boxes of material that can withstand all of these. Then they can be used for a long time.
You should also have bubble wrap or foam for packaging fragile things. To protect the things in the shed storage you should buy boxes which can keep them safe from damage.
3. Overstuffing
Check all the boxes in the storage, it should be packed properly and have to close, you should only open them when you need them. It helps in moving the box easily and stacking them neatly. Don't overstuff the things in the shed.
4. Putting Things on Top of Breakable Things
Put all the fragile things somewhere safe from the damage. Don't keep the breakable things somewhere you can unconsciously stack other things on top of it. Like antique china or some things made of glasses.
5. Stacking Boxes on the Floor and Against Walls
Get some pallets to stack your boxes. Pallets keep items off the floor away from the weather and pests.
6. No Pest Control
It is very important to have pest control for your shed as it will get pests no matter what. Because it is made outside and attracts bugs and pets. So you should have traps for them and chemicals to get rid of the pest. If there is no pest control, it may damage all the storage shelves, especially wooden ones.
7. Lack of Organization for Like Items
When items are stored in the shed they should be organized. So you can find things easily. Otherwise, in an unorganized environment, things get lost and you can not find things when you need them.
When things are organized the area looks clean too. Organizing things is an important task for keeping the space clean and useful.
8. Using It for Temporary Storage
The shed should be used to keep things which are there to store permanently. Because things which are kept in storage shed are put there and often forgotten. So if there is something you need to keep there temporarily you shouldn't keep them in the storage shed. These should be kept in a place where you can see them properly so it is not a good idea to store them in the shed storage.
9. Lack of Inventory
An inventory is very important to keep track of things like any insurance claim of the weather disaster or robbery events. You can use it to keep track of things in the shed storage. It is easy to know where is something kept without going through all the boxes. So an inventory is a must for shed storage organization.
10. Lack of Cleaning
Shed storage should be cleaned properly and regularly. It makes the place look good and it is hygienic. So you should sweep the floor to keep it dust-free and clean all the cobwebs in the shed and the shelves.
It should be clean so you can work properly without stumbling on things. It should be a comfortable place for you to work so don't neglect the cleaning part.
Also Read: What Is Permeation Grouting? | Uses of Permeation Grouting
Maximize the Shed Storage
All the space in the shed storage should be used as the floors, walls, and doors, to maximize the shed storage. Before putting shelves in the shed you have to plan where you will build which shelf or where to put the different kinds of tools and equipment. And also which selves will be fixed to walls or which will freestanding. Shelves should be built in higher places also so the floor can be clutter-free.
Things which are used least frequently should be kept on the higher shelves because it will be hard to read them. So put the things you use often somewhere you can have access easily. It will help you to organize the shed better without cluttering all the things.
Hangers should be used in the shed storage to hang larger tools without propping them. And for small tools racks should be arranged in a fashion to use them easily like keeping one shelf on top of another. Then the tools can come in handy for use during work.
You can use hangers to hang hoses and gardening tools. These things not only maximize the space but also declutter the space. Everything should have places to keep all the things. It also gives the shed a clean look.
Also Read: What Is a Fiberglass Water Tank? | How Long Do Fiberglass Water Tanks Last?
Things Not to Store in the Shed Storage
Things that are kept in shed storage should be chosen on the basis of their withstanding property of them. Things that can get affected by temperature, weather, and moisture should not store in the shed storage.
It will damage the things which store in there and it will cost extra money to buy and repair them. So which things doesn't affect by conditions of the outside should be kept there. Those will be safe for a long time in the shed storage.
Things like glue and paint should not be stored in the shed storage as they become unusable when the temperature changes. So it's better to keep them elsewhere to protect them from damage.
Wine and canned food should not be stored there as they will be spoilt. Things that can be affected by damp places should not be kept in the shed. Those things are papers, photographs, cardboard, electronics, and so on can be get damaged easily by the dampness of the place.
Also Read: What Is a Concrete Cistern Tank? | Concrete Cistern Cost
Conclusion of Best Shed Shelving Ideas
Shed shelving is very important for storing things in the shed. This article contains modern and trendy shed shelving ideas which will help you to build shelves for the shed without cluttering the space and using all the space for shelving.
Hope this article helps you find the information you are looking for regarding shed shelving ideas. And hope it helps you in the shed shelving store of your own shed.
---
Like this post? Share it with your friends!
Suggested Read –
---
Frequently Asked Questions (FAQ)
How to Build Shed Shelving?
First, make a sketch of the shelves according to your plan. Frame the shelves according to this plan. Then fix the plywood top in each frame. Add foot positions to support the shelf as needed.
What Are the Best Storage Ideas for a Garden Shed?
Storage Ideas for Garden Sheds:
Install Adjustable Shelving.
Add Floating Shelves.
Repurpose Bookshelves.
Use Free-Standing Metal Shelving.
Stack Wooden Crates for Storage.
Store Nails & Screws in Jars.
Keep Tools in Plastic Tubs.
Use a Tool Hanger for Long-Handled Items.
What Are the Best Storage Ideas for the Living Room?
Small Living Room Storage Ideas:
Create Sleek Alcove Storage
Place Mirrors Behind Storage to Enhance Space
Build Bespoke Cabinetry to Fit Storage in a Small Living Room
Use Small Living Room Storage to Go Broken-Plan
Color Coordinate Your Display
Make the Most of Existing Features
Choose Slimline Small Living Room Storage to Enhance Space
Use a Niche Corner
Introduce Symmetry for Neatness
Create the Perfect Fit
Create a One-Off Look with Modular Living Room Storage
What Is the Best Type of Storage Unit for a Shed?
An open shelving unit can be excellent for shed storage. Which can easily accommodate everything needed. It is a very common practical idea. While metal buckets may be suitable for tools storage.
Best Storage Ideas for Apartments
Best Storage for Small Apartments:
1. Maximize Your Closet Space
2. Put Away Out-of-Season Clothes
3. Add Floating Shelves and Hooks
4. Think Storage-Focused Furniture
5. Install More Shoe Storage Racks
6. Hang Your Pots and Pans