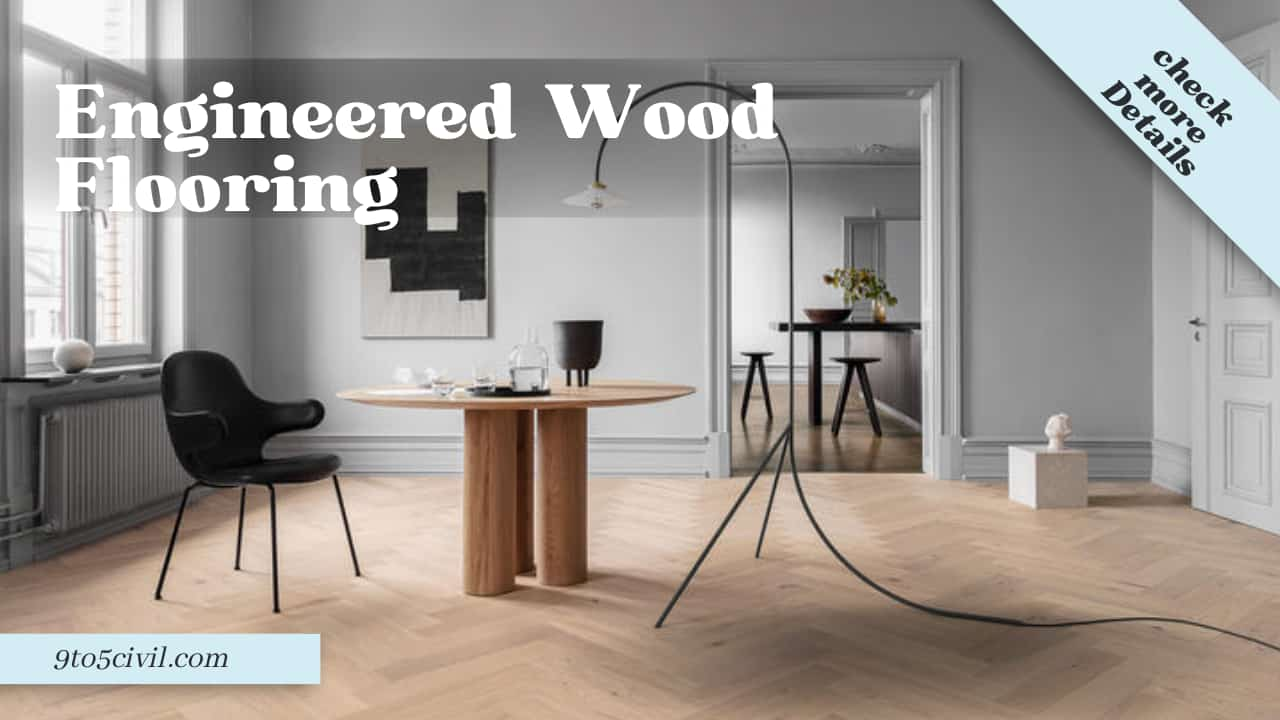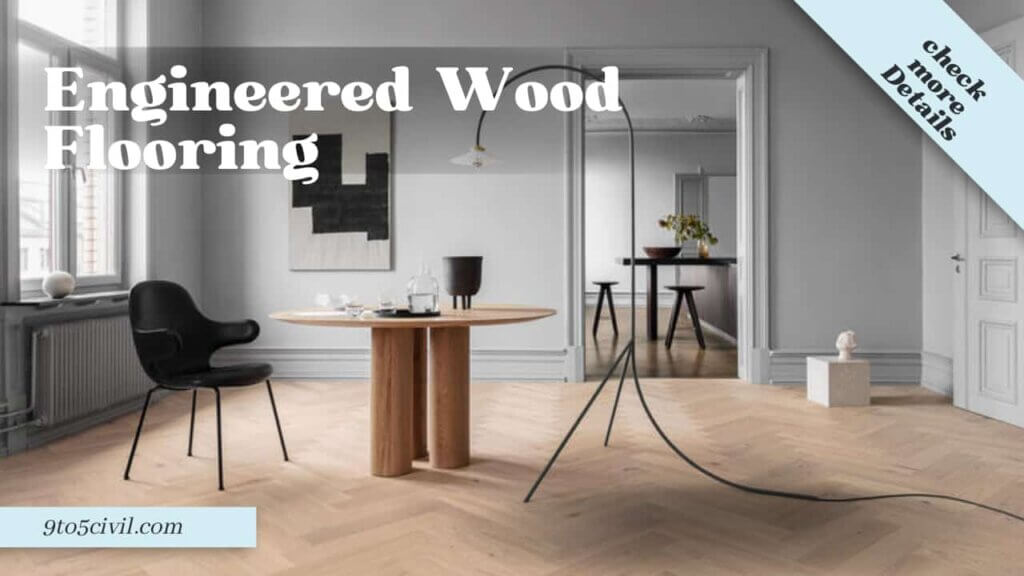 In this article, we are going to highlight the various pros and cons of engineered wood flooring and engineered hardwood flooring for basements.
Basements are traditionally very difficult spaces and they usually go through condensation. Most people use solid wood flooring in the basement because it is so beautiful in appearance. But hardwood flooring cannot withstand high levels of humidity and occasional flooding. So installing hardwood flooring in the basement may not be the best option.
Engineered wood flooring is one of the best options for the basement to deal with this problem. Best Engineered wood flooring is made from hardwood with a stone plastic composite core which is water-resistant flooring for wet spaces like a basement.
What Is Engineered Wood Flooring?
The Engineered wood floor has layers of both Wood and plywood in equal amounts, the solid Wood, on the other hand, makes use of a solid piece of wood with no extra layers put over it. The former is considered to be a rational way to add that sparkle of glamour and vitality to your room.
Though there are a few things that one must necessarily factor in when going for an engineered wood flooring. Engineered wood flooring has higher durability and high-performance properties that makes it unmatched.
Since it is installed with multiple layers of wood, the positioning of each one of these differs. Such a construction guarantees that the flooring lasts a while, there is a reduced likelihood of buckling and bending the way Wood floors are expected to in moist areas.
Plumping for such a Wood over those solid ones is that the construction extends over to even grade level homes, inclusive of below ground with a reinforced moisture barrier installed. Further engineered Wood is not as high maintenance as you might be expecting because of its classy look and finishing.
Also Read: What Is Travertine Flooring? | Travertine Flooring Pros and Cons
How Long Does Engineered Flooring Last?
The lifespan of your engineered flooring depends on a number of factors including the thickness of the veneer laid on the flooring, the quality of the flooring material that goes inside, and how well you are maintaining the floor.
If well thought out, it can last a lifetime, as it affects the life of your floor. Engineered wood can add that extra style, life, and value to your convenient space. Such companies offer a variety of options to choose from so that you do not compromise on a style that does not suit your tastes.
Unlike other flooring whose installation is limited to the basement or bathroom only, engineered woods allow you to install it in the basement of your home and also in the toilet space if those sections have a moisture barrier installed.
Also Read: SPC Flooring | SPC Flooring Pros and Cons
Engineered Wood Flooring for Basement
Engineered wood with a stone plastic composite (SPC) inside is the most suitable water-resistant flooring for a space that is perennially wet and difficult to move around.
These woods are clearly real wood flooring that allows their customers to enjoy the same warmth. Such woods can easily adapt to humidity and temperature variations, making them perfect for basement spaces.
There are various reasons why you should consider offering the Best engineered hardwood flooring, especially when it comes to the basement space of your home.
The first and foremost property that sets engineered wood apart from other basement flooring options is water resistance. Engineered wood flooring with SPC is made of limestone and PVC which is combined with pressure. Waterproof engineered hardwood helps to stabilize the floor and keep water in the bay.
A genuine and original Wood veneer is attached over the bonded layers. Since the same Wood species goes into the making of the solid wood as well as these engineered Woods, all the natural characteristics of the wood are retained through this. Having such flooring installed presents you with numerous opportunities to use your basement space as any other functional area like a living area, dining space, or even a guest room during an emergency.
Some of these engineered wood floorings are installed with a vision to conjunct it with a heating system in your space. A few prerequisites like the installation of sub-floors to be able to acclimatize the heating system, need to be fulfilled. Adding radiant heat slashes the energy costs by dollars and there is no need for forced-air heating after having installed these.
Yes, you don't need any professional to make several visits to your place to install engineered Wood. Just a little DIY, tutorial, and equipment obviously, and you are ready to install your own engineered Wood flooring. Engineered Wood that is apt for below-grade applications has a click-lock system that makes it a lot easier to install it yourself.
Another benefit of pitching on engineered Wood for your basement comes with its long lifespan. If homeowners take special care of their floors and maintain it can last several decades. The lifespan of the same hinges on how thick the plank is. If you choose thinner planks, they would not go over 30 years whilst thicker ones can last up to 80 years or more. Bear in mind, that such nuances might differ from floorings to floorings, wherein the cheap versions might not stretch for that long.
At the time of reselling, you would be one up on the rest of the resellers. Solid Wood often adds to the value of the house so any commercial or residential space having engineered Wood flooring is bound to have a slightly higher price than the rest.
Engineered oak flooring is a combination of a top layer of real wood mixed with different backing layers. Which makes flooring the number one choice for the most stable wood flooring option.
Also Read: Peel and Stick Flooring (Complete Guide)
Pros and Cons of Engineered Wood Flooring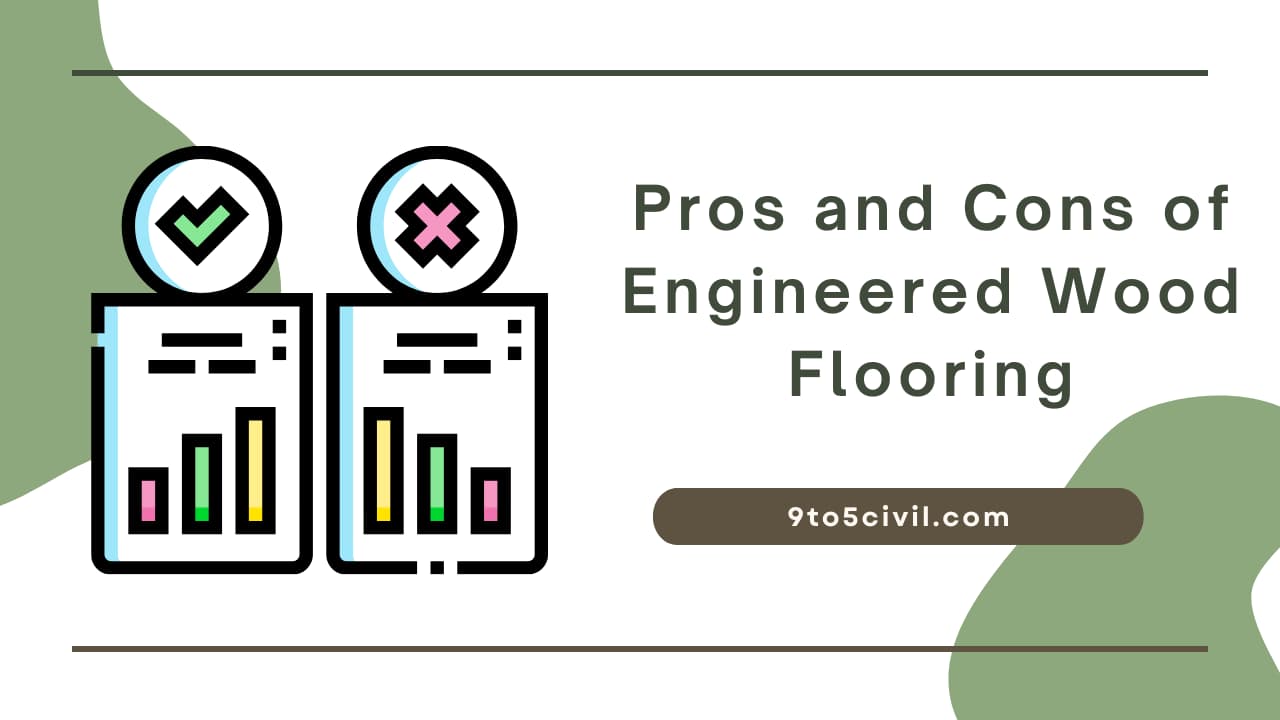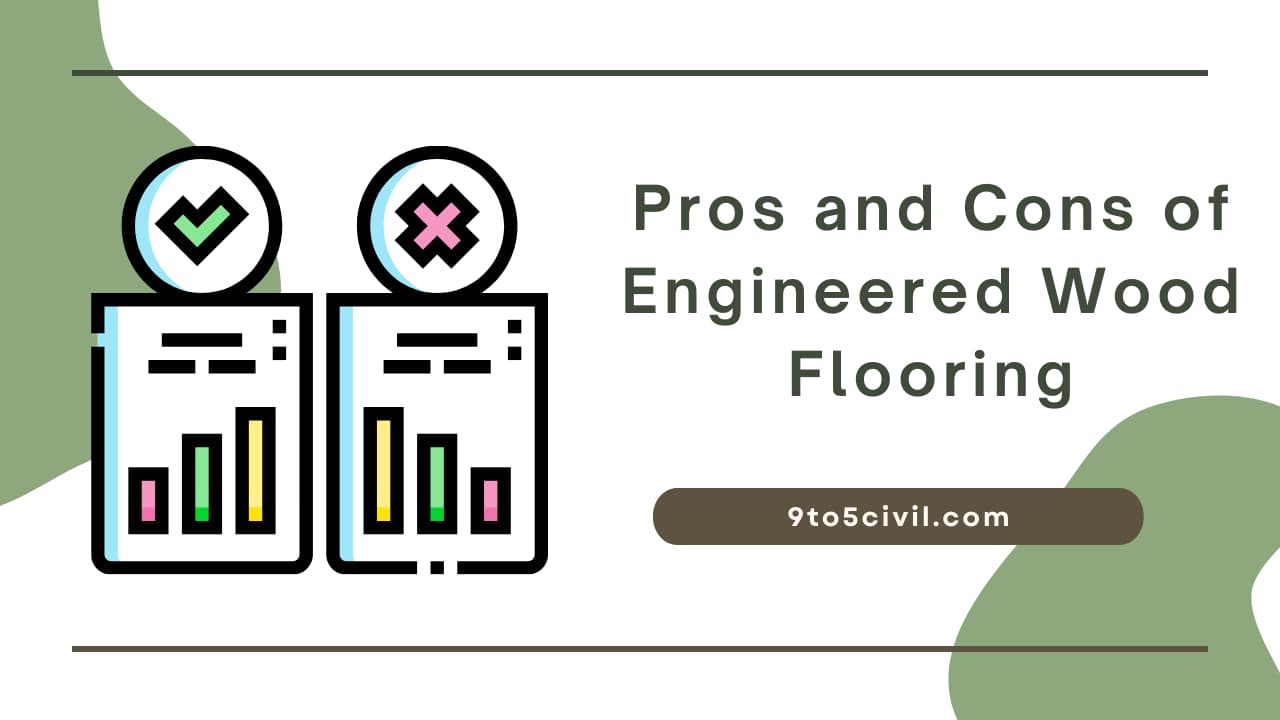 There are several pros and cons of engineered hardwood flooring.
Pros of Engineered Wood Flooring
Engineered Wood has a lot of benefits that come with installing them. Engineered Wood is created in a way to block out moisture problems associated with installing solid Wood. By rooting out moisture, the stability of your floors is enhanced.
There won't be any swelling or warping of the surface with the Engineered wood. Besides this, engineered wood flooring is environmentally friendly. So when you are choosing these floorings, you are mindful of your environment too.
The veneer of engineered wood is sliced instead of pruning it into small pieces using a saw, so there's little to no sawdust belching out of the process. And also that any type of tree could be used for the same. You are saving on a significant amount of wood too since there's less sawdust coming out.
The trees that go into creating solid Wood shape up slowly as compared to those used to make engineered wood flooring cores. While making the veneer, more surface area is produced in the engineered wood.
An additional advantage of installing engineered wood flooring is that the trees being used for the same have a shorter replenishing time. Such benefits make engineered Wood a gazillion times better than solid wood.
Cons of Engineered Wood Flooring
Disadvantages of engineered wood flooring are:
There are several reasons for getting engineered Wood flooring installed in your living and basement spaces. Like any other thing, engineered Wood floorings too are neither perfect nor the most suitable flooring option for your home design project. The reasons for the same are outlined below.
The cost of the Engineered wood flooring is a little bit higher as compared to the other wood flooring options. If the engineered wood is exposed to the sunlight then there are the chances of fading.
The Engineered wood flooring is highly susceptible to dents and scratches.
The Engineered wood flooring which is of low quality may develop a hollow sound when we walk on it.
Engineered wood flooring requires regular maintenance as it is not highly durable.
Also Read: Stained Concrete Floors Pros and Cons
Cost of Engineered Wood Flooring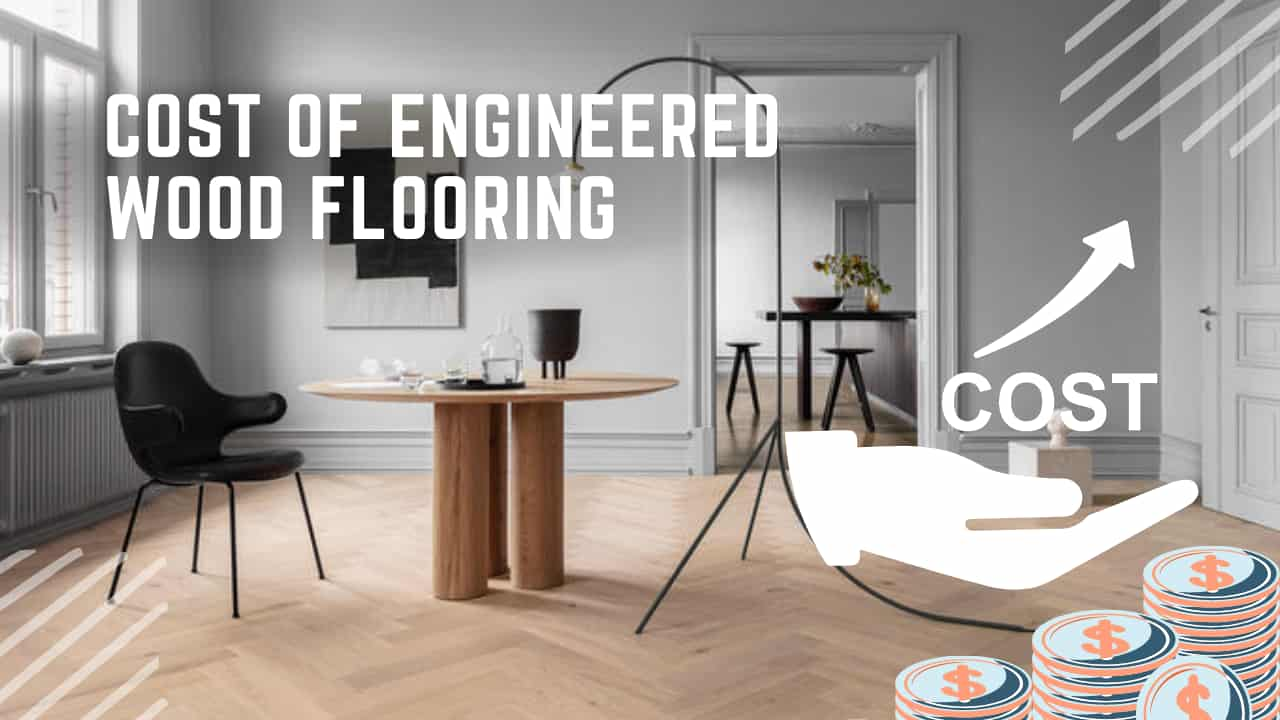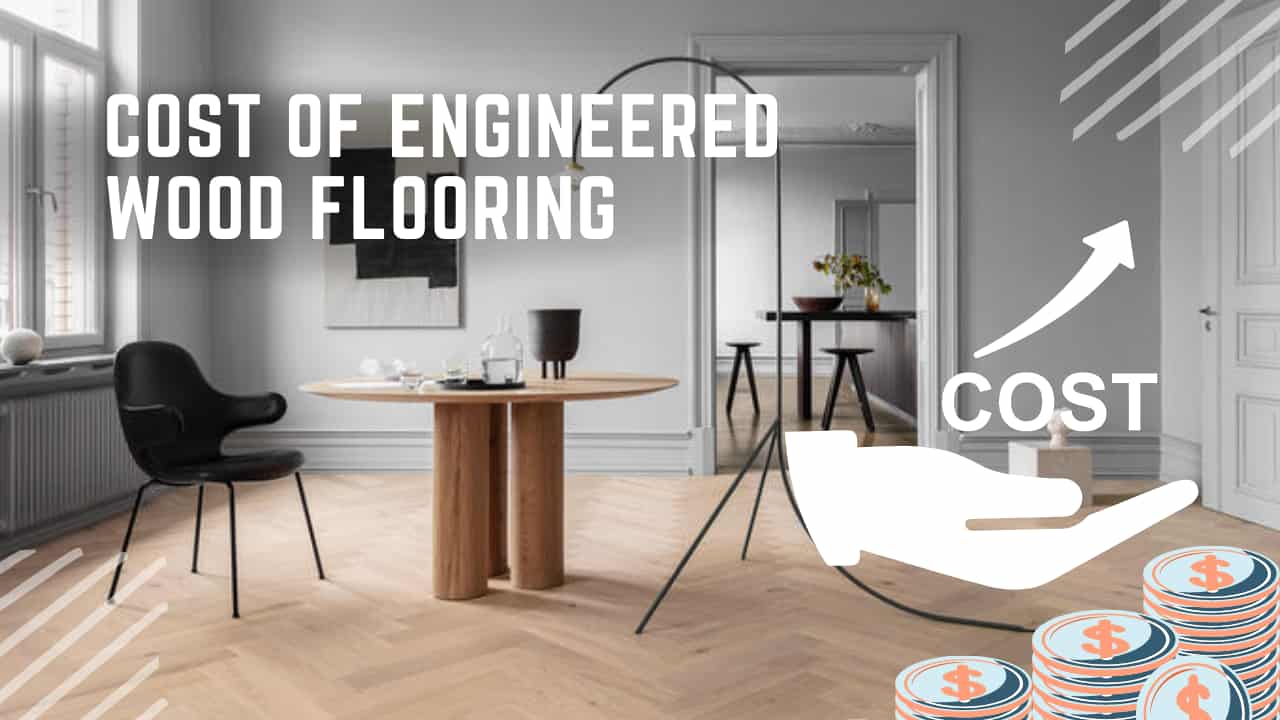 The average cost to get either solid or engineered wood flooring installed is around $4500 overall. Engineered hardwood flooring installation costs can range from approximately $ 3.00 to 00 10.00 per square foot
The pricing structure of such floorings hinges on a couple of factors, including the location of your house, the size of the project, the type of flooring you have chosen, and the method of installation that you will be going for.
Speaking of the wooden flooring per square foot, the cost ranges between $3 and $15(solid or engineered whichever type you plump for) for domestic wood pieces. Exotic Wood species, on the other hand, might cost you a fortune. This is obviously not inclusive of the labor cost.
Labor cost
labor cost to install engineered hardwood floors in your safe space ranges from $3 to $8 per square foot. This would guarantee the professional installation of the floors. Though you can always DIY it.
Cost per 1000 sq. feet
1,000 square feet of engineered wood flooring can cost between $ 3000 and $ 8000 to set up commercially.
---
Like this post? Share it with your friends!
Suggested Read –
---
Frequently Asked Questions (FAQ)
Engineered Wood Flooring Cost
The cost of engineered wood flooring varies depending on the thickness of its top veneer and the layers of plywood beneath it. Low-end engineered hardwood can cost 3 to $ 5 per square foot, medium cost $ 5 to $ 10 per square foot, and high-end can cost $ 8 to $ 13 per square foot.
What Is Engineered Wood?
Engineered wood is a class of building products and materials. They are made by binding real wood pieces, scrap wood, shredded wood fibers, and sawdust. It is made with adhesive to make products that look and work like wood. It is a stronger and more durable building material
Best Engineered Wood Flooring Types
Engineered Bamboo Flooring
White Oak Engineered Flooring
Bruce Engineered Hardwood
Herringbone Engineered Wood Flooring
Brazilian Cherry Engineered Hardwood Flooring
Hickory Engineered Hardwood Flooring
Hand Scraped Engineered Hardwood Flooring
Home Depot Engineered Hardwood
Lowes Engineered Hardwood
What Is the Best Thickness for Engineered Wood Flooring?
3/4 inch to 5/8 inch overall thickness is best selected for engineered wood flooring.
Best Engineered Wood Flooring Brands
Proximity Mills Engineered Wood
Somerset Hardwood Flooring
Doma Engineered Wood
Paradiso Engineered Wood
Newton Engineered Wood
From the Forest Engineered Wood
Harris Wood Floors Engineered Wood
Bruce Engineered Wood
Johnson Hardwood Engineered Wood
Kährs Engineered Wood
LM Flooring Engineered Wood
Mullican Engineered Wood