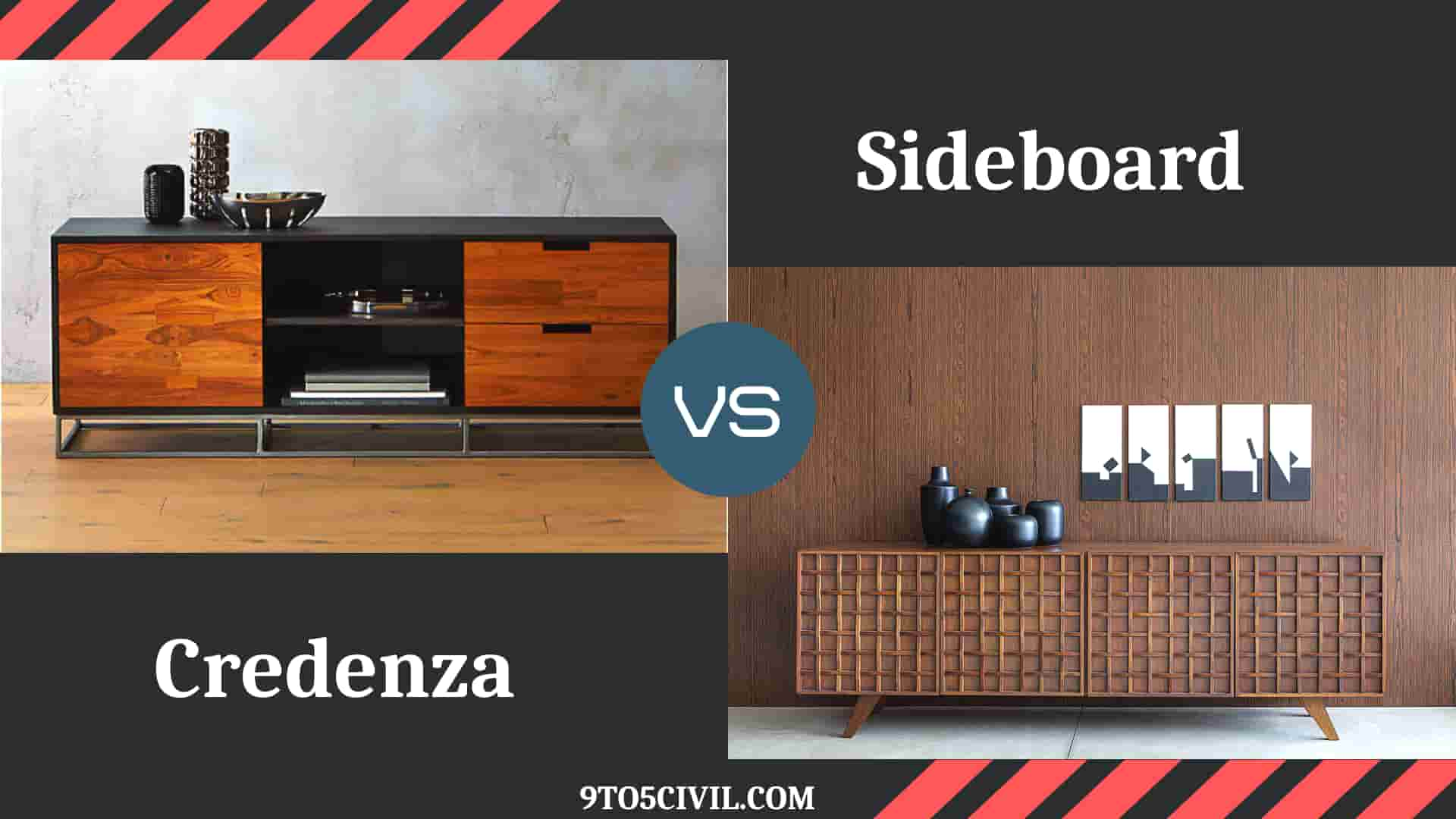 Credenza Vs Sideboard
What's the difference between this Credenza vs sideboards? You know that. Let us get some information about it
The credenza is a dining room sideboard consisting of a center cupboard flanked by glass display cabinets. Marble or other beautiful liquid and heat-resistant stone would commonly be used for the top.
Modern credenzas are more commonly utilized in the house or restaurant as a form of the sideboard. It is commonly built of wood and used as a serving platform for buffet meals in dining halls. Stainless steel side surfaces and storage drawers are common in restaurant kitchens.
Types of Credenza
Credenza is of two types firstly for storing things and secondly for the office
1. A Credenza For Storing Things
The term "storage credenza" refers to a credenza that does not contain a file drawer. Items that would ordinarily clutter a dining room, office, or conference room can be stored in these to keep them out of sight.
2. A Credenza For The Office
In the office, a credenza with file drawers is a unique piece of furniture that you would not typically find in a living room.
The credenza can be used in a variety of settings, from the dining room to the family room to the office or boardroom.
A broad number of styles and sizes are available, and they are often seen in conference rooms or behind a desk for additional storage. This piece of furniture is versatile and may be used in a variety of settings and contexts.
Features of Credenza
Credenzas are low-slung, long pieces of furniture that are typically used for storing things. Additional storage space can be found in the form of a hutch or a variety of shelves on many credenzas.
A credenza is a versatile piece of furniture that may be used in both the home and the office. A credenza is generally placed in the dining room, where it can store and display dinnerware or keepsakes and can be used to spread out food during gatherings in an appealing and open arrangement.
In recent years, they can be found in hallways, foyers, as well as the living room and family room. The credenza is a versatile piece of furniture that may be used in a variety of settings.
A credenza is a supplementary workspace in an office, conference room, or boardroom that is used to store and organize documents and other office supplies.
Cabinets, shelves, drawers, and a filing area are all possible additions to a credenza in addition to a flat surface.
People can use this additional space to spread out papers and other materials that they would otherwise be unable to fit on their workstations. For additional storage, the credenza provides an open area that is easily accessible.
---
Interesting Read:
---
Sideboard
If you're looking for an item of dining room furniture that can serve as both a buffet and a sideboard, look no further than the sideboard. Cabinets and drawers with wooden surfaces on top are common, and they're used to store things like food, serving utensils, and lamps.
However, if a piece of furniture has short or no legs at all, it is more likely to be called a sideboard. If it has longer legs, however, it is more likely to be known as a buffet.
Despite the fact that the sideboard as we know it dates back to the 18th century, it really took off in popularity during the 19th century when families were able to afford a dining room all to themselves.
A wide variety of decorative styles were available for sideboards, and they were often embellished with expensive veneers and inlays.
Sideboards are now commonly found in living rooms and other common areas of the home, where they can be used to exhibit a variety of household goods.
It is popular and desirable in today's formal dining rooms to have an antique sideboard from the late 18th or early 19th century, and these are the most sought-after and pricey.
In modern furniture styles, the form is commonly known as a serving table. Sideboards were first made in England, France, Poland, Belgium, and Scotland, among other places. American designs appeared later. Mahogany, oak, pine, and walnut are among the most common materials utilized in the construction of ancient sideboards.
The Best Sideboards Are the Ones with Unique Designs
Originally, the sideboard was only a plank of wood attached to the wall, however, it might also include legs. At mealtimes, it served as a location to put on lanterns, candles, serving utensils, and a place to serve hot food. Because cupboards were still being used to store china, they lacked drawers and shelves.
Cabinets like these were increasingly popular as families' incomes rose in the late 18th and early 19th centuries. People could now designate a certain area of their homes for eating meals, and this area came to be known as the dining room.
Confident wood manufacturers began to experiment with new ideas for the classic sideboard as a result of the increased demand for more and better goods brought on by prosperity and affluence.
The first outright sideboard was created by a group of clever inventors who began creating a more functional piece of dining furniture. These days, they come with a few drawers and cabinets as well.
A few little shelves were added to the sideboards of the past in order to make them more useful. Tableware like plates, spoons, and forks was all that could fit in the crates. The kitchen and dining cupboards were still full of larger or more numbered things.
Carpenters began to add more cabinet space to these buffets as the sideboard revolution developed. After that, new sideboard designs began to emerge. Sideboards and buffets soon came in a variety of designs, sizes, finishes, and materials.
To modern-day high gloss sideboards that are made of wood, maple walnut, and mahogany. Sideboards with shelves, cupboards, and shoe storage, as well as larger surfaces for exhibiting ornaments, plants, frames, and chinaware, may become available in the future.
Difference Between Credenza and Sideboard
The main difference between a credenza and a sideboard: Unlike a credenza, a sideboard has a long design, a low profile, and a large amount of storage.
Instead of being limited to the top of the cabinet, a sideboard often has cabinets that reach to the floor and can include hutches for exhibiting fine china or other ornamental items.
Living rooms, dining rooms, and corridors are the most usual places to find these lamps.
Credenza Vs Sideboard
let's talk about of Advantages of Credenza Vs Sideboard
Advantages of Credenza
Credenzas are among the most flexible pieces of furniture for both the home and the office.
1. Located at Home
The credenza makes an excellent TV stand because of its simple design, large flat surface area, and ease of installation against a wall.
Bottom storage can be used to keep your DVD library and remote controllers in order. Decorate the breakfast nook or dining room with a credenza to showcase your finest china.
Have a party in mind? Arrange refreshments on the credenza. In the credenza, plates, utensils, and napkins that can be used by the hosts and their guests are easily accessible without needing to constantly return to the kitchen.
Having a credenza in a foyer or entryway is a terrific way to organize your belongings. Seasonal or floral decorations go on top, and the bottom is used to store random items that never seem to find a home.
You can use a credenza to display your sound system in the living room or study. It's a great idea to use the bottom cabinets to keep and organize any old recordings you might have.
Credenzas are great for a family room or playroom since they have a flat surface on top for displaying toys or games currently in use, as well as a lot of storage space underneath to hide the dirtier items that tend to find their way into a heavily used room.
Having this wonderful piece of furniture in your home has numerous additional advantages and uses.
2. In The Workplace
The credenza is a wonderful piece of furniture to have in your house, but it also works well at the workplace. Adding a credenza to a desk gives a busy worker or executive more area to work and store their belongings.
A credenza located against the wall in the conference room can be used to organize reports and handouts for easy access. With a credenza, you can keep the executive offices free of paperwork and other office detritus.
Decorate the top with a lamp, family photos, or other personal items, then organize and store the paperwork below.
If you're looking to add some class and respect to a company reception area, then a credenza can be the perfect piece of furniture for you.
Advantages of Sideboard
As a bonus, a sideboard's breadth of sizes and forms makes it a good fit in unusual locations that other furniture can't occupy, such as nooks or niches. Having one in your home is a must-have for most people.
Having a sideboard is a great way to add value to your home. For each room, we've included a handful of our favorites.
1. Serve as a Marker in the Hallway:
Be prepared to leave and enter the house with only what you need.
Fashionable decorations go a long way, and first impressions are everything.
Keys, scarves, and even your shoes can all be stored in this handy organizer.
2. More Living Room Advantages and How to Save Space in This Congested Area:
This is ideal for storing necessities on top and in the drawers at the same time.
A place to keep all of your knick-knacks and gadgets
Picture frames, lamps, and other decor pieces can be displayed on the side surfaces of medium and larger sideboards.
To ensure their safety and to make storage easier, keep all of your daily necessities in one location.
With a large wall mirror hung on top, this is the ideal spot for a family photo.
3. The Advantages of Dining in a Restaurant:
Keep your valuable dinnerware in a secure location.
Stock up on products that you use on a regular basis, including dishes and plates. a convenient location for hot pots
Keeping forks, spoons, and other utensils handy when it's time to eat
When not in use for serving meals, this table is ideal for displaying fruit bowls and snacks.
4. in the Bedroom, There Are Numerous Advantages:
Keep your undergarments and other clothing in the same place.
Toys for children should be stored safely, out of the way.
Small rooms or tight spaces can benefit from a safe place to put additional furnishings.
Artbooks and other publications.
It can also be used as a dresser, and a mirror can be placed on top of it without issue.
Suitable for use as a lampstand
---
Like this post? Share it with your friends!
Suggested Read –
---
Frequently Asked Questions (FAQ)
What Is the Difference Between a Sideboard and a Credenza?
The credenza is a dining room sideboard with a center cupboard flanked by glass display cabinets. Marble or other beautiful liquid and heat-resistant stone would commonly be used for the top.
Modern credenzas are more commonly utilized in the house or restaurant as a sideboard form. It is commonly built of wood and used as a serving platform for buffet meals in dining halls. Stainless steel side surfaces and storage drawers are common in restaurant kitchens.
Credenza Vs Sideboard
A credenza is a piece of storage furniture built without any (or short) legs. As a result, Credenza gives a low-to-ground appearance. The sideboard is also a piece of storage furniture, Where two come down for different looks.
Sideboard Vs Credenza
A sideboard is best for displaying portraits and decor, while a credenza might be ideal for stowing away items out of sight. These pieces are ideal for presenting food, though a server offers the least surface area.