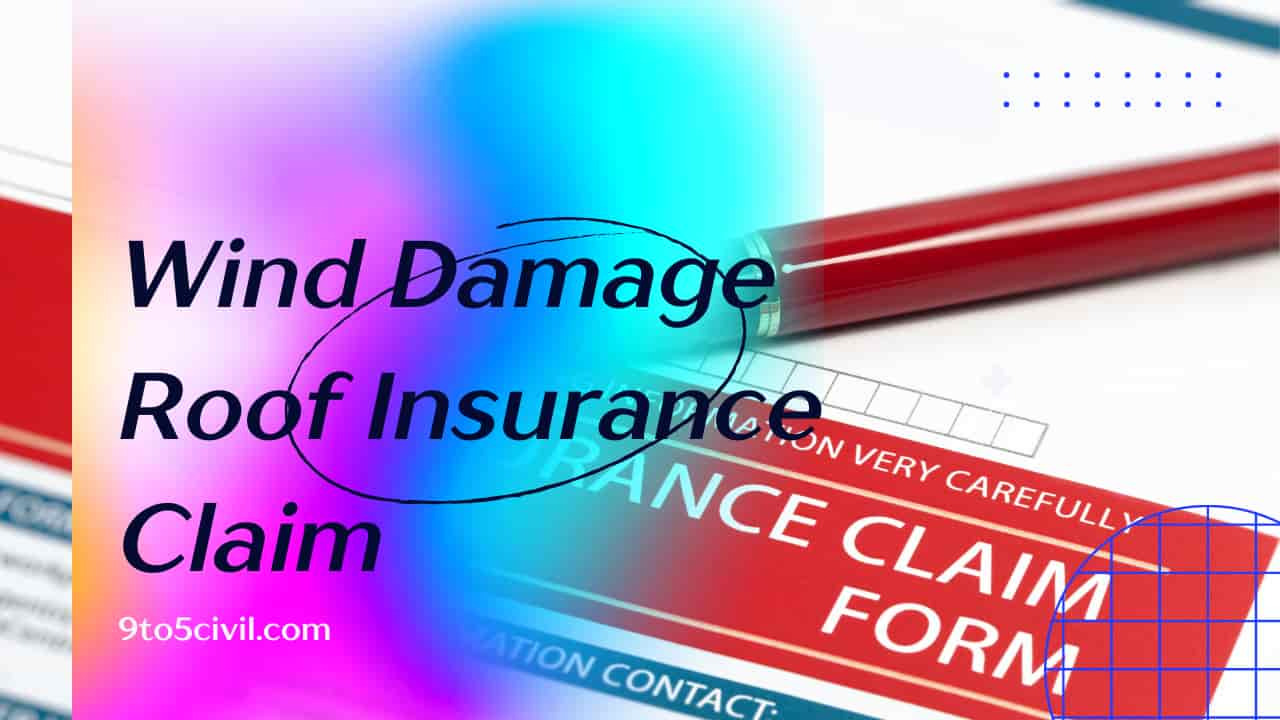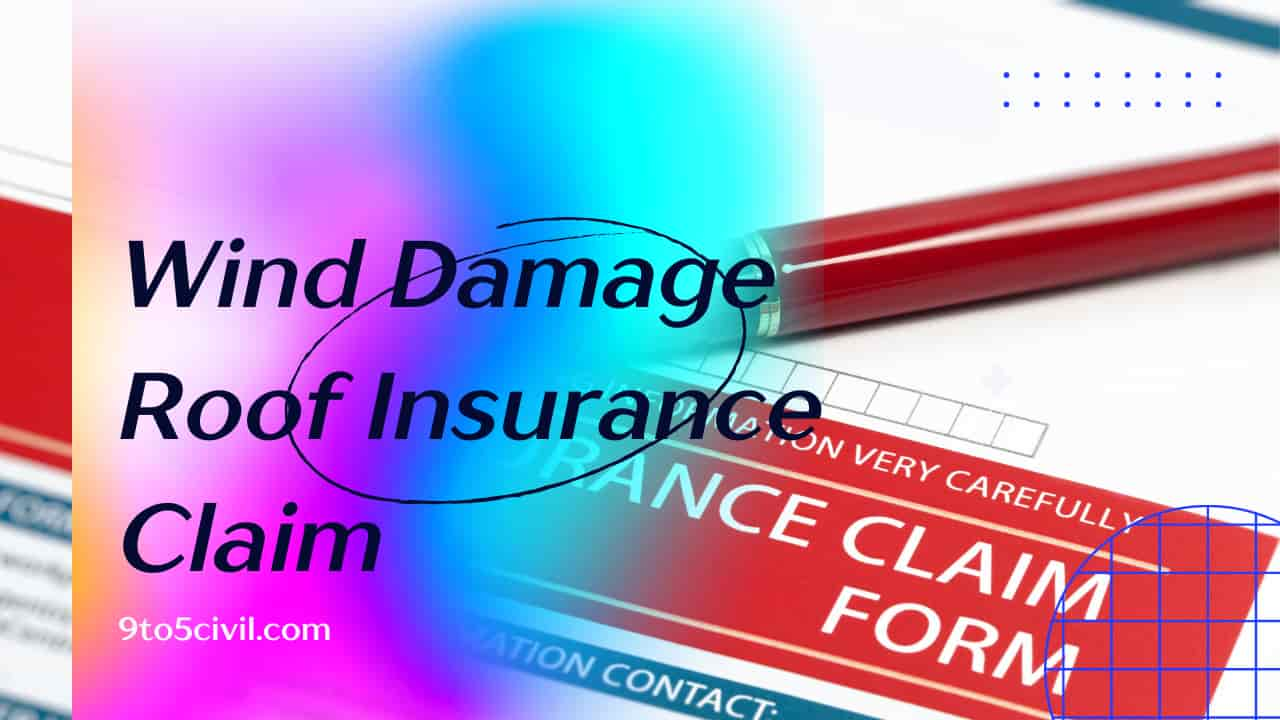 Your Wind Damage Roof Insurance Claim helps a little to cope with wind damage or to file a claim for roof repairs after a natural storm.
Wind damage to the roof to might include leaks, damaged shingles, and clogged rain gutters. Even though most shingle roofs are designed to withstand 90 mph winds, they take a hammering in severe winds. You should be able to detect damage to your roof at speeds of up to 50 mph.
Even if there is no hail or other damaging weather, high winds can cause damage to your roof.
What Is Wind Damage Roof?
Winds don't uniformly blow across your roof. A powerful wind storm can cause significant damage to the roof's corners, edges, and ridgeline.
A gust of wind can curl or rip away a shingle if caught under a corner or a small piece. Leaks might occur if the exposed sections of your roof are left unprotected.
Heavy winds' "lifting" effect on your roof is another potential hazard. This suction action can cause severe winds above a roof to "lift" and dislodge the nails that hold the roof's shingles in place, even when the shingles appear to be in good condition from the ground.
Leaks can occur if the shingles lift and the sealant between them are destroyed. A tree or branch falling on your roof is another possibility in the event of heavy winds before a storm or heavy winds arrive. Takedown any trees obstructing your roof so that falling limbs won't damage your shingles or puncture your roof.
In many cases, wind-blown debris (branches, rubbish bags, deckchairs, yard decorations, etc.) can do more harm to your roof than the wind itself.
Types of Wind Damage Roof
1. The Granules in Your Shingles Aren't There.
Wind, like hail, can blow away particles (the sandpaper-like part of the shingle). We begin our search for missing granules by evaluating your gutters, where the granules tend to accumulate.
2. Peeling Shingles Are Causing the Roof's Edge to Curl.
Wind damage is particularly likely to occur around the roof's edges and other pressure points. During our inspections, you can expect us to examine curling shingles where the wind grabbed hold and started peeling shingles.
Having loose shingles can lead to water damage and a rapidly disintegrating roof. Therefore it is important to keep them in place.
3. The Roof's Shingles Are Missing in Full
One of the most obvious signs of a wind-damaged roof is the complete removal of shingles. Call a professional if you see shingles in your yard or around your house to be safe. They can inspect the area for other problems. Your roof could be left vulnerable to strong winds if all of your shingles are ripped off.
4. A Flat Rubber Roof with Cracks or Tears
Flat roofs may have missing parts or tears in the material. Therefore we'll inspect them. The material can be ripped or left with bubbles, depending on the direction of the wind, which is bad for the integrity of the covering.
5. Soffit or Fascia Damage
Soffit and fascia, like shingles, keep water away from the roof and reduce the likelihood of a leak. It is easy for water to get into your home through damaged soffit and fascia. The wind can induce cracks, loose sections, or even the full removal of loose fascia.
6. Chimneys
Does your chimney have an odd angle to it? As a warning sign, this should raise the alarm. We discover a lack of lashing around the chimney, allowing water to seep in certain cases.
7. Leaks and Indicators of Roof Deterioration in the House
The indicators of roof deterioration may be inscribed on the walls, even if it seems counterintuitive to check inside your home. There's a significant probability your roof is leaking if you notice discoloration, moist areas, or peeling paint.
How to Repair a Wind-Damaged Roof
When it comes to roof damage, you can't put it off any longer than you have to. Numerous tiny and large things can go wrong with your roof, but the most significant and most dangerous of these are weather-related issues.
Even while rain and snow don't do much damage to your roof, storms can, and being prepared for storm damage is a good idea if you live in a stormy area. So, without further ado, let's get started with some recommendations for storm-damaged roof repairs.
1. Do Not Be Alarmed
Staying calm and taking action instead of panicking are the most critical things you can do as a homeowner in the event of a roofing disaster. If the damage is extensive, the sooner you obtain aid, the quicker the repair process will be, and you'll avoid future headaches.
To get an idea of the extent of the damage, inspect the roof. Get in touch with your roofing contractor and insurance company as soon as you know what occurred to your roof. Don't call them if it's raining, windy, or lightning outside. No contractor or insurance provider will send help if you call them.
2. What Kind of Damage Are We Discussing?
Before deciding on a course of action, it's crucial to know how much damage you're dealing with. To deal with different types of damage, you need to use different methods.
If a tree fell on your roof due to the storm, or if the lightning was so powerful that it destroyed your roof, you may have to replace it. Depending on the specifics of the case, your roof contractor will first install a protective cover to keep your interior safe, and that's what you should do as well.
3. Emergency First Aid for the Roof
Before you call for help, there are a few things you can do on your own. Climb on your roof once the storm has passed, and you can safely go outside. If you can, try to relocate any dislocated tiles to prevent water from leaking into your home.
If the damage isn't too severe, you can use roofing cement to patch the holes or buy new shingles to replace the ones that were lost. Covering the missing shingles with scrap metal or copper is an option if you only need a short-term fix.
If you don't have the time or money to replace the entire roof, these simple fixes can help you acquire a functional roof until you can afford a new one.
4. One Final Piece of Advice
Get roof insurance if you don't already have it. If you don't think it's worth the money, you'd be incorrect. Always have the phone number of a local roofing contractor handy in case of an emergency.
---
Interested –
---
Wind Damage Resistant Areas and Properties
Anyone who lives in a region prone to thunderstorms is at risk of wind damage, as most thunderstorms produce straight lines or damaging winds. This puts them at risk.
Even though a portion of your roof or structure appears unscathed to the human eye, it may not be safe for people to walk on or even inhabit the building it covers because of the uneven impact of severe winds.
As a result, the integrity of the property may be compromised, resulting in more damage to the roof, siding, and other sections of the property that are vulnerable to wind damage, as well as increased stress points.
Wind Damage Is Caused by What?
Air travels from higher to lower locations when atmospheric pressure changes, resulting in the wind that can range from a mild breeze to gale force winds depending on numerous other conditions.
All around the United States, wind storms can and can occur at any time. There is a lot of variation in the wind damage that can be caused as it blows over and over your land.
Since the corners and edges of your roof are more susceptible to high stress, they are more prone to be damaged by severe winds.
Taking Precautionary Measures to Prevent Wind Damage
Keep trees trimmed away from the roof, use lighter landscaping materials like mulch or shredded bark (rather than gravel or rocks), and have your roof checked out immediately if you suspect wind damage or other problem spots if you want to protect your property from wind damage in the future. This is especially important if you live in an area prone to high winds.
If you live in an area that is prone to storms with high winds, you may want to think about installing permanent manual or automatic storm shutters. If you choose the automatic option, make sure you can still operate the shutters manually in case the motor fails unexpectedly.
The presence of a storm or other severe weather event may necessitate the use of temporary plywood covers. If a storm is approaching, you may want to consider adding wood or metal stiffeners to your garage door.
In the event of an imminent storm, you should also remove or anchor loose things such as barbecue grills, deck or outdoor furniture, fountains, and even trash cans.
Those who own or reside in mobile homes have an increased risk of wind damage and other concerns. Unanchored mobile homes are far more vulnerable to damage from 80 mph winds than anchored ones.
If you have a mobile home, check your insurance policy to see if wind damage is covered and think about finding another place to stay in case of a significant storm or another severe weather event.
Wind Damage Roof Insurance Claim
 It's in your best interest to engage with a public adjuster, as they will be your advocate throughout the Wind damage roof insurance claim and repair procedure, and they will have access to a network of knowledgeable and trustworthy roof repair providers.
Look for fly-by-night companies or contractors that show up promptly after a large storm to help property owners fix their roofs and other portions of their homes that have been damaged by wind.
Many of these contractors may have valid abilities and experience, but you should never conduct repairs before getting a correct estimate from a licensed contractor and speaking to your public adjuster about the accompanying Wind damage roof insurance claim.
Additionally, you should read online reviews and perform a Google search on both the contractor's name and the company name to see if the results reflect the organization's dedication and pleasure in its work.
A reputable roofing firm or public adjuster can assist you in figuring things out, so don't take the first offer from your contractor or insurance provider at face value.
1. After Submitting a Claim for Wind Damage to Your Roof, What Should You Do Next?
In addition to dealing with your public adjuster, you'll want to call some experienced contractors who can provide you with estimates for roof repairs, a possible replacement, or a new roofing system.
This is where they can assist you in finding reputable roofing contractors who can assist you in determining the extent of roof repairs or the necessity for an entirely new one.
Having a plan for repairs developed by contractors and your public adjuster can assist you in knowing how long it will be before you can return to your home.
If your home or business property is rendered uninhabitable for an extended length of time, you may be able to recover some of the costs associated with that time by filing a claim with the insurance company (generally in the case of a total roof replacement).
2. If Your Roof Has Been Damaged by Wind, a Public Adjuster Can Help
 Assuming that you've read this far, you already know that the first thing you should do if your roof has been damaged by wind is to conduct a wind damage roof inspection, beginning with an inspection of the entire roof from top to bottom, to identify any damaged areas and determine the extent of the damage.
First and foremost, use tarps or other materials to contain the damage. This is important for your insurance claim because it shows that you took steps to prevent the wind damage to your roof from worsening.
Consult with your insurance company's public adjuster to locate contractors, obtain price quotes for the work to be done, and map out the next steps.
Again, you can hire expert contractors and inspectors if you don't feel safe clambering around on your roof or in your attic.
3. Concerned About How to Bill Your Insurance Company or Contractors for the Repairs?
A public adjuster can help you in this situation.
In contrast to the insurance company, which seeks to pay out as little as possible, their job is to act as your champion, and they are always looking out for your best interests.
There is a financial incentive for public adjusters to make sure that you receive a fair settlement on wind damage roof insurance claims because they receive a percentage of the settlement, which means that you don't have to pay anything upfront for their services – which is especially helpful when you're dealing with the aftermath of a major weather event.
Your roofing contractor or public adjuster can be an invaluable resource during wind storms and the subsequent wind damage they cause to your home.
---
Like this post? Share it with your friends!
Suggested Read –
---
Frequently Asked Questions (FAQ)
Roof Damage Insurance Claim Wind
The Wind Damage Roof Insurance Claim will usually cover all the damage to your roof caused by the wind to the homeowners. About 5% of households in the United States claim wind damage each year.
Homeowners Insurance Roof Wind Damage
Homeowner's insurance protects the roof from wind damage. Wind Damage Roof Insurance Claim includes replacing shingles, tiles, wood, and other roofing materials. If the roof breaks, you can also claim a replacement, including labor costs and materials.
What Are the Signs of Wind Damage on a Roof?
Signs of wind damage on a roof include loose or missing shingles, chimney issues, curling or peeling shingles, granule loss, damaged soffit or fascia, and indoor leaks. High winds can also cause tree branches to fall and damage a roof. Like hail, wind can cause loss of granules.
Is Roof Damage Caused by Wind Covered by Insurance?
Homeowners' insurance should cover wind damage and any other damage to the roof due to extreme weather (hail, tornado, fallen limbs, etc.). It will not cover wind damage if your roof is improperly installed.