What Type of Roof Lasts the Longest?
Many homeowners have questions about the durability of their roof and What Type of Roof Lasts the Longest? Usually, the type of roof has the maximum impact on the expected lifespan of a roof, Various factors affect the longevity of a roof, so we're providing an overview for property owners.
Generally, the average lifespan of a roof is 25 to 50 years. However, the lifespan of a roof depends on the quality, durability, and type of materials.
Factors that Impact: What Roof Lasts the Longest?
If you're in the market for a new roof material, there are several factors you should consider to ensure it's right for you.
1. Type of Materials
The average lifespan of a roof is affected by many things, including the materials used and how long they last. Cost and durability are sometimes closely related. But, we will talk more about roofing materials below.
2. Underlayment:
Roofing underlayment is the most important part of a home roof replacement. Underlayment is a waterproof layer that protects the roof from external damage. A roofing underlayment prevents water and mold from building up.
3. Roof Pitch:
A roof with improper drainage may require more frequent repair or replacement. So the pitch of your roof affects drainage. A flat roof requires more frequent inspections for water ponding. which promotes the growth of mold and fungus. So, sometimes the roof leaks as a result of serious damage.
4. Quality of Materials
No matter what type of roof you choose for your home or business. There will be low-quality and high-quality materials of every material in the market. So it is best to make a good choice. If you purchase high-quality materials for your roof, you should hire a reputable contractor for the roof installation.
5. The workmanship of Installation:
Before you choose a roofing contractor, you should check their qualifications, insurance and liability coverage, and reviews. Choosing a licensed professional roofing contractor can affect how long your roof lasts. Superstorm Restoration is an Owens Corning Platinum Preferred Roofing Contractor. So we recommend you only high-quality materials, which will protect your home for a long time.
6. Elements:
Climate and direct exposure to the sun have a significant impact on the durability of a roof. Extreme temperatures and storms can damage the roof. It affects the lifespan of your roof. So you should choose durable materials with high quality. Frequently fluctuating temperatures can cause shingles to split and crack.
Wind, hail, tornadoes, and other disasters can leave divots in the roof, causing roof leaks. It can further damage mold growth by removing the protective granules from the shingles. Therefore, you should remove tree branches that touch the roof, and any leaves that accumulate in the gutter.
7. Color of Materials:
In some situations, the color of the shingle material you choose can affect the lifespan of your roof. Darker material absorbs more heat from the Sun. Overheated shingles are more susceptible to cracking and stress. which can damage your roof.
8. Proper Ventilation:
Proper ventilation for your roof is a key part of maintaining your property and will make the roof last longer. When the roof is under constant temperature stress, the material is more likely to crack. However, ventilation reduces the possibility of overheating or cracking of the material. So the whole building works efficiently. Improper ventilation can result in costly roof damage.
9. Regular Roof Maintenance:
Periodic roof maintenance increases the average lifespan. An annual roof inspection can save you the cost of a new roof or major repairs. When a problem is detected, it can be treated immediately before it becomes a serious problem.
Depending on the current condition of your roof or other factors you should perform roof maintenance. Our roofing professionals recommend a routine roof inspection once a year. If your roof has been damaged by a storm, roof maintenance should be done more than once.
What Type of Roofing Lasts the Longest?
Are you looking for which type of roof lasts the longest?
Not all roofs have the same lifespan. Some can last for decades, while others may need to be replaced every ten years or more. The lifespan is determined by the type, quality, installation, and regular maintenance of the roofing material.
Metal, clay, asphalt, wood, and other roofing materials all have different estimated lifespans.
Commercial Roofs
A flat roof is the best choice for commercial roofing. Works great for protecting commercial structures. However, standing water can cause many problems due to its low slope. Additionally, flat roofs deteriorate very quickly from weather and UV rays.
Green roofs lifespan: 5 – 40 years
Modified bitumen  lifespan: 20 years
BUR (built-up roofing) lifespan: 20 – 30 years
EPDM (ethylene propylene diene terpolymer): 15 – 25 years
TPO Roof (thermoplastic polyolefin): 7 – 20 years
Residential Roofs
Choosing the best roofing material for your home can be a difficult decision. Homeowners must choose between higher up-front costs and higher Returns or lower up-front costs and lesser ROI. To help you decide, here is the average lifespan of each material.
Asphalt Shingles Roof lifespan: 30 Years
Asphalt Shingles Roof (3-tab) lifespan: 15 – 20 Years
Metal Roof lifespan: 40 – 80 Years
Synthetic Slate Roof lifespan: 50 – 70+ Years
Wood Shingles Roof lifespan:  30 Years
Copper Roof lifespan: 70+ Years
Slate Roof lifespan: 75 – 150+ Years
Clay Tiles Roof lifespan: 100+ Years
Concrete Tiles Roof lifespan: 100+ Years
What Is the Life Expectancy of a Metal Roof?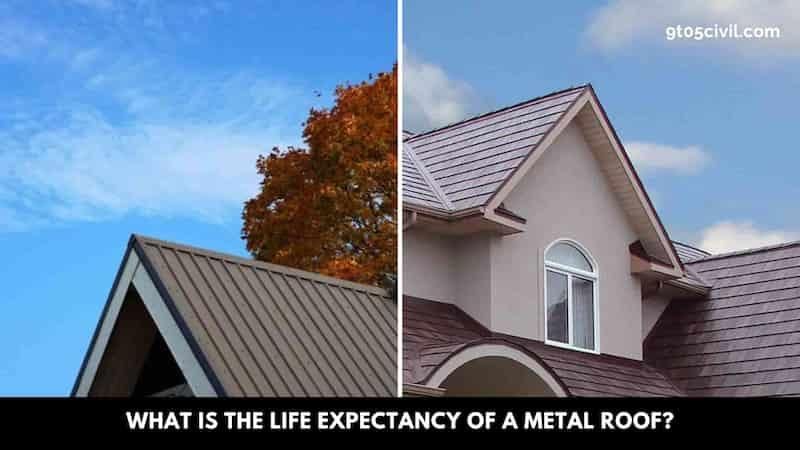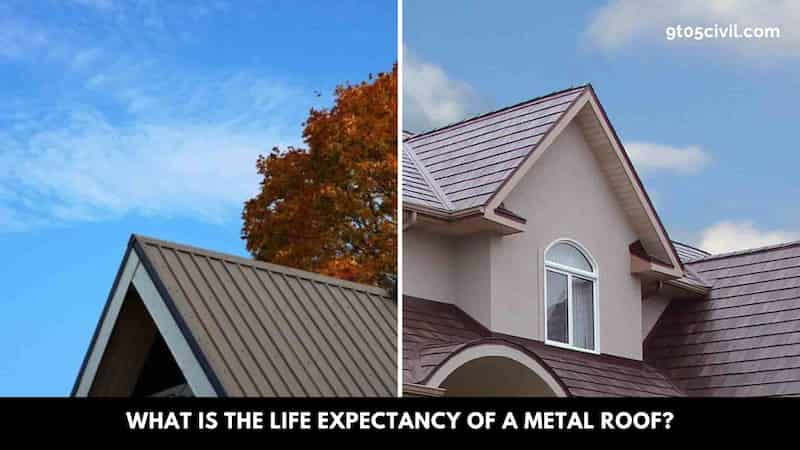 Aluminum Roof: Aluminum roof has a lifespan of 40-50 years. Using aluminum as a roofing material is more expensive than other materials. But it is resistant to salt water, making it a suitable roof material for coastal dwellers. However, it does not last long when exposed to hail and strong winds.
Copper Roof: Copper roof lifespan is 100 years. Copper is an expensive material. So it makes the most expensive roofing material. Copper has a very long life span as it does not corrode and is corrosion-resistant. Due to the high cost of copper roofing materials, copper is rarely used for whole-house roofing.
Colorbond Steel Roof: Colorbond steel roof lifespan is 70 years. Colorbond steel roofing material has numerous benefits and can last for a long time. Colorbond is made up of five different layers, which contribute to longevity. It has been tested in Australia. However, color-bond steel is not necessarily long-lasting. It is significantly less expensive and requires less maintenance. Colorbond Roofing makes the best value for money when it comes to roofing materials.
Frequently Asked Questions
What Type of Roofing Lasts the Longest?
Concrete, clay, and slate tiles have an average lifespan of 100 years or more. They are the materials that last the longest but are also, bar none, some of the most expensive. Slate roofs are often called "permanent roofs" because they can last almost forever.
How Long Do Shingle Roofs Last?
The roofing material that lasts the longest is concrete, clay, or slate tiles. These materials significantly outperform other natural products like wood shakes or any manufactured roofing materials including asphalt shingles and metal roofing. Although these materials have a good lifespan, they are not as durable.
How Long Do Architectural Shingles Last?
The different asphalt shingle roof types and their expected lifespans are 3-tab shingles: The cheapest asphalt shingle type lasts between 15-30 years. Architectural shingles: Also called dimensional shingles, these asphalt shingles are mid-range priced and last between 20-30 years.
How Long Does a Metal Roof Last?
Metal roofs offer many benefits, including Longevity. Metal roofs can last 40-70 years, depending on the material. Traditional asphalt roofing materials have an estimated life expectancy of roughly 12-20 years.
What Roofing Material Lasts the Longest?
Concrete, clay, and slate tiles have an average lifespan of 100 or more years. They are longest lasting roofing material without a doubt the materials.  but are also, bar none, some of the most expensive. Slate roofs are often called the "forever roof" because they can last forever.
What Color Roof Lasts the Longest?
Lighter-colored shingles might be better for longevity than dark-colored shingles because of the way they react to light and heat.